Affiliate Marketing Software For Networks And Brands
Scaleo allows you to optimize, analyze and track your affiliate campaigns in real-time.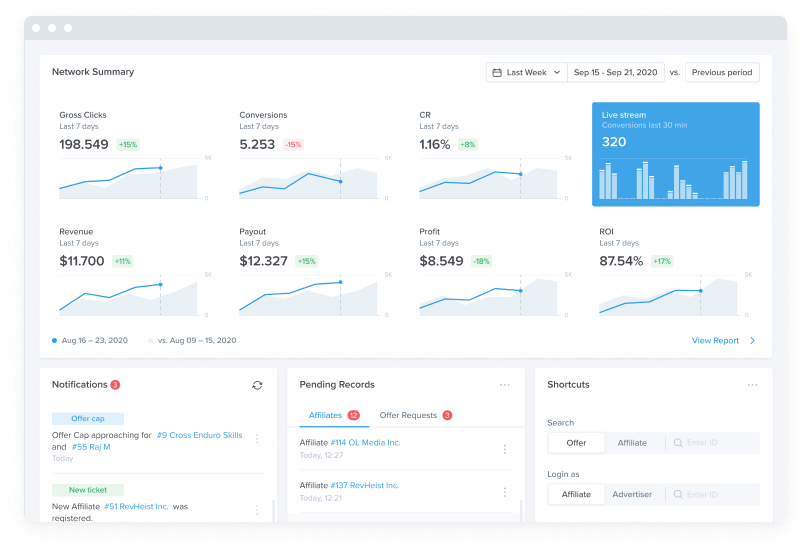 Migrating from another affiliate marketing software?
If you are currently using another affiliate marketing software by one of our competitors, we offer smooth, effortless (and free!) migration of your entire business to Scaleo.
Our dedicated support team is here for you 24/7 to guide and help you throughout.
Rich integrations and APIs selection makes it easy for your business to grow while providing custom solutions.
Key Benefits of Scaleo Affiliate Marketing Software
UI Customization
Customize our affiliate software to fit your business perfectly. Upload your logo, choose brand colors, connect your custom domain and many more customization options.
Anti-Fraud Logic™
Our in-built Anti-Fraud Logic™ algorithm combines and analyzes dozens of internal and external measuring points to detect and eliminate fraud traffic in real-time
Lightning-fast Interface
Save time with Scaleo, as our intuitive and lightning-fast UI offers dozens of useful widgets, filters and data points.
No Redirection Tracking
Affiliate marketing is all about smooth tracking - avoid additional redirects and send traffic to advertisers' landing pages directly. Unlock the limitations of all major ad platforms.
AI Technology
Stay ahead of the competition with Scaleo's Al-powered affiliate tools. Use advanced modern technologies and grow your business efficiently and automatically.
Multi-currencies
Since affiliate marketing is a global business, Scaleo allows you to add offers in different currencies. You will never need to worry about exchange rate fluctuations.
Start your affiliate
marketing business today!
Instant access, no credit card required.