Lead Management Addon for Networks and Brands
Scaleo is an all-in-one affiliate solution that allows you to manage and collect new leads in real-time.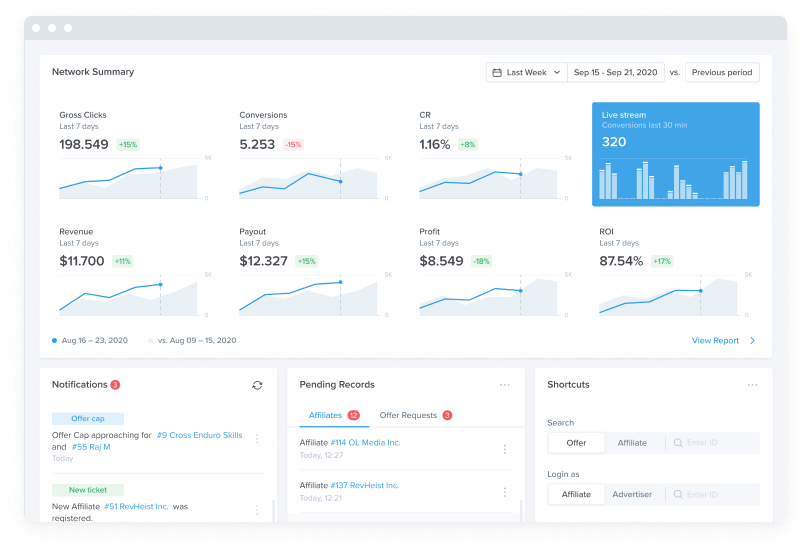 Migrating from a different lead management software?
If you are currently using another affiliate lead management software, we offer an effortless (and free!) transfer of your entire business to Scaleo.
Our support team is here for you 24/7 to guide and help you throughout.
Smart integrations and APIs selection make it easy for your business to grow while rendering custom solutions.
Key Benefits of Scaleo Lead Management Software
UI Customization
Our lead management solution works seamlessly in the background, allowing you to fully customize the lead collection process, without end-user noticing.
Anti-Fraud Logic™
Our in-built Anti-Fraud Logic™ algorithm allows you to flag and filter out fraud traffic or fraudulent leads in real-time.
Lightning-fast Interface
Save time with Scaleo, as our intuitive and lightning-fast lead management dashboard offers dozens of useful widgets, filters, and data points
Lead Management Tool
Our Lead Management tool is an addon for our fully-featured affiliate marketing software, which allows you to manage campaigns, pay affiliates, and manage leads - all in one place.
AI Technology
Stay ahead of the competition with Scaleo's Al-powered affiliate lead management tools. We employ modern technologies that help grow your business efficiently and automatically.
Multi-currencies
Since affiliate marketing is a global business, Scaleo allows you to log orders and collect leads from customers in different currencies from all over the world.
Get started
in just 3 clicks!
Instant access, no credit card required.