Finding the best link tracking software isn't easy, but we have a great buyer's guide for you with 10 best link tracking software listed, so by the time you finish reading this post, you will have a much deeper understanding of your needs and what software to pick for your campaign tracking.
If you're a business marketer or affiliate that pushes affiliate offers online or just want to track conversions, leads, sales, and sign-up, the best link tracking software is a must-have tool.
Whatever your motivation is for buying link tracking software, the fact is that our ultimate goal is conversion.
10 Best Link Tracking Software
Let's take a look at some of the greatest click tracking software available right now.
| Link Tracking Software | What it offers? |
| --- | --- |
| Scaleo | Premium affiliate marketing tracking software, provides the most powerful tools for affiliate business businesses. This is an all-in-one affiliate management software. |
| Easy Affiliate Links | Basic affiliate tracker. Easily manage and cloak all your affiliate links in WordPress. |
| Pretty Links | Fantastic affiliate link masking, cloaking and tracking. Shorten and track affiliate URLs using your own domain. |
| IDevAffiliate | Paid affiliate tracking software that allows you to keep track of your marketing campaigns success. |
| WooCommerce Affiliate Links | WooCommerce affiliate plugin – create advanced coupons in the affiliate program for WooCommerce, displaying detailed coupon usage statistics. |
| Clicker Volt | Pixel tracker for affiliates & performance marketers. |
| Affiliate WP | Fully-featured affiliate marketing plugin for WordPress. |
| Google Analytics | GA lets you measure your advertising ROI and track your Flash, video, and social networking sites and applications. |
| Link Track | Link tracking service that you can use without paying a dime for your next affiliate campaign. |
| Thirsty Affiliates | Affiliate link management & cloaker tool. Easily manage, shrink, and track your affiliate links in WordPress. |
Here is a little tip: you can try Scaleo for 14 days! Scaleo is an all-in-one marketing attribution and tracking software that helps you track, manage and improve your marketing with an easy-to-use dashboard ROI.
What is Link Tracking?
Tracking links is one of the most effective techniques to track your marketing efforts and ROI.
As a marketer looking to increase sales and leads, it's imperative that you find out which ads, offers, or web pages convert the best so that you can optimize them and make them even more effective.
You can also track where customers lose interest in a process, what questions they frequently ask, which browsers they prefer, and which websites perform better.
On the other hand, if you work as an online affiliate, it's crucial to determine which offers are the most profitable and track the conversion rate of your visitors to stay ahead of the competition. However, the lack of tracking tools makes it difficult to achieve these goals.
These affiliate marketing tools make it simple to track and measure what works.
Now, let's have a look at the best link-tracking software you can find in 2023.
Scaleo is a powerful affiliate software. It is a software-as-a-service (SaaS) platform that specializes in affiliate marketing services, developed for both web and mobile platforms.
It helps you build, manage, and improve your current affiliate programs with various features, including customizable dashboards, white labeling, and efficiently stored reports.
Native post-back features and automated affiliate marketing software tools are an added bonus and can help your business optimize every aspect of your affiliate marketing campaigns.
Scaleo is a well-known affiliate management software used by networks and businesses all over the world. And for good reason. Scaleo goes beyond most affiliate tracking software on the market by offering personalized dashboards and white labeling.
Our marketing platform offers solutions for both internal affiliate programs and networks. It is suitable for a SaaS company and provides a versatile affiliate management solution for managing your affiliate relationships.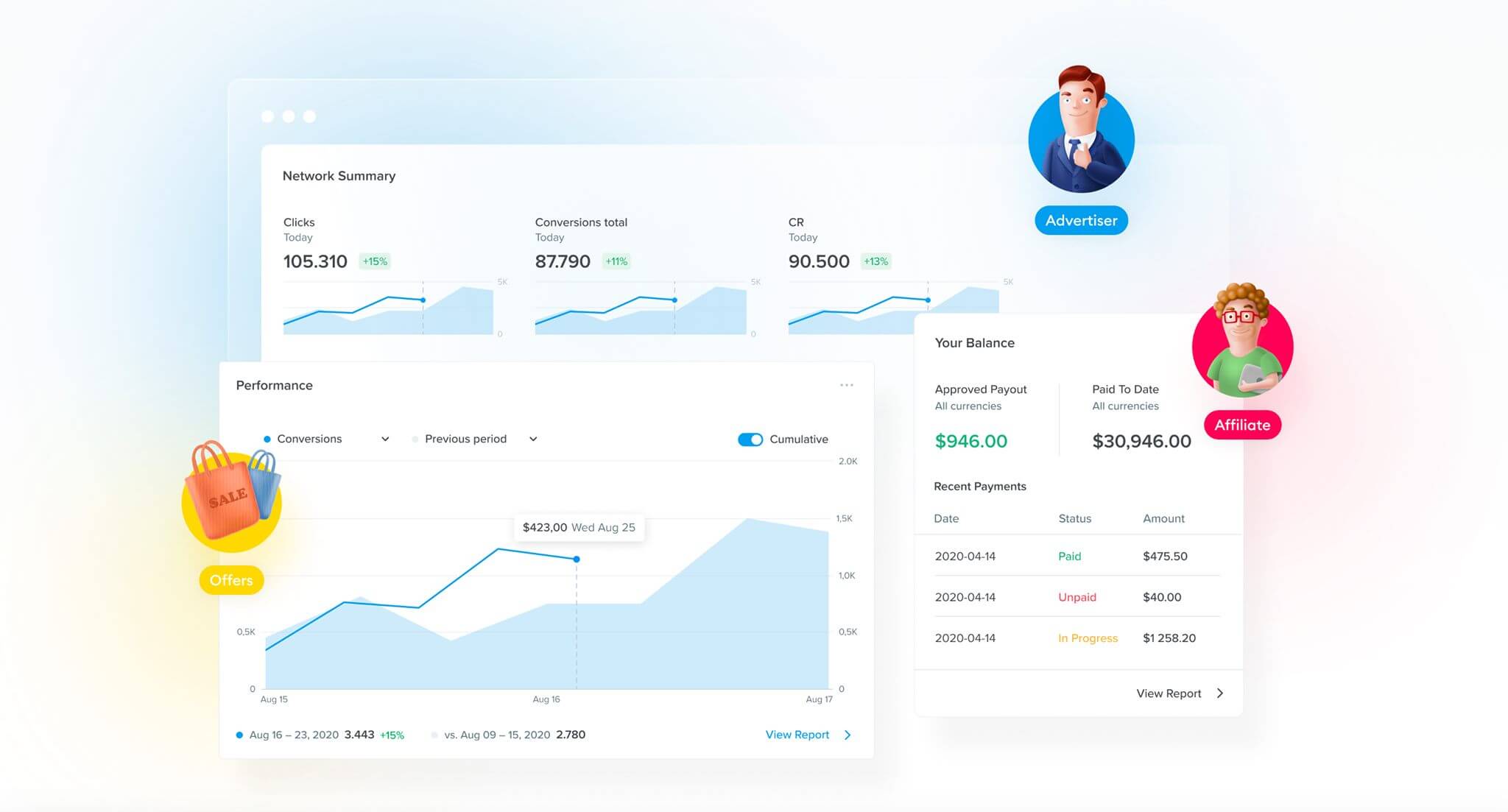 Scaleo focuses on tracking web and mobile activity and has all the key integrations to bring your data together in one system. It provides an easy-to-use interface for tracking and managing your affiliates' activities.
The cost is based on the features you need and your traffic volume. Customer support helps you set up and develop your portal, and real-time customer input is used to improve the affiliate software.
If you are focused on web and mobile traffic and are looking for a reliable affiliate solution that has made a name for itself in the industry, Scaleo is the right choice for you.
Where to Get the Tracking Link in Scaleo?
On Scaleo, affiliates can get the personal tracking link and customize it with Link Builder.
Once you have logged in to Scaleo, click on the Offers tab in the sidebar, select the offer you want to promote, and click on the offer name to open the offer page.
In the Tracking section, you will see the personalized link that you can use to promote the offer. To customize it and add additional parameters, click Link Builder. Skip this step if you do not want to add additional parameters to the link.
In the pop-up window, you can change the landing page and the theme. The offer cannot be changed. Click the parameter you want to change and select the value in the drop-down list.
Add sub ID if necessary. Click the Add Sub ID button and enter the value in the field. If you need more fields, click Add More. You can add up to 10 additional values.
Add Affiliate Click ID if needed. This is a unique click ID generated by the affiliate software. Scaleo can send it back to the affiliate software as part of the postback when a conversion occurs.
Add mobile parameters if needed. Scaleo supports two mobile parameters: Apple iOS IDFA and Google Android GAID. These are the advertising identifiers of iOS and Android mobile devices. Contact your device manufacturer to find out the advertising identifier ID.
Add a deep link if needed. This is a link that leads to a specific resource, web page or application.
Based on the selected parameters, Scaleo generates a tracking link in the Affiliate Tracking Link field: Click the Copy to Clipboard button to copy the link and paste it into your traffic source.
Smartlink link tracking with Scaleo's affiliate software
Smart Link allows your affiliates to use only one link for multiple offers. The system selects the best converting offer for each click based on geo, device, connection, and language. No more hassles when offers become unavailable or audiences do not match.

How does it work?
The network manager creates a Smart Link and selects the offers to be used for the selection. It is possible to select offers individually or select offer tags (all offers with the selected tags will be used).
Partners see all available smart links at Offers > Smart Links and use Get Link to create their own links.
When someone clicks on an affiliate's tracking link, the system analyzes that click and selects the most profitable offer for that click based on geo, device, connection, and language.
Right now, the highest EPC (Earning per Click) is used to select the offers. It is the network EPC that is calculated once a day among all affiliates.
This simple WordPress plugin lets you quickly hide affiliate links in your WordPress dashboard.
You can also use this tool with the Classic or Gutenberg editors with ordinary links or affiliate HTML code.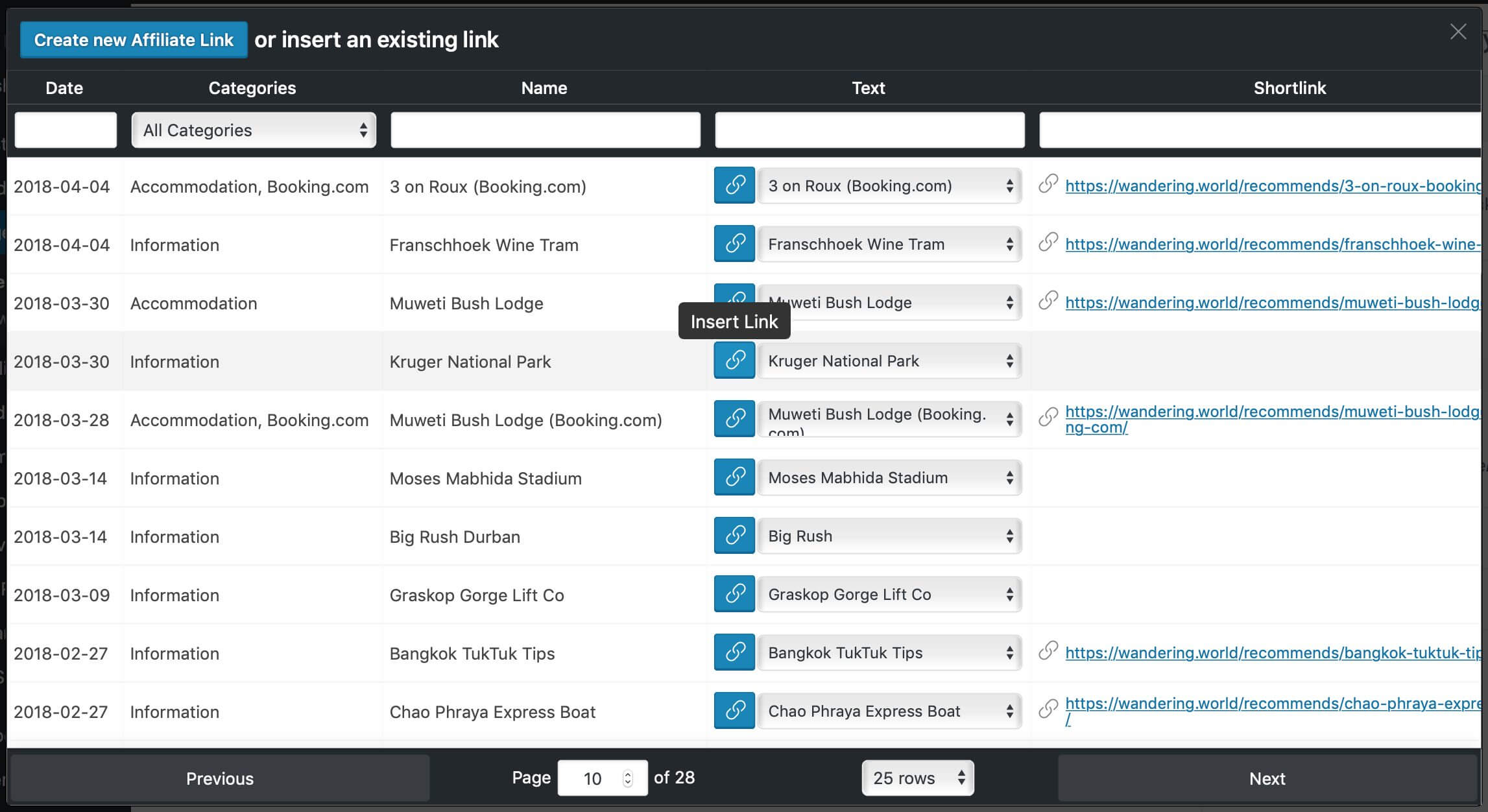 This program also allows you to categorize your links, offer readers an automated text disclaimer for affiliate connections, and leave certain links untouched for Amazon, among other things.
Finally, if you're searching for a basic and free affiliate link plugin, this could be a wonderful option to test out.
Pretty Links – URL click tracker tool
Pretty Links is a comprehensive all-in-one WordPress link management plugin. It allows you to build clean, easy URLs on your WordPress site that can be redirected to any other URL. Using this plugin, you can build redirects for existing site content or external links such as affiliate links, group them, and easily distribute them across multiple platforms.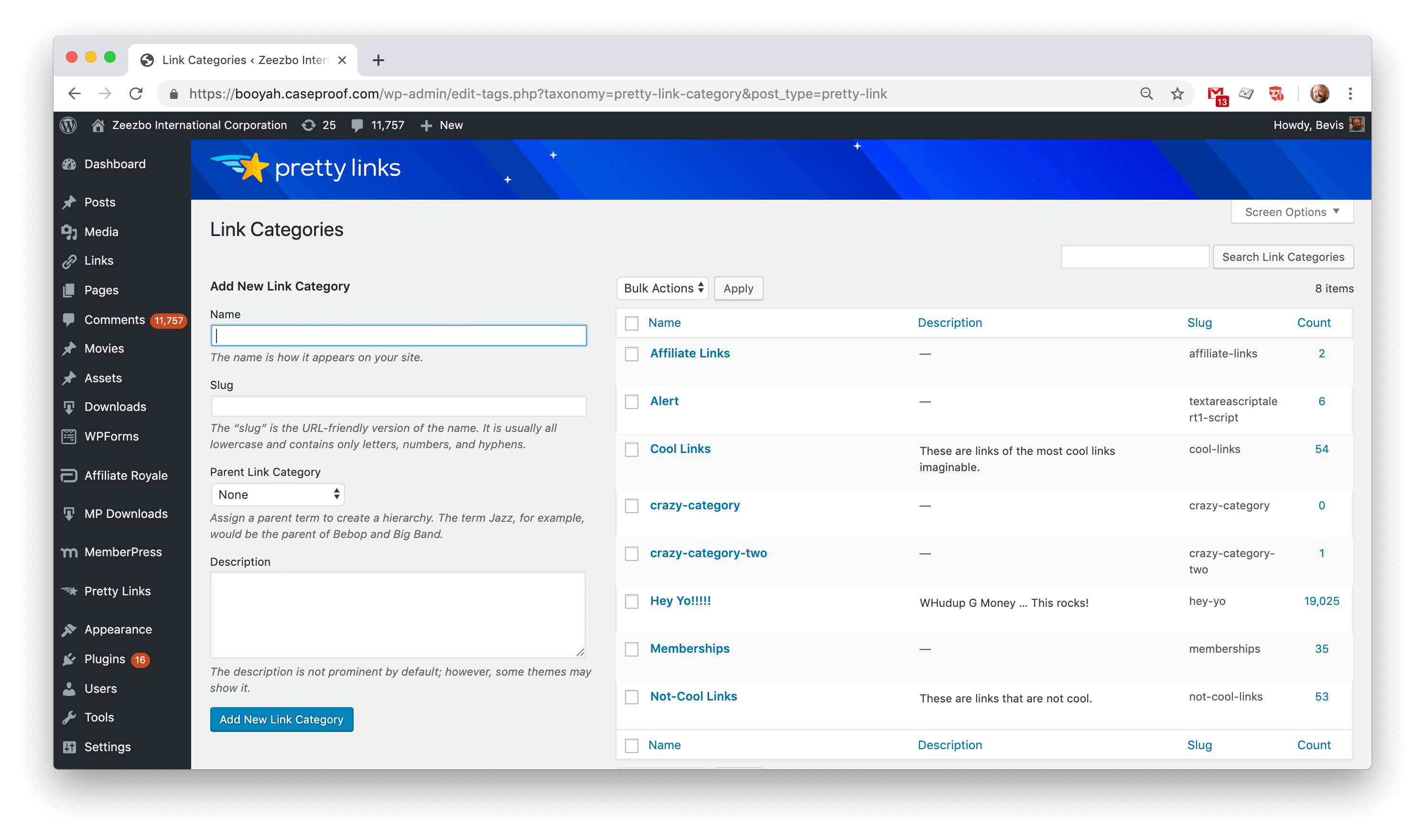 It enables you to turn your long, ugly affiliate links into pretty links. If you're a blogger or an affiliate marketer, this plugin will help you add and organize affiliate links in WordPress.
It also functions as a connection shortener, allowing you to shorten the URLs of your posts and accounts, which you can then share on social media sites and in email campaigns. Unlike other URL-shortening services such as TinyURL, budurl, and bit.ly, this plugin lets you generate short links from your own domain.
Pretty Links is more than just a link manager; it also includes a link tracking function. It logs each visit to your lovely URL and provides a detailed report on the traffic source, browser, operating system, host, and so on.
IDevAffiliate is one of the more established names in affiliate marketing software. It has evolved over time into a reliable alternative that meets most of your basic affiliate management needs.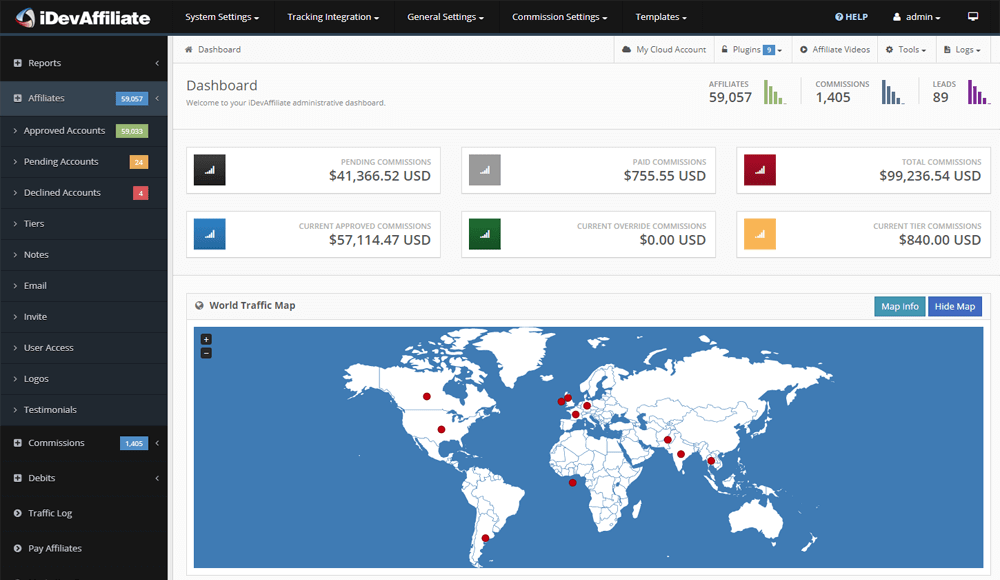 The price starts at $39 per month and includes unlimited affiliates in the network. It also offers a wide range of eCommerce and billing solutions. Installation and integration with your existing website takes only a few minutes.
It is worth noting that all iDevAffiliate plans are free, regardless of the number of your transactions or affiliates. This is a competitive advantage over rival software. The more expensive plans include extras like geo-targeting and QR codes. All options are offered with a self-hosted option.
The platform can be customized and white-labeled. However, in order to customize the platform to your needs, iDevAffiliate requires some technical knowledge. If that is not a solution for you, it is an excellent, cost-effective option for hosting your program.
WooCommerce Cloak Affiliate Links is a straightforward plugin that does exactly what it says: it hides external affiliate links in your WooCommerce store yet allows you to track them.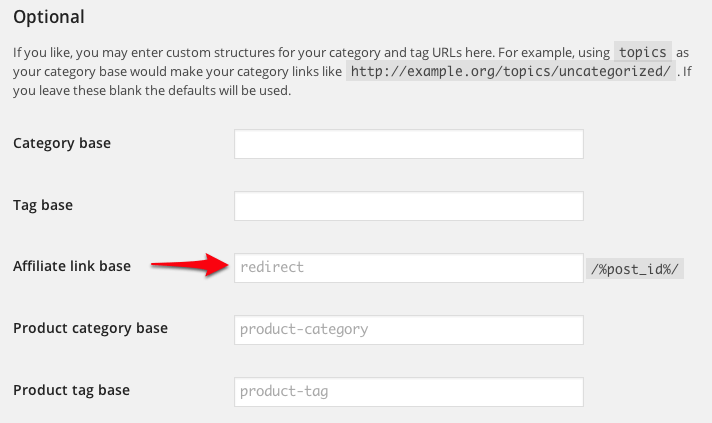 It also adds a "disallow" directive to your robots.txt file, preventing bots from following certain URLs. As you make more money from your WooCommerce store, this makes your affiliate URLs even safer.
This plugin is ideal for solopreneurs, bloggers, or new startups looking for a simple (and free) plugin with a few bells and whistles.
Features:
Hide your links
Configuration of the redirect status (301, 302, or 307)
Add a "disallow" directive to the robots.txt file – which is a really cool feature!
This is a free plugin, but as you may guess, it lacks advanced capabilities that you may require as your business grows.
Nonetheless, it might be a good alternative for WooCommerce store owners who are just getting started with affiliate marketing. Bear in mind, though, that this is not an official plugin.
ClickerVolt
ClickerVolt is a WordPress toolbox CRO. With this tool, you can design conversion-optimized pages such as landing pages and sales pages. You can also use ClickerVolt to design and analyze WordPress funnels and run A/B tests to see which layouts, elements, and widgets have the most conversion power.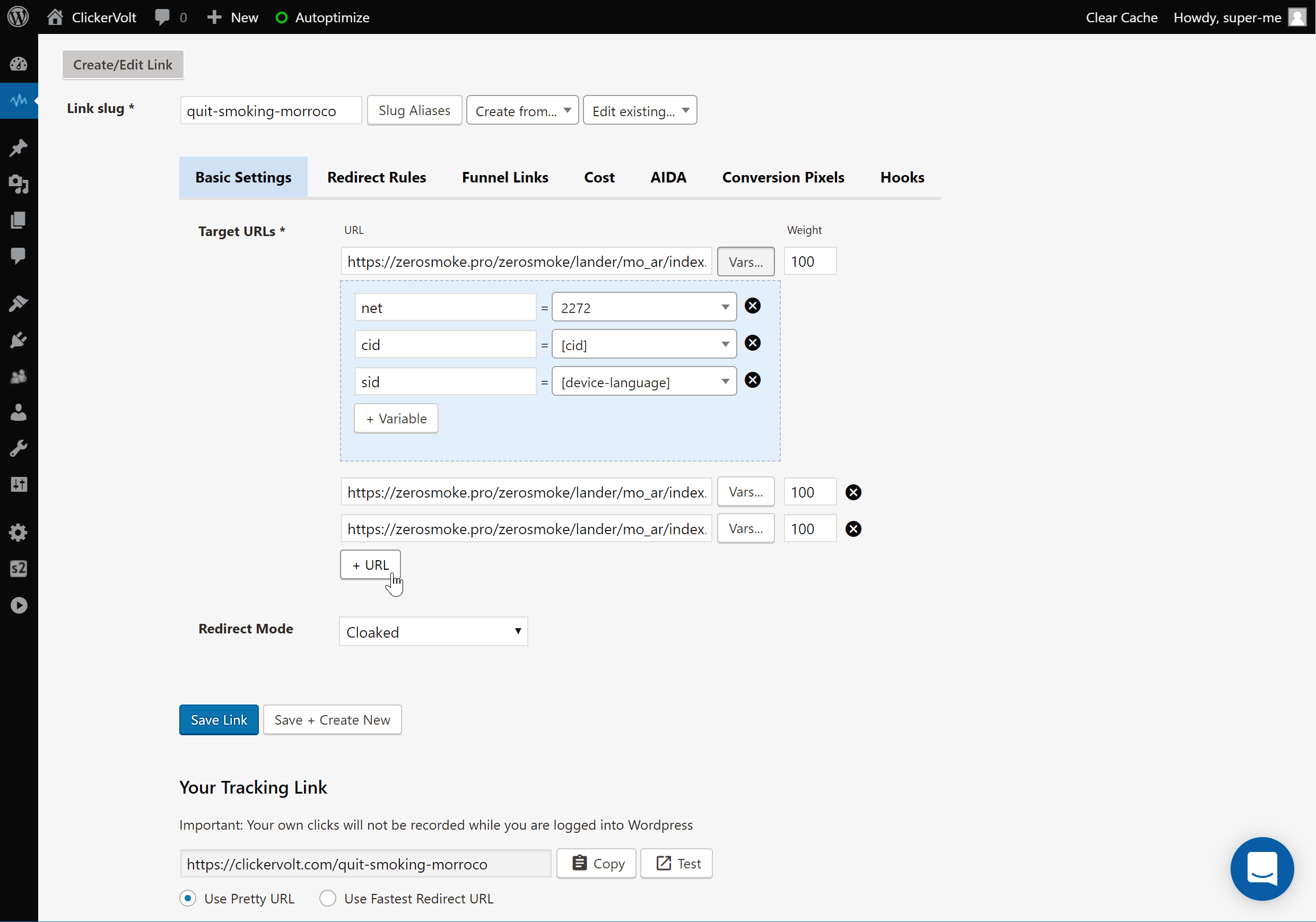 It also includes a robust payment and checkout plugin that makes it easier for you and your customers to sell digital products.
With ClickerVolt you can promote offers from popular CPA or traditional affiliate networks like MaxBounty, Peerfly, A4D, C2M, CPAWay, Clickbank etc. All of these networks allow you to attach a unique tracking ID to your affiliate links. ClickerVolt automates this by using its clickID [cid] token. You can then share your ClickerVolt postback URL with these networks to receive real-time conversion notifications.
AffiliateWP allows you to create a worldwide referral commission in which all affiliates participate at the simplest level. Affiliates can receive different commissions depending on what products are purchased if you use integrations that offer referral rates per product. You can also set commissions per affiliate with AffiliateWP. These fees take precedence over per-product referral rates.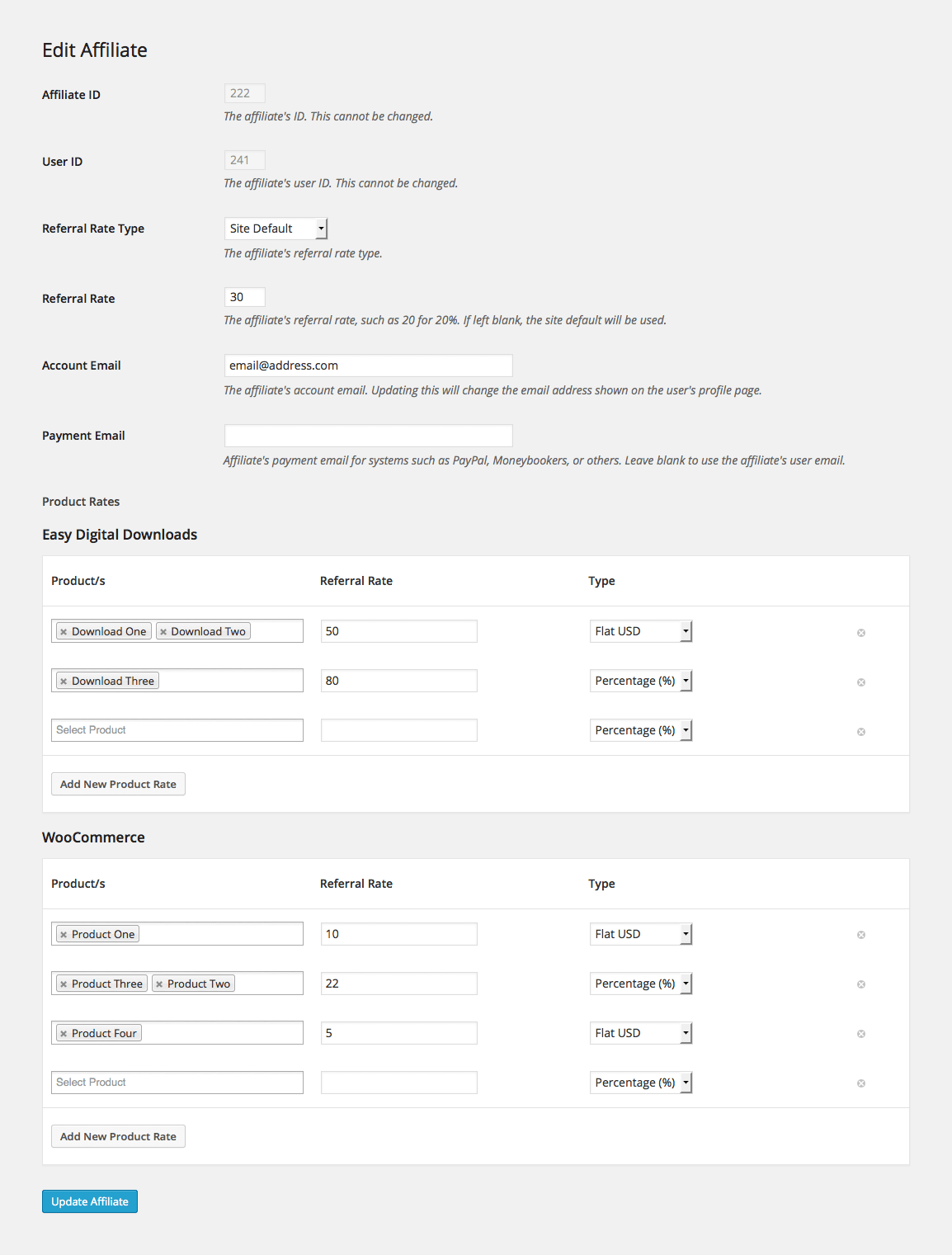 Affiliate Product Prices take this a step further by permitting various per-product referral rates on a per-affiliate basis.
AffiliateWP is a full-featured affiliate click tracking solution for your WordPress website that connects with all major WordPress e-commerce and membership platforms. It tries to give you everything you require in a simple, clean, and user-friendly system that you will enjoy using.
Google Analytics
Google Analytics is the most well-known and widely used online analytics tool that can also be used to track links and conversions if you configure your Thank You pages correctly. Look at it as a free link tracking software. It is a particularly valuable tool for collecting conversion tracking software-related metrics and insights that can help you improve your website optimization.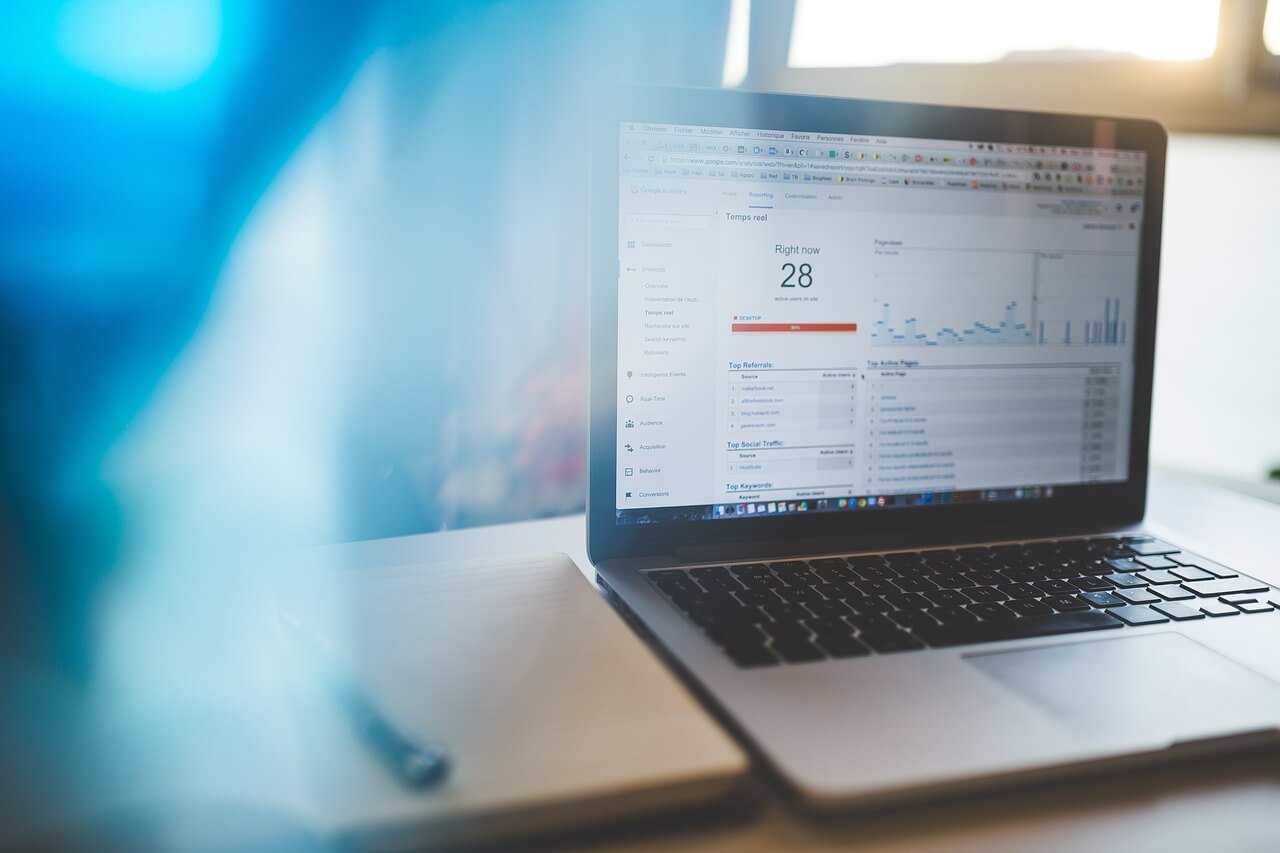 With GA, you can find out which of your pages you are converting and why, uncover helpful information about your audience's behavior, set up funnel analysis tools, and more.
Price: Google Analytics is completely free. Google Analytics 360, the premium version of the service, costs $150,000 per year.
How do I track webpage clicks?
If you want to optimize the amount of money you make from each visitor, you must have the best tracking system in place to analyze your visitors' activity.
A click tracking software that is both simple to use and delivers comprehensive insight into your visitors can assist you in making data-driven decisions to enhance your company's sales and revenue.
A link tracking software contains a number of crucial functions for your marketing plan and boosts your website's usability and conversion rate.
How Does Click Tracker Work?
A click tracker is a piece of software that keeps track of how many times a specific link has been clicked on. It can be used to assess the success of internet advertising campaigns, for example, by tracking the number of individuals who click on an online ad.
When someone clicks on the link, the click tracker generates a unique tracking ID for that person. It will also keep track of when and where each click was made. This data can subsequently be used to develop reports demonstrating the advertising campaign's efficacy.
What exactly is link tracking software?
Link tracking software is a sort of software that helps website owners and operators maintain track of the links on their websites.
Such software is crucial because it lets website owners know which links are most frequently clicked and how many times each link has been clicked, which is incredibly useful for making data-driven decisions.
Using this data, you can determine which links are the most popular and which could use some enhancement. Furthermore, link tracking software can help identify broken links on a website, allowing them to be rectified.
Who is the target audience for link tracking software?
Tracking software is an essential tool for anyone involved in internet marketing, affiliate marketing, business ownership, or anyone with a website who wants to convert more visits into leads, customers, or clients.
If you do not track your results, you will not be able to know what is and is not working. As a result, you will be unable to improve your conversion rate.
It will take significant time and money to figure out what is driving your low conversion rate.
Use tracking software that delivers deep analytics on your visitor activity to get the most out of it and make data-driven decisions while saving money and effort.
Conclusion
Click tracking is a vital component of any internet marketing campaign, and it can make or break your organization. Click tracking is about determining what drives customers and clients to convert.
Are they motivated by the price or by the features? You must understand so that you may create your approach from there.
The marketing budget selections you make based on click tracking analytics help you get the most bang for your cash.
Without question, click tracking software is a valuable feature of any website. And you have plenty of options with the click tracking tools described above.
They all work with various operating systems, browsers, and platforms. We hope this helps you narrow down your selections and choose the best one for your needs.
Looking for affordable affiliate link tracking software? Try Scaleo for 14 days and book a demo call – no credit card required.