iGaming affiliate software gained enormous popularity in 2023 primarily because the iGaming industry relies heavily on referrals. Looking to start an affiliate program for your iGaming business? That is a great decision! An affiliate program can help you grow your customer base revenue tremendously. But, which software should you choose to use to run your program?
Let's find out!
Today, we've compiled a list of the top 15 affiliate program software for iGaming businesses. This list will help you choose the right solution for your exact needs and budget. We've compared features, pricing, and customer reviews to help you make the best-informed decision. So, let's dive right in!
Top 15 Affiliate Marketing Software for iGaming Industry
---
Scaleo
The iGaming industry is a fast-paced and competitive space, and choosing the right affiliate software can make a big difference in the success of your program. If you are looking for affiliate software that offers everything you need to succeed, then Scaleo is the ideal solution.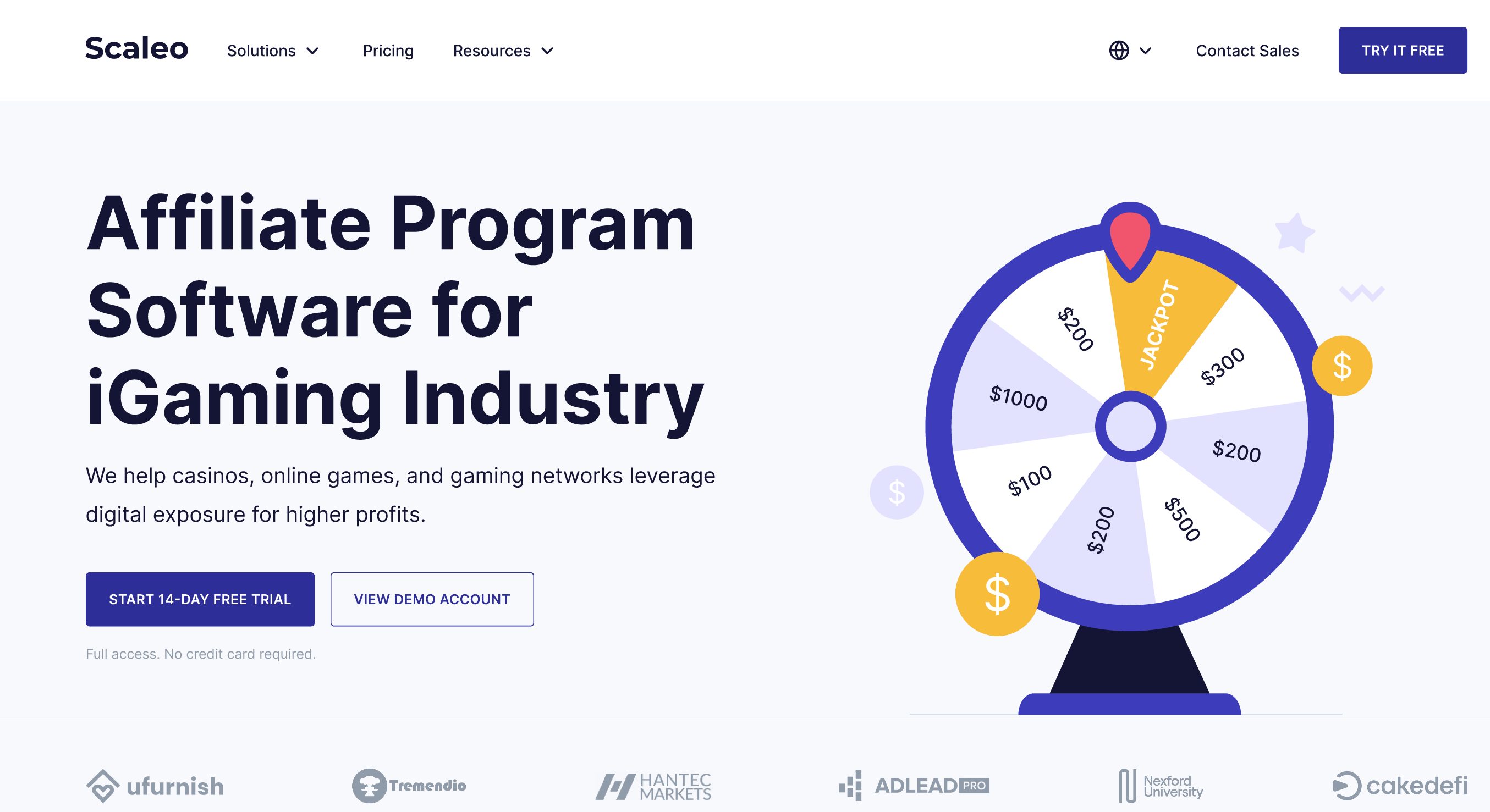 Here are a few reasons why Scaleo is the perfect software for the iGaming industry.
Tracking Parameters and Terminology Used in the iGaming Industry:
Scaleo offers all the dynamic tracking parameters and terminology commonly used in the iGaming industry, giving you the data and insights you need to make informed decisions. With Scaleo, you can track key metrics such as commissions earned, CPA, CPL, RevShare or implement a Hybrid model.
Moreover, thanks to player reports, you can track average player value through metrics such as: total deposits, withdrawals, bonuses, bets, wins, GGR and NGR. That way, you'll always have the information you need to optimize your affiliate program.
Robust Security
Scaleo takes security seriously, with multiple levels of protection to keep your data and business safe. The backend uses industry-standard encryption techniques to protect sensitive information, prevent multiple account creation, integrate with secure payment gateways, and has robust 2FA user authentication and authorization processes. With Scaleo, your data is secure and protected from fraud and security breaches.
Easy Integrations
Scaleo is a white-label solution that integrates easily with any tools you already use and the platform that powers your Casino or betting website.
Gather and manage all your marketing activities, making managing your affiliate program easier and more efficient so that you can access all of your data and insights in one place. Scaleo is also perfect for those looking to start an iGaming affiliate network since it works right out of the box and supports all the features the iGaming industry employs.
Scaleo is currently the best solution for iGaming affiliate management in 2023. You can use it a stand-alone affiliate software or as sales tracking software and pull all your marketing channels into one dashboard, which will give you a clear overview of your promotional efforts.
Affordable Pricing
Pricing starts at only $1200 per month (including the iGaming modul), making it an affordable option for gambling businesses of all sizes.
Try Scaleo free for 14 days.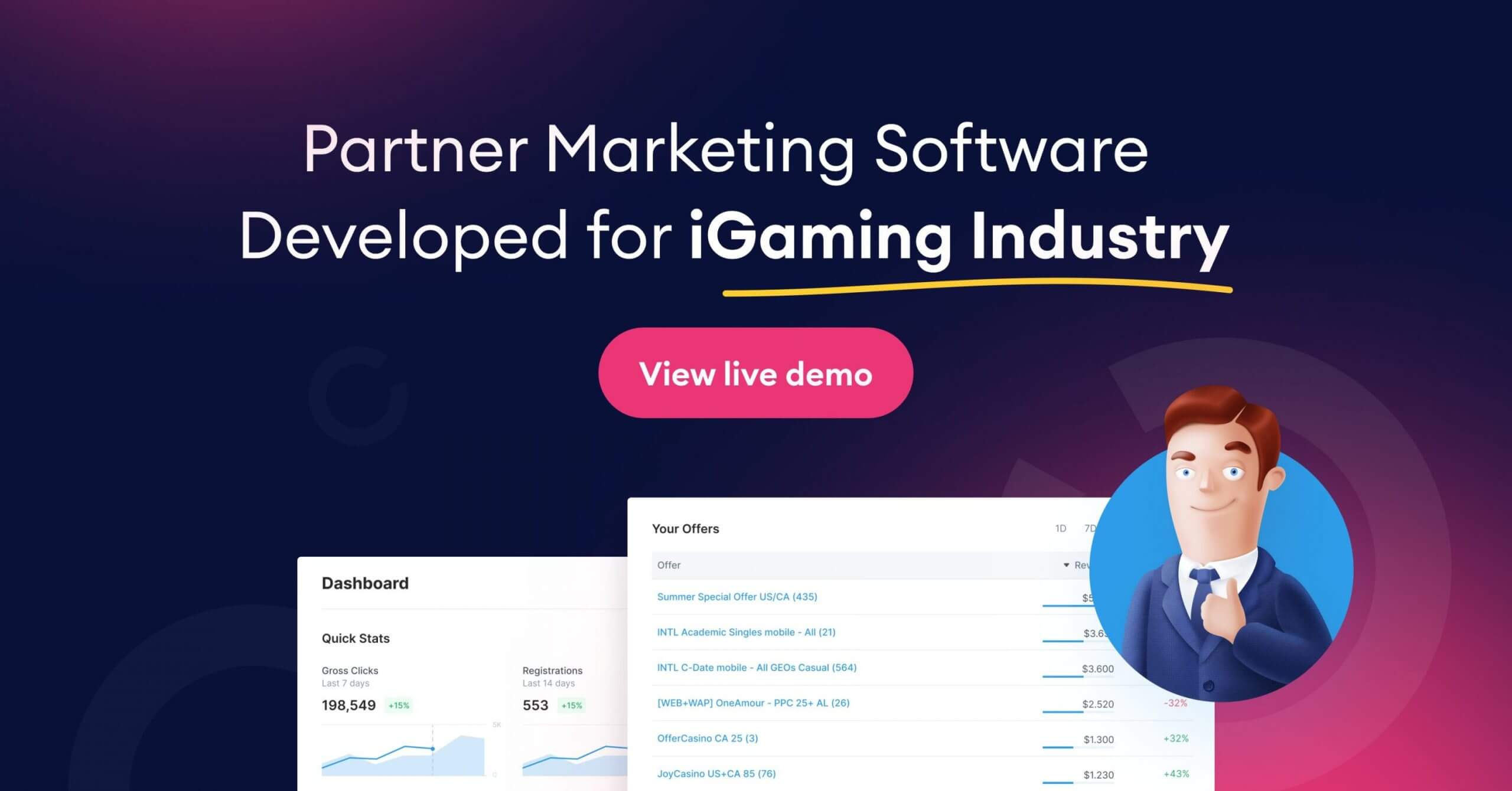 ---
Nux Game
NuxGame is a program module designed for creating affiliate marketing networks and sports betting software referral systems with ready-made templates. This affiliate management system is designed to provide greater convenience to all users, including administrators and affiliates. NuxGame affiliate marketing software supports all commissions type plans, as well as the ability to set up different offers and plans.
With this software, you can improve the accessibility and functionality of your affiliates' dashboards. As a result, the quality of your campaigns will improve and more visitors will be directed to your business.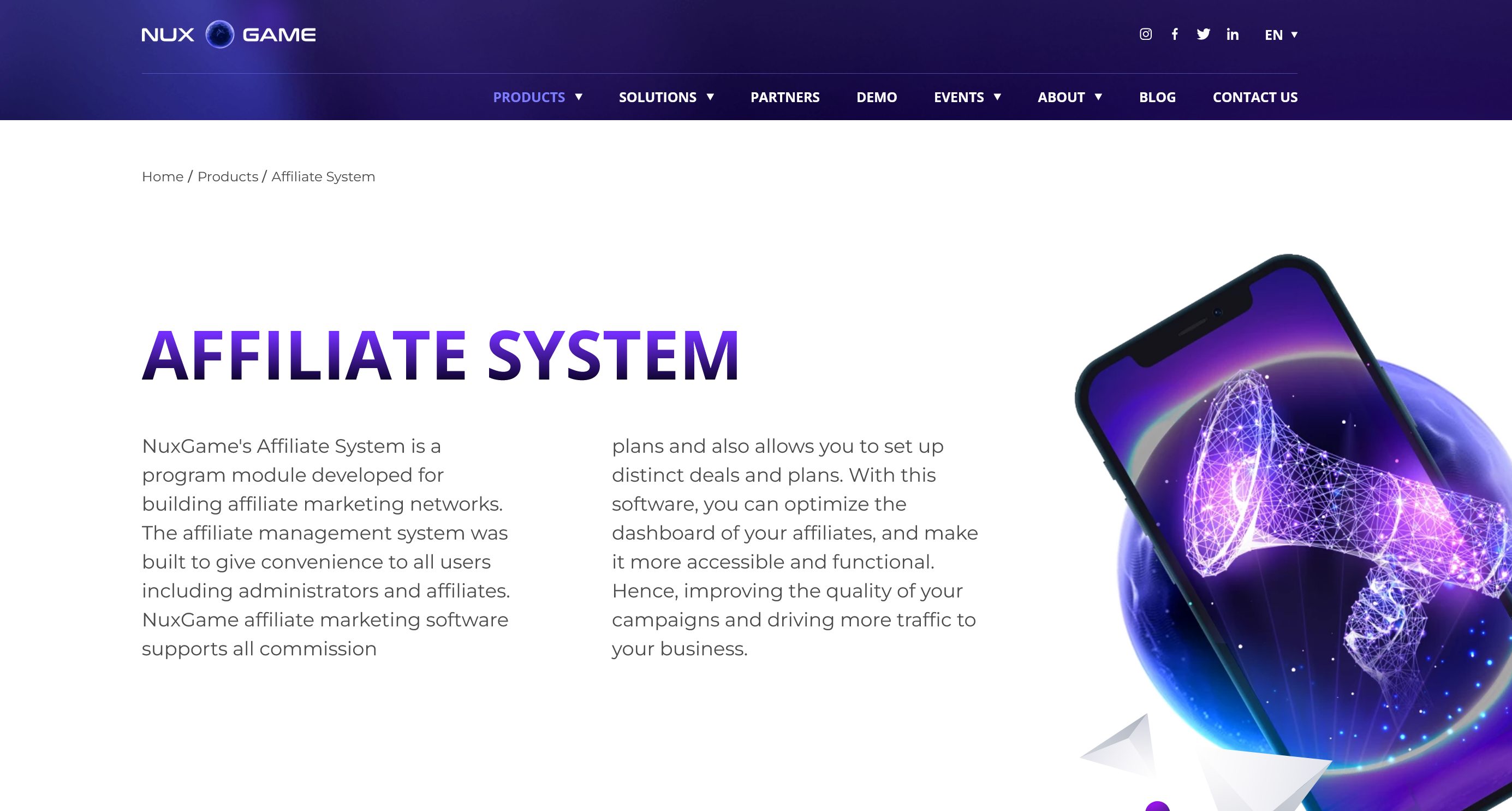 Recent News
Nuxgame has agreed to integrate PartnerMatrix's management system into its technology solutions.
According to the terms of the agreement, Nuxgame will be able to offer its clients multi-tiered commission models that are adaptable to different markets and regions thanks to the latter's software.
The following are some of the advantages of utilizing NuxGame's iGaming affiliate marketing system:
A straightforward user interface that allows you to tailor controls to specific tasks.
It's convenient and simple to use.
You can assign roles to administrators and control each user's access rights.
As an administrator, you can categorize players and affiliates using specific criteria. This allows you to understand players' behavior better, monitor suspicious activity, and reward productive partners.
Accessible via desktop and mobile devices.
---
Traffic Manager
Traffic Manager is a well-known tracking and management solution for iGaming companies that will form a complete affiliate ecosystem.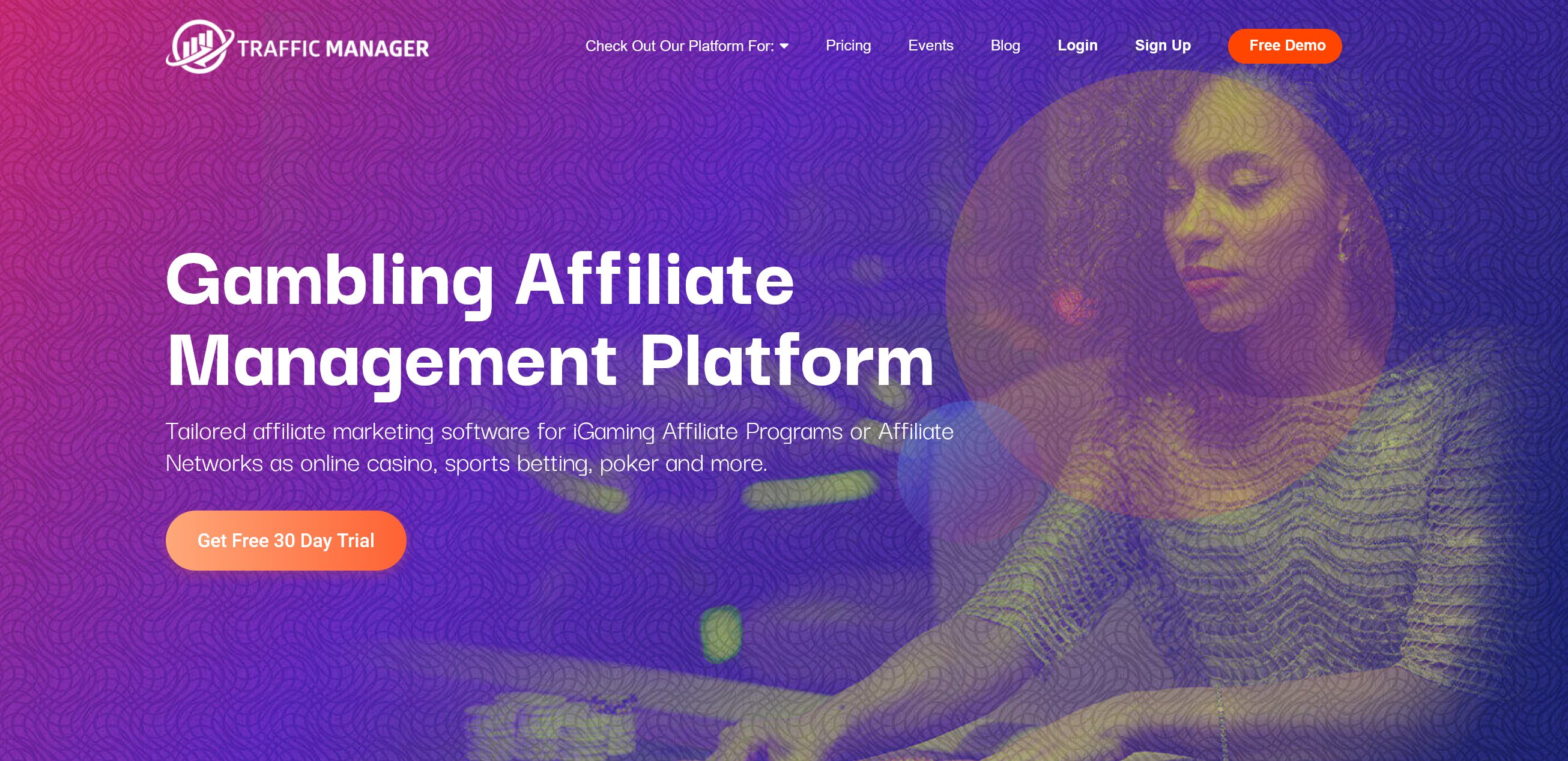 Traffic Manager software offers simplicity by design. Making everything simpler so you can focus on the things that really matter.
All-in-one platform: Create and manage your affiliate program from scratch, track your performance and optimize results accordingly, automate routine tasks, and keep control of your affiliate relationships on a single platform.
Control and customization: Your affiliate program – your rules. You have full control over it by customizing every part according to your needs. From design to campaign settings to payout management
Pricing:
Predictable costs: Fully transparent pricing policy to ensure complete budget control. Prices start from € 199/month up to € 999/month
Try Trafficmanager.com for casino and betting companies.
---
Smartico
This is a Smartico module (for their iGaming software provider), not a standalone affiliate software you can use with whatever software you are already using to power your iGaming business.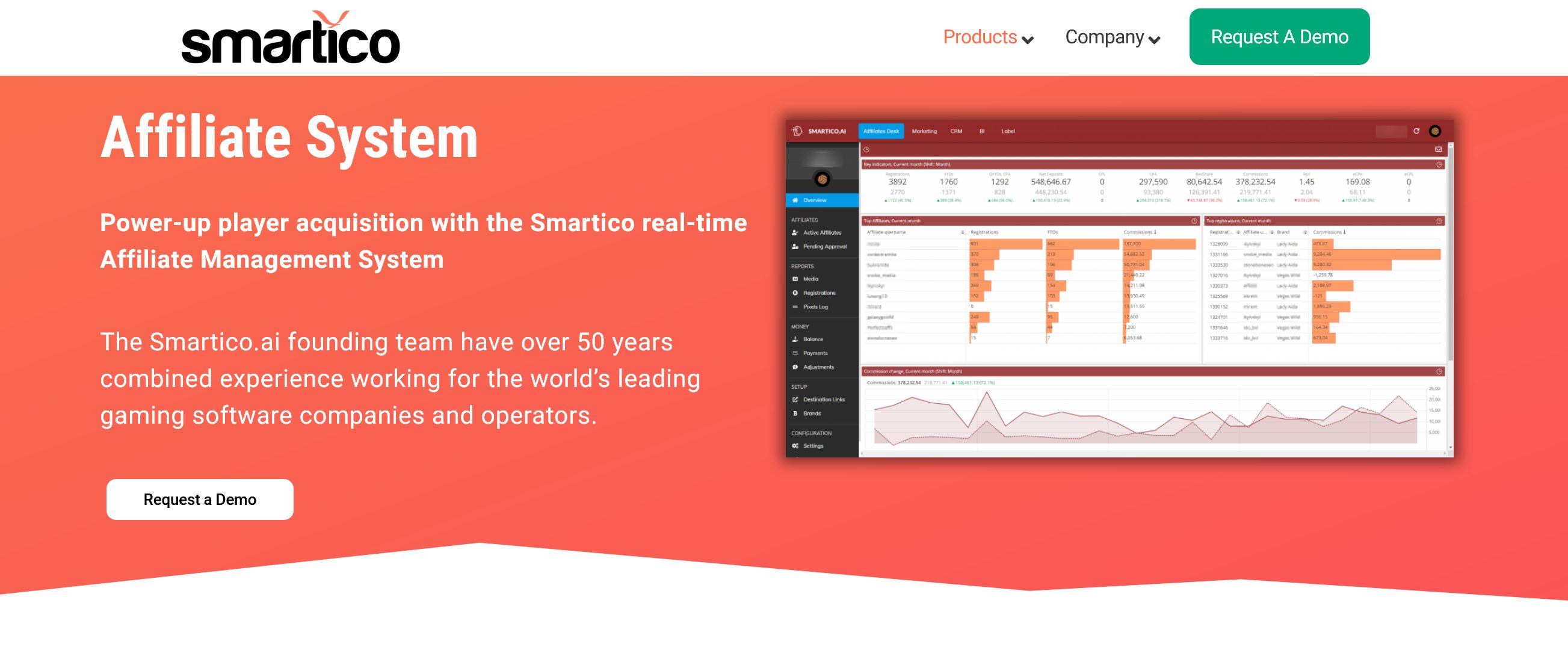 Smartico's founding team has many years of combined experience working for the world's leading gaming software companies and operators.
Their white-label platform is specifically designed for casino, poker, sports betting and fintech operators. It is easy to use and gives your team complete control over your entire affiliate business, including managing your team of affiliate managers, real-time reporting, payments, and an entire BI interface.
Smartico's feature and platform development is driven by customer needs and product requirements, making it the most tailored iGaming platform.
Smartico only provides custom quotes upon request or after a scheduled demo call, but in the meantime, you can request a free Smartico demo.
https://smartico.ai/affiliate_system
---
BetConstruct
This is a BetConstruct module, not a standalone iGaming affiliate software. This means, it's only suitable for companies that use the BetConstruct platform to power their betting business.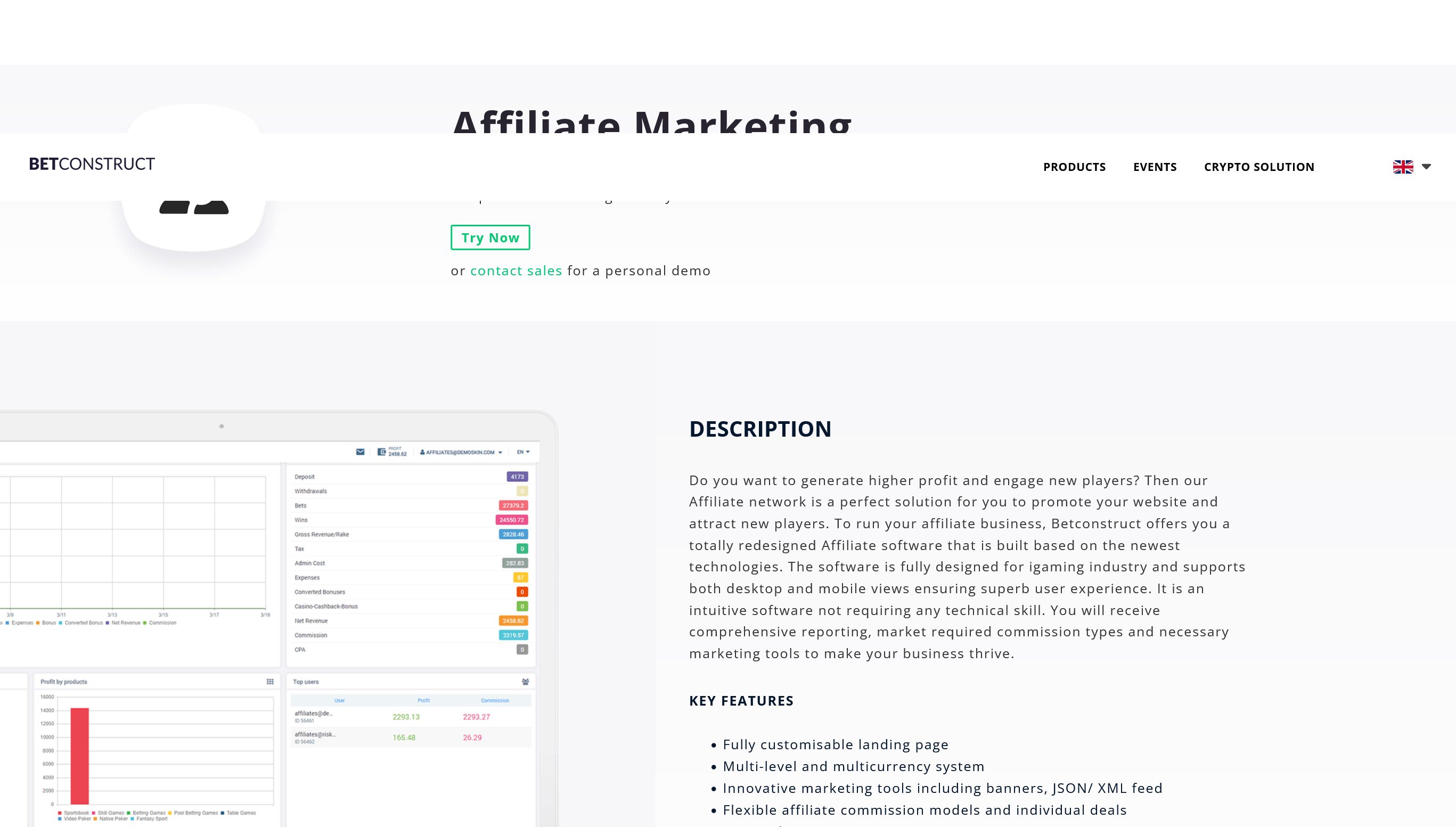 Do you want to increase your profit and attract new players? Then their affiliate network is ideal for promoting your website and attracting new players. BetConstruct offers completely redesigned affiliate software based on state-of-the-art technologies to help you run your affiliate business.
The software is fully tailored for the iGaming industry and supports desktop and mobile views, ensuring excellent usability. It is simple software that does not require any technical knowledge. You get detailed reports, market-driven commission types, and marketing tools to make your business flourish.
Key features that the BetContruct affiliate module offers:
Fully customizable landing page
Multi-level and multi-currency system
Innovative marketing tools like banners and JSON/XML feeds
Customized deals and flexible commission models for affiliates
Comprehensive reports
Commission payments can be made both automatically and manually.
Individual and global permission control
The tool is available in desktop and mobile versions.
View modes, as well as dark and light appearances
API integration
Pricing:
This is one of the most expensive affiliate modules on our list. Entry plan starts at $3k a month + $2k initial set up fee. This package includes CRM, an affiliate marketing module, access to statistics, and DDOS protection – all this is hosted on their remote server.
Request a 30-day free trial here: Betconstruct.com
---
PartnerMatrix
This is an EveryMatrix module, not a standalone affiliate software, which means you can only use it if your casino or gambling business is powered by the EveryMatrix platform.
PartnerMatrix is ready to help you run a successful campaign. It is a powerful affiliate software platform that provides advanced solutions for creating, running and tracking multi-brand affiliate marketing campaigns for betting and casino operators.
Their team can help you promote your brand and recruit new affiliates.
They create your affiliate landing page using standard and custom templates to find the best mix of visual branding and messaging to support the conversion and engagement of new affiliates.
PartnerMatrix is an iGaming affiliate marketing platform module that allows you to manage multiple brands and product data simultaneously, with separate affiliate registration and access for each brand. Changing landing pages, permissions, languages, or payment methods has never been easier.
Back office with full functionality and real-time reports
Their back office is strongly focused on the convenience of the affiliate manager and administrator. The goal is to efficiently manage data, payment plans, marketing tools, affiliate settings, and detailed reports and accurately track the impact of the promotion from a single place
PartnerMatrix's back office facilitates the work of affiliate managers and enables them to manage all operations successfully.
Furthermore, PartnerMatrix's solution extensively uses affiliate tracking and statistics, allowing NuxGame clients to track earnings more precisely through an upgraded casino affiliate system.
Pricing:
EveryMatrix only provides custom quotes upon request, but you can contact them and request a free trial or schedule a demo call with their representatives. For more details, go here: Everymatrix.com/partnermatrix
---
Affiliate Control
Affiliate control is a standalone gambling affiliate marketing software vendor you can use with any platform you use to power your igaming business.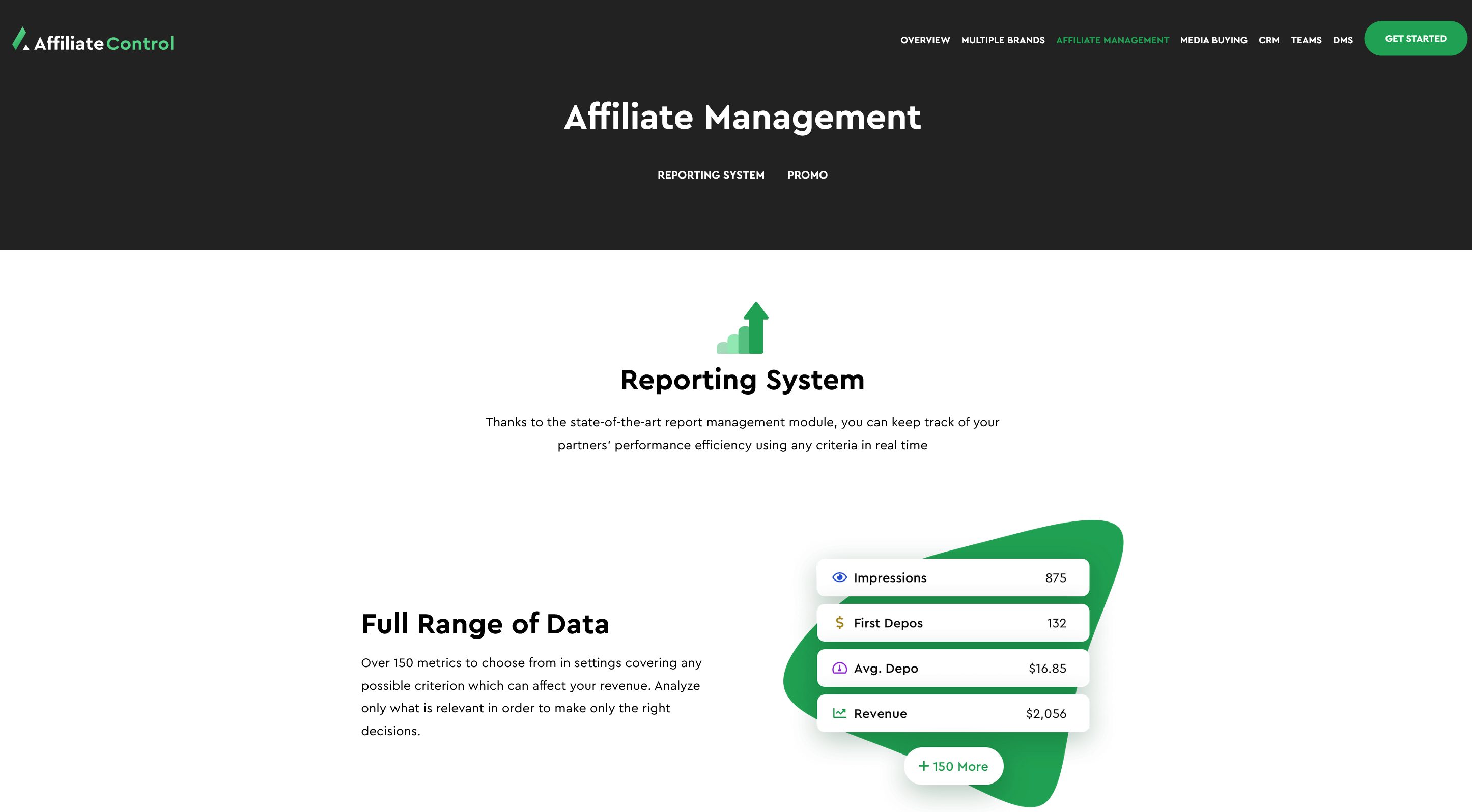 Over 150 metrics are available in settings, covering every possible criterion that can affect your revenue. Only analyze what is relevant in order to make the best decisions. Set a set of criteria and their preferred order, then save your preferences so you don't lose any of your settings and have quick and easy access to them whenever you need them.
Pricing:
No information on pricing is available online, you can contact them to get a quote here: affiliatecontrol.com/management
---
Affilka
Affilka is a SwissSoft module that delivers the necessary tools for handling your affiliate database. You can view your affiliates' performance information and contact details, set affiliate managers to your affiliates, confirm or block partner accounts, approve their records, label partners with custom tags for ease of navigation, and leave comments on accounts for your team.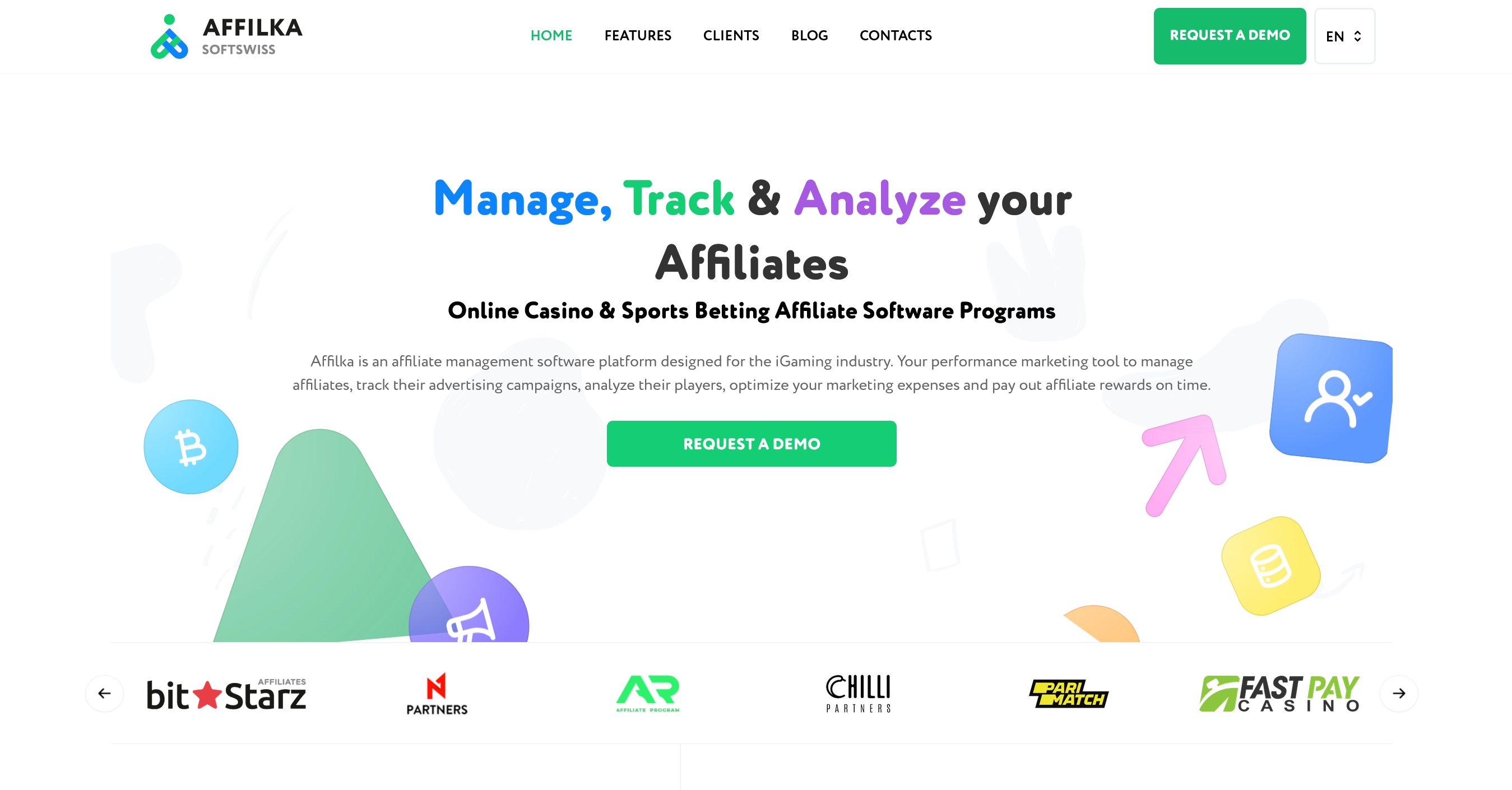 You can also offer affiliate bonuses, and payments, assign customized commission plans, media, landings and bonus codes to your affiliates, analyze affiliate statistics, and define report visibility settings for your affiliates individually.
Control affiliate accounts
Assign affiliate managers
Comments
Pay/cancel payments to affiliates
Assign personalized commission plans
Offer personal media and landing pages
Analyze performance
Define report fields
Pricing:
Pricing is only available on request, but you can try it for free for 14 days
---
Affiliate Management System
Take control of your online business with an innovative, SEO-enhanced affiliate management system script developed by experts in PHP. This powerful tool not only facilitates the launch of affiliate marketing campaigns. It helps your e-commerce platform achieve exceptional growth and new successes.
This system gives you more than just control over your business – it puts you at the center of the affiliate marketing world. With a self-hosted affiliate management system script, you can turn your business vision into reality. It infuses your ecommerce business with a boost of energy and focus, unleashing its full potential. Harness the power of affiliate marketing to the fullest and see your online business flourish like never before thanks to our state-of-the-art tool.
Affiliate Management System Script Features:
Hyperlocal Store Capability: This script facilitates direct sales from home, broadening your SEO reach and enabling anyone to become a vendor, create an online business in minutes, and share products with all system affiliates.
Vendor Registration & Commission Management: This affiliate script allows for easy registration of vendors who can promote their own stores. As an admin, you can earn a fee from their sales, creating a win-win situation for all parties involved.
Membership Module: Implement a paid membership model with our script, allowing you to charge users for accessing your system, adding a new revenue stream to your business.
Fluid Integration: Seamlessly merge this affiliate script with any platform or website. With our solution, compatibility issues are a thing of the past.
Adaptive Commission Architecture: The script offers flexible commission structures based on various metrics – clicks, actions, or sales. Customize your business strategy as you see fit.
MLM & Recurring Modules: Incorporate multi-level marketing strategies and set up recurring payments with our built-in modules, further enhancing your revenue generation potential.
Key Modules:
Affiliate Program and Campaign Modules: Manage your affiliate network and easily track marketing campaigns.
Integration and Wallet Modules: Integrate seamlessly with existing systems and manage affiliate earnings effectively.
Sales, Checkout, and BUY Button Modules: Drive conversions with high-engaging sales pages, streamlined checkout processes, and embedded commission tracking.
MLM and Admin Modules: Effortlessly manage your Multi-Level Marketing structure and admin commissions.
SaaS, Deposit, and Membership Modules: Enhance your system with Software-as-a-Service features, handle network deposits, and manage user memberships efficiently.
Recurring, Postback, and Award Levels Modules: Automate recurring payments, track conversions, and reward your affiliates based on performance.
With Affiliate Management System script, you're not just boosting your online business performance; you're investing in a comprehensive solution that fosters profitable partnerships, encourages vendor success, and opens up multiple revenue streams.
The affiliate interface, the administrator interface, and the sign-up form are the three main components of affiliate software. These customizable and user-friendly features result in a ready-to-use and efficient tool for managing your affiliate marketing program.
More info and pricing: codecanyon.net/item/affiliate-management-system/25393355
---
eGass
According to their own website, this affiliate program management was developed by a team of affiliates, ad network specialists, and award-winning system designers. Their aim was to provide their clients and their affiliate business partners with state-of-the-art affiliate program management and performance marketing software to build, manage, and grow your marketing business using smart technology and detailed traffic sources and financial reports.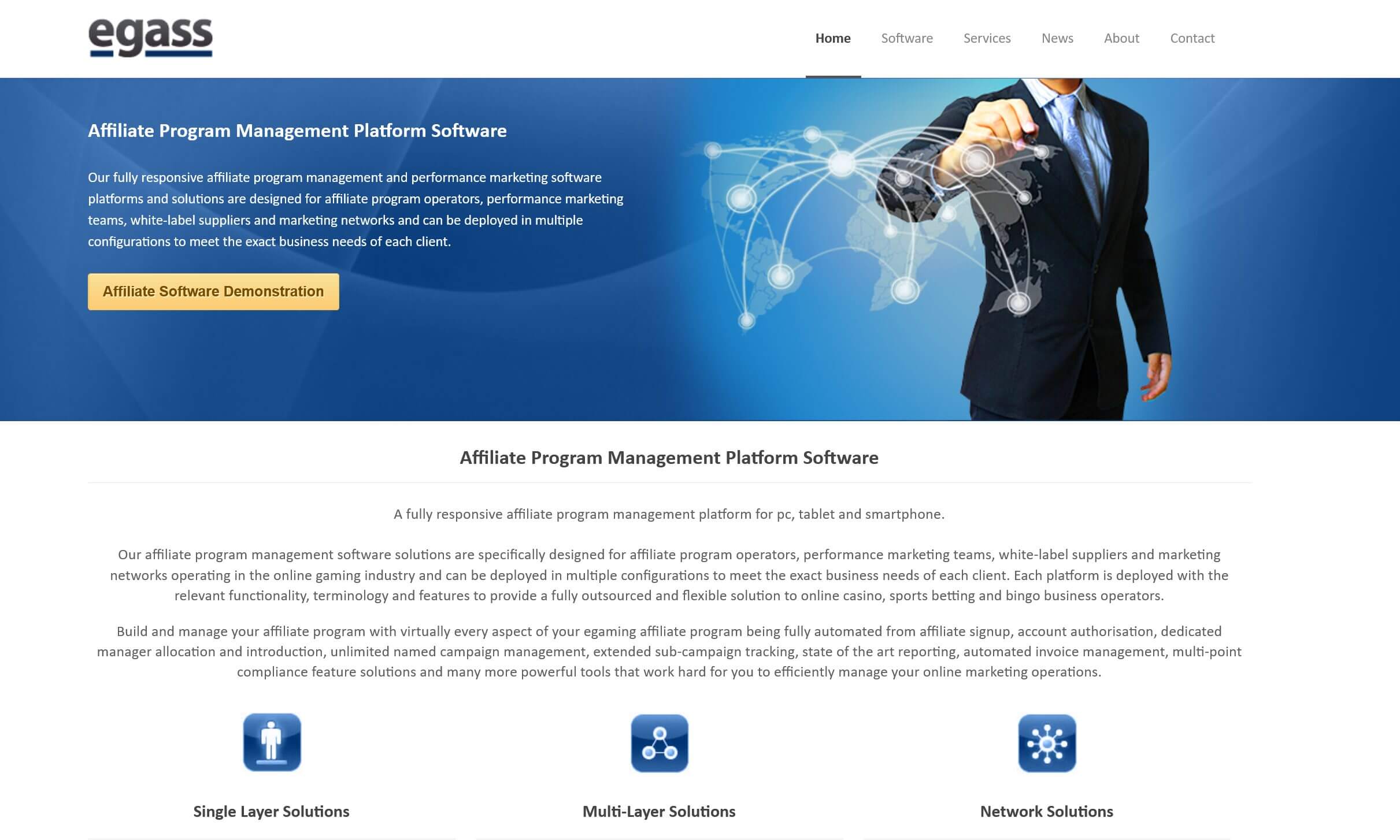 Their adaptable multi-layer platforms can be deployed in various configurations to meet each client's specific business needs and are delivered with the relevant functionality, terminology, and features to meet the iGaming industry's requirements.
Feature-rich new technology software combined with scalable service solutions to deliver a full-service solution that includes core software upgrades, dependable hosting with full mirrored redundancy, an integrated content delivery network, data management, and professional support services.
Pricing:
This is also one of the most expensive software on the market, set up fee ranges from $3k to $6 for bigger plans. Monthly fees range from $2k to $5k, with hundreds to thousands of dollars in additional fees adding up for a license, and setting up your account takes 1 to 6 weeks. There is no free trial available, but you can see more details about their software here: Egass.com
---
Partnergrator
Partnergrator allows you to gather extensive data and plan strategically based on report findings. You'll gain performance marketing insights that will help you forecast more accurately. To personalize your viewing experience, drag and drop your own KPIs. Divide data by country and brand to support growth and expansion into new markets if desired.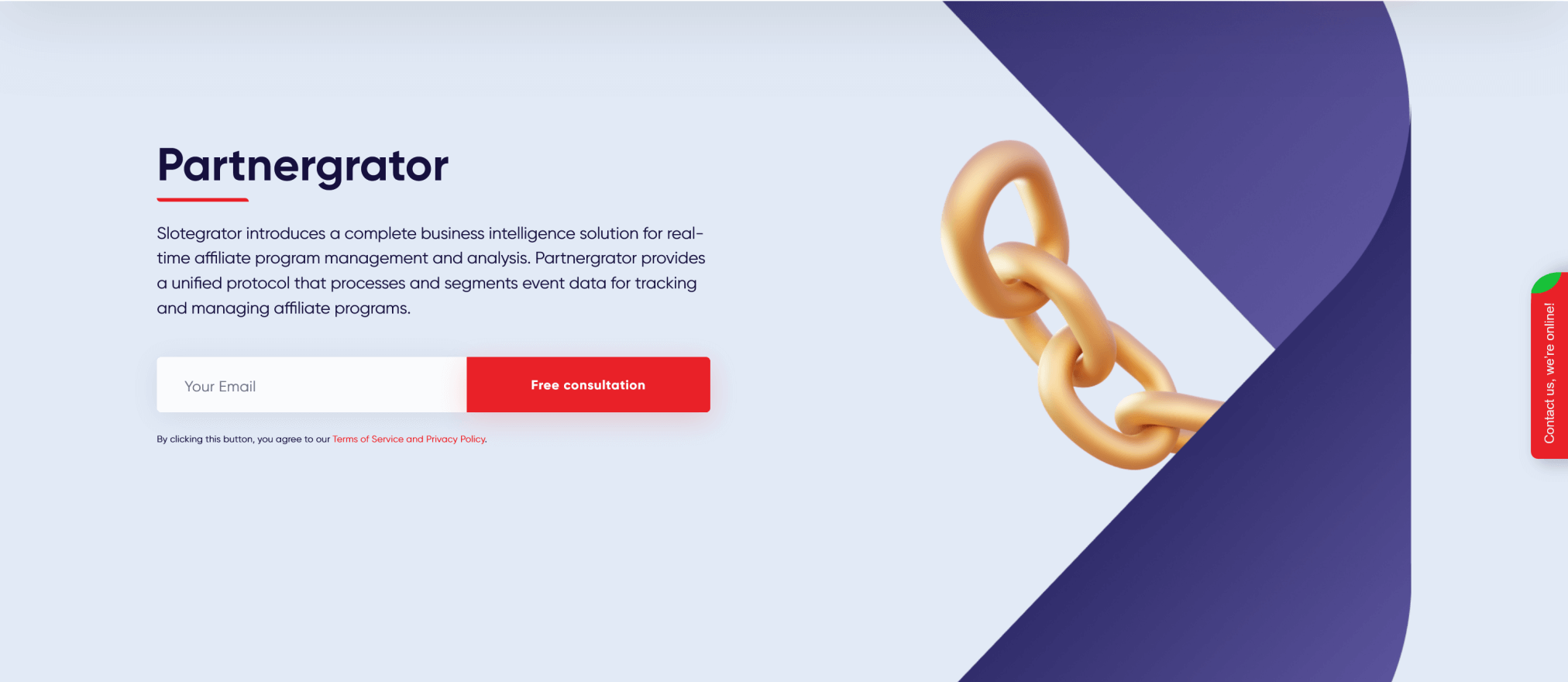 As a head of marketing, they use their tools to forecast the future and identify strategic gaps that need to be filled. You will be provided with churn predictions in order to maintain valuable partnerships while also nurturing potential cross-product selling opportunities. Make more informed decisions, increase your ROI, and get your affiliate program to make a long-term impact with campaigns that are true to your vision.

Financial Management
Utilize the platform's functionalities to optimize budget allocation for the next 12 months and beyond by gauging past performance and discovering upcoming trends. Their tools can be integrated without any prior coding experience: simply jump in to check what you need and go about your business. Fine-tune your insight to maximize ROI and provide your teams with the resources and support required to meet set goals.
Joining a Partnergrator-powered program as an affiliate will assist you in determining what your players are looking for and meeting their needs. Their software provides a detailed breakdown of referral data. Assess and improve your tactics to increase player loyalty and retention. Learn what motivates desired customer behaviors, thereby assisting your affiliate marketers in meeting their objectives and increasing revenue share for yourself.
Pricing:
Partnergrator does not officially offer an easy-to-access free trial or any information on its services pricing. You need to contact them directly to request a quote for your particular gambling business needs, on their website here: Slotegrator.pro/partnergrator.html
---
MAP™ by Mediacle
MAP by MediaCLE is another software module developed for iGaming industry and can help gambling, casino, poker and betting websites to get tap affiliate marketing. They offer a complete suite of impressive and effective software tools that powers the entire iGaming ecosystem and keeps all your day-to-day business processes such as affiliate marketing, user acquisition, retention and customer support – in one place.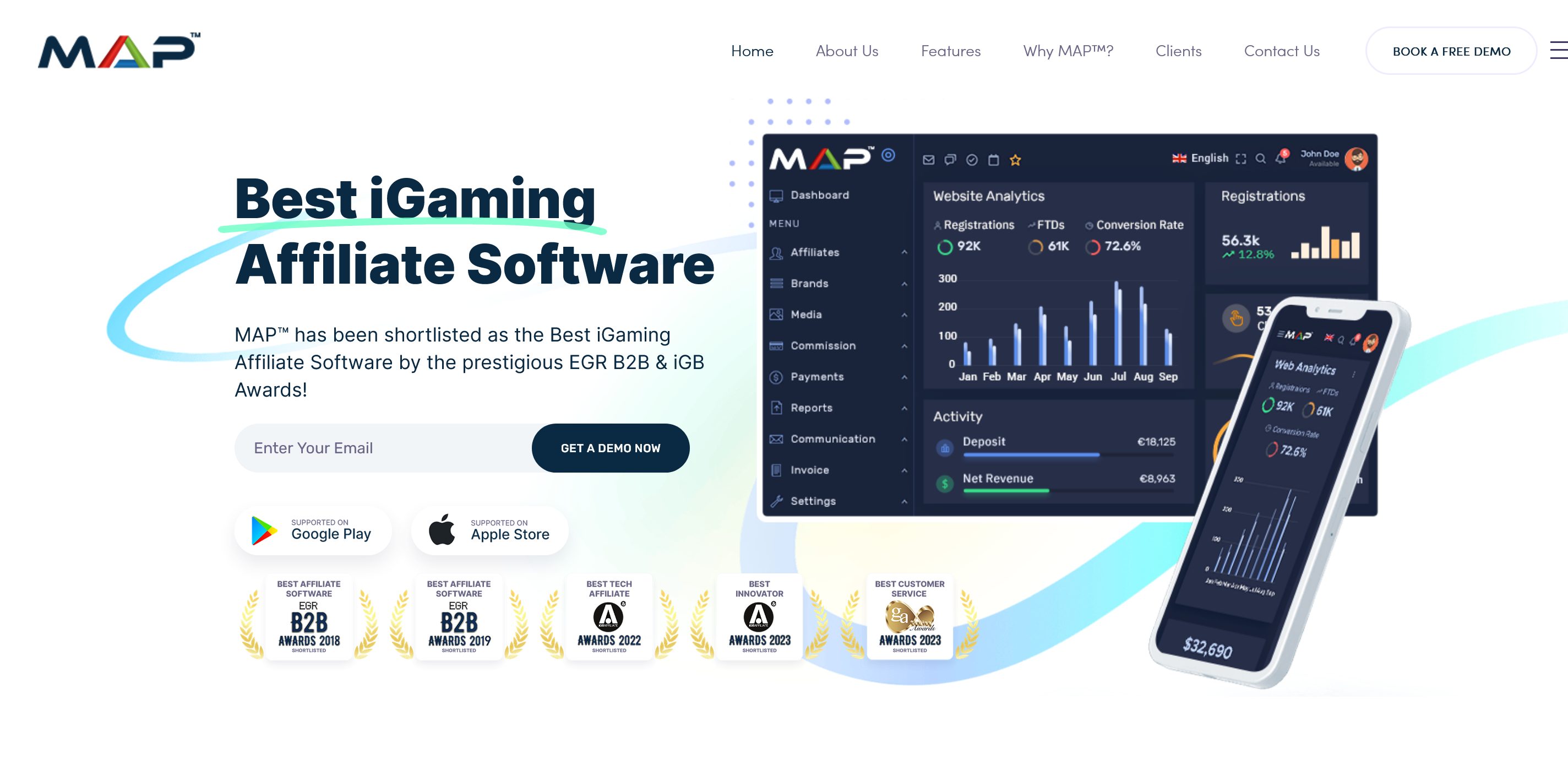 It's important to note, that, like many affiliate marketing software on our list, MediaCLE is a partner marketing module that you can use only if your gaming business is powered by their ecosystem already.
This complete solution provides a wide variety of tools, not just an affiliate marketing module, but you need to be a part of their ecosystem to avail of these tools.
MAP™ is a progressive, SaaS-based affiliate marketing software platform suited for iGaming companies of all sizes and budgets. Their easygoing approach allows iGaming merchants to run their performance marketing campaigns effectively.
Pricing:
MAP provides a free demo, which you can request here: map.mediacle.com. Just like many other merchants on our list, MAP does not provide information on their pricing structure on their website, you need to contact them to get a custom quote.
---
Alfa Affiliate
Although this affiliate network for iGaming products is well-known to people who use it, there is little to no information about its features or commission prices.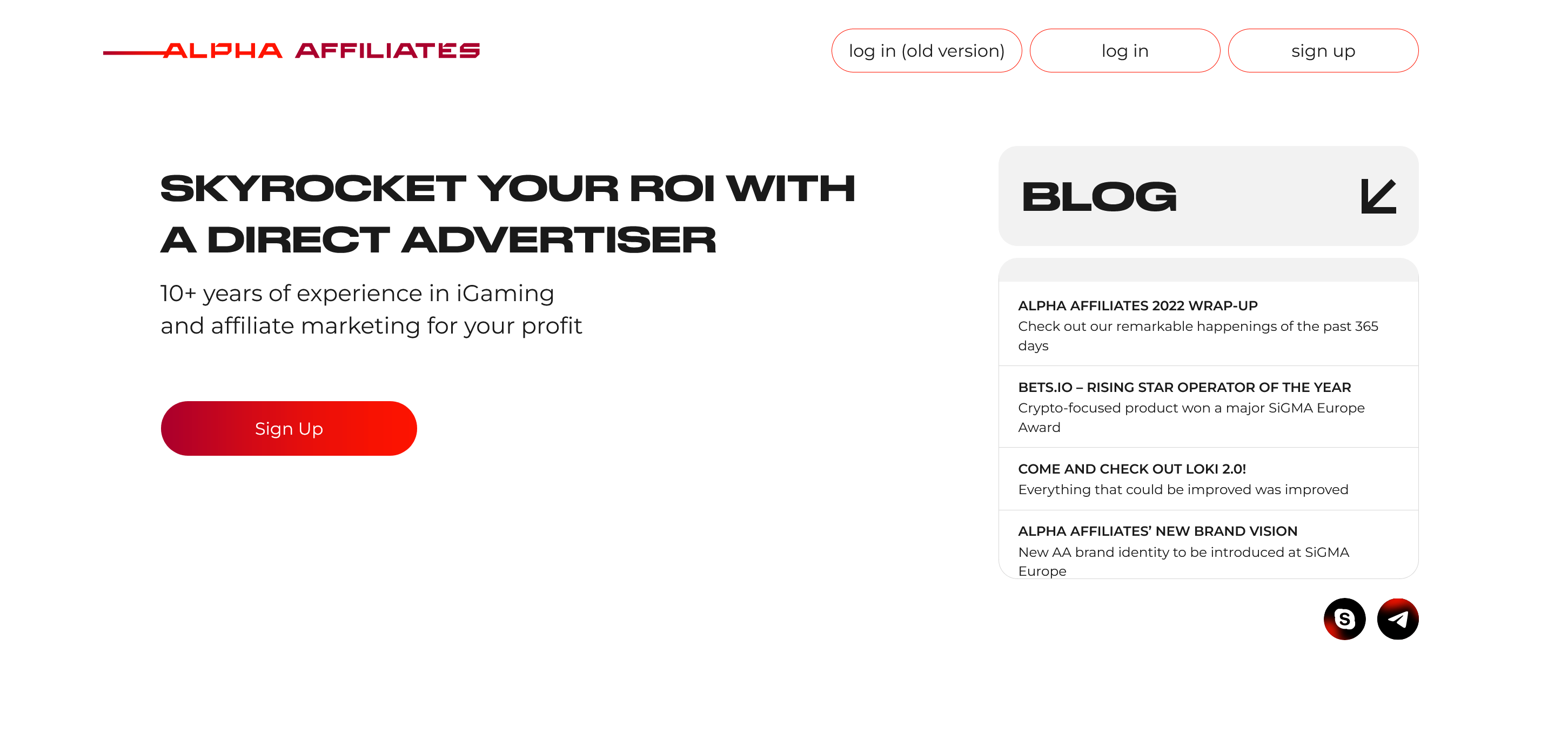 Fees start at $500 with no demo or a free trial available. More info on their website: alpha-affiliates.com
---
Income Access
Their comprehensive multichannel tracking and analytics will give you a more in-depth understanding of your digital marketing measures and budget, so you can always make the most of your investment.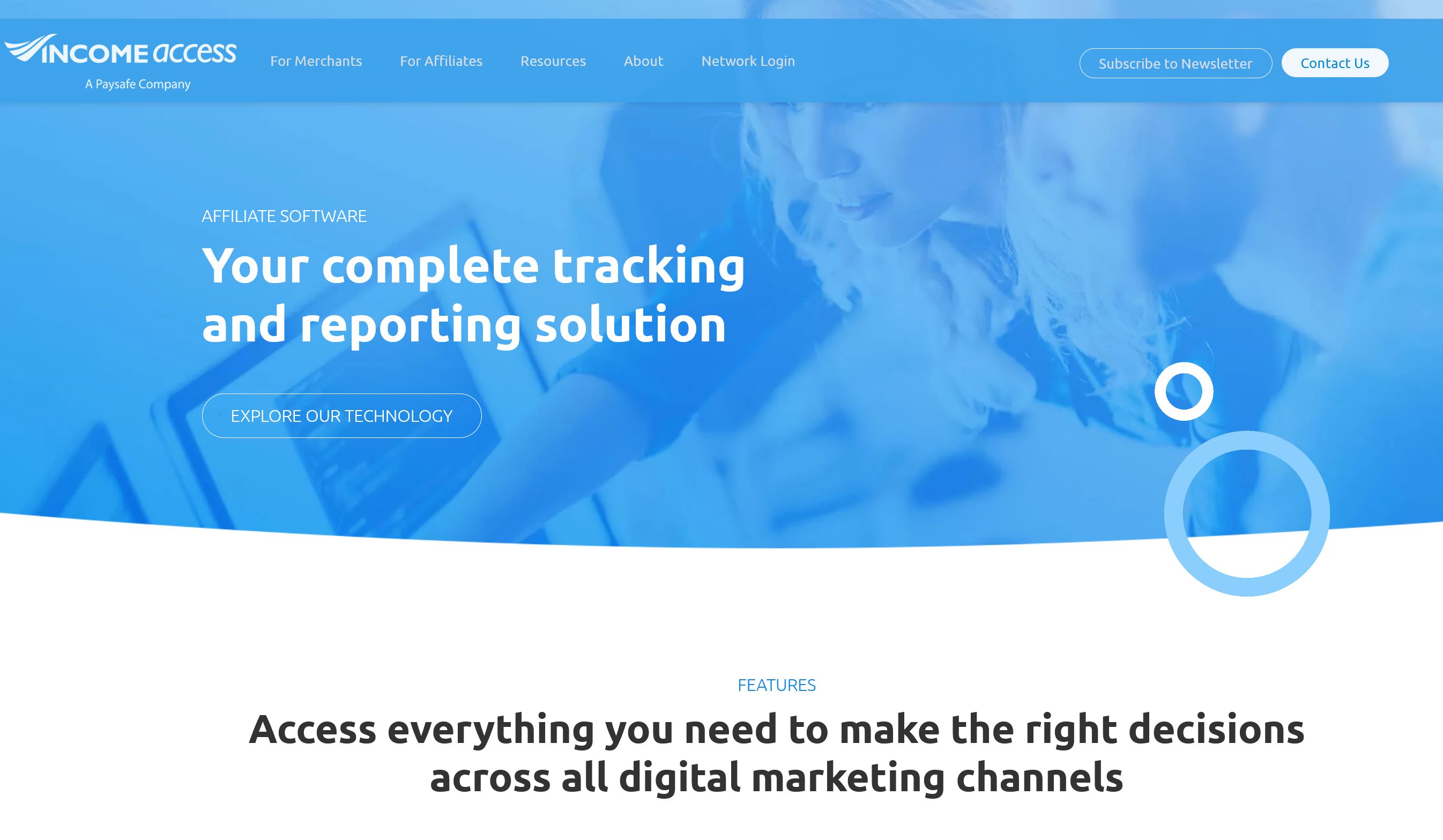 Understanding where your new clients are coming from and attributing them to your funnel is key to improving your business ROI.
Get more information as well as a free trial on their website: Incomeaccess.com/affiliate-software
---
Cellexpert
Cellxpert provides a partner marketing solution designed for financial services in general, not just the gambling segment, although it is most often used as casino affiliate software.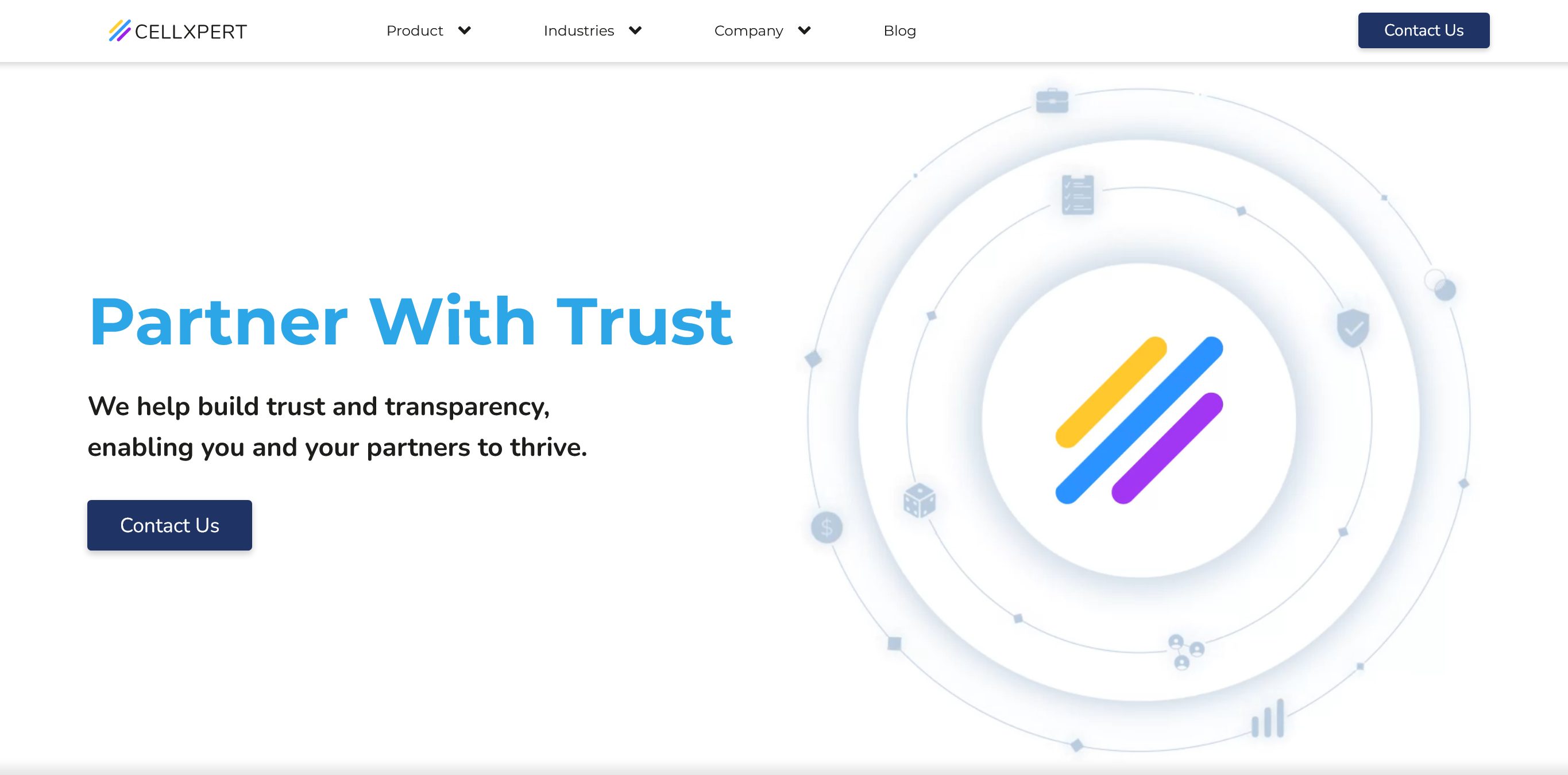 They promise to build transparency and trust, and give you the power to track your partnerships. Their end-to-end solution centralizes every aspect of your affiliate ecosystem, so you can focus on your business optimization.
Pricing:
Just like with the majority of the companies on our list, Cellxpert does not make their price list public; it vastly depends on the size of your business and your business needs. You can contact them directly to get a quote: cellxpert.com/gaming.
---
No matter which platform you choose, these top iGaming affiliate software solutions will surely deliver the best results for your business.
Introduction to iGaming Affiliate Software
When looking for the best affiliate software for your iGaming business, there are a few factors you need to take into account.
One of the most important is the size of your business.
If you're just starting out, you'll need software that's easy to use and doesn't require a lot of technical expertise. On the other hand, if you're a larger operation, you'll need a more sophisticated system to handle a higher traffic volume.
Another thing to consider is the type of gaming products you offer.
Some affiliate software is designed specifically for certain types of games, while others are more versatile. Ensure the software you choose accommodates the types of products you sell.
Finally, there are a number of different features to consider, such as tracking tools, marketing materials, and payment options. Take the time to compare different software packages and see which one best meets your needs.
What to Consider When Choosing iGaming Affiliate Software
As we already said, when looking for the right affiliate software for your iGaming business, it's important to consider the features and benefits that are the most important to you.
Understanding the benefits and drawbacks will help you pick the best product for your needs.
Here are the most important ones:
Ease of Use
Ease of use is an important factor to consider when choosing affiliate program software. A user-friendly platform makes it easier for affiliates to promote the products and track their performance, leading to increased efficiency and productivity. The affiliate software you choose should be easy to use. It should be intuitive and user-friendly, so that you and your team can learn how to use it quickly.
However, ease of use should not be the only factor considered, as other important factors such as affiliate commission structure, marketing materials, and customer support are also critical to success in the affiliate marketing space.
Integrations
The software should integrate with your existing platforms and systems, so that you can track all affiliate activity in one place. This will save you time and hassle, especially if you run a network.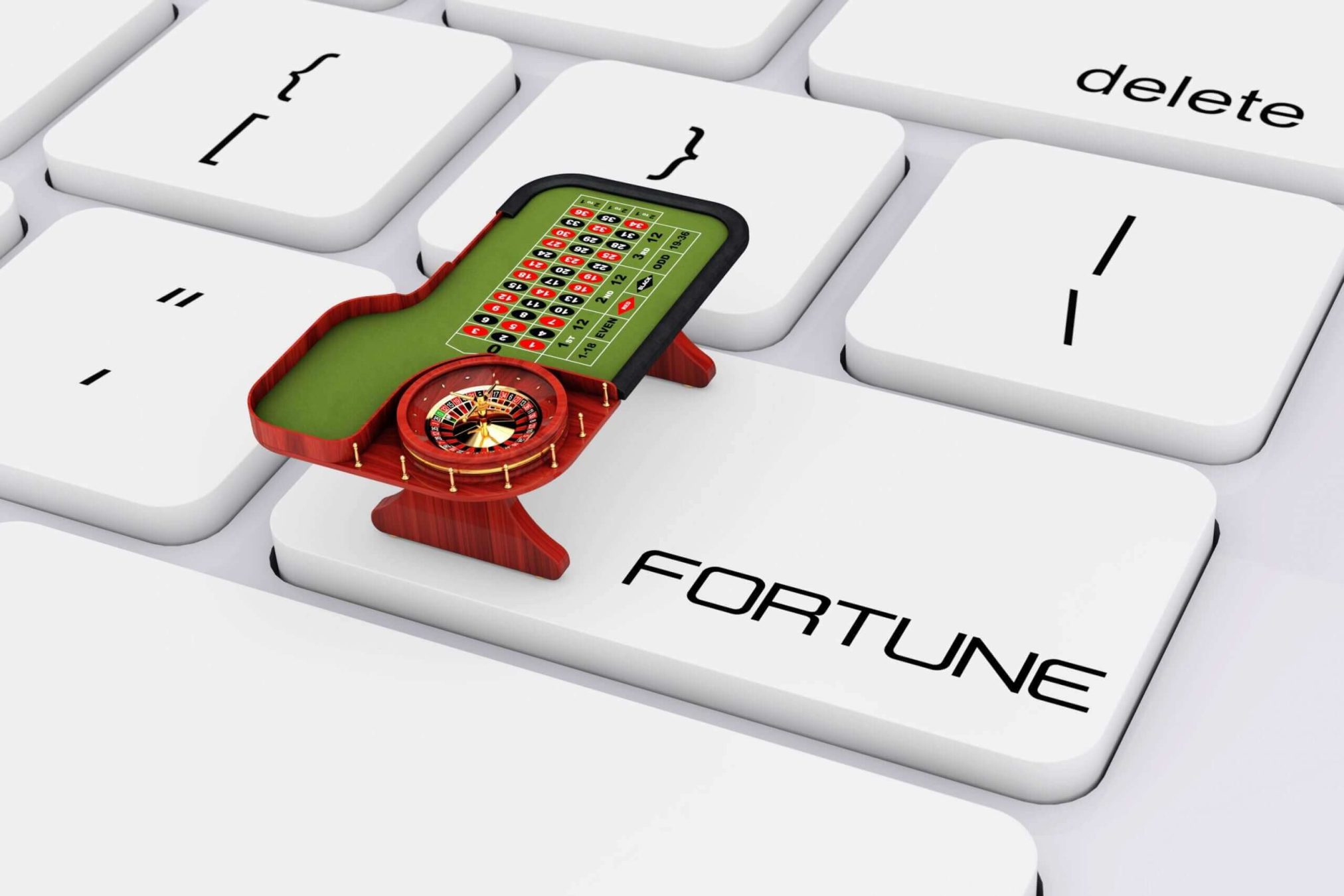 The number and type of integrations available through an affiliate program can be an important factor to consider when choosing a program for the iGaming industry. Integrations allow affiliates to automate certain processes and connect with other tools and platforms that they may use to manage their marketing activities.
Some essential integrations to look for include:
Payment gateways include integrations with payment platforms that allow affiliates to receive their commissions.
Marketing tools include integrations with tools like email marketing platforms, ad networks, and social media management platforms.
APIs: connecting through API's opens a wide range of possibilities for your business and is a must nowadays
Reporting Capabilities
This allows both you and your affiliates to track performance and view reports on earnings, clicks, and other metrics.
The key reporting parameters for iGaming affiliate software (online casino, betting, and poker referrals) typically include the following:
Commission earned: This refers to the amount of money earned by the affiliate for each referral made to the iGaming site.
Click-through rate (CTR): This is the number of clicks an affiliate receives divided by the number of impressions (or times the affiliate link was shown).
Conversion rate: This is the number of players who sign up and make a deposit after clicking on the affiliate link, divided by the total number of clicks.
Revenue generated: This is the total amount of money earned by the iGaming site from players referred by the affiliate.
Number of referrals: This is the total number of players who have signed up to the iGaming vendor through the affiliate's link.
Average player value (APV): This is the average amount of money earned by the iGaming website from each player referred by the affiliate.
Time period: This refers to the specific time period for which the data is being reported, such as daily, weekly, or monthly.
Custom reporting: Some casino affiliate software may also offer custom reports, which allow affiliates to create and view reports based on specific criteria, such as player location or game type.
Registrations – The number of registrations (Conversions with goal type REG)
Deposits – The number of deposits (Conversions with goal types DEP CPA + DEP RevShare)
CR to Reg – Registrations to clicks ratio.
CR to Dep – Deposits to clicks ratio.
CR Reg to Dep – Deposits to registration ratio.
Deposit Status -The number of DEP conversions by Status (Approved, Pending, Rejected, Trash).
Finances – Revenue, Payout and Profit separately for DEP CPA and DEP RevShare.
These reporting parameters are typically available through the affiliate dashboard, providing valuable insights into the performance of the affiliate's marketing activities and help them to identify areas for improvement.
The software should have robust reporting capability so that you can track performance and measure results in every aspect of your business. This will help you optimize your affiliate program for maximum ROI.
Scalability
When you are looking for a casino affiliate marketing software, scalability is important. Affiliate marketing can be a highly scalable business model, as affiliates can reach many potential customers with relatively little effort.
Choose a software solution that can grow and adapt to the needs of your business as it expands.
A scalable affiliate software should handle increasing numbers of affiliates and players and offer the ability to integrate with new marketing tools and platforms as needed so that your affiliate program can continue to operate smoothly and efficiently as the business grows.
It should also offer a flexible commission structure that can be adjusted to accommodate different business models and marketing strategies. Choosing a software solution that is scalable and flexible, affiliates can ensure that their program is equipped to handle growth and can continue to generate revenue and drive success over the long term.
The software should be scalable to grow with your business as it expands. It should be able to handle increasing volumes of data and traffic without any problems.
Security
Security includes protecting sensitive information stored on the server, such as personal and financial data, as well as typical iGaming affiliate fraud. This is particularly important in the iGaming industry, where transactions involve large amounts of money.
When choosing an affiliate software, look for the following security features:
Data encryption: Ensure that the casino affiliate software uses industry-standard encryption techniques to protect sensitive data.
Secure payment processing: Secure payment gateways are essential to protect financial transactions and prevent fraud.
User authentication: Robust user authentication, such as 2FA, or authorization processes, to prevent unauthorized access.
Regular security audits: Choose a vendor that regularly performs security audits and updates to ensure their software meets the latest security standards.
Compliance with regulations: The best iGaming software on the market should comply with relevant regulations, such as the General Data Protection Regulation (GDPR) and the Payment Card Industry Data Security Standard (PCI DSS).
By choosing an affiliate software that has strong security features, you can help protect sensitive information and reduce the risk of fraud and security breaches, which can have a negative impact on your business and reputation.
Customer Support
Customer support is an important factor to consider when choosing affiliate software, as it can significantly impact the affiliate program's success. Good customer support can help affiliates resolve issues quickly, receive training and guidance on using the software, and get answers to any questions they may have. This can help to ensure that affiliates can maximize their earnings potential and provide a positive experience for the users they are trying to reach.
When choosing a vendor that provides the best support, it is important to look for the following:
Availability: The vendor should offer support around the clock and ideally cover all the time zones.
Response time: The vendor should have a fast response time for support requests, so affiliates can get their questions answered promptly.
Support: The vendor should offer support through multiple channels, such as email, phone, and live chat, to accommodate different preferences and needs.
Expertise: The vendor should have knowledgeable and experienced support staff who are able to assist affiliates with using the software and resolving any issues.
User-friendly resources: The vendor should offer user-friendly resources, such as a knowledge base, video tutorials, and user forums, to help affiliates find answers and solutions on their own.
The software provider should offer excellent support, so that you can get help when you need it.
What should I keep in mind when choosing an iGaming affiliate software?
One of the most important things you should consider when choosing an iGaming affiliate software is its richness of features.
Let's sum up the key features we discussed earlier:
Integrations: Choose iGaming affiliate software that integrates tools and platforms you use to manage your marketing activities and the platform that powers your website, payment gateways, and marketing tools.
Reporting: It should provide comprehensive reporting and tracking capabilities, including key parameters such as commission earned, click-through rate, conversion rate, and average player value.
Scalability: ideally, the software solution should be scalable and adapt to your business's changing needs as it grows.
Commission structures: Look for a solution that offers flexible commission structures that can be adjusted to accommodate different marketing strategies and business models.
Support: Choose a vendor that offers strong customer support, with knowledgeable and experienced staff, multiple support channels, and user-friendly resources.
UX: Evaluate the user experience of the software, including its ease of use, the quality of its interface and features, and its ability to meet your specific needs.
Security: Last but not least, check if the program offers security updates and adequate security measures, so you can ensure that your data is safe from hackers.
Advanced features such as automation, detailed statistics, and custom reports are great for managing campaigns and analyzing performance. Look for a white label solution that allow you to easily customize the program's look and feel to match your branding.
Conclusion
Choosing the right affiliate software for the iGaming industry is an important decision that can impact the success of your affiliate program. It is important to consider factors such as integrations, reporting parameters, scalability, customer support, user experience, and security to make the right choice.
By considering these factors and evaluating your specific needs and goals, you can choose an affiliate software that meets your requirements and helps you achieve your desired results. The right affiliate software can provide valuable insights, streamline your marketing efforts, and increase your earning potential, making it a valuable investment for your business.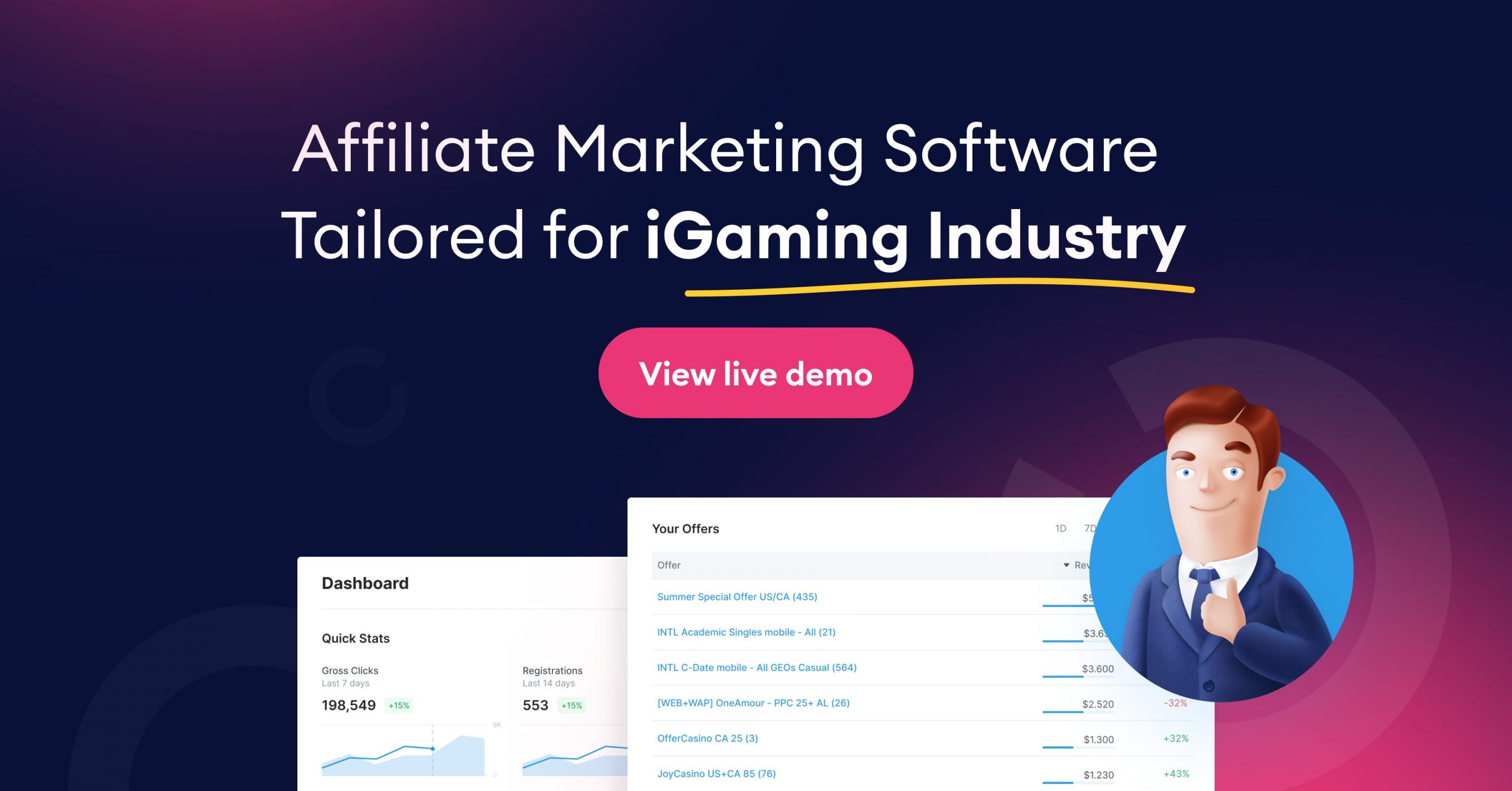 So there you had it: our top 15 picks for affiliate software in the iGaming, gambling and casino industry. If you are looking for casino affiliate marketing software, hopefully, this list allows you to choose the right one for your business.
If you are looking for software that has all the features we discussed and many, many more – try Scaleo.
Scaleo is the only stand-alone affiliate software that can be integrated with virtually any platform and software. Grow your business with affiliate marketing today!
Casino Affiliate Software – FAQ
What is the affiliate platform for iGaming?
Everyone who wants to add an affiliate program to their marketing arsenal needs to use an affiliate platform. You can either offer your iGaming referrals through a 3rd party affiliate network or add a white label affiliate software directly integrated with your domain, for a seamless experience.
What software do I need for affiliate marketing?
If you want to dive into the affiliate marketing industry, you will need affiliate software to power your partner program. These are generally offered as SaaS and are hosted on the cloud.
Last Updated on September 14, 2023