Free affiliate tracking software is hard to find because most high-quality affiliate software products, such as Scaleo, come at a price. Simply because a lot of effort has gone into their development, the software needs to be paid for to ensure continuous updates and robust security.
This means that any software – whether it's a simple affiliate management tool or a complex affiliate marketing tracking software – needs to cover its costs if it is to provide excellent customer service to its business partners.
However, today, we have put together a list of 25 free affiliate marketing tracking software for you. This list includes both free affiliate tracking tools and very affordable affiliate tracking plugins.
Top 25 Free & Affordable Affiliate Tracking Software in 2023
This list will allow you to start an affiliate marketing business regardless of your budget!
| Name | Description | Price |
| --- | --- | --- |
| 1. Scaleo | Premium affiliate marketing tracking software, provides the most powerful tools for affiliate business businesses. This is an all-in-one affiliate management software. | 14 days free, then starting from $299/month |
| 2. AffiliateWP | Fully-featured affiliate marketing plugin for WordPress. | Free WP plugin |
| 3. eLitius | Free and open-source affiliate software that allows you to create and manage affiliate programs. | Free |
| 4. LinkTrack | Link tracking service that you can use without paying a dime for your next affiliate campaign. | Free |
| 5. PeerClick | Free affiliate tracking software solution that focuses on real-time results. | Free |
| 6. AffTrack | 100% free affiliate tracking software in the US, that can be used as an enterprise SaaS solution for tracking and reporting links. | Free |
| 7. WeCanTrack | Free affiliate software that helps scale and optimize marketing campaigns for affiliate publishers. Integrate affiliate sales in Google Analytics, Google Ads, Facebook and Data Studio. | Free WP plugin |
| 8. AffiliateClick | Free affiliate program script allows the simple creation of a commission-based affiliate program. | Free |
| 9. HitPath | Multi-Channel tracking platform, you can sign up affiliates, deploy simple or complex affiliate programs, and accurately report it all. | Free |
| 10. MPA3 | One of the older affiliate scripts is available on the internet and is still free to download. | Free |
| 11. LeadDyno | Set up your affiliate program and manage your affiliates efficiently with many API-integrated tools. | Free 30 days trial, then $49/month |
| 12. Affiliates Manager | Easy tracking traffic of sales your referrals produces, with no limit regarding the number of affiliates you have. | Free WP plugin |
| 13. ThirstyAffiliates | Affiliate link management & cloaker tool. Easily manage, shrink, and track your affiliate links in WordPress. | Free WP plugin |
| 14. Affiliate Coupons | WooCommerce affiliate plugin – create advanced coupons in the affiliate program for WooCommerce, displaying detailed coupon usage statistics. | Free WP plugin for WooCommerce |
| 15. Tracking Code Manager | Gives you the ability to manage ALL third-party tracking codes and scripts in one single interface. | Free WP plugin |
| 16. Easy Affiliate Links | Basic affiliate tracker. Easily manage and cloak all your affiliate links in WordPress. | Free WP plugin |
| 17. Affiliate Power | Imports your sales from various affiliate networks and gives you up-to-date income reviews and statistics in your WordPress backend. | Free WP Plugin |
| 18. MyAP | Free affiliate app for enterprise-level retailers who wish to grow their affiliate channel. | Free app |
| 19. ULUD | One of the industry's most flexible platforms for managing mobile and web marketing partnerships. | Free |
| 20. Skro | Cloud-hosted affiliate campaign tracking and analytics platform. Designed for affiliate marketers & media buyers to track online campaigns. | Free |
| 21. NiftyStats | The desktop utility automatically downloads the stats from your affiliate programs and PPC campaigns. | Free desktop app |
| 22. GoAffPro | The easiest way to set up an affiliate program for your e-commerce website, for a small business. | Free |
| 23. Offer18 | Affiliate marketing platform that allows tracking, managing, and promoting affiliate campaigns. | Free trial, then $49/month |
| 24. Reditus | An affiliate management tool for B2B SaaS companies helps businesses recruit new affiliates via their marketplace and grow outside their own network. | Free |
| 25. PrettyLinks | Fantastic affiliate link masking, cloaking and tracking. Shorten and track affiliate URLs using your own domain. | Free WP Plugin |
---
If you are looking for high-end, premium SaaS providers or more expensive alternatives to affordable affiliate software, check out our premium affiliate tracking software resource page.
As an affiliate marketer, you're always looking for ways to take your business to the next level. And one of the most effective tools you can use is affiliate tracking software.
Affiliate tracking software is designed to track and analyze the performance of your affiliate programs, so you can make better decisions about which products to promote, how best to reach your target audience, and which programs are most profitable for you.
This article will introduce you to the top 25 affiliate tracking software options available on the market today and give you advice on how to choose the right one for your business. We'll discuss features such as compatibility with different platforms, cost, user-friendliness and customer service. We'll also cover why they're important when picking software and how they can help to optimize your affiliate marketing campaigns.
What Is Affiliate Tracking Software?
Are you looking to take your business to the next level with affiliate tracking software? If so, you've come to the right place! Affiliate tracking software is a tool that helps marketers to track and monitor their affiliate sales and marketing performance. It allows for improved visibility into the performance of your campaigns so that you can make adjustments as needed.
Affiliate tracking software can come in many forms, including desktop applications, web-based platforms, mobile apps, and more. You'll want to pick the one that's best suited for your needs. Consider things like budget, features, compatibility with other systems, user reviews, and customer service.
To help you out in finding the right one for your business needs, we've compiled a list of the top 25 cheap affiliate tracking software options on the market today. Read on to discover which one is best for you!
Guidelines for Choosing the Right Affiliate Tracking Software
Choosing the right affordable affiliate tracking software for your business can feel like a daunting task. But if you consider a few key points, you'll be better suited to make an informed decision about which solution works best for you.
First, identify the type of tracking you need. Do you require basic analytics and reporting across multiple channels, or do you need more in-depth data collection? Different software offers different levels of functionality, so it's important to understand your own needs before selecting a solution.
Next, consider the various features and options available. You'll want to think long-term when evaluating features such as platform scalability, API capabilities and integrations with other tools and services. Knowing these details in advance will help avoid any pitfalls later on.
Finally, be sure to assess customer service options and pricing plans before making a commitment to any vendor or solution. Good customer service is essential in case of issues or questions down the line, while pricing will certainly have an impact on your bottom line.
By following these guidelines when evaluating potential solutions, you'll be better positioned to select an affordable affiliate tracking software that best meets the needs of your business.
Scaleo
Scaleo is a premium affiliate solution that provides clients with some of the most powerful tools to run their businesses.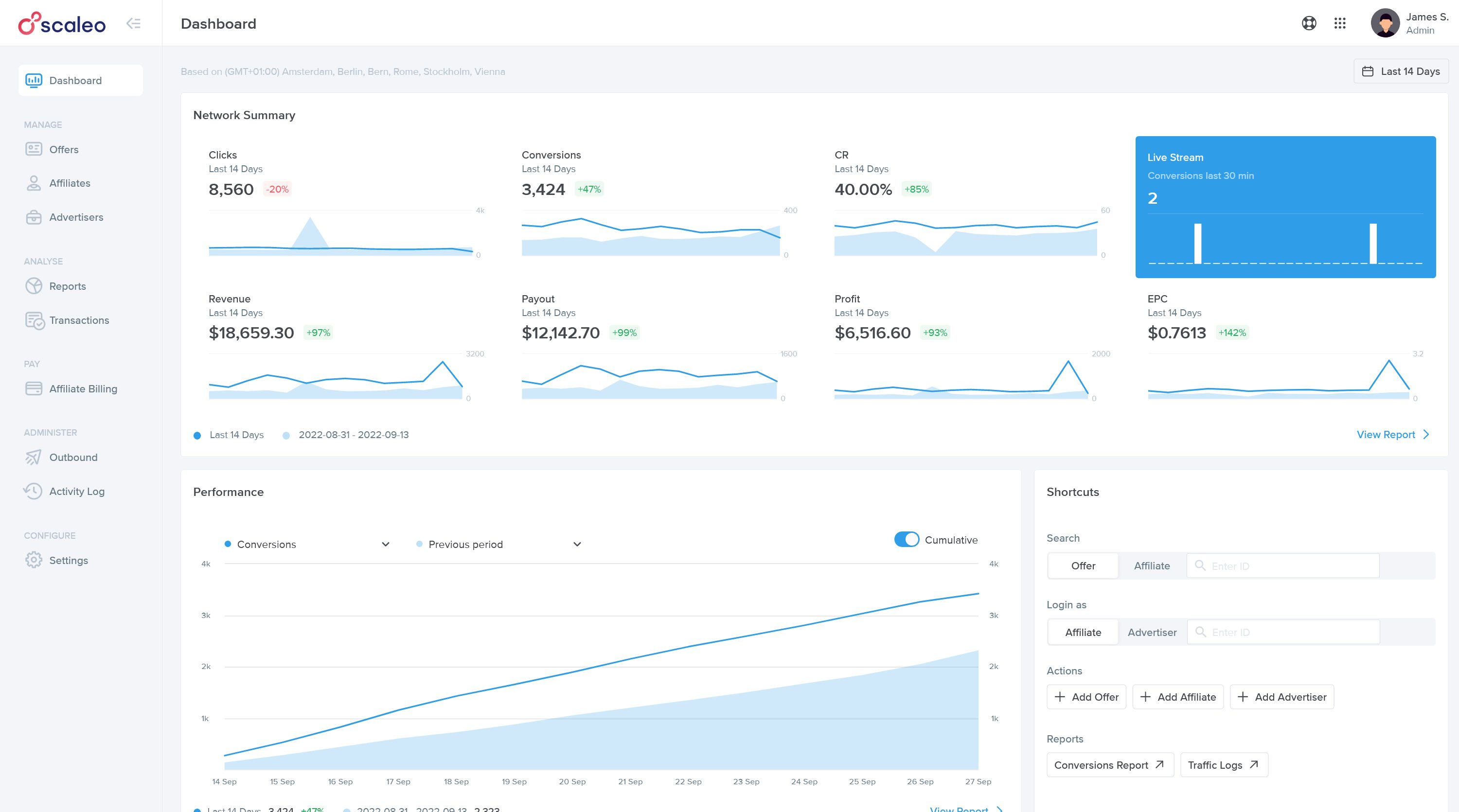 Scaleo is a SaaS vendor that allows you to create your own affiliate program or even a whole affiliate network.
As a complex affiliate management software, Scaleo is the best affiliate network tracking software. You can simply send out affiliate commissions, create unlimited affiliate campaigns, or add an affiliate partner program to your existing business. You can also unify your affiliate business by pouring all your affiliate campaigns into Scaleo, where you can manage and monitor them from just one dashboard. Scaleo is a software company based in Europe.
Regular plans start at $299/month, but we offer a 14-day free trial that will allow you to test our top affiliate marketing software for yourself and see all its benefits for your business. You can start your trial and access your dashboard instantly; no credit card is required.
---
AffiliateWP
AffiliateWP is a fully-featured affiliate marketing plugin for WordPress.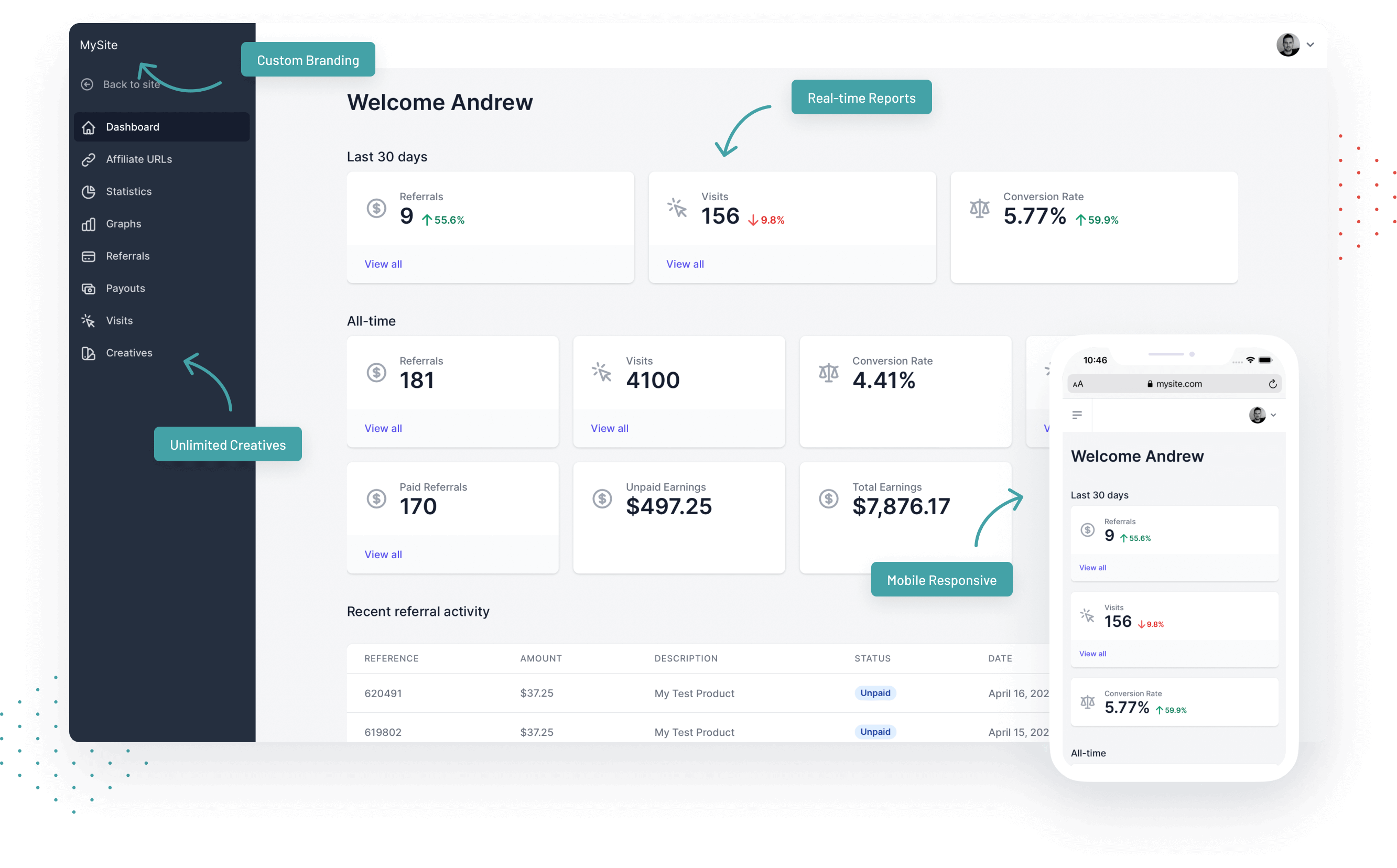 You can use the plugin to enroll affiliates, track the referrals they provide you, and handle their payouts. All of this can be difficult without the correct plugin.
AffiliateWP handles everything with a simple workflow. AffiliateWP is a simple plugin that allows you to rapidly set up your affiliate program, recruit and manage affiliates, track referrals, and pay out affiliate commissions.
You may view extensive statistics for each affiliate, allowing you to track overall profits, referrals sent, and total client visits through a specific affiliate.
Thousands of businesses, including MonsterInsights and AIO SEO trust this WordPress Plugin. AffiliateWP has no free version, but its paid plans are reasonably priced, beginning at $149 a year. This is a opensource affiliate software, because it's based on WP.
---
eLitius
ELitius is a popular, free, and open-source affiliate software that allows you to create and manage affiliate programs focusing on recruiting and tracking affiliates, sales, and revenue.
This is an affiliate marketing tracker that every blogger needs in their arsenal when promoting affiliate links and needs to have a better overview of their campaign performance. The app enables you to use various affiliate marketing strategies to increase traffic and conversion rates.
You can pay affiliates commissions and incentives based on their results, such as if their promotional campaigns result in a sale.
The app is available for free download with a paid script bonus. After meeting the device specifications, you can easily install the tool. However, if you need to make any custom changes to your submission, you will have to pay a fee of $100 per day.
Essential Features:
The most notable features of free and open-source affiliate applications are their high versatility, scalability, and customizability.
You can quickly sign up as an affiliate, and he can position your advertising on his website.
When a prospective customer makes a transaction, the affiliate scheme pays the affiliate a fee.
The app provides best-in-class personalized models, functionality, and integration with custom designs.
eLitius also provides excellent hosting facilities by partnering with a top-tier hosting servicing provider.
The affiliate software tool includes free lifetime updates, assistance, and the ability to add an unlimited number of affiliates.
This framework has a dependable and robust tracking system and many more advanced features and benefits.
Since this affiliate marketing software is free to download, you can start working immediately.
---
LinkTrack
LinkTrack is a link tracking service that you can use without paying a dime for your next affiliate campaign. This easy-to-use affiliate marketing tool assists you in your online affiliate business, especially with marketing efforts. LinkTrack is a free affiliate monitoring tool.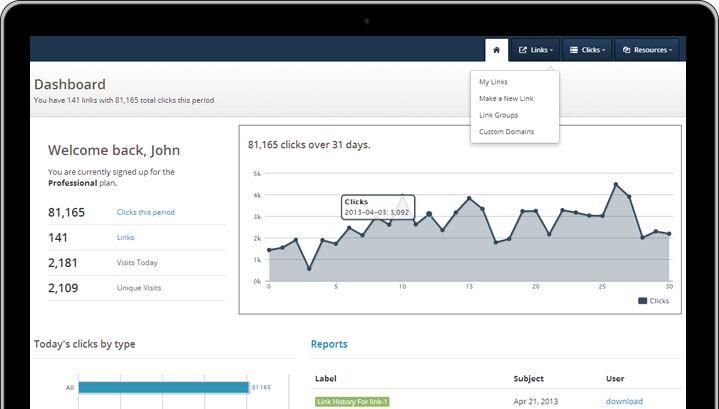 As an affiliate marketer, you can use LinkTrack to track your links for free for the rest of your life. You can monitor an infinite number of clicks for free using the app. It is extremely simple to use. Even a novice can use this app to track his clicks.
LinkTrack has graphical monitoring, which helps you to see your link conversion at a glance, which you won't find in other free applications. It also offers accurate tracking data. Nonetheless, you may need to upgrade to the premium edition to see all the tracking data. Be advised, however, that this is a simple free affiliate link tracker and cannot be used as an affiliate network software (unlike Scaleo).
Key Features:
There are no limits on the number of clicks or links.
Ad tracking, click tracking, and impression tracking.
Graphs in full color are available for free.
For tracking affiliate links, use your own domain name.
Complete command
Simple affiliate tracking software, easy to set up and use
All of your information is in one location.
Tracking data in great detail
Real-time updates are available on our website, for free, or through our API.
---
Peerclick
Peerclick is a free affiliate ad-tracking software solution that focuses on real-time results and allows an easy affiliate management system.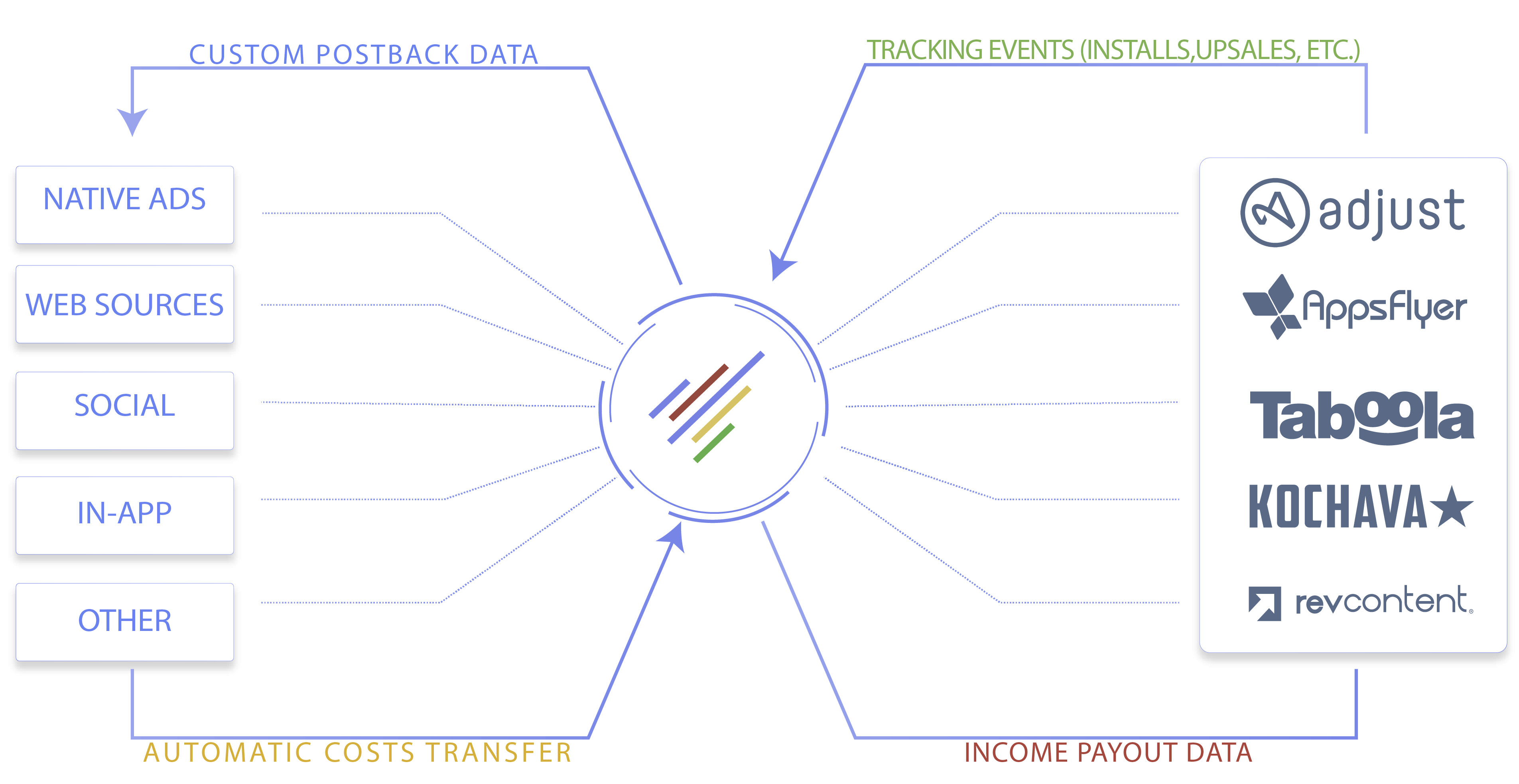 Affiliate marketing strategies and commercials are monitored, analyzed, and optimized. You can monitor all of your marketing and advertising campaigns as well as scale up your affiliate programs.
Furthermore, the app assists you in systematically analyzing the data in order to obtain actionable insights. You may identify which marketing campaigns deliver the best results and which do not. You can improve ad network efficiency by running A/B tests and increasing ROI. This tool is critical for scaling affiliate activities and optimizing benefits.
You can track and convert more than 30 data points from a single location. Block Bots are fraud protection tools that aid in the detection of any suspicious activity on the website.
Peerclick has offices in Poland and the United States.
Advantages:
Marketing companies may use affiliate tracking tools to assess the performance of advertising platforms.
You can join the Peerclick partner network to communicate with more users and increase the frequency of your marketing campaigns. Peerclicks is also compatible with Artificial Intelligence software, allowing you to automate the workflow process. You can produce real-time reports to help you manage traffic more efficiently.
Apart from providing free solutions, this free software also offers a free preview edition. The basic edition costs $99 a month.
Features:
Multiple third-party deals can be tracked with or without redirects.
Gather reliable data from every marketing campaign and compile it into one affiliate tracking platform.
You can monitor your expenses, various conversions, and safe links and quickly get on board.
The app collects data from all organic searches and analyzes it to provide actionable insights.
With advanced targeting and laws, display relevant advertising to your targeted audience.
You can also use autopilot software to separate traffic among the most effective marketing campaigns.
Customize your updates to receive real-time performance warnings and take immediate action.
You can access the new deals and discounts directly from the dashboard.
Keep an eye out for suspicious activity and protect yourself from bot traffic.
---
AffTrack
Based in Florida, US – AffTrack is a free affiliate tracking software that can be used as an enterprise SaaS solution for tracking and reporting links. It's a basic and easy way on how to track affiliate sales if you don't need many extra features.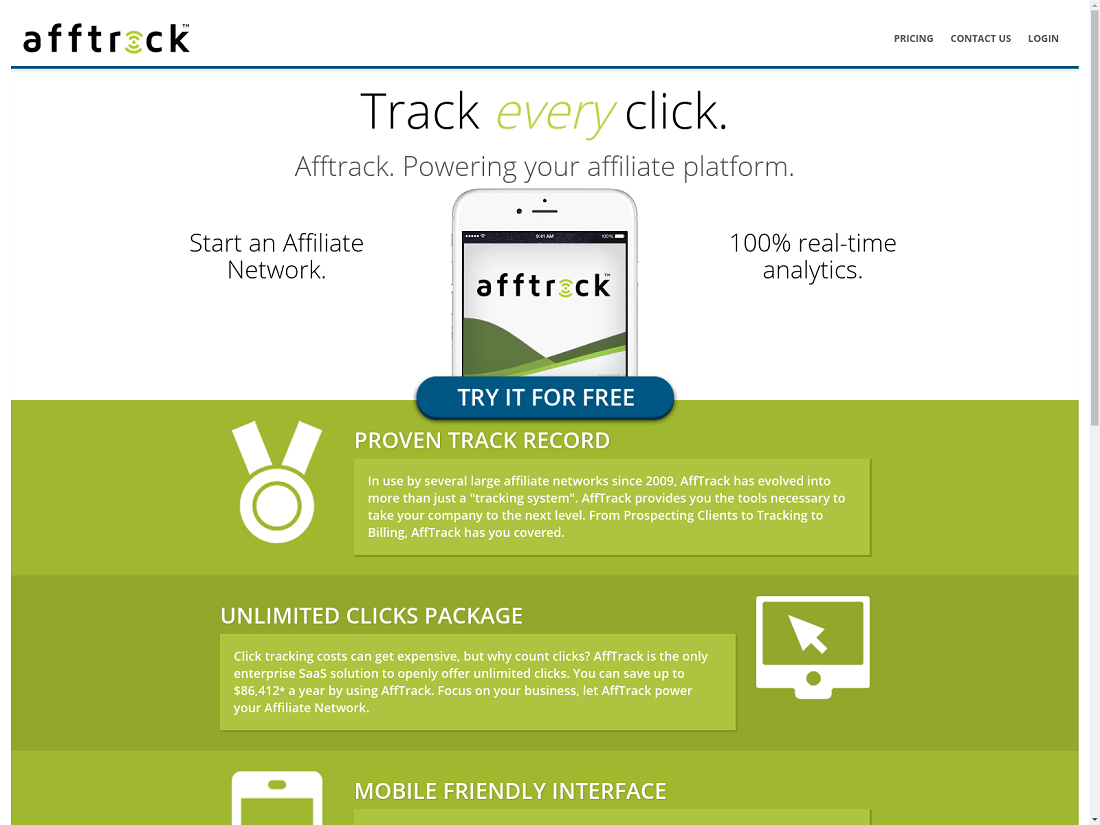 AffTrack is a very good affiliate marketing management software that does the job at zero cost. Since its start in 2009, this program has grown to be used by many affiliates. This free affiliate software has real-time analytics, user targeting, and an interface that can be branded and changed. AffTrack is an affiliate marketing software free in the USA.
AffTrack is available for free for one month. However, you must upgrade to a premium plan if you want to use the full functionality. AffTrack is also prohibitively costly for new affiliates.
Key Features:
Analytics in Real-Time – Real-time affiliate program monitoring and data access with 99.999 percent uptime reliability
Fraud Detection and Proxy Detection – You can protect your business from fraud with real-time traffic analysis and warning alerts.
No contracts or fees – There are no hidden costs or overages, as is common with commitment plans. There will be no more surprises.
There are no Affiliates or Offer restrictions – nor restrictions on Affiliates or Offers. Don't impose arbitrary constraints on your business.
Offer Tailoring – Exact Offer Targeting with all you need – Country, Device, Language, and more Cap Management.
Using our Overflow tool Postback and Redirect Logs, you can protect your affiliates and your credibility from cap overages.
Complete Postback and Redirect logs are available for easy troubleshooting and comparison.
API Access to Fullest – Access to a comprehensive API to manage your account in every way. Complete control over custom interfaces and software integrations
Control of Access – Organize the team by giving each member individual access to each function and environment.
Flow Rerouting – Set up Global Redirects and rules to ensure your traffic is still monetized, no matter what.
A friendly and competent staff member will be available to assist you with any assistance you need.
Daily Email Newsletter – With free automated updates and texts, you can keep your Affiliates updated on new and returning Offers.
Automation – free automated affiliate marketing software with a simple affiliate tracking interface
---
WeCanTrack
WeCanTrack is a free affiliate software that aids in the scaling and optimization of marketing campaigns and affiliate publishers.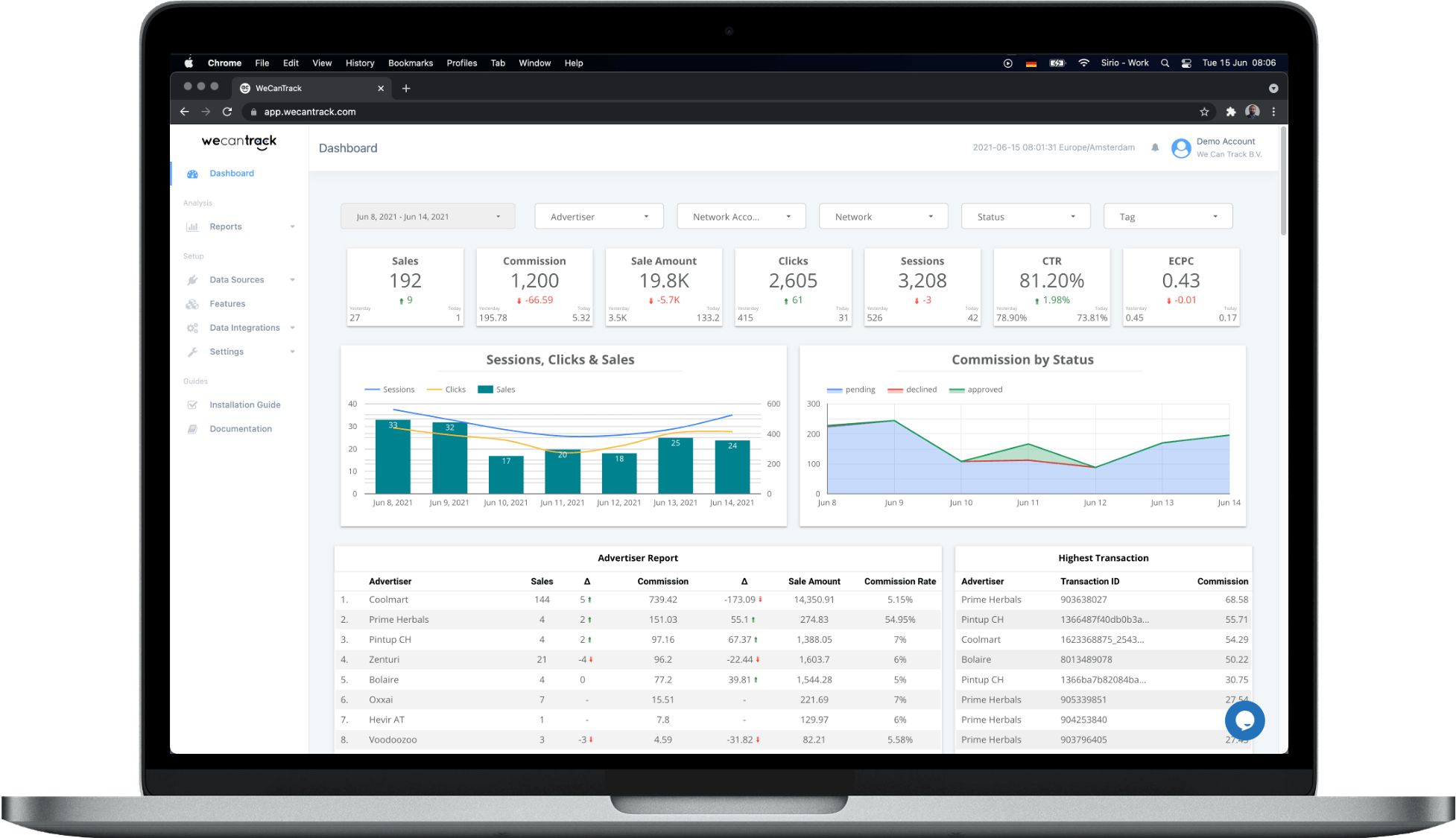 All of your traffic data and affiliate conversions can be viewed on a single affiliate dashboard. Furthermore, the program enables you to align sophisticated marketing tools in order to boost digital marketing efficiency.
Full data insights on affiliate conversions are available on Google Analytics, Google Ads, Facebook, Data Studio, Microsoft Ads, and other platforms. You'll also get detailed data attribution to see how the traffic sources are doing. The app allows you to keep up to date and compare the marketing campaigns that are doing well and which are underperforming.
Using analytics software, you can gain complete insight into your sales data and identify the affiliates that generate the most conversions. On the other hand, Google Ads allows you to scale and automate advertising campaigns.
The app offers free affiliate tracking software with features like 200 clicks, 5 data sources, 8000 sessions, and 50 transactions.
Wecantrack is an affiliate software based in the Netherlands.
Key Features:
Track all of your affiliate data in one place.
Choose your chosen currency and time zone to have all your transactions converted.
Advanced features such as automatic affiliate link cloaking for the WordPress plugin.
Sort your content according to performance results.
Data encryption, a stable database and server, ease of installation, GDPR compliance, and other features are also included.
The Data Studio helps automate various tasks, such as developing personalized dashboards, filtering data, designing graphs and detailed reports, and easily sharing information.
WeCanTrack offers Facebook affiliate conversion tracking, which aids in the tracking of sales and traffic results.
It's an affiliate tracking platform that combines many features in one.
---
Cosmic AffiliateClick
The benefits that your own Affiliate Program will bring:
Free affiliate software
Traffic increases 100%+
Other people generate traffic for you.
Easy to maintain
Great results in no time
The secret to high-quality traffic!
AffiliateClick allows the simple creation of a commission-based affiliate program. A commission affiliate program is the best way to get targeted traffic to your site, increasing sales and quality of traffic. With a commission-based program, you can't lose! Your members only make money when you make sales!
This program is now offered totally free of charge. It lacks detail and has no major features, but it works and is free! Because this script is free, it isn't heavily supported. However, a forum for you to help each other is provided. It's an affiliate sales tracking software that is free and easy to use, but you will need to do a little digging, figure out how to make it work, and tune it to your business.
---
HitPath
Optimize business decisions with accurate, up-to-the-minute tracking. With knowledgeable support only a call away and stats available via web, mobile apps, or API, HitPath facilitates partnerships across the digital marketing industry.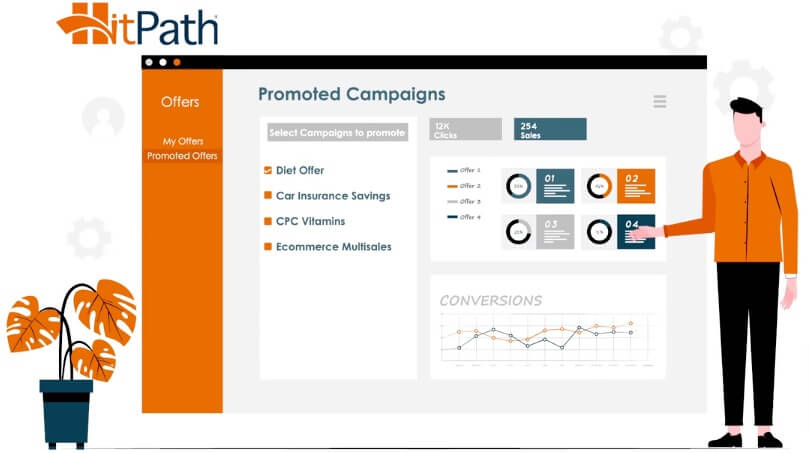 Anyone who runs online marketing campaigns is interested in understanding the performance and attribution of online marketing spending and any company currently running an affiliate program.
HitPath is a multichannel tracking platform based in the US
---
MPA3 Affiliate Tracking Script
One of the older affiliate scripts available started as free, and can also be used as an affiliate network script if you are looking to start an affiliate network on your own server.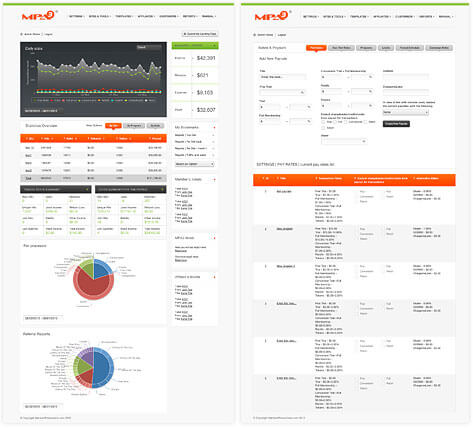 Mansion Productions was founded in 1997, and with our versatile staff, we released the world's first commercial cascading affiliate program software (MPA) in 2000. It quickly became the most popular affiliate backend in the industry, and the current version, MPA3®, is a leader in affiliate management and tracking software. This MPA3 affiliate script is basically free affiliate link tracking software, but with a little work or with the help of a skilled developer, you can turn this into an affiliate network script and use it to power an affiliate network of your own.
---
LeadDyno
LeadDyno assists e-commerce merchants and SaaS business owners in establishing and expand their affiliate programs.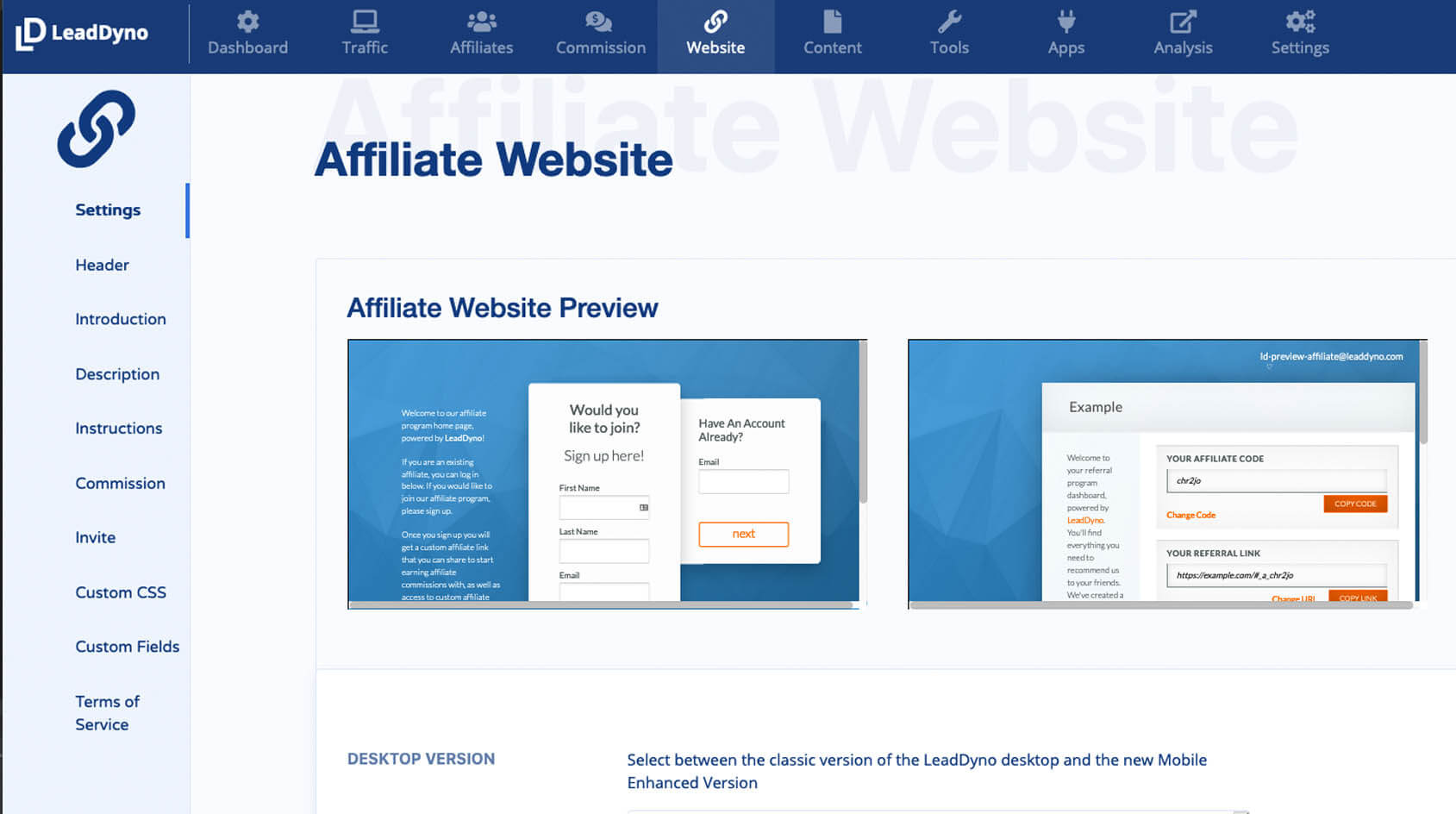 With this affiliate tracking software, you can set up an affiliate/referral program in minutes. With LeadDyno, you can easily and efficiently manage your affiliates and payouts. Learn which online marketing channels are most effective so that you can intelligently allocate your online advertising spend in the future.
LeadDyno provides a generous 30-day free trial, while paid plans begin at $49/month only.
---
Affiliates Manager
Affiliate Manager WordPress plugin is free and open source, like most WP-based affiliate trackers.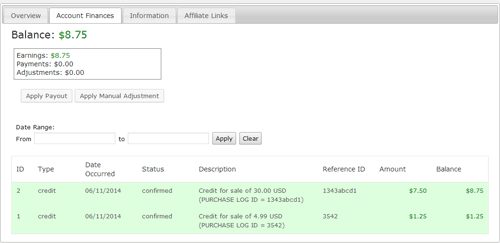 Using an e-Commerce plugin or solution on your WordPress site?
WP Affiliate Manager can assist you in managing an affiliate marketing program to increase traffic and sales to your store.
Affiliate marketing is the fastest-growing and most cost-effective advertising method.
This WordPress affiliate plugin simplifies affiliates' recruitment, registration, login, and management of single affiliate partners.
It will also track the referrals your affiliates send to your site and assign appropriate commissions.
Affiliates Manager integrates with a number of well-known e-commerce platforms.
It is compatible with the following scripts:
Paid Membership Pro
GiveWP
Gravity Forms Stripe
Simple Membership
Sell Digital Downloads
Simple Shopping Cart
WP Express Checkout
Gravity Forms PayPal
LifterLMS
MemberPress
MemberMouse
WP eStore
AppThemes
WooCommerce
iThemes Exchange
WP Courseware
Easy Digital Downloads
JigoShop
OptimizeMember
Stripe Payments
WooCommerce Subscriptions
WP eCommerce
S2Member
---
ThirstyAffiliates
ThirstyAffiliates provides bloggers with the tools they need to use affiliate marketing to monetize their WordPress website. It's a free link tracking software with extended capabilities.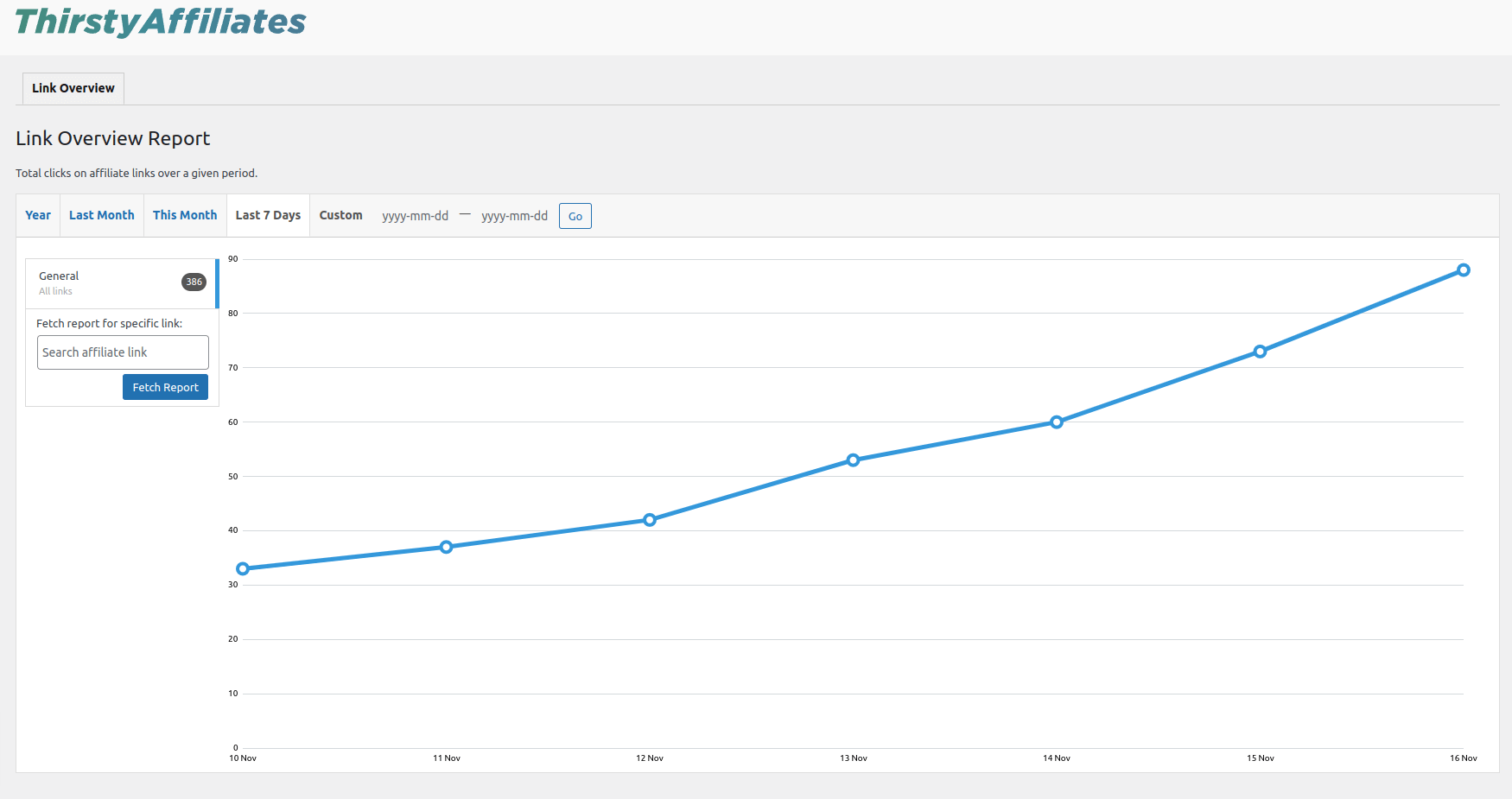 Adds click tracking to your links, allowing you to track every click.
It includes built-in reports allowing you to see how often your affiliate links have been clicked and what is popular on your site over time. Proper custom post types are used to avoid link clashes that can occur with other solutions.
Keeps its database footprint small to avoid bloating your database with unnecessary information.
Your affiliate links can be organized into hierarchical categories. For example, all Amazon links should be placed in an "Amazon" category, and all software links should be placed in a "Software" category.
---
Affiliate Coupons
Increase your revenue by promoting discount codes – find out why Affiliate Coupons is the most user-friendly coupon plugin.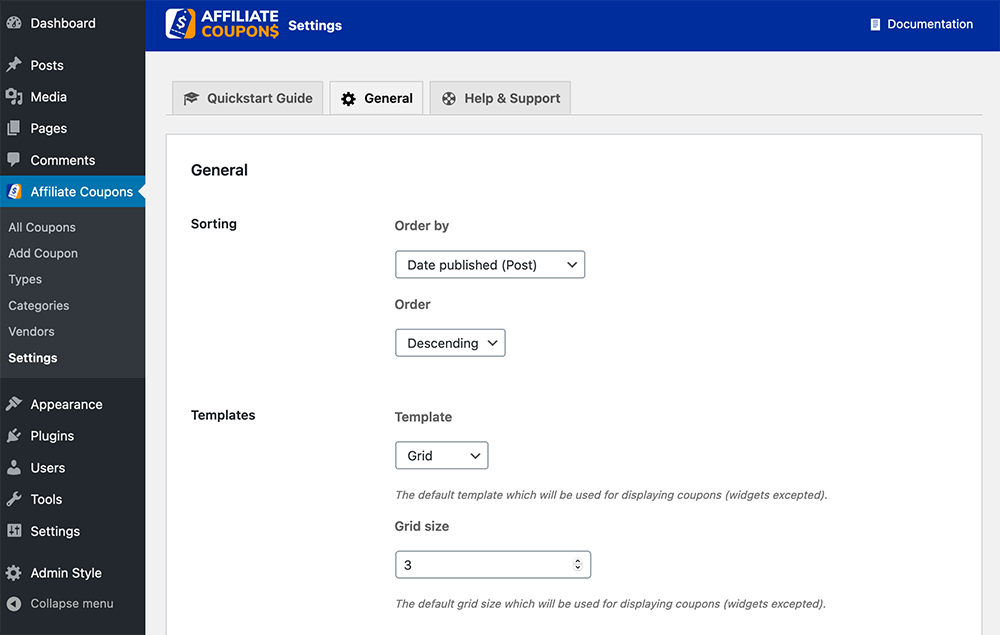 Everything you need from a coupon plugin. Among the features are:
Create affiliate coupons with ease using vendors and links. Create visually appealing lists of coupons provided by your favorite merchants.
Shortcode for displaying coupons your front end must be visually appealing. With an easy-to-manage shortcode, Affiliate Coupons presents WP coupons neatly.
Sort your coupons – Display your best coupons proudly in the front and center. You control which affiliate coupons appear at the top of your pages.
Presentation alternatives using coupon templates – To suit your website best, choose from standard, grid, or list templates for laying out your coupons. You can even see our entire template library right now.
Sidebar or central? It is entirely up to you – Use our fully integrated widgets in the sidebar to display your affiliate coupons.
Check out our live coupon plugin demo – See how the Affiliate Coupons Plugin works in action with our free online demo.
Follow our changelog to see how we've been making regular improvements to maximize the success of your coupon plugin!
This free Affiliate Coupons WordPress plugin version includes all of these key features (its not only free, it's also can be used an open source affiliate software, sine it's based on WordPress). That's a crazy price and a good deal.
---
Tracking Code Manager
How do you start tracking affiliate links? Easy! Tracking Code Manager is a plugin that allows you to manage ALL third-party tracking codes and scripts in one place.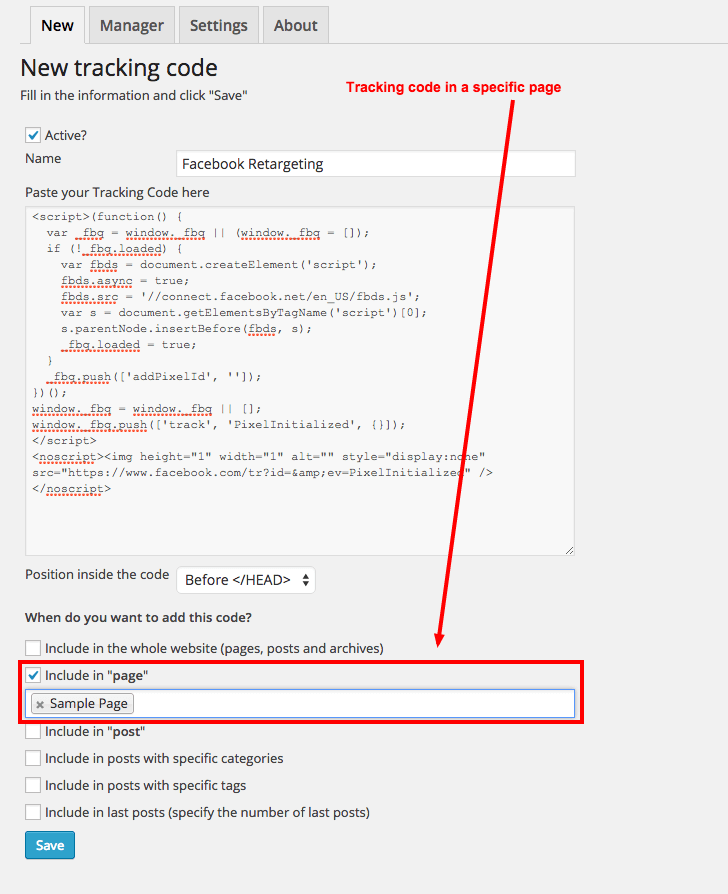 This plugin has been a leading provider of GDPR compliance products such as the WordPress GDPR Framework and Data Identification Manager, Blockchain privacy, and enterprise cloud eDiscovery tools.
It makes no difference where you want to put the codes because Tracking Code Manager allows you to place them on any page or in any location. Maintain compliance with global privacy laws by segmenting your pixel tracking and, if desired, blocking by country or location. With a single mouse click, you can quickly remove or update pixels.
Add custom codes for world-leading user enhancement platforms such as Google Analytics, Facebook Custom Audiences, Facebook Retargeting, Google Remarketing, Zendesk, Live Chat tools, eye tracking analytics, popups, affiliate tracking pixels, and so on in a matter of seconds…
For each service you use – or even test – you must include a script or tracking pixel in your WordPress site's head or body tag or on some of its pages. Manually. You can even divide pages or themes!
Maintain privacy compliance for your users by removing tags for specific locations, pages, or content types. Make informed decisions based on privacy laws in your area!
The Tracking Code Manager plugin collects EVERY code and snippet and displays them exactly where you want, whether across the entire site or on specific pages and posts. Simply and quickly. More importantly, you will be able to remove them just as quickly and easily.
---
Easy Affiliate Links
Easy Affiliate Links helps you manage all the affiliate links on your website. Both cloaked pretty links and regular non-cloaked links. Clicks get tracked for your links automatically.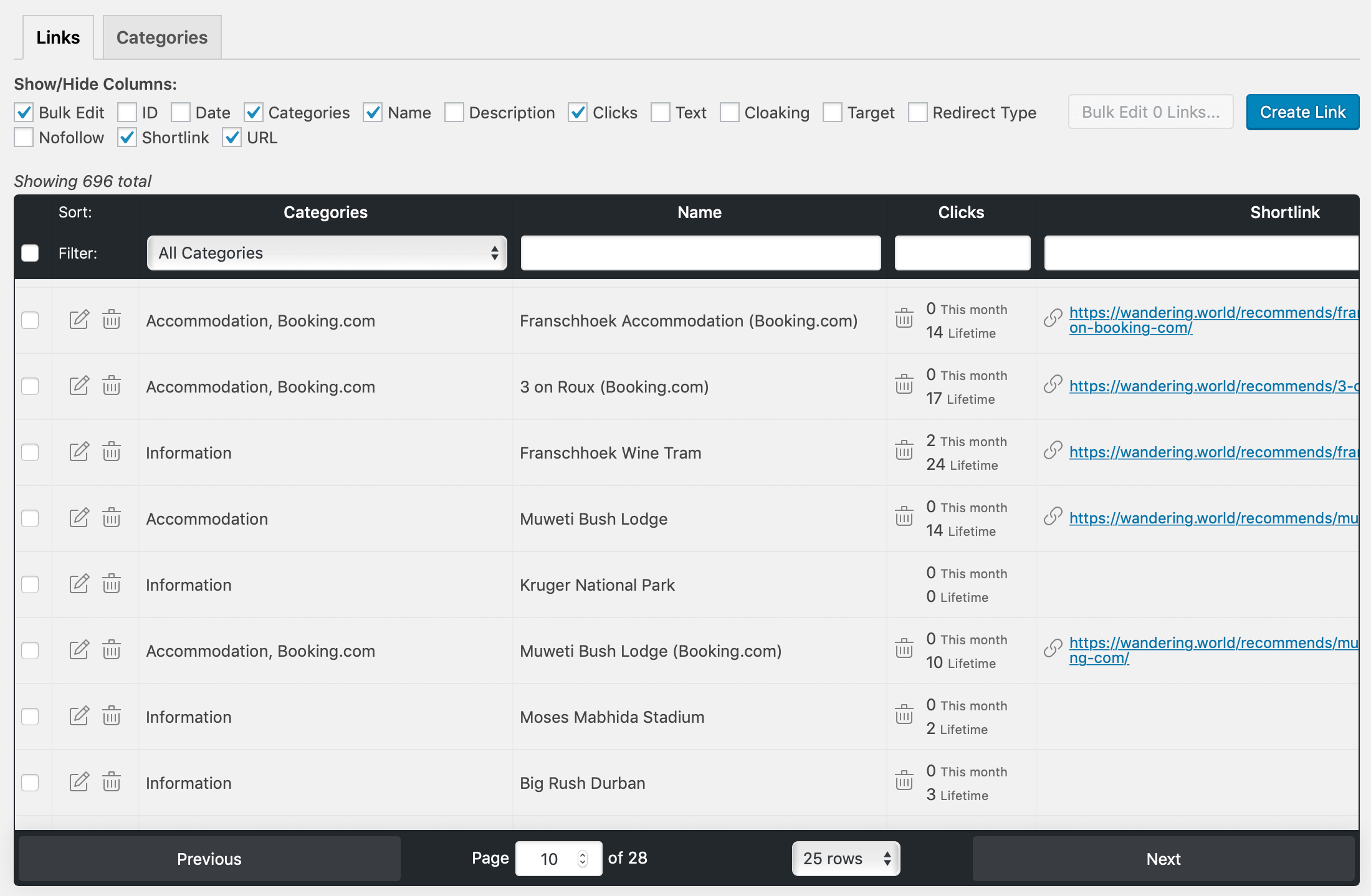 Key Features:
Both the Classic Editor and the new Gutenberg Block Editor are supported.
Using Elementor's text widget, add affiliate links.
Use standard hyperlinks or affiliate HTML code.
Make shortlinks to hide your affiliate links if desired.
For your links, use UGC and sponsored attributes.
Specific links should be left uncloaked for Amazon compatibility.
Text disclaimer for your affiliate links that are automatically generated
Access your links with ease in the visual and HTML editors.
Give your links categories.
Monthly and lifetime click counts are tracked.
XML and CSV files can be used to import affiliate links.
You can export your links to XML and CSV.
Use a CSV export and import to update your links in bulk easily.
---
Affiliate Power
AffiliatePower is a free WP plugin designed for affiliates who put all their marketing efforts through a blog.
Affiliate Power imports your affiliate network sales. This provides up-to-date income reviews and statistics directly in your WordPress backend. The fundamental version is completely free. The premium version keeps track of which post, referrer, campaign, and device led to the sale. You'll finally understand what truly pays.
Features that are only available in the premium version are highlighted.
Networks supported include adcell, awin, belboon, commission junction, financeads, digistore24, and tradedoubler.
Filter your import based on the website.
An overview of all sales
Daily email notification of new or changed sales
Export all sales as an Excel-CSV file.
Track earnings by post, page, referrer, and keyword. URL parameters, such as UTM campaign and device (mobile or desktop)
Detailed statistics for any time period, including earnings per partner, network, day, week, month, post, landing page, referrer, URL parameters, and device.
---
MyAP
MYAP is designed to help enterprise-level retailers grow their affiliate channels. You can easily identify trends and opportunities with specialized tools, processes, and automation, improve and optimize each affiliate relationship, and much more.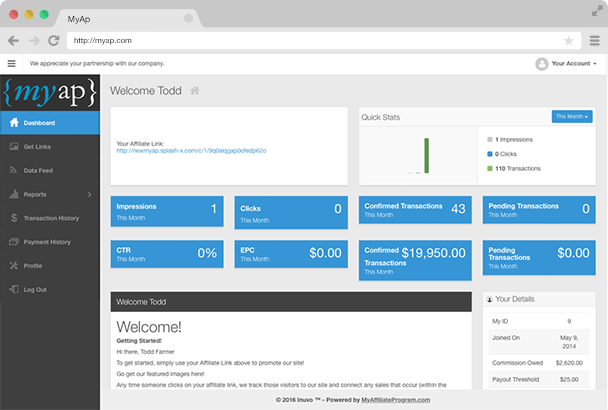 MYAP allows you to manage and grow your affiliate program efficiently and effectively. MYAP is fully customizable to meet the needs of your business. You are not limited, nor do you have to adapt. Instead, MYAP adapts to your business. MyAp is a comprehensive, customizable solution for affiliate marketing management and tracking. It allows you to run your own private-labeled, fully integrated affiliate program that works for you exactly as you've designed it.
Also, your affiliate program matches your branding and website, making you feel like your business is fully integrated. A successful affiliate program requires absolute assurance that all referred visitors, leads, and sales are tracked and accurately attributed. You can rely on MYAP's industry-leading tracking and attribution technology to ensure it captures every click, lead, and sale. MyAp is based in Arizona, US.
---
ULUD
ULUD is the most adaptable platform for managing the business's mobile and web marketing relationships and is ideal for mobile apps affiliate marketing. The same platform enables you to maximize your ROI by linking to work through payouts with your most significant partners – affiliates, networks, influencers, agencies, and any other relationship that will help your business expand. The platform can process billions of data requests in real time at incredible speeds.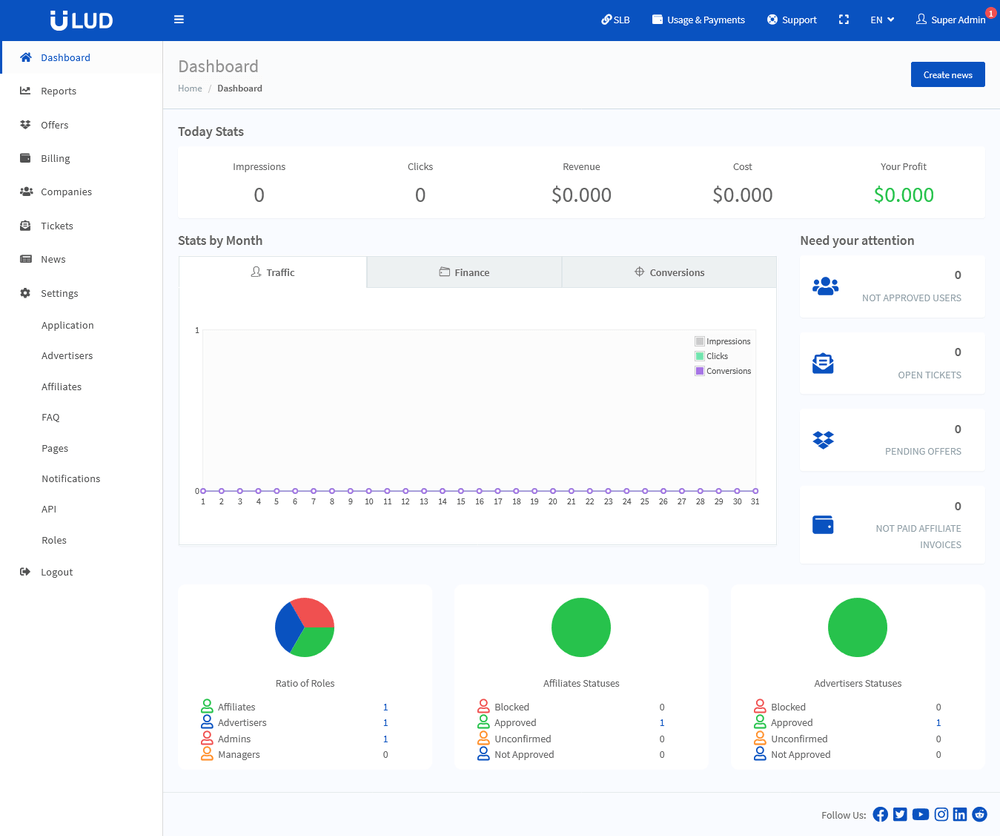 Because ULUD is a cloud-based solution, it can be accessed from any Robust infrastructure. All sorts of all systems, regardless of traffic system, have infinite scalability.
Pricing Details: 1,000 clicks are available for FREE of charge per day, without any restrictions on functionality. The free version is available for everyone; if you outgrow your free plan and wish to upgrade, it's still very cheap affiliate software.
---
Skro
Skro is a cloud-hosted, user-friendly affiliate campaign tracking and analytics platform. The tracker is intended to help affiliate marketers and media buyers monitor the progress and profitability of their online campaigns.
In other words, the Skro platform enables our customers to make their online campaigns more efficient and profitable by analyzing ad-related data and then optimizing the campaign by addressing them in the most effective way.
Affiliates, agencies, and media buyers can use Skro to access:
Statistics in real time
Three-dimensional reports
Cookieless affiliate commission tracking (direct tracking with LP Pixel)
Multi-cost and payout tracking – Data table customization – 32 data metrics
Reports in 15 different currencies
No cost onboarding
Custom domains with free SSL – Multi-user access – Pre-filled templates for Traffic Sources and Affiliate Networks
Facebook Conversion API Integration – Shopify Integration
Pricing Details:
Free – €0 / month
Starter – €39 / month
Pro Plan – €199 / month
Master Plan – €449 / month
---
NiftyStats
Nifty Stats is a desktop utility that downloads statistics from your affiliate programs and PPC campaigns at regular intervals.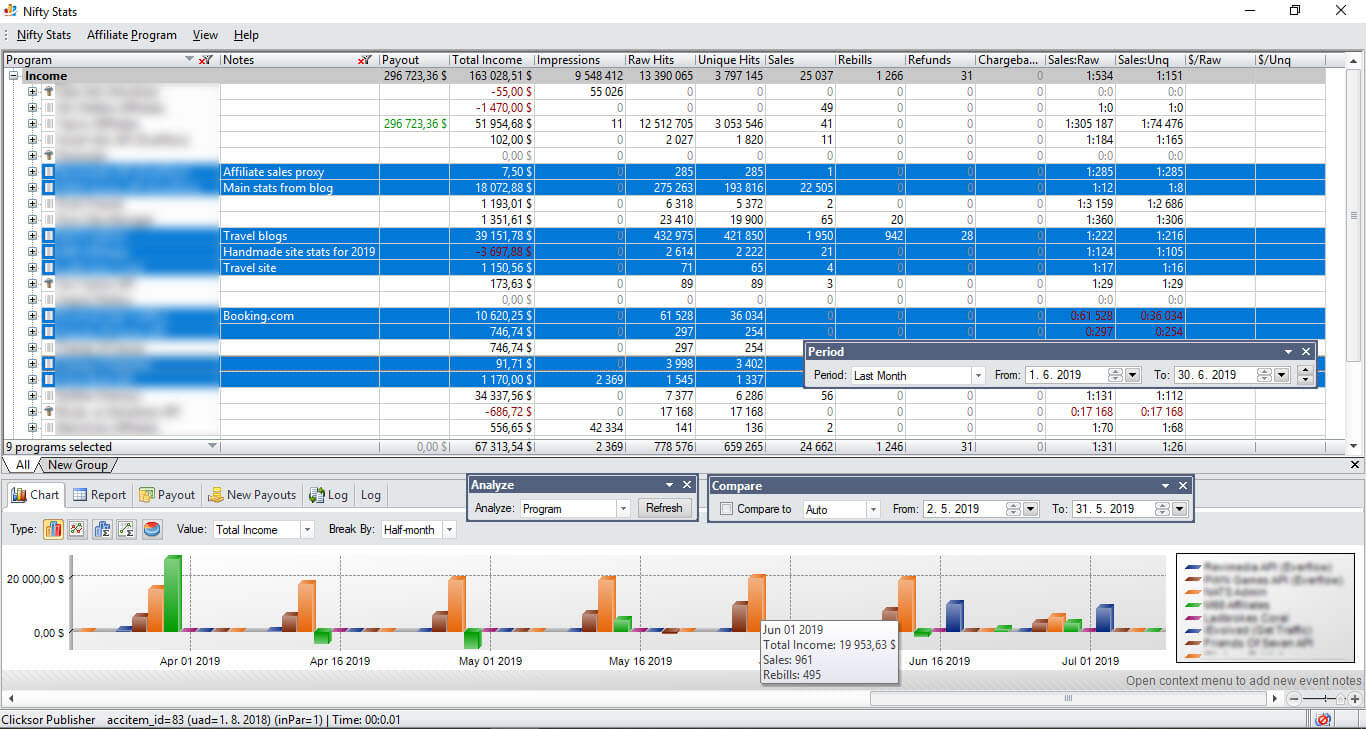 Nifty Stats automates affiliate statistics and displays them in real-time and on a regular basis on your desktop. It is completely safe, and all communication is limited to your computer and the server of your affiliate program.
---
GoAffPro
GoAffPro – This affiliate tracking software free to use, and has an easy way of adding an affiliate channel to your marketing efforts, regardless of the e-commerce platform you are using.
---
Offer18
Offer18 is not free, but is still a very affordable affiliate marketing platform option, has evolved quickly and now holds a prominent position among the world's top affiliate marketing platforms.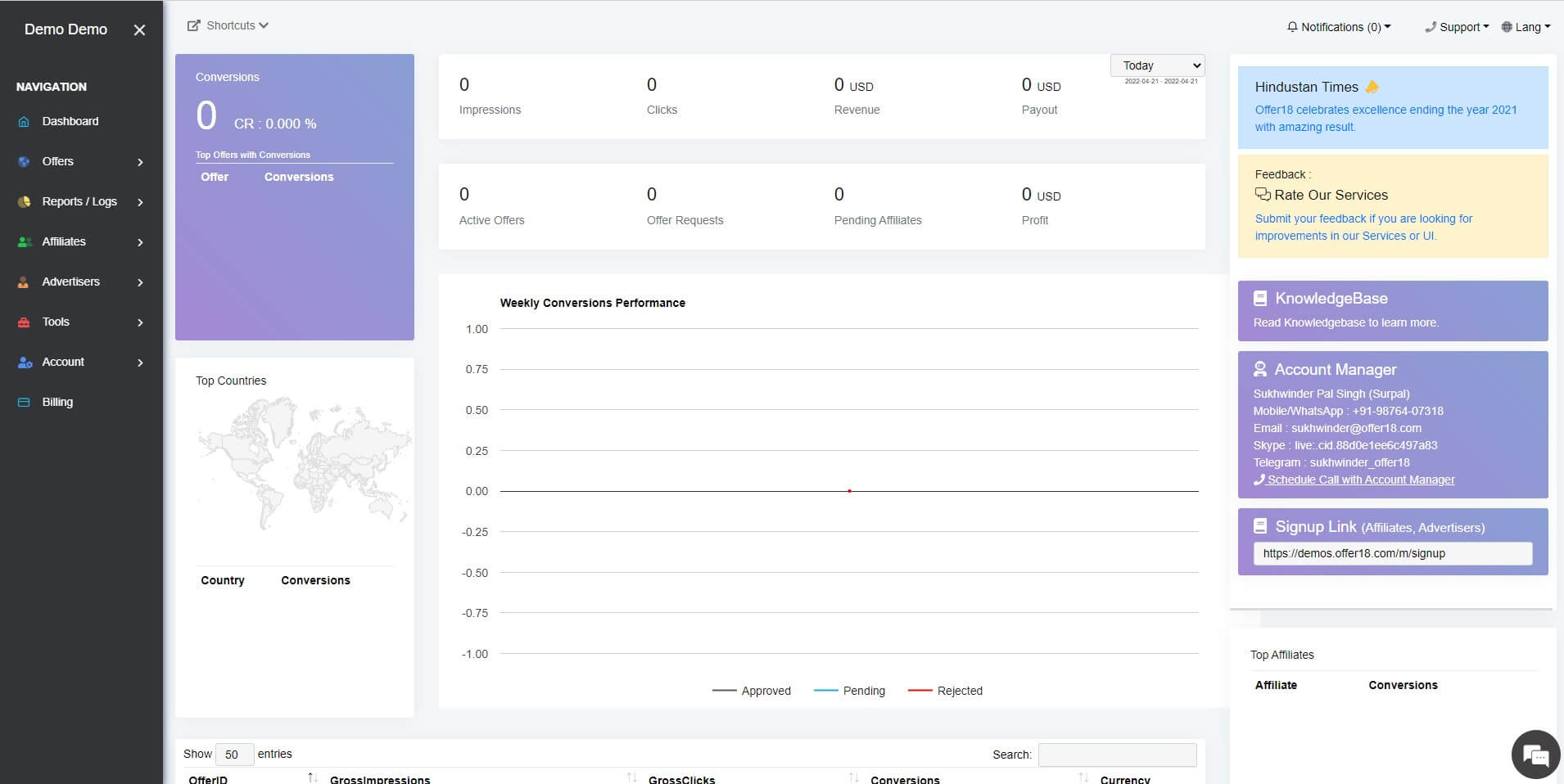 Offer18, which is trusted by a large number of affiliates, advertisers, agencies, adnetworks and is constantly emphasizing the effectiveness of serving clients with the best affiliate marketing tool. What distinguishes
Among other platforms, Offer18 stands out by offering customized features with advanced functionality. Whether it's security features or advanced features, API or Smart offers, unique clicks or multi conversions, whitelisting or blacklisting IPs, allowing or blocking specific countries, browsers, devices, ISPs, and so on, dynamic tokens and parameters, a great list of models to run campaigns in, impression link implementation, creatives upload, and so on.
Whether a startup ad network or a top affiliate network, each will benefit from a dedicated account manager and 24X7 support to propel his business to new heights of success in the digital marketing industry. Offer18 is well-versed in providing advertising networks with everything required as well as on-demand, customized features.option.
---
Reditus
Reditus enables you to launch your affiliate program in as little as 30 minutes.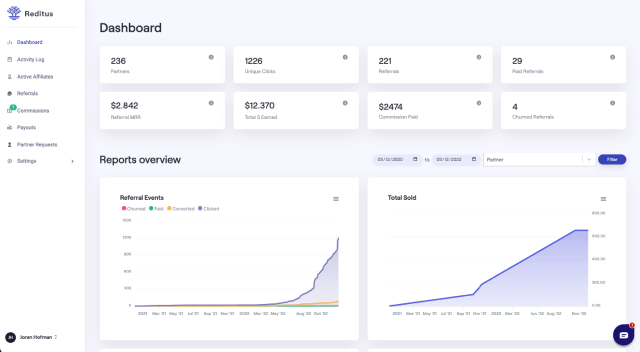 We believe that every SaaS company should use an affiliate program to increase revenue.
That is why we provide a free version and charge a small fee to be added to our marketplace.
---
PrettyLinks
Pretty Link is last but not least, is my personal very favorite affiliate link tracking plugin that allows maximum flexibility when it comes to link tracking and shortening.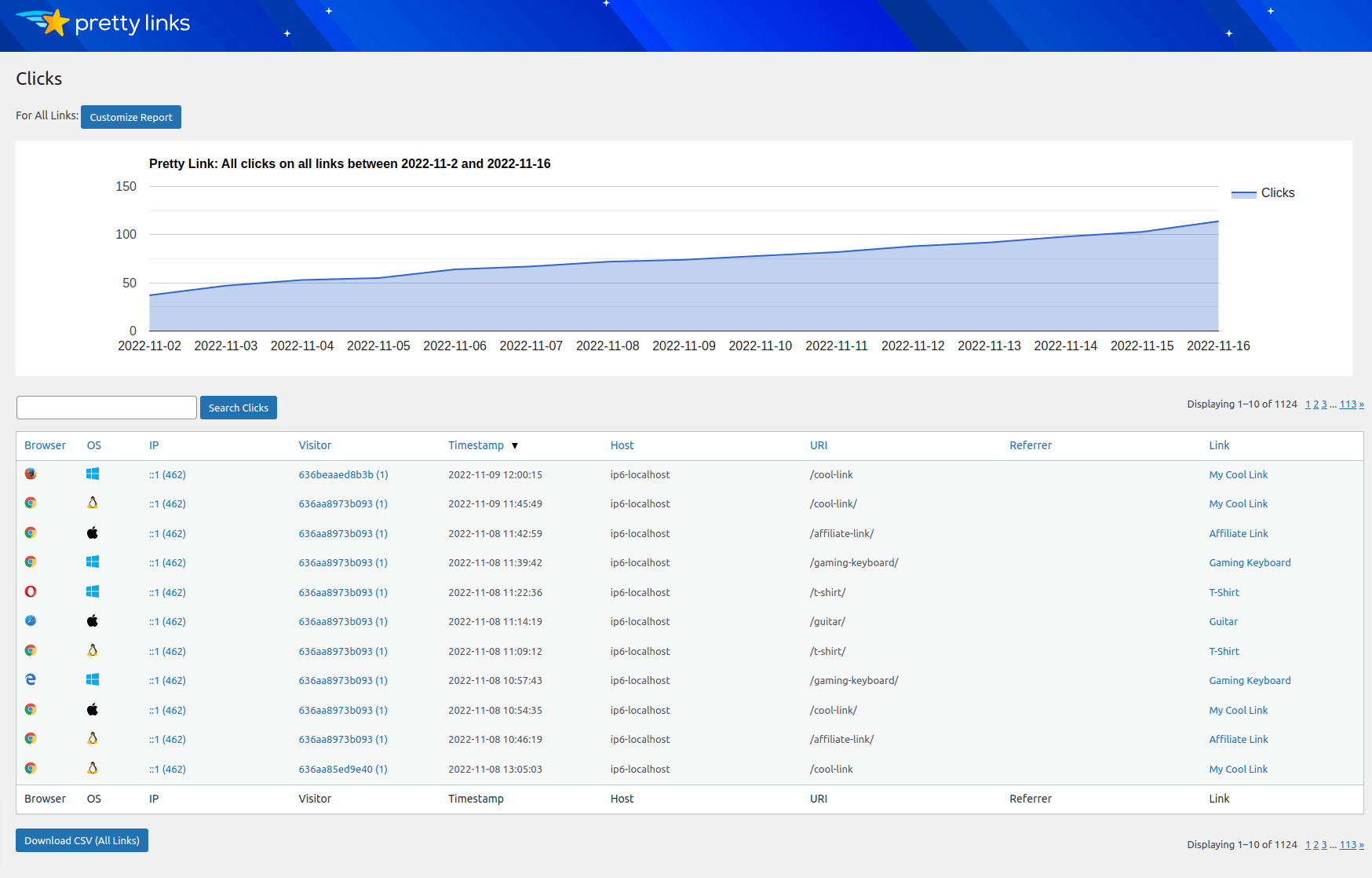 Pretty Links allows you to shorten links using your own domain name (rather than tinyurl.com, bit.ly, or any other link shortening service). Pretty Links not only creates clean links, but it also tracks each hit on your URL and provides a full, detailed report on where the hit came from, the browser, operating system, and host. Pretty Links is a fantastic plugin for anyone who wants to clean up their affiliate links, track clicks from emails, redirect their Twitter links to their own domain, or simply increase the reach of their website by spreading these links on forums or comments on other blogs.
Pretty Links allows you to use your domain name and appear more professional. Including the free version.
While search engines are intelligent enough to detect affiliate links, having things organized for your personal preferences is beneficial.
Use clean links that provide all of the tracking information you need to further optimize your affiliate marketing. Even if your referral links are spread across multiple platforms, forums, emails, and blogs, you will know which ones perform the best.
Everyone who wants to easily create beautiful affiliate links and keep them completely organized.
Key characteristics include:
302, 307, and 301 redirects are available via a simple drop-down menu.
The Block Builder now has Gutenberg support for easy affiliate link insertion.
Link categories will help you organize your MANY affiliate links.
You can use public link creation to turn your WordPress website into a shortlink generator (like bitly.com).
You can embed social sharing buttons directly into your posts and pages.
---
The Advantages of Free and Open Source Affiliate Software
The availability of free and open-source affiliate marketing and tracking tools has proven to be a blessing for any small business or startup that lacks the resources to launch an affiliate program. New and aspiring entrepreneurs will fully utilize their core features to manage marketing strategies and commissions and monitor affiliate results easily.
Furthermore, several software vendors offer a free trial for a limited time to allow users to test the program before purchasing the paid version to meet their business needs. Even though the free variant has limited choices, it is still a common choice because there is no maintenance or other extra expense.
When using any affiliate marketing software open source solution, you can benefit from community contributions but also be prone to hacker attacks and lack of robust security.
Affiliate sales tracking software refers simply to any backend of a reference tool that counts and keeps track of affiliate sales. CPA tracking or affiliate sales tracking doesn't matter what you choose to call it. The idea remains the same – we are talking about a software feature (whether a simple tracker tool or an AI-powered software) that enables you to keep up with your affiliate sales, either as a network or as n advertiser.
The Most Important Reasons for Using Affiliate Software
What do you believe are the most likely factors for top digital marketing companies and other sectors to introduce the best affiliate tracking software? This blog segment focuses on the tool's most noticeable and measurable advantages.
Rank Higher on Search Engines: You obviously use different optimization techniques to increase your site's ranking on search engines. However, you will be relieved to learn that affiliate marketing tools work together with organic SEO strategies to expedite the process. Yes, you will see increased SERP visibility shortly.
Tip: also, try an optimization calculator for affiliate marketing.
Product Promotion Advancement: Affiliate tools have simply abandoned all conventional product and service promotion products. You must type all of the affiliate program information into your software. The tool begins working 24 hours a day, seven days a week, tracking affiliate success and handling commissions, among other things.
Real-time and Detailed Reporting: One of the places where conventional affiliate marketing strategies fell short was providing immediate and detailed information. Many of these problems have been mitigated by affiliate tracking tools. You can keep track of all important information, such as the total number of registered users, venue, sales, etc. The app employs a sophisticated algorithm that allows you to pay the affiliate only after completing the job.
Brings Flexibility and Scalability to the Program Model: If you believe that a particular affiliate marketing program model or campaign isn't working, the flexibility and scalability of software allow you to modify the model without wasting much time easily.
Automate the Sales Process: Affiliate software programs aid in automating the sales process. It means that it puts the business on autopilot. The software handles all management, allowing you to concentrate on other critical aspects of the business.
Pay-per-performance: Another field where affiliate software tools excel is the ability to pay a fee based on affiliate sales. Affiliates are in charge of marketing the products, so you don't have to incur any extra promotional expenses. In addition, affiliate networks perform both billing and invoicing.
Mitigating Illegal Marketing Activities: As previously mentioned, conventional affiliate marketing strategies had a few bottlenecks that allowed marketers to resort to illegal marketing activities such as duping merchants. However, affiliate marketing software performs thorough validation when adding new affiliates, analyzing data, tracking IP addresses, and so on.
Why get into affiliate marketing in 2023?
The affiliate marketing industry has grown by 8.4 percent year over year to about £510 million. According to Statista, affiliate marketing spending in the United States will hit $8.2 billion by 2023. According to the PMA report, bloggers have invested around 39% of their affiliate budget on affiliate advertising to support their content.
However, the retail sector invested almost half its affiliate marketing budget.
This demonstrates that affiliate marketing has already become a hotbed trend in a wide range of sectors, including:
technology
marketing
gaming
healthcare
wealth creation
insurance
beauty
fashion
and so on.
With the newly innovative developments, affiliate marketing as a business model will be further evolved. For example, developing the 5G network would allow affiliate marketers to communicate with consumers as download speeds will increase by 150%. In addition, global sales of leading e-commerce sites such as Amazon and eBay are expected to increase by up to 100% by 2023. This means affiliate advertisers will have more chances to earn more money and commissions.
How Does Affiliate Marketing Work?
The affiliate marketing axis focuses on four main players.
The first is a retailer or business entrepreneur who wants to increase his or her client base and therefore prefers affiliate marketing.
The second essential component is an affiliate network or affiliate tracking software, which serves as a go-between for the merchant and the affiliate. It allows affiliates to engage in affiliate programs and gain passive profits.
Affiliates and publishers are third-party participants in affiliate marketing.
Lastly, the fourth and most important aspect is the client, for whom the entire marketing campaign is intended.
An affiliate marketer is compensated or rewarded based on his or her success. The merchant or advertiser, in terms, can pay them using any of the following methods.
Paying Methods
Pay Per Click (PPC)– An affiliate is paid depending on the number of clicks on the website. The merchant is unconcerned about whether the clicks result in sales or leads.
Pay Per Lead (PPL)– This is a fixed commission charge for each lead or customer bought from the website. Other motivating behaviors are installing an application, completing an online form, or submitting a survey.
PPS, or Pay Per Sale, is a formula in which the merchant or advertiser pays a percentage of the leads produced. The percentage is mutually agreed upon by both the affiliate and the business. For example, consider Amazon Associates, which pays a 15 percent commission on products sold.
Tips for Tracking Affiliate Marketing Success
Once your affiliate program has gained momentum and is generating leads and revenue, it's time to turn your attention to tracking the progress of your marketing campaigns. So, setting up KPIs is one of the most important steps you need to take. You also need to consider quantitative metrics and compare performance against your goals. So what metrics are critical to achieving your goals? Let's take a look.
Key objectives:
CTR, or Click Through Rate: is the number of times a user clicks on your advertisement.
CPL (Cost Per Lead): Here, you must track and control your affiliate marketing lead generation platforms.
Conversion Rate: The frequency at which a lead or click is transformed into a future sale. In order to accurately measure your conversion rate, you will need conversion tracking software, which is basically a feature available across all affiliate tracking tools.
Return on investment (ROI): This metric lets you determine how much you spent on an affiliate marketing campaign and how much you received from that campaign.
Incremental Sales and Revenue: Determine how many sales are mostly generated by a marketing channel that no other marketing campaign would have driven. When affiliates complete a transaction, incremental revenue is provided.
Average Order Value: This metric aids in calculating the average revenue produced by a single order.
Reversed Sale Rate: As the name suggests, this refers to calculating the products returned by consumers who bought from your website rather than receiving a refund.
Fraudulent Orders: Affiliate marketing is plagued by many fraudulent orders, resulting in massive losses. You must also consider those instructions. It's important to pick software with fraud protection.
Affordable Affiliate Tracking Software – Conclusion
Affiliate marketing tracking software has become a powerful tool and a must-have asset for developing an effective digital marketing strategy. The free and open-source affiliate management tool aids in establishing an affiliate marketing scheme and research methods to increase revenue and maximize conversions. An affiliate tracking system can also automate advertising and marketing campaigns, generate eligible leads, boost organic search results, and do various other things.
Affiliate marketing is a great way to make money online. However, it can be difficult to track all the sales and commissions. This is where affiliate tracking software comes in handy.
There are many affiliate tracking software programs, but not all are free. Some also offer different features like email notifications, reporting, and more.
We've highlighted top affiliate marketing and tracking software resources that are either affordable, free or open source. I hope you can find the best tracking software for affiliate marketing in this article!
What Do You Look For When Choosing an Affiliate Tracking Software?
Choose a well-known platform that has been around for a while and can lend your brand some of its credibility, trust, and familiarity.
Look for a platform with similar businesses to yours – do a little digging into what your competitors use and who their customers use. A successful business that has been in business for a while and offers a similar product or service that uses a platform is likely a good match for your business.
Choose a platform that provides the right integrations and partnerships with other businesses. Ensure that the affiliate tracking software is compatible with the payment options you need and the business partners you wish to work with.
Choose the best affiliate marketing software that's aligned with your other marketing efforts. Some solutions offer more of these than others.
Choose an affiliate software that allows you to learn the finer points and make the most of your software. Look for lots of software-specific information and tutorials available.
What Features Should Your Affiliate Tracking Software Have?
When choosing among the dozens of affiliate software available in 2021, here is a list of key features to look for: an accounting module, robust payment gateway, reporting features, intuitive interface, real-time campaign tracking, real-time metrics, and an anti-fraud kit. A good extra bonus would be if your software also has these additional features: a mobile app, white-labeled affiliate onboarding, traffic distribution, mass payments, brandable interfaces, email automation, and coupon codes.
Which affiliate marketing tracking software platforms are best?
If you are looking for one of the best affiliate marketing tracking software platforms – just go with the highest-end platform that your budget would allow. The more you can invest in your affiliate marketing business, the more it will, generally, pay out in the long run. Choose Scaleo or any similar affiliate marketing tracking software platform with a flexible pricing structure.
Should I continue to track affiliate links in 2023? 
You should absolutely do so, as competition in the affiliate marketing sector is increasing and affiliates must redouble their efforts to stay afloat. Tracking links for affiliate campaigns is a tried and true approach to improving your affiliate programs' performance and enhancing your marketing strategy. To optimize your revenue, you must select the best approach to track affiliate links among the various tracking tools on the market and use them effectively.
What is the best 25 affiliate tracking software scripts?
Last Updated on September 7, 2023