Conversion tracking software can help you figure out which digital marketing activities generate the most conversions and assign monetary value to your campaigns. You are probably familiar with tools like Google Analytics or various pixel tracking software out there that can help you measure and improve your ROI, but there are so many more we are going to discuss today!
Best conversion tracking software for 2023
So, first, let's start off by listing the…
| Name | Description | Price |
| --- | --- | --- |
| Scaleo | Scaleo is an innovative affiliate marketing software that can be used to power affiliate programs or as a stand-alone platform for creating your own affiliate network. | $299 per month (entry-level plan) |
| Google Analytics | GA lets you measure your advertising ROI and track your Flash, video, and social networking sites and applications. | Free (paid options available) |
| Kissmetrics | See a user's full customer journey across devices and discover the drop-off points. | $299 per month |
| Attention Insight | AI automatically predicts changes in visual attention based on hundreds of images from eye-tracking studies. | €19 per month |
| Crazy Egg | Get insights into your user's behavior instantly. Save time setting up heat maps; we show all data from the start. | $29 per month |
| OptimizePress | Build conversion-optimized landing pages in minutes. Create pages that sell. | $129 per year |
| Unbounce | AI-powered landing page builder with smart features. | $74 per month |
| Google Optimize | Google Optimize offers A/B testing, website testing & personalization tools for small businesses to help deliver engaging customer experiences. | Free (paid options available) |
| BuzzSumo | Discover viral content and stay ahead of the competition with trend analysis and search tools. | $119 per month |
| ClickerVolt | Pixel tracker for affiliates & performance marketers. | Free (paid options available) |
How do you find the right conversion tracking tool for you?
Fortunately, we have done the work and identified some of the best conversion rate tracking software and tools to help you run your business more efficiently.
In this post, we will discuss:
10 best conversion tracking software for affiliate marketers.
Traditional Google Analytics conversion tracking.
What to consider when choosing a conversion tracking tool for your business?
What data can be extracted from conversion tracking tools?
Improved conversion rates lead directly to increased sales and revenue. Increasing conversion rates is always one of the main concerns in any business when you are marketing. Being able to track the conversion rates of your website, your marketing campaigns, and your sales calls is crucial and one of the most important data points you need to know if your marketing efforts are effective.
Marketing is all about converting your lead generation efforts into conversions, but conversion rate optimization can be a daunting task without the right conversion tracking software tool.
Now, let's have a look at each of this software individually:
1 – Scaleo
Scaleo has developed technology for conversion analytics platforms that enable successful marketing partnerships on mobile and the web to take their revenue to the next level.
Scaleo's affiliate software is a fully customizable white-label SaaS solution for developing, managing, and growing affiliate programs and affiliate networks. Digital advertisers around the world use Scaleo to maximize their ROI, from affiliate onboarding to conversion tracking, rewards, and beyond.
Scaleo is a marketing partner management software that allows users to improve their ROI in collaboration with their partners.
It offers a fully configurable SaaS platform. It provides users with the most powerful and unique tools for managing, integrating, and compensating for their marketing collaborations. The software also includes a personalized dashboard where users can keep track of their saved reports.
Tracking software for conversions also has an expert service team that is always ready to offer customized solutions to users.
It also provides technical support on all levels. With its powerful optimization and reporting features, this software saves users and their partners time and money.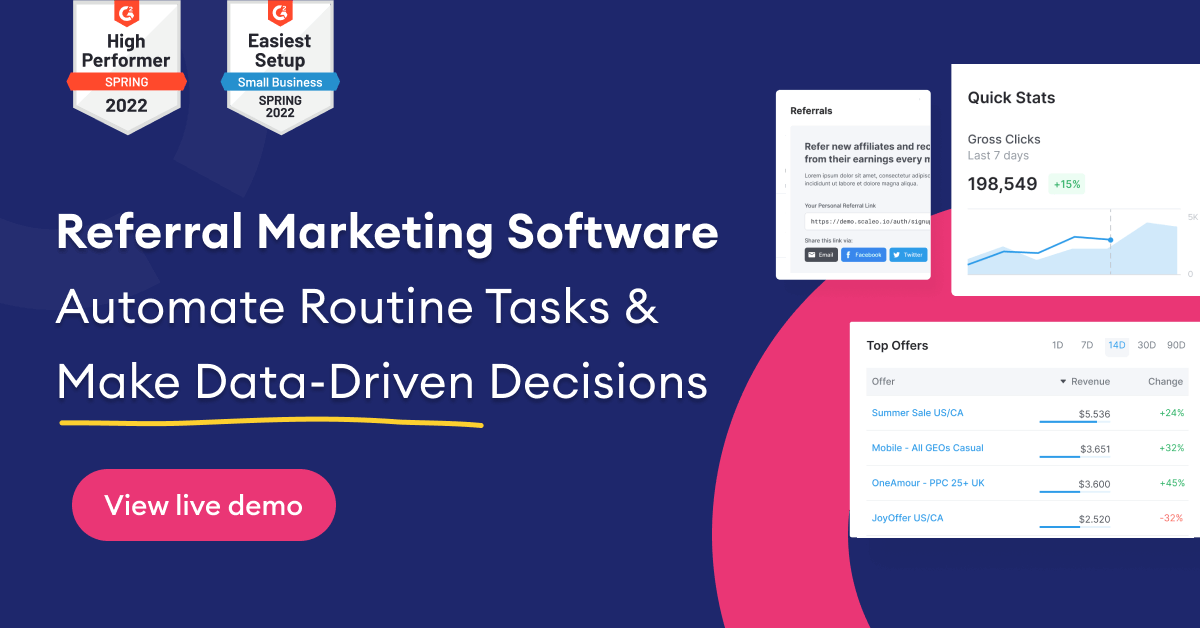 The full set of API integrations and features enables users to collaborate more effectively with a wider range of partners across multiple channels. In the long run, Scaleo's real-time reporting and data streaming capabilities make its users better decision-makers. Scaleo maintains high-security standards to protect its customers' data. It has proactive fraud protection, SOC 2 and SOC 1 certifications, and EU-US Privacy Shield certification.
Who is it for?
Advertisers, ad networks, affiliate partners, performance agencies, publishers, mobile affiliate networks, lead generation companies, tech startups and digital agencies.
Price: $299 per month (entry-level plan), which can be scaled vertically depending on your needs.
2 – Google Analytics.
Google Analytics is the most well-known and widely used online analytics tool since the dawn of the internet. It is a particularly valuable tool for collecting conversion tracking metrics and insights that can help you optimize your website. The built-in Google conversion tool tracking system that logs pre-defined goals (such as a purchase on your web page) allows you to have a clear and in-depth overview of your conversions, sales, and even leads. If you are looking for one of the most advanced Google conversion tools out there, Google Analytics should cover all your needs.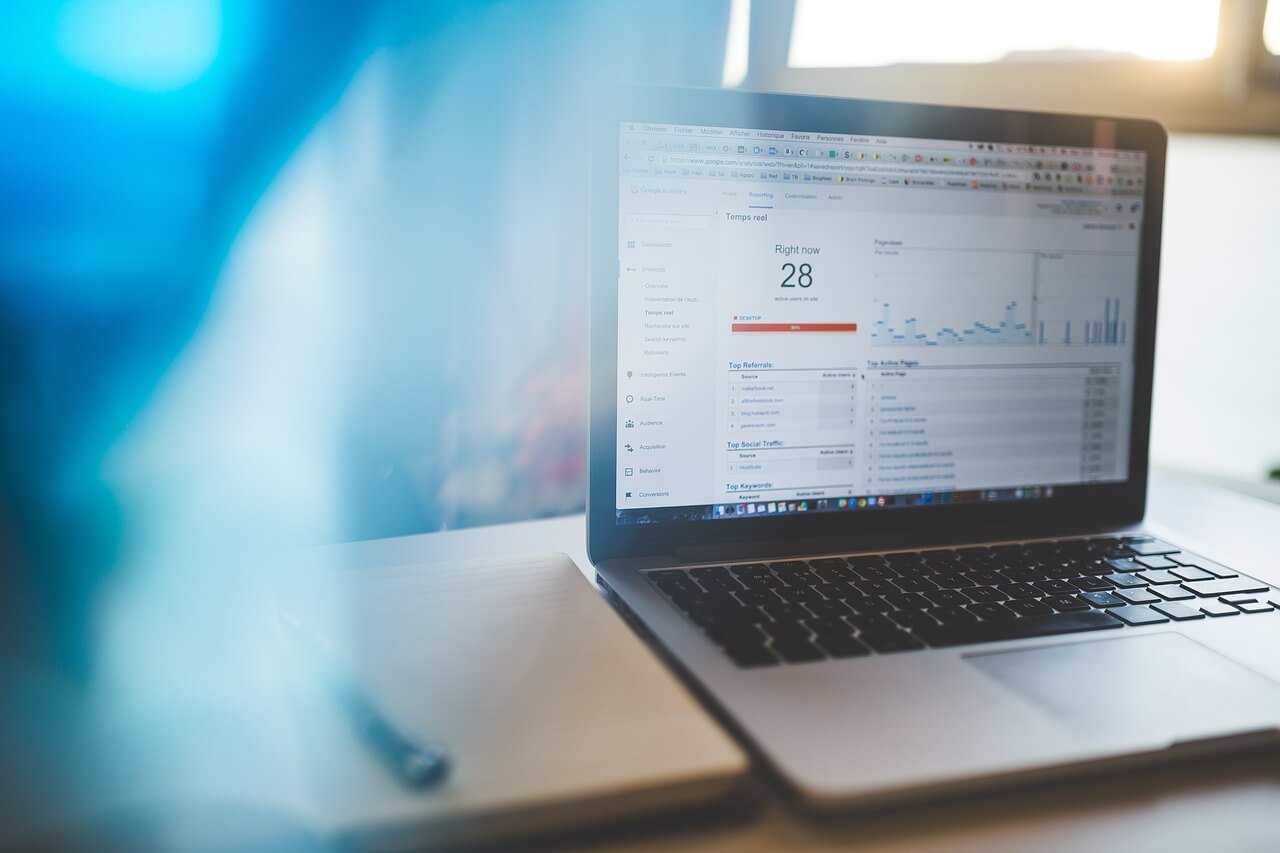 With GA, you can find out which of your pages are converting and why, uncover helpful information about your audience's behavior, set up funnel analysis tools, and more.
Price: Google Analytics is completely free. Google Analytics 360, the premium version of the service, costs $150,000 per year. (yes, it's the right amount of zeroes!)
Original conversion tracking from Google Analytics
Why is conversion tracking so important for Google App campaigns? For a long time, Google Analytics goals were the best tool for marketers to track conversions, and for a good reason.
Google Analytics is great for telling you how many visitors have visited your site, where they have stayed, and which campaigns are most effective at driving conversions. Yes, this is all useful information, but it does not explain why your visitors behave the way they do.
And that's not all.
Google Analytics is not inherently great at tracking offline conversions like phone calls or in-store visits. If your goal is to drive visitors to your website, Google Analytics is the holy grail of marketing measurement.
However, if your goal, like most online businesses, is to drive more conversions in hopes that they will one day turn into a sale, Google Analytics alone will not be enough.
Sure, we can provide you with statistics to help you draw conclusions about the effectiveness of your marketing and ROI, but that leaves a lot to the imagination. Conversion tracking helps you improve your return on investment by providing a clear view of the data. By integrating Google Analytics and conversion tracking tools, you get information on how to optimize your campaigns to get better online and offline results.
3 – Kissmetrics
With Kissmetrics, you can track your app's conversion rate.
It is a human-centric analytics solution that helps internet businesses identify, understand and improve their conversion standards.
The tool gives users access to information that helps them improve their merchandise and make better business decisions.
This tool can be used if you want to see more customer attribution data. It allows you to see the entire buying journey of your customers.
Kissmetrics gives you a complete picture, from the anonymous visit to your website to the signup and the time after the signup.
4 – Attention Insight
Attention Insight is an AI-driven heatmap tool that lets you get a clear picture of how users engage with your website.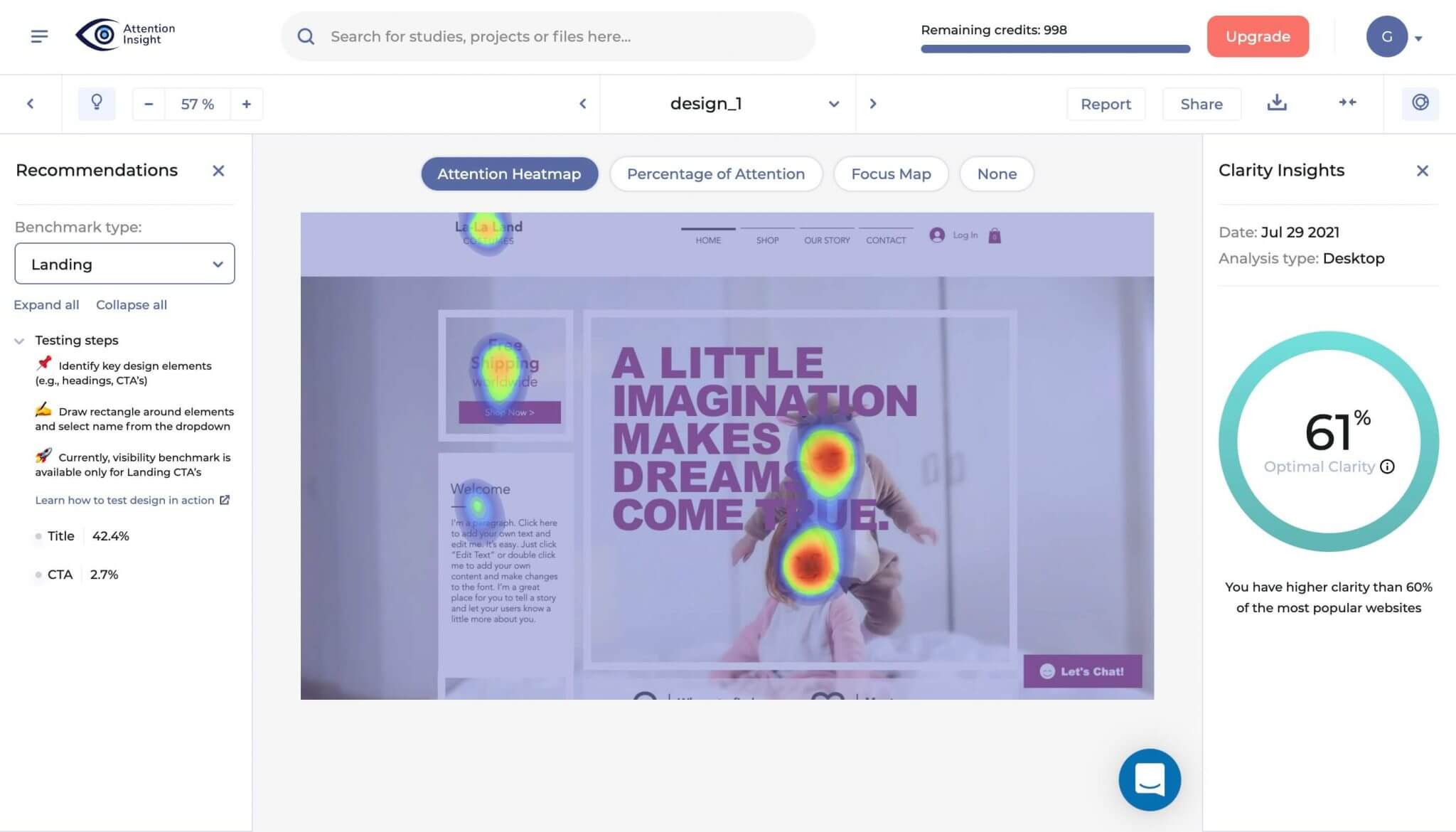 With Attention Insight, you can create heat maps of videos embedded in web pages, unlike other heat mapping tools. Moreover, the program assigns attention points to any area of your website, including critical features such as CTA buttons.
Other features, such as the contrast tester, help you ensure that your website is usable and readable. This allows you to improve the user experience and increase overall conversions.
Pricing starts at €19 per month. A limited free version is available.
5 – Crazy Egg
Crazy Egg is an optimization tool that can help you increase subscriptions, sales, and page views. This tool provides click reports, heat maps and scroll maps to help you understand how your customers interact with your website.
Crazy Egg logs your customers' entire session on your website, so you can better understand their tendencies.
It also shows where certain visitors abandon their buying journey.
The platform overlays your website visitors' actions on your web pages, so you can see what they are doing.
You see a wealth of important data that tells you how to make your website a success.
Users can take advantage of features like the following:
The heat map shows how visitors interact with your site.
The scroll map shows how much your visitors love your content. A/B testing identifies the elements that work best.
Confetti report shows exactly what your customers are clicking on.
The List report displays a tabular data report showing how many times an element was clicked.
The Overlay report is handy for designers who are familiar with HTML.
Visitors' displeasure can be seen in records, as seen by their mouse movements.
Snapshots allow you to compare the original page with the reported page side by side (e.g., with heatmap)
Price: for $24 per month, you can track 30,000 page views and 100 records. The fifth option lets you customize your plan if your needs exceed the Pro plan.
6 – OptimizePress
OptimizePress is a WordPress toolbox for conversion tracking. The tool allows you to design conversion-optimized pages like landing pages and sales pages. Also, OptimizePress lets you design and analyze WordPress funnels and run A/B tests to determine which layouts, elements, and widgets have the most conversion power.
It also includes a robust payment and checkout plugin that makes it easier for you and your customers to sell digital products. Plus, it connects effortlessly with many popular email marketing solutions and CRMs like ActiveCampaign and ConvertKit.
Price: Prices start at $99 per year.
7 – Unbounce
Unbounce is a technology that allows you to quickly and easily create dedicated, conversion-focused, stunning landing pages.
All you have to do is choose from hundreds of attractive, highly customizable page designs and use the simple drag-and-drop page builder to arrange the various elements on the page. No coding is required; there are no cluttered, distracting web pages and no hassles.
Unbounce also has built-in artificial intelligence (AI) with Conversion Intelligence and Smart Traffic to help you maximize conversion rates and test your pages.
Price: starts at $81 per month (annual billing). There are also higher-priced options and a free trial.
8 – Google Optimize
Google Optimize is another fantastic A/B testing tool designed to help online businesses increase conversion rates and overall visitor satisfaction.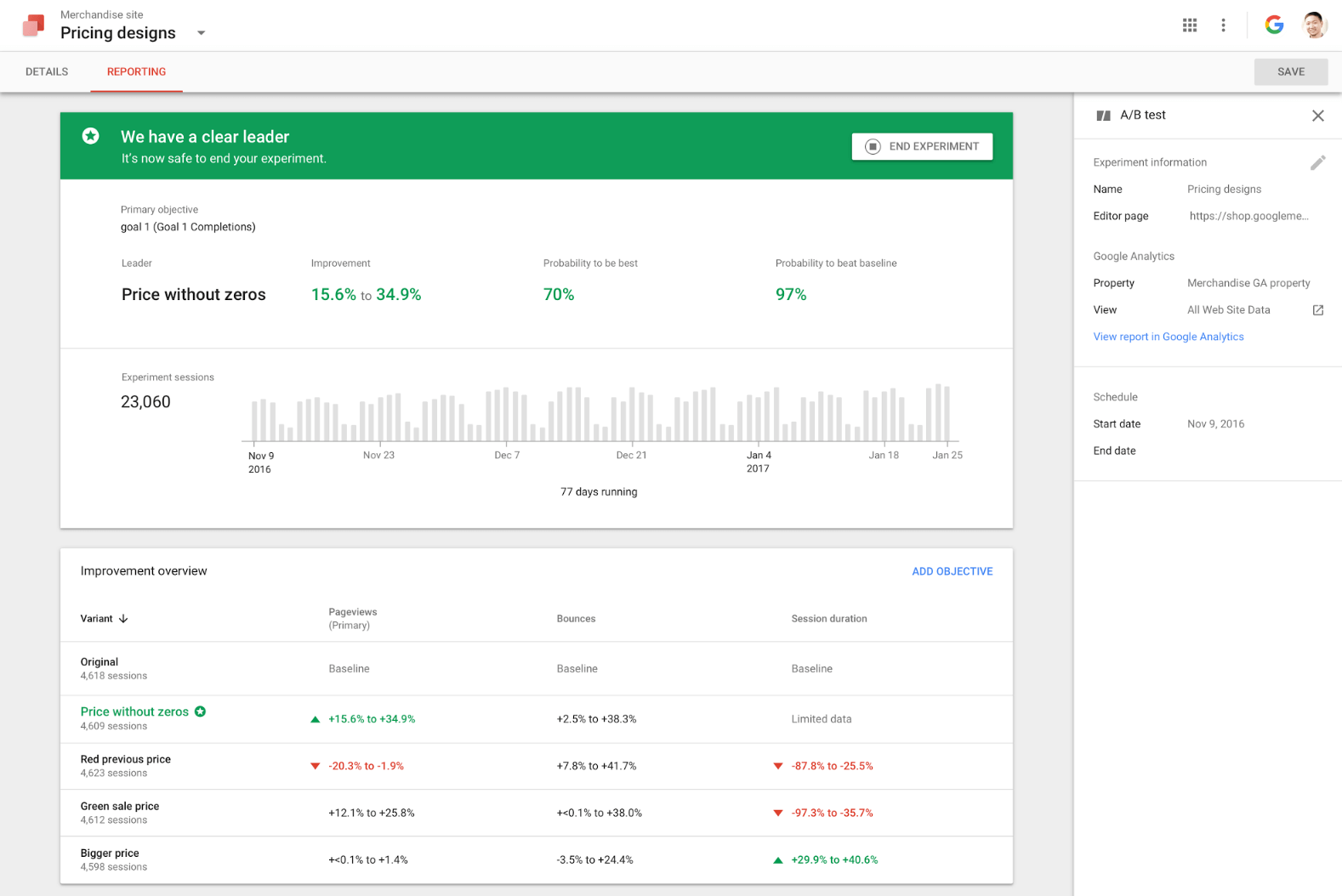 Optimize can test different combinations of your website content on different pages and evaluate how they perform against your targets.
Optimize interactions with Analytics to track and measure the results of your tests. You can use your Analytics targets as goals for your experiments. You can even specify which people should participate in split tests based on the audience you set in Analytics.
Pricing: Google Optimize is completely free to use. Google Optimize 360 pricing is available upon request (and costs a fortune).
9 – BuzzSumo
BuzzSumo is a service that can help you improve conversion rates by optimizing your website's content.
BuzzSumo can help you generate new article ideas. This tool can help you plan your PPC strategy, develop keywords and optimize your content marketing campaigns for conversions.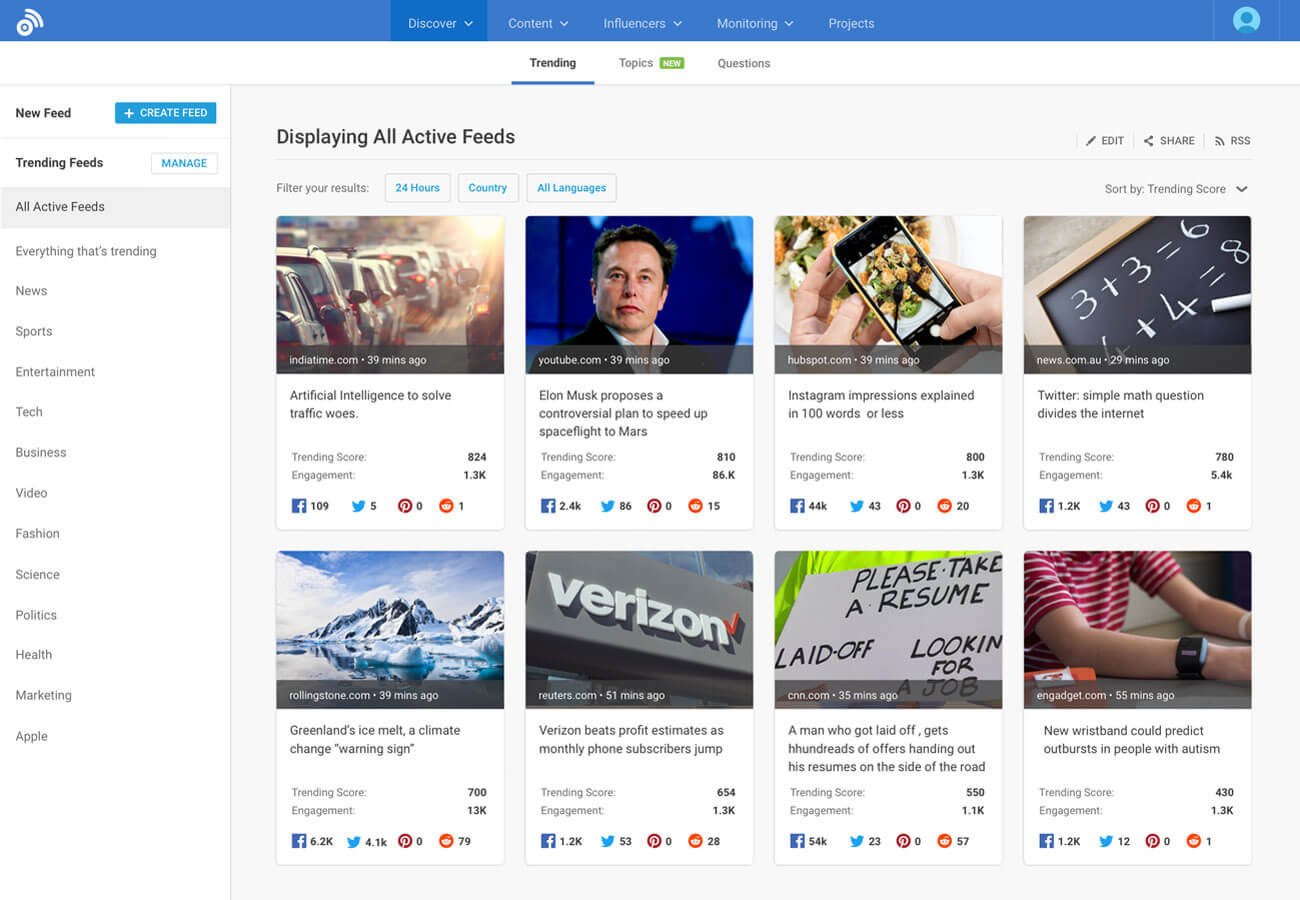 In addition, BuzzSumo offers robust monitoring features that allow you to track brand and competitor mentions online. This can help you stay up-to-date with industry developments and use it to examine your backlink profile in depth.
Price: Buzzsumo offers a free subscription with 10 searches per month. Paid subscriptions start at $99 per month.
10 – ClickerVolt
ClickerVolt is a WordPress toolbox CRO. With this tool, you can design conversion-optimized pages such as landing pages and sales pages. You can also use ClickerVolt to design and analyze WordPress funnels and run A/B tests to see which layouts, elements, and widgets have the most conversion power.
It also includes a robust payment and checkout plugin that makes it easier for you and your customers to sell digital products.
With ClickerVolt you can promote offers from popular CPA or traditional affiliate networks like MaxBounty, Peerfly, A4D, C2M, CPAWay, Clickbank etc. All of these networks allow you to attach a unique tracking ID to your affiliate links. ClickerVolt automates this by using its clickid [cid] token. You can then share your ClickerVolt postback URL with these networks to receive real-time conversion notifications. This is basically a pixel tracking software that can be integrated with a wide variety of affiliate networks and tools.
Price: All ClickerVolt features are available in the FREE version. Support is only available as a paid option.
Best conversion tracking software for marketers
There are plenty of options out there to help you track and measure your conversions. To make your job easier, we have compiled a list of the best conversion tracking tools for 2023, which I hope you have found to be useful.
There are no one-size-fits-all conversion analytics solutions regarding conversion tracking tools. However, to speed up the process, we have priced all our choices so you can focus on more important tasks.
Conclusion
Since these 10 conversion tracking solutions are suitable for different business purposes, you should choose the tools that best fit your current business goals.
If you are focused on tracking user experience at this stage, you should select technologies that support that purpose. Remember that conversion tracking will help you improve every aspect of your business and let you make data-driven decisions.
However, if your business has a problem with click fraud or other ad-related goals, you should experiment with ad conversion solutions.
Consider evaluating products with similar offers to determine which tools are best for your situation.
If you are not tracking conversions, you cannot adequately measure your return on investment. Instead of guessing which digital marketing methods will generate revenue, use conversion tracking tools to prove your campaign's performance.
Choosing the best conversion tracking tools for marketers is a difficult task. However, we have made it a little easier for you by compiling a list of the best conversion tracking tools for marketers.
Ultimate Conversion Tracking Software for Your Business
Looking for the ultimate conversion tracking software that will allow you to put all your affiliate marketing efforts and one place, eliminate fraud and
Last Updated on September 7, 2023