AI tools for affiliate marketing are taking our lives by storm. Over the last few years, spending on marketing automation has significantly increased and by 2023, the whole AI market might be worth $25 billion or more. AI will also represent the purchasing habits of approximately 55% of advertisers. What should we learn from it?
Companies have reaped enormous benefits from their investments in artificial intelligence (AI) and machine learning (ML) thus far, whether it is generating leads, optimizing advertising, or even predicting customer behavior.
We believe that the best AI tools in marketing are yet to come and we will see a lot of new marketing AI software coming to light in 2023.
10 Best AI Tools for Affiliate Marketing
Affiliate marketers can automate tasks and save time by using AI tools. They can also use AI to generate content for their blogs, websites, social media sites, and emails.
Here are top tools and how can they help you with your marketing efforts:
| Tool Name | Processes it Automates | Price |
| --- | --- | --- |
| Scaleo | Tracking, Analytics, Fraud Detection | Starts at $500/month |
| MailChimp | Email Marketing Automation | Free to $299/month |
| Referral-AI | Referral Tracking & Engagement | Starts at $29/month |
| Rytr.me | Content Generation | Free to $29/month |
| LinkFire | Link Management & Analytics | Starts at $25/month |
| Convertbot | Chatbots & Customer Engagement | Starts at $30/month |
| BuzzSumo | Content Research & Monitoring | $99 to $499/month |
| Ahrefs | SEO Analysis & Monitoring | Starts at $99/month |
| AdEspresso | Ad Management & Optimization | Starts at $49/month |
| OptimizePress | Landing Pages & Sales Funnels | $99/year to $199/year |
Now, let's look at each of these tools more closely.
AI-powered affiliate software. Scaleo is a fully-managed affiliate marketing software that allows you to track, analyze, and optimize your affiliate business and affiliate marketing campaigns in real-time, utilizing cutting-edge AI technology.
It is suitable for networks, businesses, and media buyers; it can help you find the best time for your campaigns to convert and optimize traffic sources by cutting out fraudulent traffic and focusing on quality conversions. Scaleo can be integrated with an endless number of 3rd party technologies.
is one of the best email marketing tools. It's been predicted that the future of affiliate marketing will be in automating certain tasks, and email marketing is definitely one of them.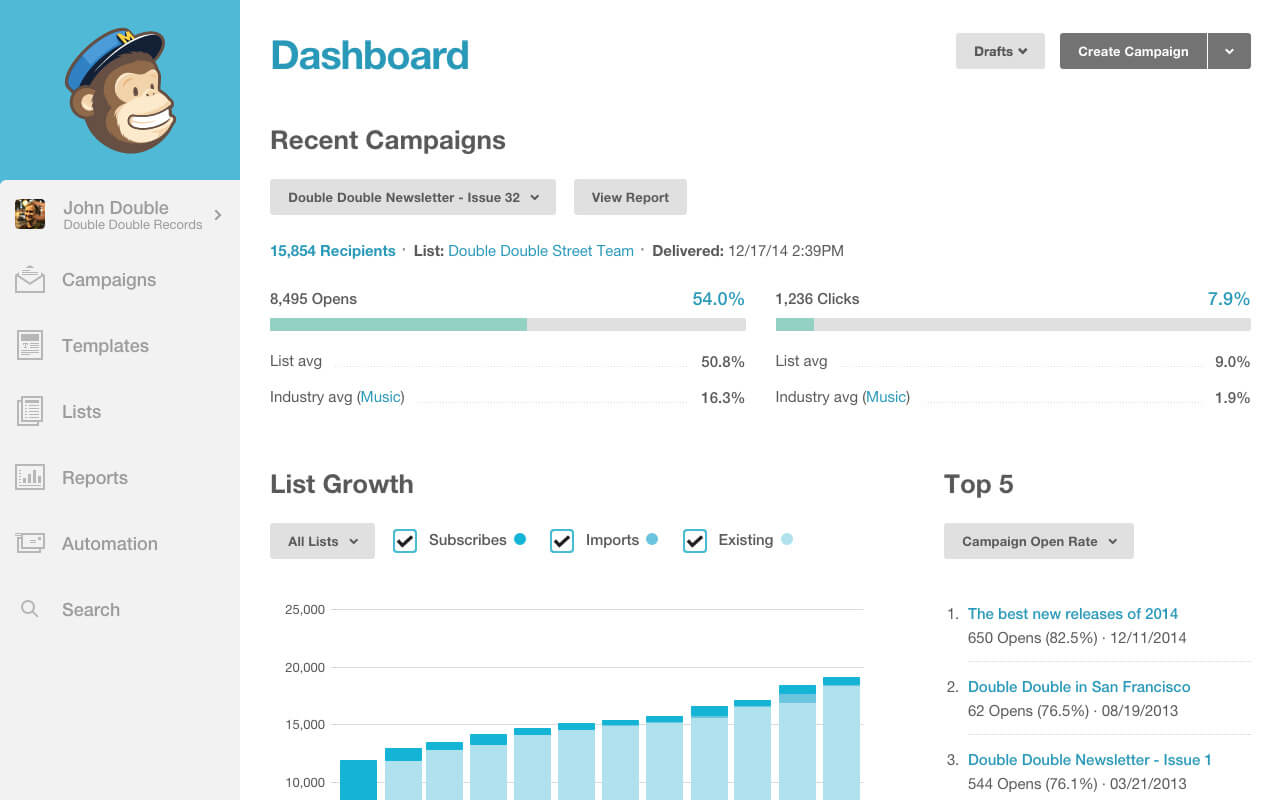 Affiliate marketing impact is vastly prominent through email campaigns that may sound like something you did 10 years ago; they are alive and well in 2022 as well. Email campaigns just got smarter and more automated now that artificial intelligence and affiliate marketing go hand in hand.
Referral-AI analyzes your organization's collective relationship network to generate high-quality referrals to critical accounts, partners, investors, and top prospects.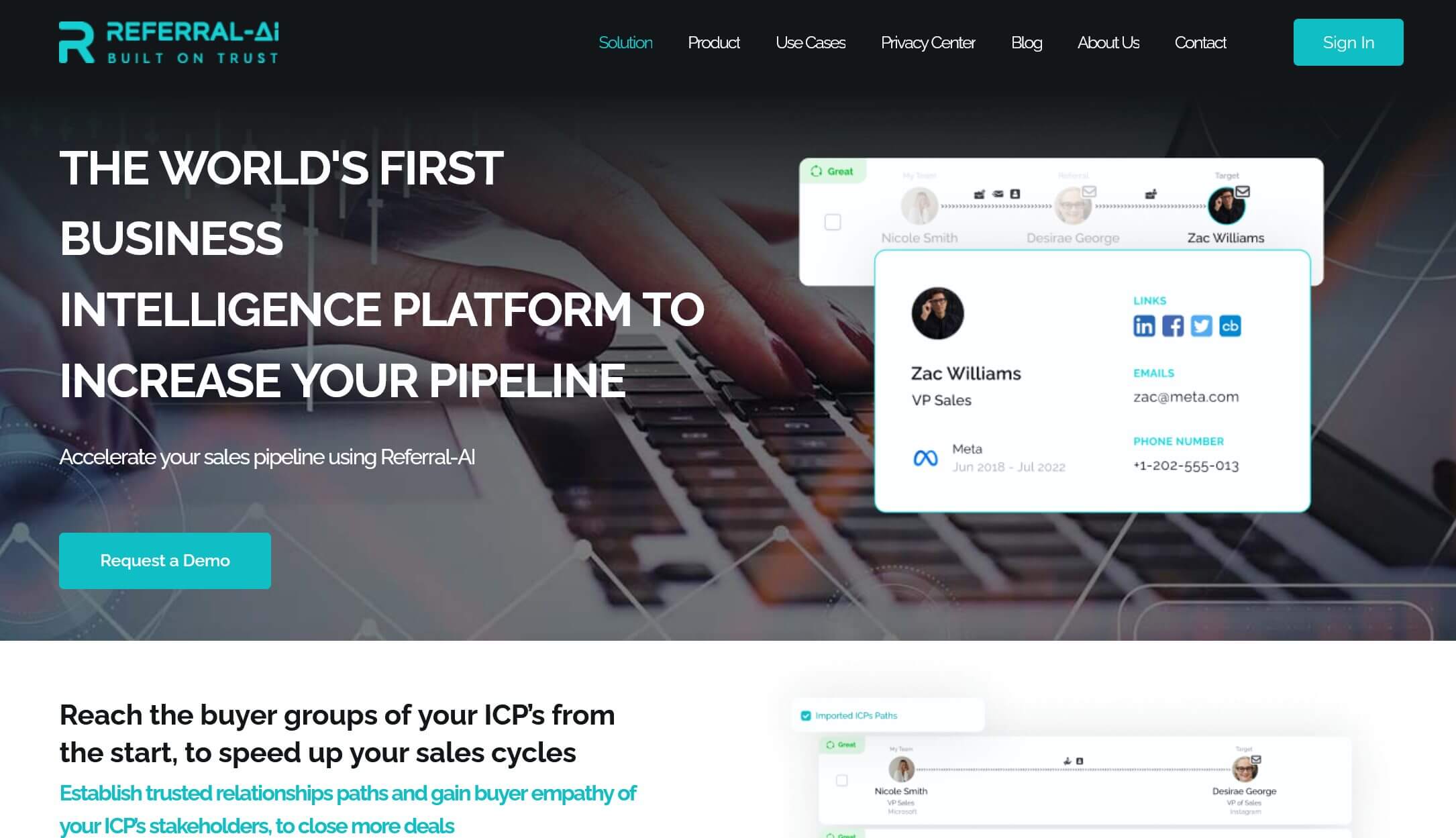 Referral-AI continuously analyzes the Internet, revealing strong connections and mapping the optimal paths to any person or entity, using sophisticated analysis and patent-pending machine-learning technology.
Is one of the best AI tools for affiliate marketing. Powered by state-of-the-art language AI to generate unique, original content for almost any vertical.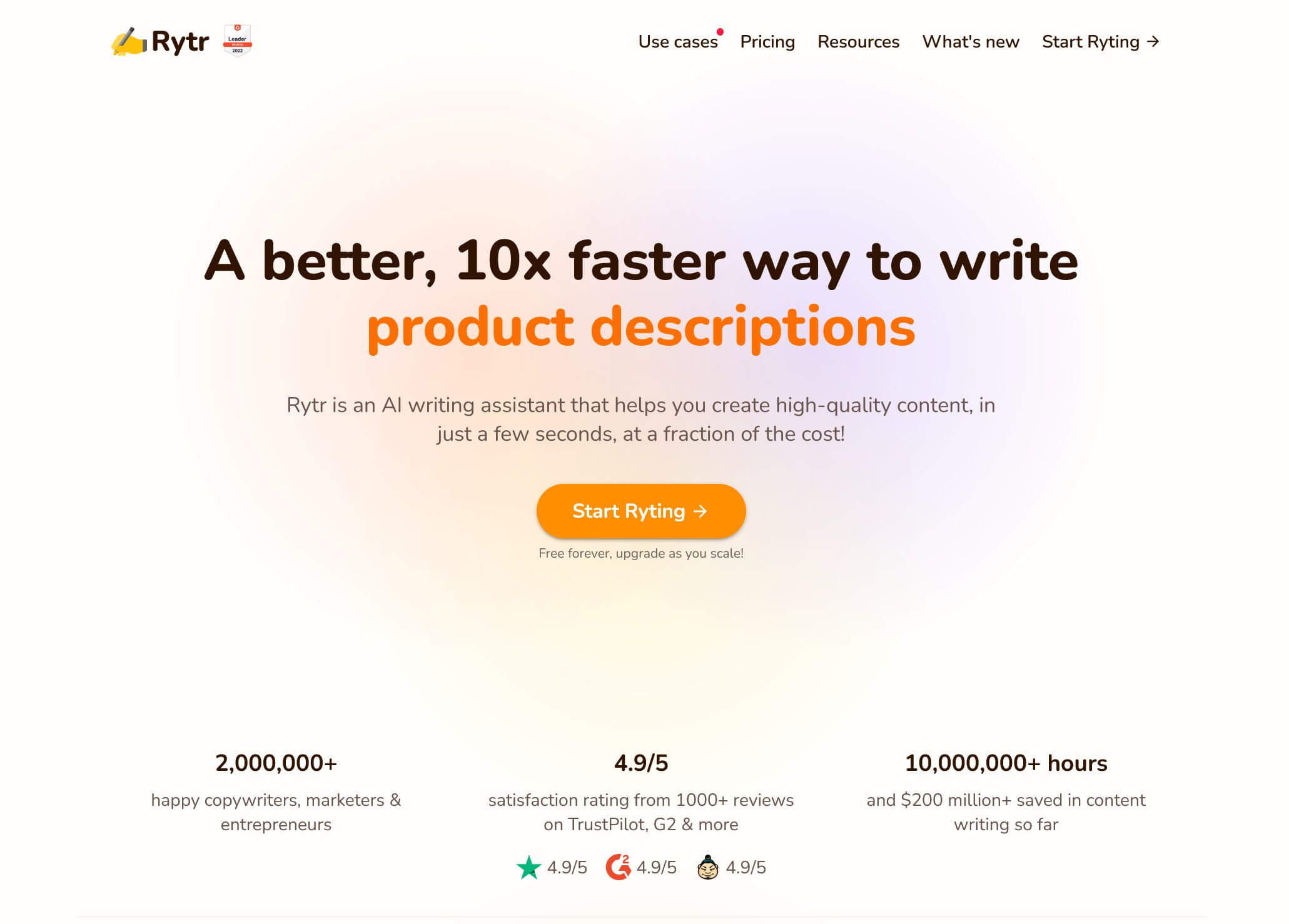 Rytr is an AI writing assistant that helps you create high-quality content, in just a few seconds.
AI-powered smart link for affiliate marketing campaigns. LinkFire (formter SmartURL) redirects users to specific destinations based on their country or device.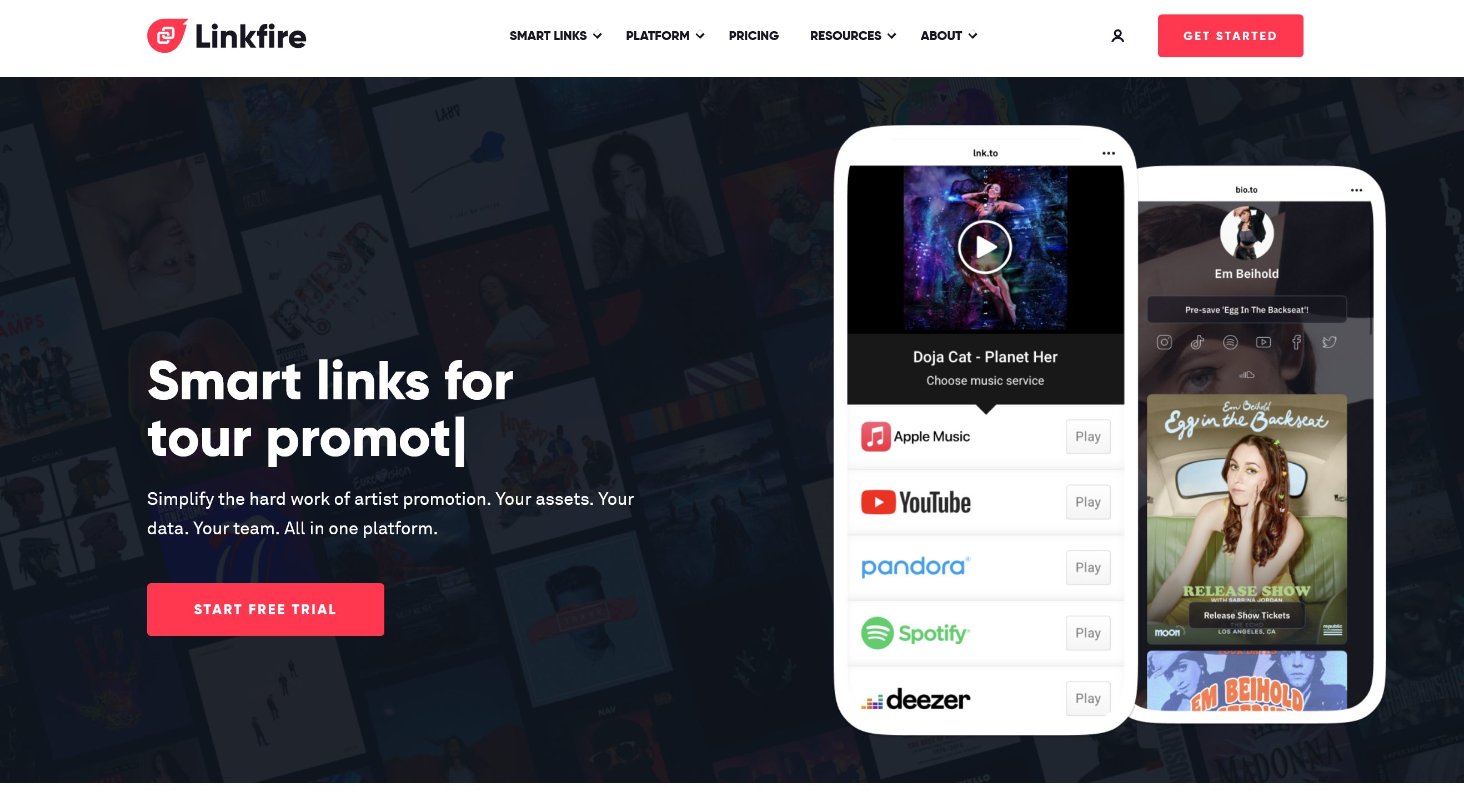 After entering a default URL, users are able to specify to which country and device-specific URLs they want to direct their traffic. smartURL is the most popular type and one that we recommend using for most campaigns.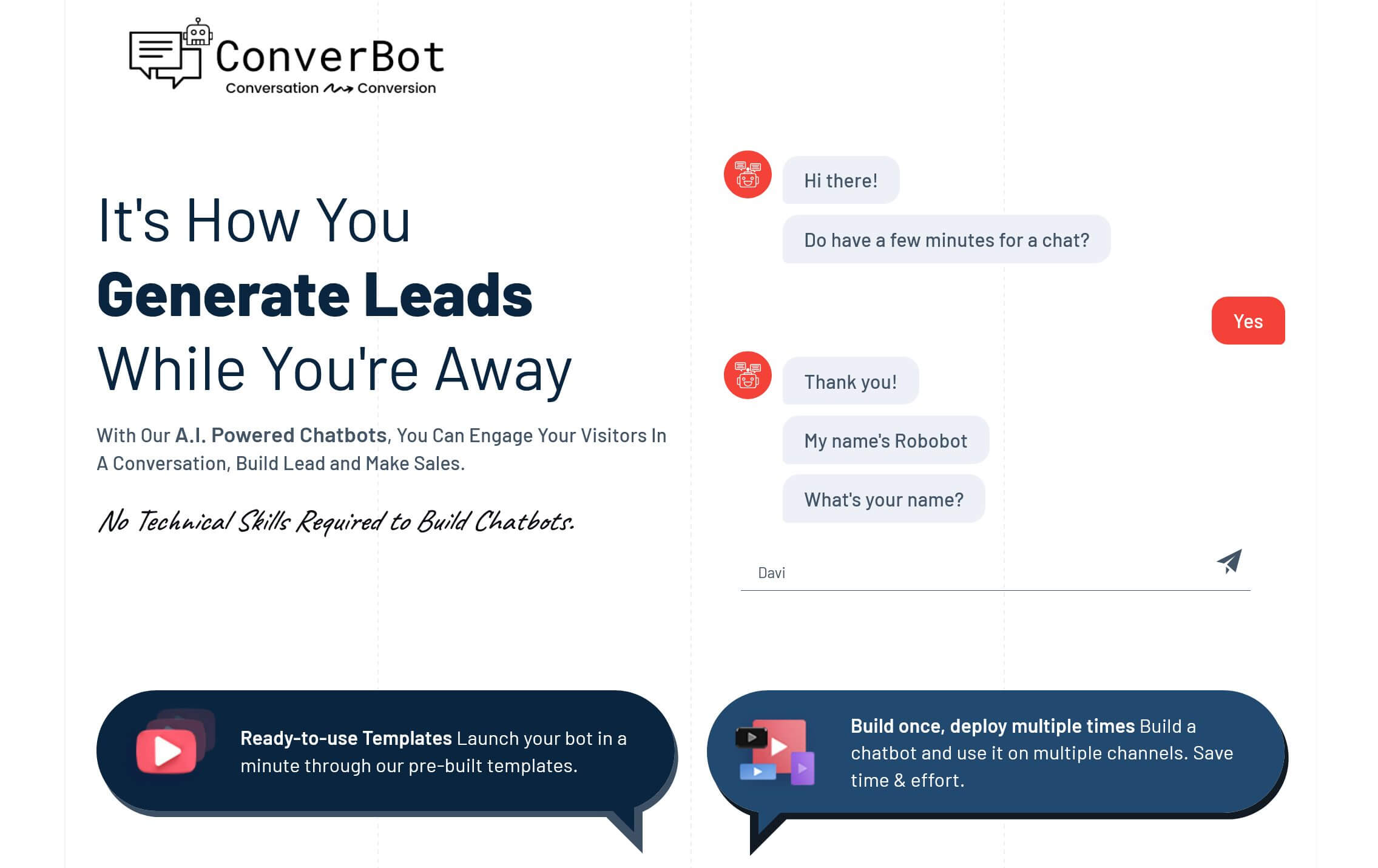 If you want to start employing Chatbot affiliate marketing in 2022, you will need a… chatbot. ConverBot is a smart chatbot for your website. It talks to your visitors, boosts their engagement and drives conversions. No coding skills are required. Use it as a full-page, a widget, a popup or embed it in your content
The combination of virtual engagement has proven effective.
Regardless of the business field, AI-driven technologies swiftly take over a significant portion of day-to-day work, ensuring their long-term presence in company strategies.
Affiliate marketing is no different because advertisers want to:
successfully connect highly converted offers with the appropriate audience
run ads at the most suited moment
avoid broken links or fraudsters who can squander their money.
How Does Artificial Intelligence Make a Difference?
While affiliate marketing has shown to be incredibly effective even without the help of AI, businesses and affiliates can generate much more cash with it. Automatically! This is where the so-called artificial intelligence affiliate marketing comes into play.
AI-powered affiliate marketing methods can increase revenues by up to 30% right away.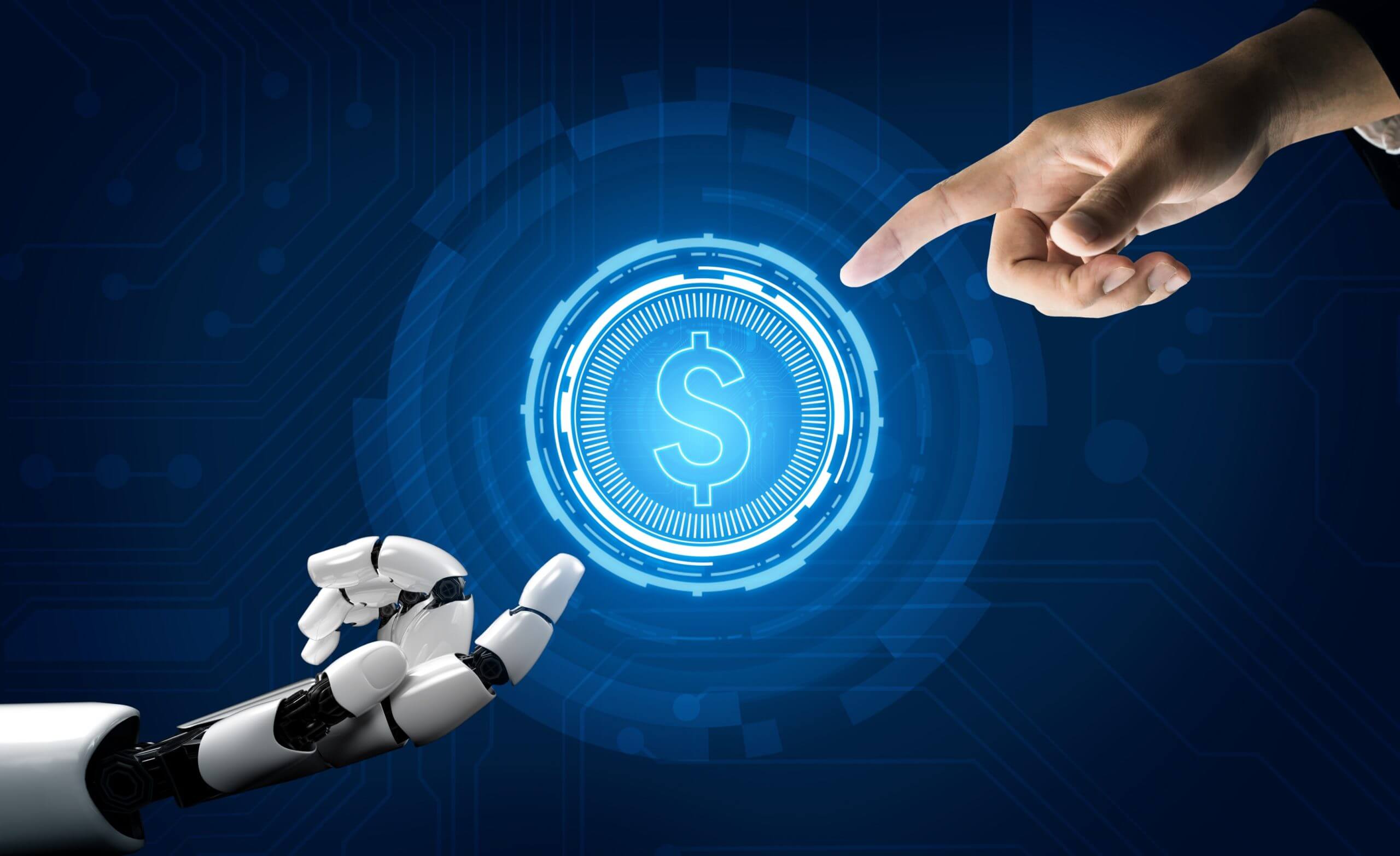 One of the primary areas it impacts is assisting affiliates in creating better content for link placement. Affiliates might earn a higher commission if their own websites bring more visitors. AI can provide businesses, and their affiliates with valuable insights into the types of content potential customers want to read by leveraging data to analyze better and forecast consumer behavior.
Including links within this content increases the likelihood of the buyer making a purchase.
Indeed, cutting-edge affiliates employ AI to personalize the material they deliver to their visitors. Giving them content and links they know the customer wants to see may create even more purchases.
One of the most significant advantages is the speed with which AI can bring innovation to affiliate marketing. With so much data being generated, analyzing consumer behavior would generally take a long time.
AI identifies patterns and movements far faster, allowing businesses to be more agile in reacting to and capitalizing on market change.
With this data, businesses can inform their affiliates about the clients they want to attract, the material that will be most engaging, and the best goods to link to – and swiftly update them as things change.
Another advantage of employing AI is that it can help improve the search engine performance of affiliate material.
Analyzing user data with AI can give businesses insights into customer search keywords and behaviors. From content ideas to title wording suggestions, supplying this information to affiliates can help them develop content that ranks higher in Google (or other search engines) results and draws more traffic.
So, How is AI Transforming Affiliate Marketing?
In recent years, artificial intelligence has altered the landscape of affiliate marketing in a variety of ways. Here's how it's supported the evolution of affiliate marketing to its current state and what it can continue to do in the future. AI tools for affiliate marketing are becoming increasingly popular and we are seeing more and more software and tools switching to some kind of smart AI-integrated feature set.
When it comes to the best AI marketing tools, it's important to understand the role of artificial intelligence in advertising and marketing in general.
1. Increased Engagement With Business Prospects
Most customers nowadays like to interact with representatives of various brands in some capacity in order to find solutions to their problems. They might also do it to seek answers to their questions. Since the arrival of AI, the approach to client engagement has made a complete 180-degree turn.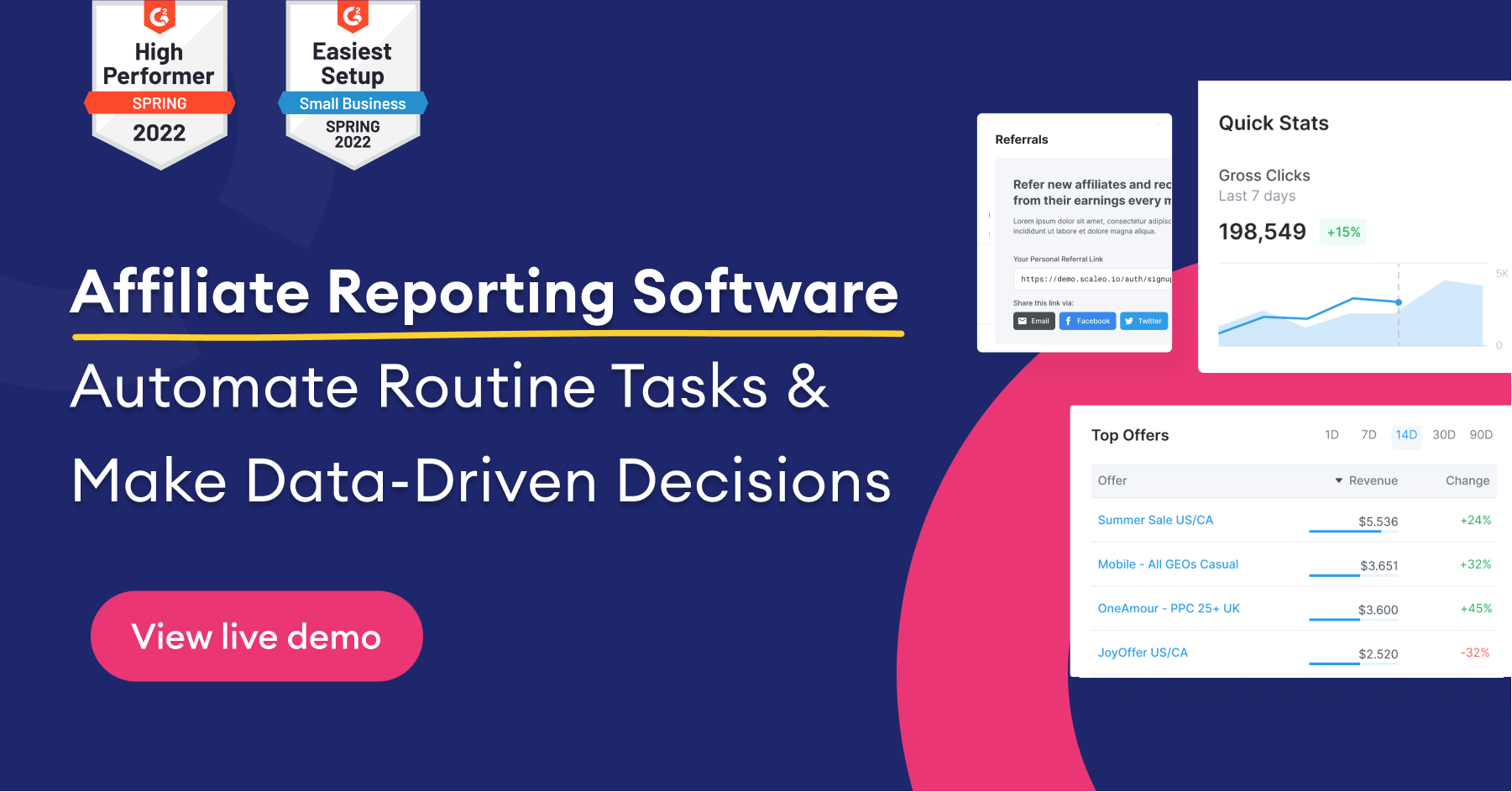 Chatbots now handle the majority of interactions.
They work in tandem with affiliate programs to advertise items while also answering customer questions and addressing difficulties.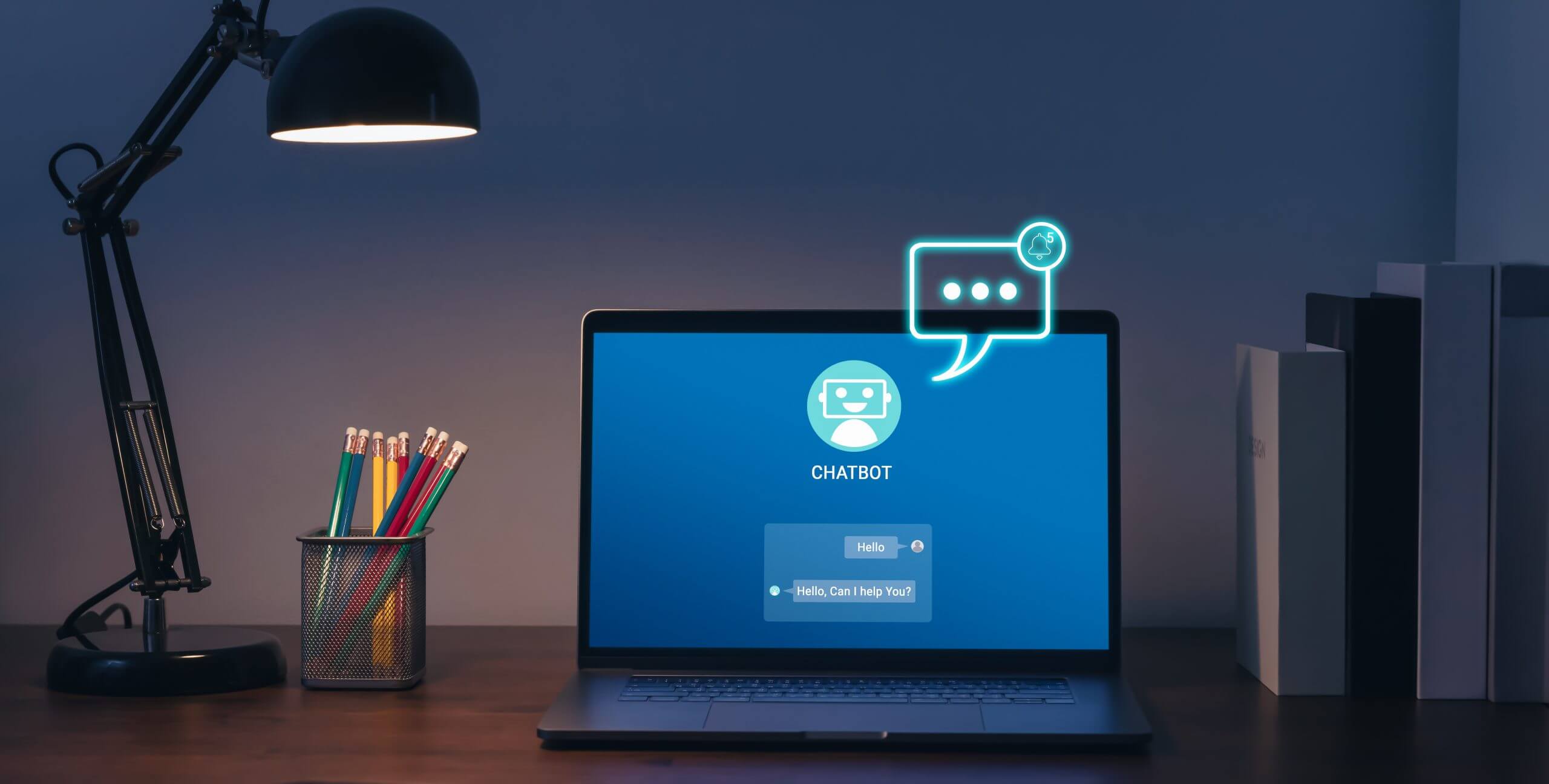 Again, AI algorithms play a significant role.
Algorithms based on AI models, for example, recognize keywords in customer messages based on user intentions. Following that, chatbots provide affiliate marketing links to customers depending on their purchasing habits.
2. Real-time Data-driven Affiliate Programs
AI, in conjunction with machine learning algorithms, contributes to consumer behavior research. Both functions, in combination, give structured as well as unstructured data.
With this information, a brand's vendors and affiliate publications can easily identify business prospects or target audiences and market products to them. AI-generated knowledge is data-driven and motivated by big data results. This makes it easier for affiliate marketers to achieve their goals.
Tracking is also essential in affiliate marketing, as in other marketing campaigns. Affiliate marketing tracking provides information about the efficacy of a marketing program. The easiest way to track your progress in this area is to use affiliate marketing software like Scaleo.
3. Increased Lead Generation and Conversions Based on AI
Autoresponders provide remarkable lead generation and conversion results by utilizing AI models and APIs. This is probably the oldest of all AI marketing tools on the net, though it technically doesn't really employ AI, but rather a simple automation. The role of these elements is well defined, ranging from auto-optimizing emails to reading consumer behavior in real-time circumstances.
Another area of expertise for AI is its browser tools, which are combined with algorithms to help scan products in certain niches. Furthermore, they can identify and target bloggers, platforms, and forums associated with specific topics. These measures, in addition to lead generation, aid in lead conversion.
4. Content Optimization Based on AI Keyword Research
Long-tail keywords are critical for the optimization of SEO-specific marketing strategies. Content derived from such keywords efficiently engages the intended audience. AI and machine-learning algorithms are critical for the generation of such keywords.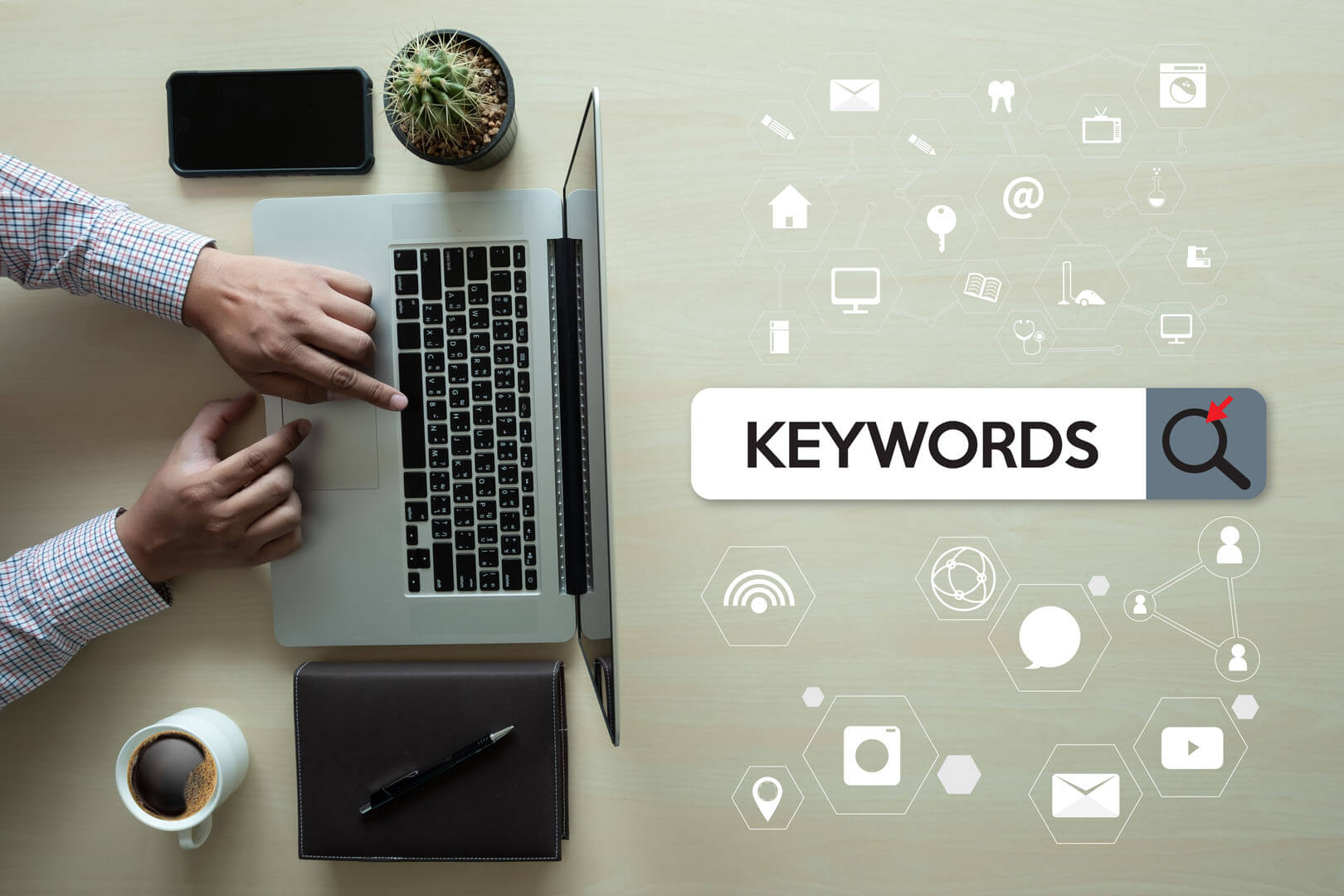 There is no replacement for less competitive and context-based keywords in specific affiliate categories. The usage of search keywords in affiliate marketing based on intent produces successful results in the form of lead conversion.
AI models are useful in A/B testing because they allow the KPIs of two competing items to be compared. Aside from making a realistic comparison, it also helps with changing:
UI/UX design
blog context
video ads
banner ads
landing pages
AI also assists bloggers in creating material that focuses readers' attention on a specific keyword they search for.
5. Fraud Detection and Prevention
We have talked a lot about fraud in affiliate marketing already, which is an essential part of every affiliate management software.
Marketers can't fully secure their campaigns with rules-based fraud protection approaches as fraud becomes more prevalent.
This is where AI gets useful. Machine learning algorithms examine thousands of campaign parameters and their correlations as part of AI-driven fraud protection methods. This is how Scaleo's Anti-Fraud Logic™ operates, based on extensive data analysis.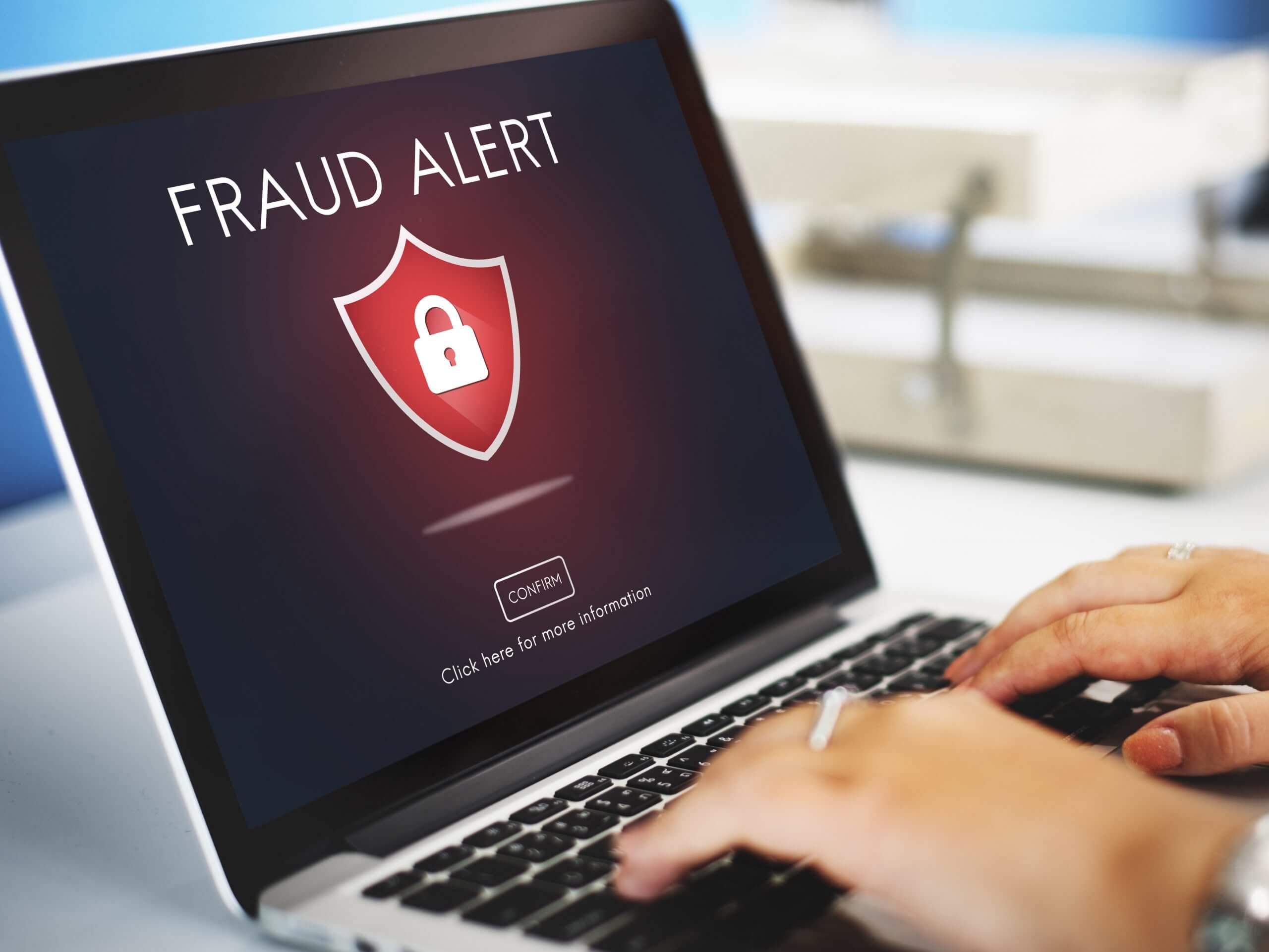 As a result, the machine learning algorithm stops specific traffic, ensuring a high level of fraud detection accuracy.
We used to say that artificial intelligence (AI) was the future a few years ago. AI is no longer a distant future; it is already here. However, we have yet to see its full potential.
At the moment, all affiliate industry players are rapidly implementing AI approaches in their marketing. Some are already well ahead, while others are simply adapting. AI will only continue to evolve as more cutting-edge tools become available.
6. Extensive Dashboards
Artificial intelligence (AI) can track the performance of advertising. It also generates appropriate KPIs for affiliate programs at the same efficiency and effectiveness level.
On average, this contributes to the generation of the three types of KPIs:
Pay Per Click (PPC)
Pay Per Lead
Pay Per Scale
AI algorithms forecast similar KPIs by evaluating large amounts of data, resulting in higher conversion for affiliate marketers and the companies with whom they are associated. This is one of the features that has made AI a must-have for affiliate marketing initiatives.
What Can AI Do For Your Next Affiliate Marketing Campaign?
AI affiliate marketing can do much more for your business than you would expect. Every affiliate marketer wants to see their recurring commission automation up and running on steroids, without worrying whether or not their referral link is still valid. However, when we talk about AI affiliate marketing, we are talking about an AI algorithm that can power:
AI chatbot
AI technology
AI-powered ad campaigns
Google Analytics Automation
Analyze consumer behavior through content marketing
These automated AI models take mundane tasks away from your affiliate manager and put them in the hands of artificial intelligence that works faster, better, and often more precisely.
Even the most cynical marketers with a cautious attitude to AI technology are incorporating Artificial Intelligence into their efforts because they realize that they will fall behind their competition without AI.
For marketers' advantage, it is critical to begin better understanding AI in order to successfully employ it in ad campaigns and get the most out of it.
1 – Better Data Analysis
AI marketing takes traditional methods one step further. Affiliate campaign success is directly related to the data marketers have from past campaigns—the more adaptable and all-encompassing, the better.
However, volume is not the only determinant of effectiveness. It is also a matter of speed. The final quality is determined by both data volume and analysis speed. Marketers could have collected mounds of unstructured data in the past, but it would have taken days or even weeks to evaluate it adequately.
In the meantime, they were receiving additional data. Working with unstructured data has become considerably easier – it no longer takes humans weeks to evaluate. AI can now recognize data trends and match consumers to offers in a matter of minutes.
2 – Ad Campaigns
Marketers are more likely to succeed in their future efforts if they use the knowledge gained from earlier ad campaigns. Advertisers can rely on a wealth of data based on knowledge gained from many variables, brand relationships, and target audience engagement with creatives.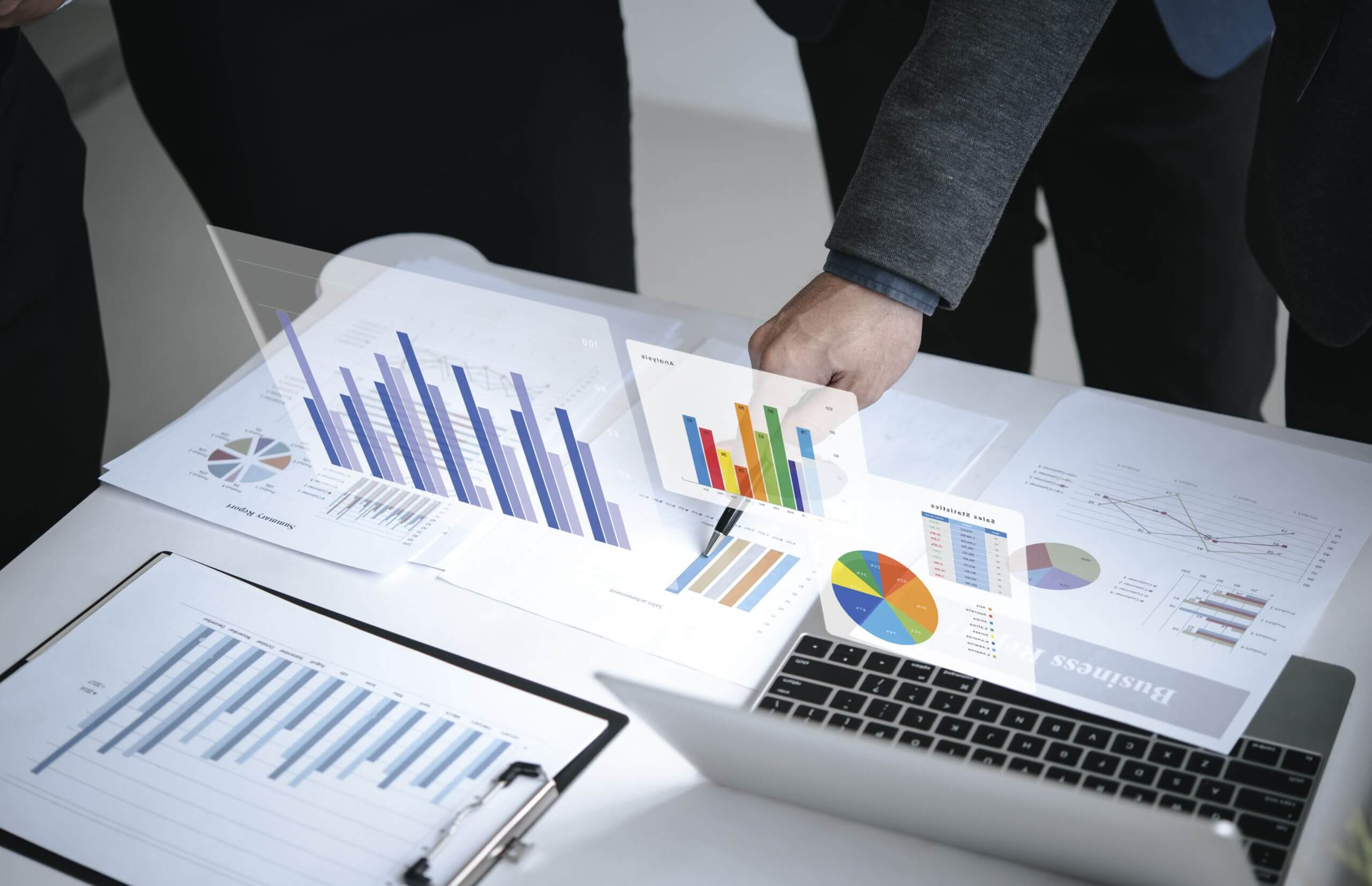 3 – Mobile Advertising
The future of mobile advertising looks brighter as data quality improves. Despite the huge volume of mobile traffic, mobile advertising confronts various obstacles related to restrictions on customer data collecting and promotion distribution, as well as the impossibility of measuring performance.
Fortunately for us, AI has the ability to solve this riddle by collecting data from various users, tracking their internet usage over time, and enabling clever placement of advertisements and other promotional information. As a result, it is too early to abandon mobile advertising.
Is it Hard to Integrate AI into an Affiliate Marketing Business?
Because of the popularity of affiliate marketing, AI-powered software such as Scaleo is now readily available for businesses to employ, including a number of open-source affiliate marketing tools. These combine typical affiliate program management tools (affiliate accounts, track links, and automated commission transfers, for example) with insights gleaned from business data analysis. In some circumstances, AI techniques can be integrated with current affiliate marketing platforms.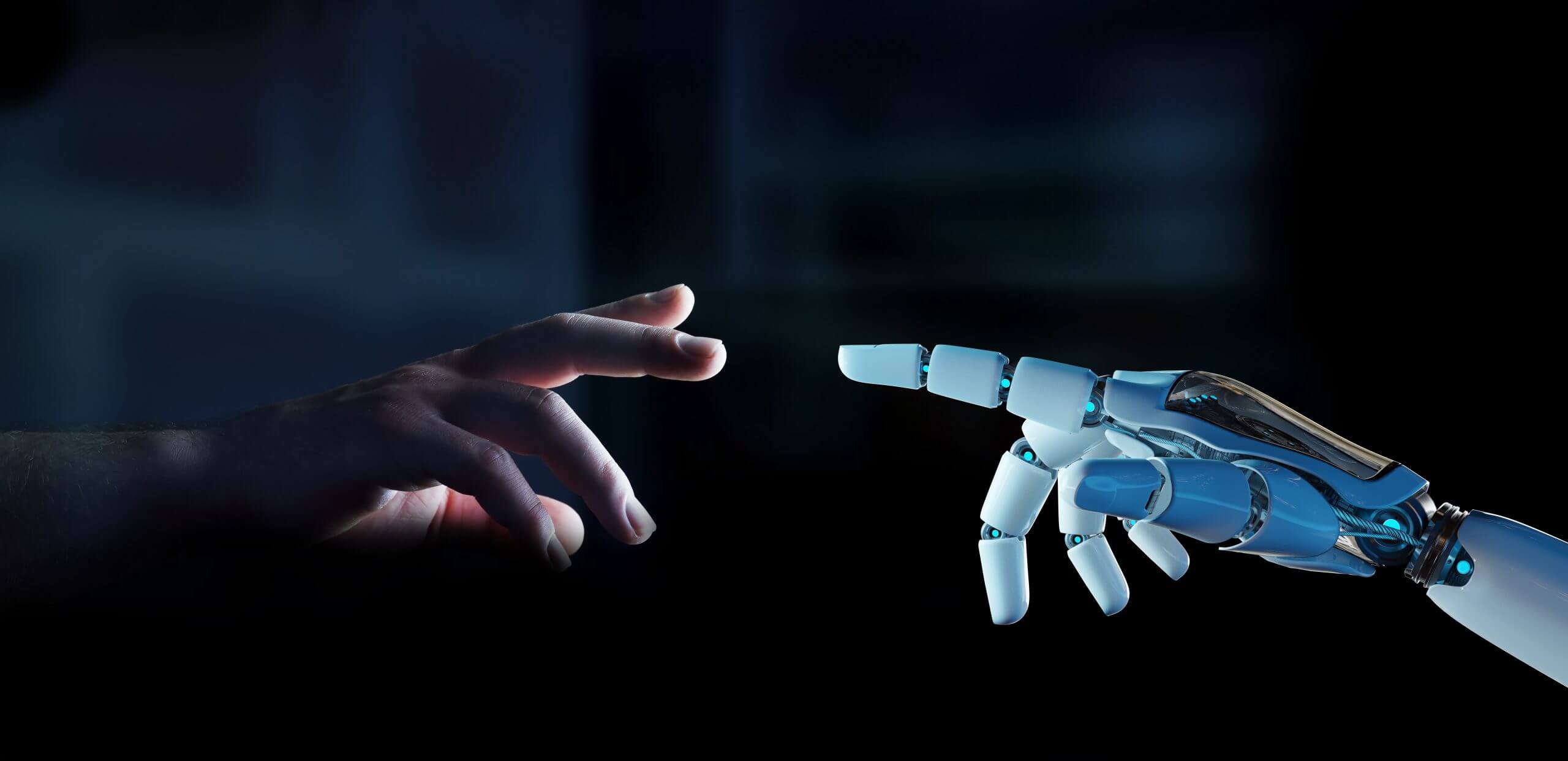 However, implementing either of these methods will necessitate more hosting capacity. Businesses will want sufficient server space and computation resources to store and analyze all of the data needed to develop those AI insights.
Conclusion
To summarize, we talked about some of the ways AI has driven the affiliate marketing industry to its current state. AI is a developing field, yet only a portion of it has been tried. Experts predict that its scope will expand in the future as it advances. Depending on how this component plays out, it may assist in transforming affiliate marketing in other ways.
Affiliate marketing is a type of performance-based marketing in which a business rewards one or more affiliates for each visitor or customer brought by the affiliate's own marketing efforts. The best AI tools for affiliate marketing are those that provide automation and insights. They help marketers optimize their campaigns, find better-performing content, and make better decisions.
Like practically every other area of running a business, affiliate marketing is being elevated to new heights of efficiency because of the wonders of artificial intelligence. It may help affiliates develop content that ranks higher in search results and is more effective at promoting items, driving traffic and sales by providing immediate and essential insights into customer behavior. However, putting it in place will necessitate an infrastructure upgrade, which is best accomplished on the cloud.
Looking for affiliate marketing software that employs automated security, billing, and redirection? Try Scaleo, it's free for 14 days and see what it can do for your business.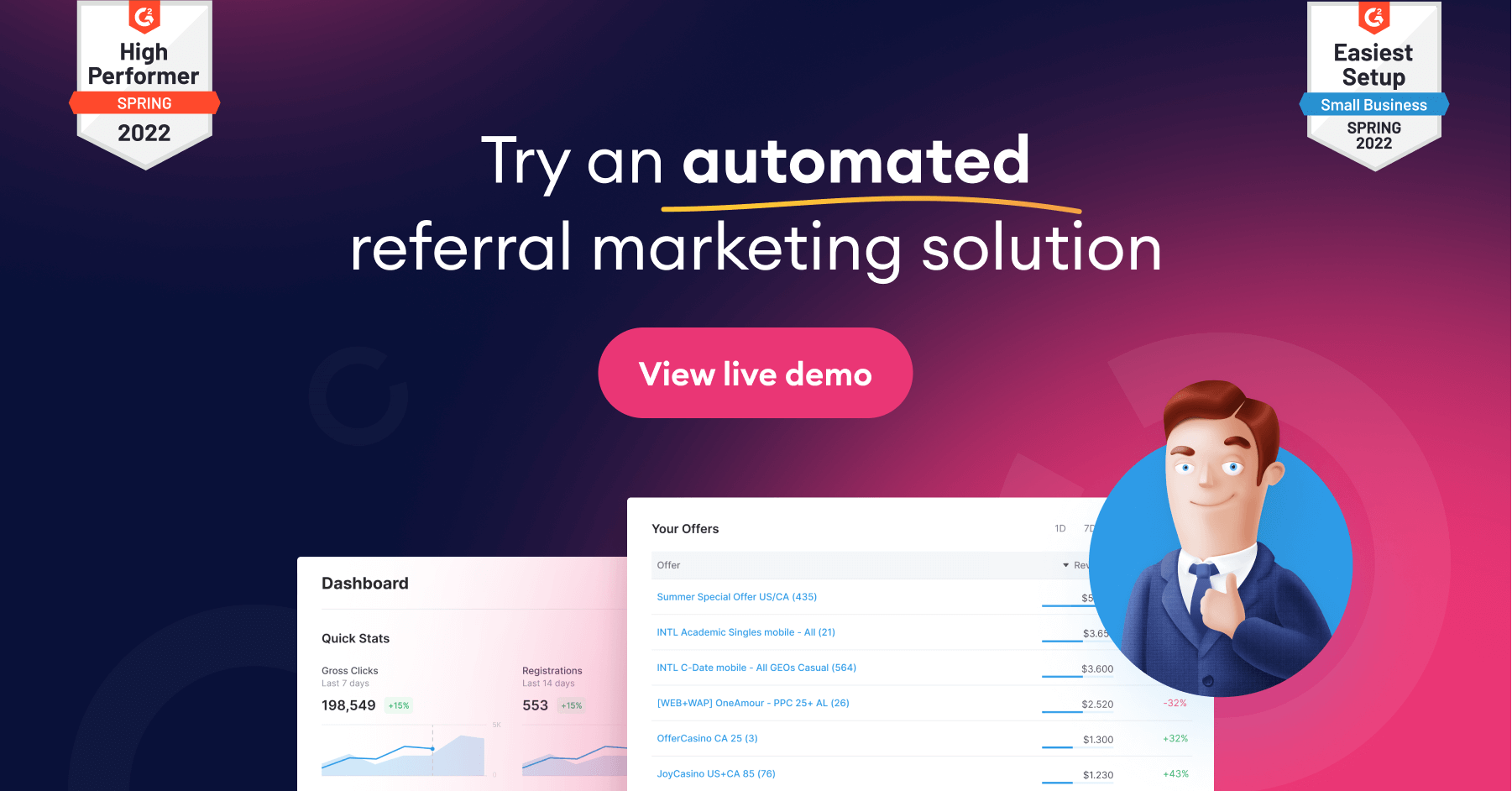 Last Updated on November 28, 2023