Link tracker tools are essential for growing your online affiliate business. It gives you a clear overview of the URL's performance and the results it brings. There are many link trackers available, some free and some are paid, so let's explore the options you have in 2023!
However, choosing the best link tracker from the dozens of available solutions can be tricky. I did some research for you and compiled a list of the best affiliate link trackers you can start implementing today.
Here are the top 10 greatest link tracker programs you can use right now.
| Link Tracker Tool | What does it do? |
| --- | --- |
| Scaleo.io | Scaleo uses postback conversion tracking. This most reliable server-side tracking method passes a unique Click ID to the advertiser with every click. Cookieless tracking with 100% fraud blocking. |
| Click.Org | Track links in real-time and have access to stats, metrics and various tools. |
| ClixTrac | ClixTrac's free plan is being used by many new businesses to help them grow with a simple control panel and reports. |
| Prettylink | Free WordPress plugin with a paid version for bigger businesses. It shortens urls, hides affiliate ID, and displays basic reports on each link's performance. |
| ClickTool | This tool has some features that other tools don't offer, for example, syncing data, placing IMEI orders, downloading files and many other good features. |
| Linktrack | Enjoy unlimited clicks and link tracking on all premium accounts! Ideal for basic ads, clicks, and impression tracking. |
| LinkTrackr | A web-based marketing tool to help discover which ads and links are making money and which are no, in real-time. |
| LeadFeeder | A website tracking software designed for B2B marketers and sales teams to see what companies visit their website, better understand new prospects, and monitor existing customers. |
| ClickPerfect | This marketing platform automates campaigns, creates ad copy, and drives online traffic using artificial intelligence. |
| ClickGum | Free up t 3k monthly clicks, allows you to track clicks, and conversions and calculate ROI. |
So, let's get started, but first, let's find out why you need this type of tracking in the first place.
Why Should You Use a Link Tracker?
Link tracking is an important chore to keep in mind when it comes to online marketing. Regrettably, it is the most overlooked feature.
What exactly is link tracking?
It's basically a method of counting the overall number of clicks you receive as a marketer to a specific website, social media post, or pay-per-click campaign (PPC).
Link tracking will assist you in tracking clicks and increasing ROI.
With just one click, you can create an efficient marketing campaign.
Stop worrying about whether or not people are clicking on your adverts.
Tracking links can help you improve the quality of the links you share.
This assignment assists you in determining whether or not people are clicking on your campaigns. As a result, it continues to be a beneficial activity because it provides accurate data and statistics for your marketing.
Successful marketers frequently boast that link tracking is what sets them apart from the competition. With good link tracking, you can optimize your overall methods for generating more hits and visitors to your link.
Fortunately, when it comes to link monitoring, there are numerous link trackers on the market on which you can rely for excellent results.
Choosing from the numerous software solutions available on the market might perplex newcomers.
How does Click Tracking Work?
Click tracking software analyzes visitor behavior and generates a report for you. It also works in three different modes: email, link, and UX click tracking. Email click tracking lets you see how many individuals open your email and where they click. Furthermore, link click tracking refers to an analysis report of your website or app visitors' most clicked links.
However, UX click-monitoring software can provide far more dramatic results. This allows you to keep track of your visitors.
You may also learn which parts of your website or apps engage with visitors. Images, links, or anything else can be used. That is to say. It is quite simple to benefit from click tracker software. In addition, the article has a list of the top click tracking tools. So, choose one based on your needs and budget.
Scaleo is a platform for partnership marketing. It is also intended for marketers, agencies, and affiliates. It is, however, an affiliate link tracking software. Scaleo is capable of tracking, analyzing, and optimizing its advertising strategy. We provide real-time click monitoring analytics. This is my top recommendation for building CPA networks.
It is, on the other hand, a traffic monitoring platform. It is beneficial to your affiliate network. Scaleo is affiliate-friendly, but its price is prohibitively high. You can utilize the free version as well as the free trial, however, if you want to get a paid version. You must pay a monthly fee of $299.
2 – Click.Org
Click.org is a well-known marketer's secret weapon. It is regarded as one of the greatest link tracking tools in the world. Click.org, on the other hand, contains far more advanced functionality than the others. This will allow you to track your items in real-time.
To grow your business, you may effortlessly target and re-target your traffic. That is to say. You can use click.org for email marketing, affiliate marketing, CPA marketing, blogging, and other purposes.
Furthermore, click.org provides a powerful link rotation service. You can limit the number of clicks per day for each link. Click.org, on the other hand, comes with over fifty built-in features for tracking and targeting your visitors.
You can also use our tools to optimize your marketing efforts. Click.org offers a reliable click tracking report. In short, click.org offers every advanced feature of click tracking software.
Particular Highlights
Maintain a record of your affiliate and other marketing links.
Use the tracking ID for geotargeting
Track email openings using the links in the email.
Long URLs can be shortened without sacrificing affiliate commissions.
Provide an advanced click rotation service that is shared.
It provides branded domain services.
Filter out bots and scams.
Filter emails as well.
Improve your WordPress website.
It offers a satisfaction guarantee of 100 percent.
3 – ClixTrac
ClixTrac is a free and excellent click tracking software. ClixTrac's free plan is being used by many new businesses to help them grow. ClixTrac, on the other hand, is extremely simple to use. It is not necessary to download or install it. You don't even have to install any scripts or databases. As a result, beginners should start with ClixTrac as an online click tracker.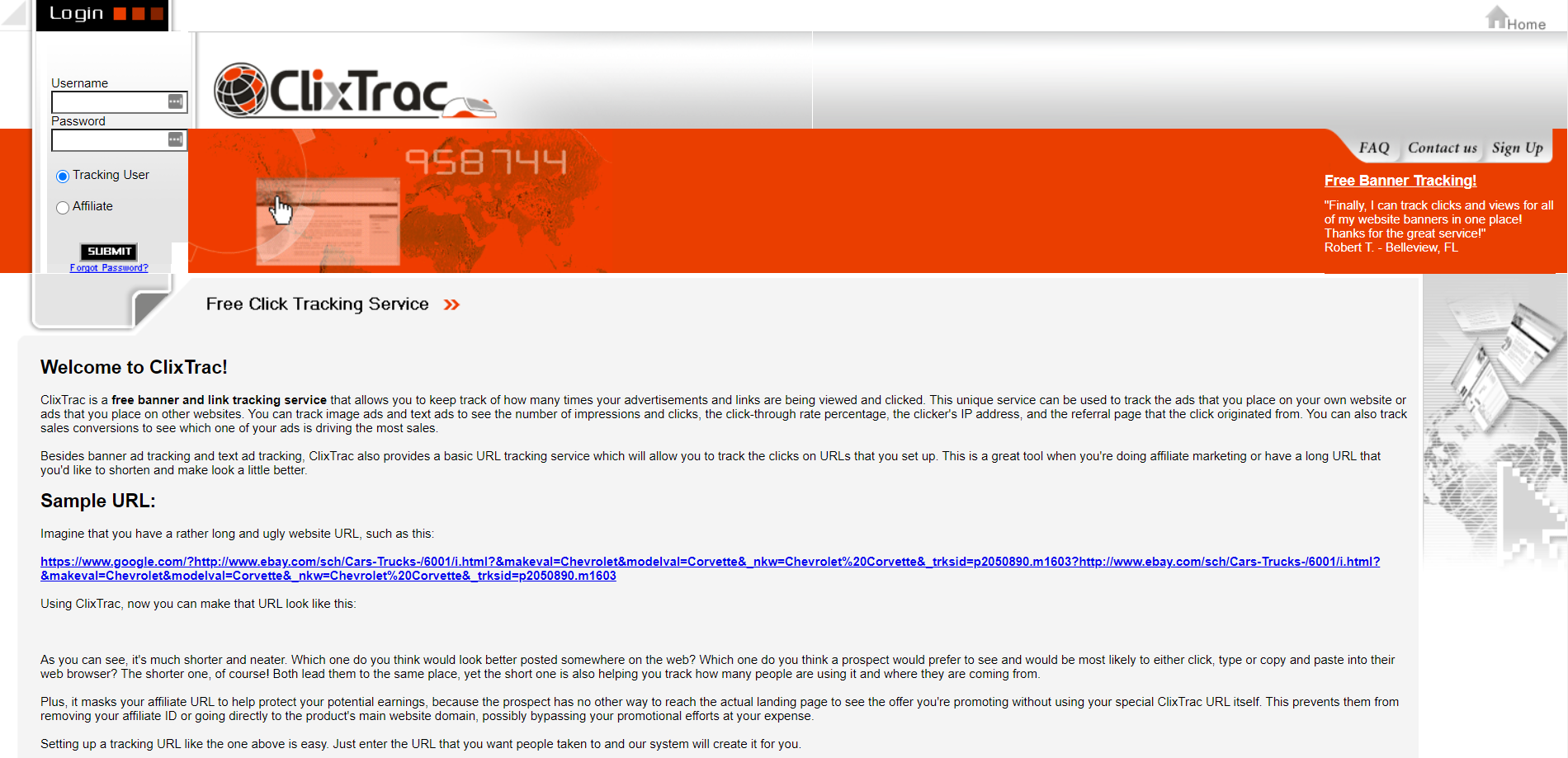 ClixTrac is also a free affiliate link tracker. By cloaking or concealing your affiliate link, it protects it. You also don't have to be concerned about your commission. It makes its way through the cloaking links.
ClixTrac, on the other hand, allows for real-time tracking and analysis of the report. It cuts the budget of your squandered ad efforts. As a result, you may rapidly expand your firm. ClixTrac, in other words, is among the best link tracking tools.
Particular Highlights
ClixTrac is a free click tracking application.
The Control panel is simple.
Much more user-friendly than others.
Capable of tracking links to your advertisement or website.
You can track links from other websites.
Report on clicks, impressions, CTR, and other metrics on a daily, weekly, and monthly basis.
It provides a bespoke domain name service as well as free hosting.
4 – Prettylink
In order to keep a website up and running. It is quite difficult to do everything at once. Prettylinks, on the other hand, may perform a wide range of tasks on your website.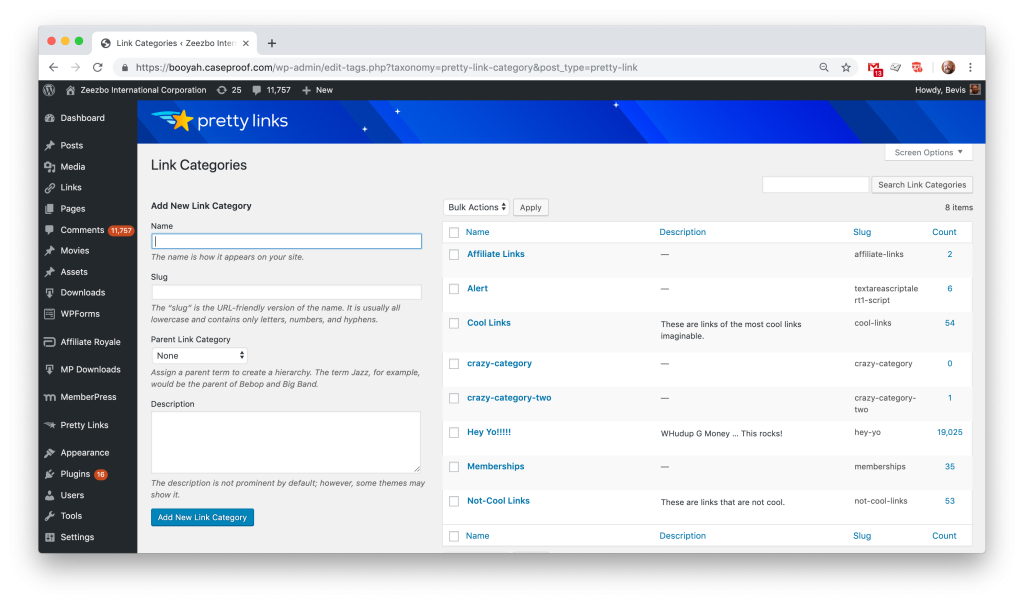 Prettylinks is the greatest link tracking tool for WordPress when compared to other tools. It will also assist you in managing redirects, affiliate links, and social media links.
The link will be immediately accessible from the admin area of the WordPress site. As a result, you don't need to be concerned about your WordPress site.
Prettylinks is a premium WordPress Plugin for tracking clicks. If you wish to utilize this software, buy any pack. The packets are primarily based on the calendar year and are extremely inexpensive.
Furthermore, it safeguards your website against fraud. It also offers a weekly analytical report. As a result, you can effortlessly optimize your advertising efforts and increase your business.
Particular Highlights
You can utilize the auto-pilot option to automate your marketing.
Fraud protection 24 hours a day, seven days a week.
Manage and redirect your social media links.
We provide a 14-day money-back guarantee.
It is simple to set up an account.
Simple to use and A/B test.
Provide a weekly report.
5 – ClickTool
ClickTool is one of the best digital marketing tools available. Many entrepreneurs and digital marketers rely on ClickTool to help them expand their businesses.
ClickTools provides you with the tools you need to track the link online. You can, however, use an advanced click tracking service. It allows you to keep track of phone calls, call duration, and various phone numbers. As a result, you may rapidly expand your firm.
Furthermore, ClickTool offers the world's best security system. They will never do commerce with your personal information. They do, however, offer custom domain and landing page rotation services.
ClickTool also provides affiliate link tracking. As a result, you may consider Clicktool to be one of the best click tracking applications.
Particular Highlights
Every tool is in a single location.
Advanced click tracking software.
Phone calls can be tracked.
Provide a call duration report as well.
Custom domain registration.
Excellent client service.
It is capable of identifying competitors.
6 – Linktrack
Linktrack is the most effective link tracking software. However, it is a very low-cost piece of software. Because you can get it for $9.95 on a basic plan, every small firm will benefit from the strategy. That is to say, there are a lot of fascinating elements in this concept.

Linktrack's free and commercial versions both allow for limitless link creation. Furthermore, real-time reporting features can assist you with precise targeting. A real-time reporting graph will assist you in visualizing the activity of your links. You can obtain a strong response to your link here.
7 – LinkTrackr
LinkTrackr's primary foundation is pay-per-click tracking software. It's intended for affiliate marketers. LinkTrackr aids in the tracking of pay-per-click adverts. Your Google Ads and Facebook Ad Campaign can be easily organized. You can; however, test affiliate offers from various networks.
The exciting part is that you can use your domain with this program. Furthermore, it supports an unlimited number of domains. As a result, it will assist you in branding your organization. However, it is quite inexpensive in comparison to its quality. This software is available for $7.
8 – LeadFeeder
Lead Feeder is a business-to-business link tracking software. It is also referred to as lead generation software. LeadFeeder assists organizations in generating leads using site analytics. It has advanced lead generating, automatic reporting, and lead scoring features. The leadfeeder is regarded as the best by over 30000 marketers.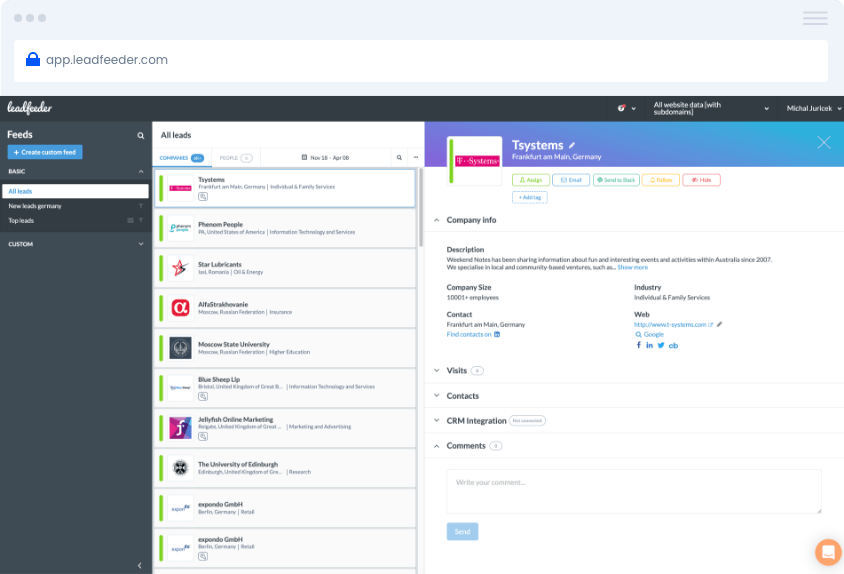 Leadfeeder, on the other hand, is one of the best sales software tools. It allows native integration, which aids in the growth of your existing sales. Leadfeeder is, without a doubt, a high-priced piece of software. You can, however, use it for free but will not have access to premium features. You must purchase a $63 per month premium package to gain access to premium features.
9 – ClickPerfect
ClickPerfect is one of the best link tracking programs available. This powerful tool allows you to control your traffic. Furthermore, you may make the most of every click. ClickPerfect, on the other hand, allows you to monitor, track, and optimize your links from a single dashboard. It provides real-time data on views, clicks, and impressions.
There is no free version of Click Perfect. However, you can enjoy a 14-day free trial. Furthermore, the commercial edition of Click Perfect is incredibly reasonable. You only need to pay $19 every month.
10 – Click Gum
Currently, Click Gum is one of the best free affiliate link tracker software options. It improves the speed and profitability of your website. Furthermore, it aids in marketing, affiliate marketing, and so on. You can, however, utilize this for free.
However, you will not be able to use all of the software's features at this time. Click Gum, on the other hand, has a modest price. Annual packs are also available.
Many people seek free tracking software. As a result, Click Gum is the ideal option for you. Click Gum is a free click tracking application.
Furthermore, it assists you in a variety of ways and rapidly spreads your website. As a result, your website will become well-known in a matter of days. People from all over the world like using it.
Particular Highlights
You can utilize tracking software to generate profitable reports.
It aids in the prevention of click fraud and scams.
This will improve your landing page and help you perform better in the A/B test.
It can assist you in determining which marketing campaign ads are earning you a commission.
This will assist you in distributing traffic to all of your partners.
Conclusion
Everything in the modern-day will be IT-based. According to modern technology, we must conduct our business and other activities on the internet. As a result, you must monitor and track the behaviors of your visitors or customers.
In other words, click-tracking software makes it more accessible. It also helps to grow your business.
However, you know the advantages and top click tracking software. So, pick the greatest one and watch your company grow.