Affiliate marketing tools are an important part of the affiliate business because they allow more and more tasks to be done by software instead of people.
Today, we are going to look at the top 10 most popular tools for affiliate marketing that will change the way you run your business.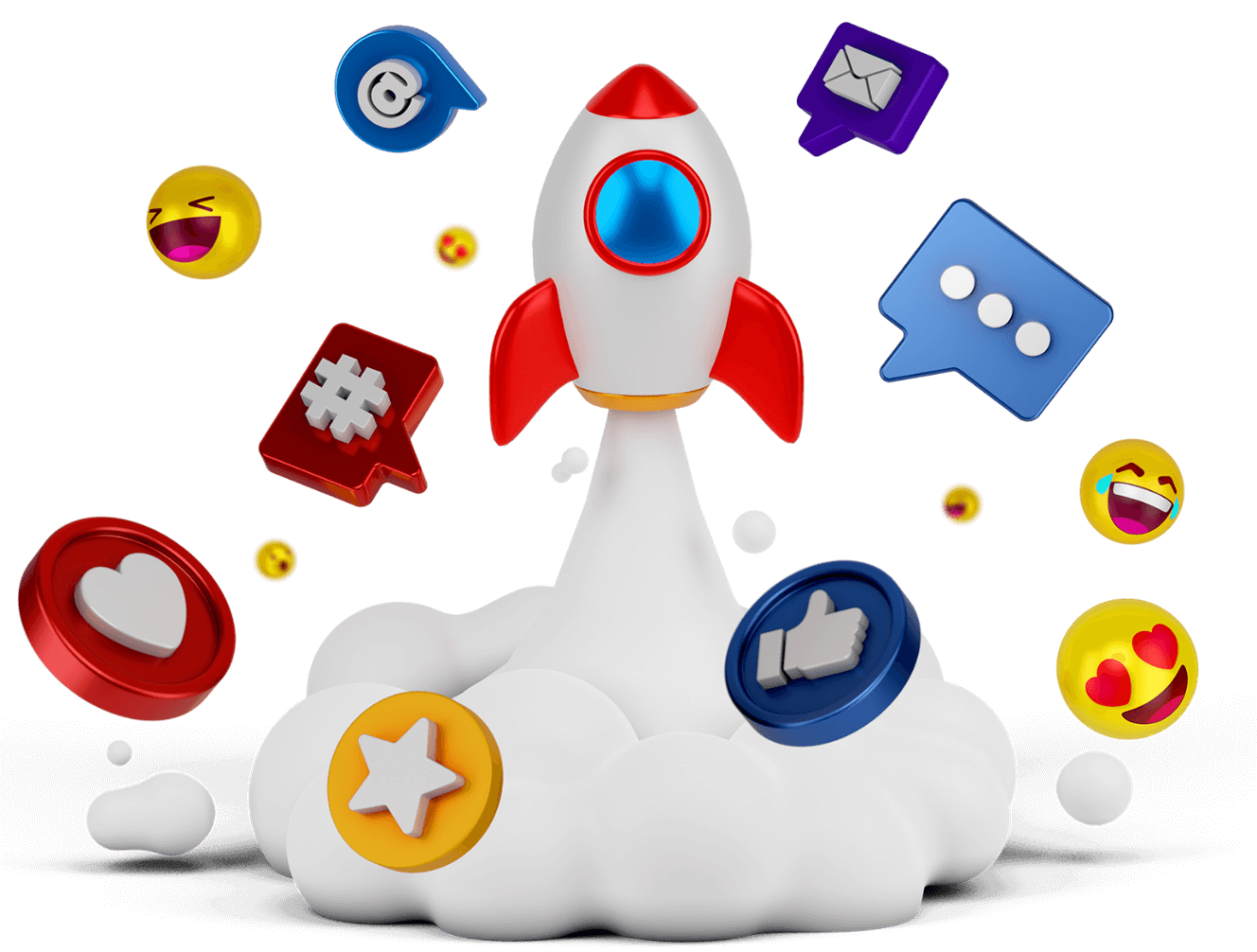 Based on our experience and a lot of research, we've put together a list of the best affiliate marketing tools for you. The following are the must-have tools for affiliate marketing. So, let's dive right in!
10 Tools for Affiliate Marketing
There are many tools available to help with an affiliate marketing business. Some of the most common tools include:
Link tracking software: This allows you to track clicks on your affiliate links and see which ones are performing well.
Analytics software: This can help you track the performance of your affiliate campaigns, including the number of clicks, conversions, and revenue generated.
Email marketing software: This can help you manage your email list and send targeted emails to promote your affiliate offers.
Content creation tools: These can help you create high-quality content to promote your affiliate products and attract potential customers.
Social media management tools: These can help you manage your social media accounts and create and schedule posts to promote your affiliate offers.
Overall, the most important thing is to choose the tools that best fit your specific needs and goals for your affiliate marketing business. Here are the tools from each and every category we have mentioned to get you started!
Scaleo – Tool for affiliate marketing management
Scaleo is a cutting-edge affiliate marketing solution (in other words – affiliate management software). You can sign up and launch your own affiliate network in minutes!
Scaleo is packed with AI features that allow you to track, analyze, and optimize your campaign in real-time. It combines a modern and fresh interface with lightning-fast performance and a set of features that no other affiliate marketing software has.
Scaleo is an innovative affiliate marketing software that can be used as an affiliate program or as a stand-alone platform for creating your own affiliate network. It's a widgetized white-label affiliate marketing solution that offers full UI customization to fit your brand – from logo to color scheme.
If you are looking for:
an eye-candy design with unbeatable functionality,
a powerful backend with dozens of innovative features, including ultra-fast redirects,
10+ targeting options,
custom notifications, and smart traffic redirection
– you'll love Scaleo!
Scaleo Integrations
The developers behind Scaleo have 10+ years of experience in the affiliate and tracking industry, which allows them to put together robust software with an in-built Anti-Fraud Logic™ algorithm that helps eliminate and prevent fraud clicks and transactions in real-time.
Scaleo's lightning-fast backend interface will save you a great deal of time, as all statistics are generated and updated in real-time, including incoming clicks and transactions.
Thanks to these instant, detailed reports, you will be able to optimize your campaigns and increase margins without wasting money on illegitimate traffic or unscrupulous affiliates. Scaleo's innovative pricing model is based on conversions and offers unlimited clicks.
Scaleo is for anyone who considers starting an affiliate network with extended functionality and an intuitive and fluent UX for both admins and affiliates. Scaleo offers instant access to a 14-days trial; no credit card is required. So start your free trial right away and get into the affiliate marketing business with a professional solution that will cover all your needs. If you need any help, don't hesitate to contact their friendly support team. If you are looking for an affiliate marketing tool software – give Scaleo a try, the first 14 days are free
MailChimp is a popular email marketing service.
Email is still one of the most common methods of marketing. This article would not be complete without a good tool for email marketing. MailChimp is a comprehensive email marketing platform that helps all types of businesses and marketers. It can be a powerful tool for affiliate marketers to begin email marketing. This marketing tool is used to send emails to sell specific goods, meet target markets, and convert leads into sales.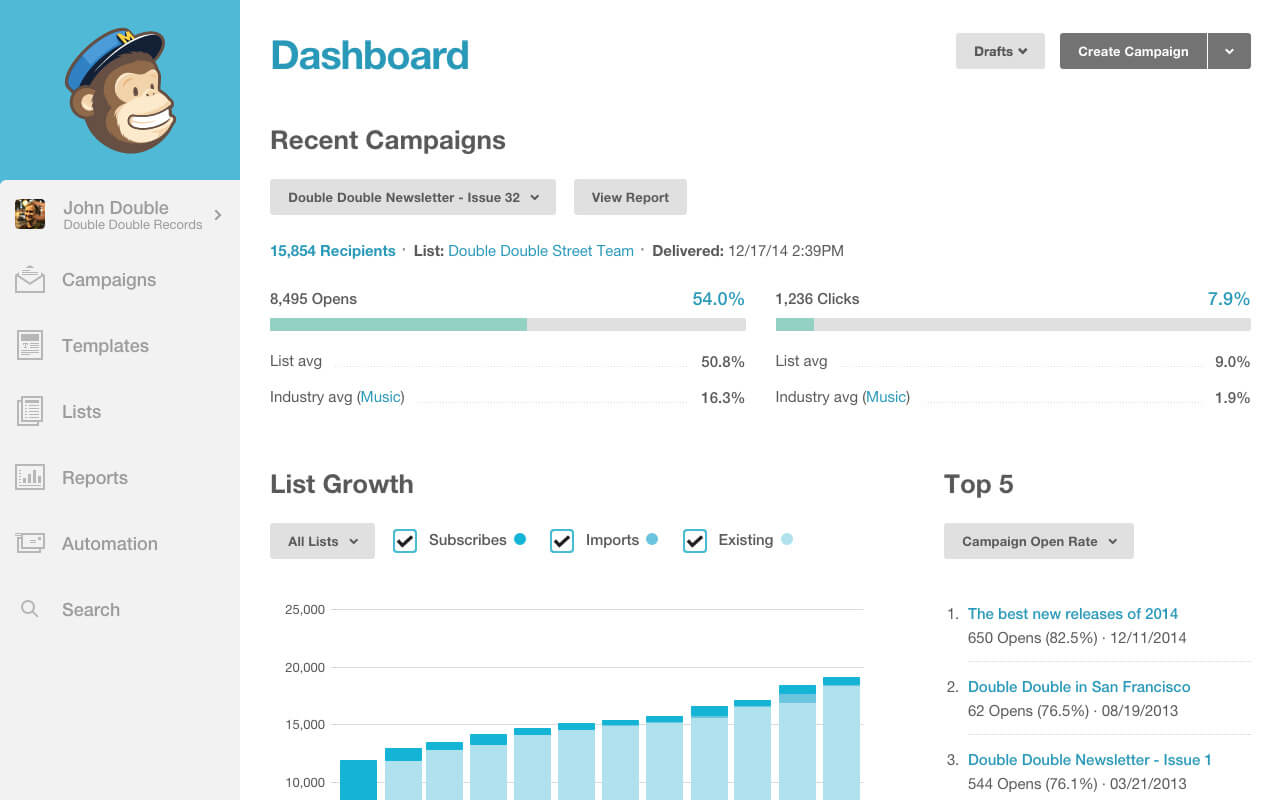 MailChimp is one of the best affiliate marketing tools that allows you to build newsletters, set up drip campaigns, manage subscriber accounts, monitor email opens, and integrate social networking. Also, marketers can make an ad hoc study using its built-in analytics and re-posting framework. Moreover, MailChimp affiliates provide marketers with pre-designed models as well as a drag-and-drop builder to make newsletter design a breeze.
Another advantage of using MailChimp is that it allows you to do A/B testing. For example, you can test which subject line or delivery time works best with a simple method. Of course, each test may have many variations, such as different send times, contents, subject lines, photographs, and so on. MailChimp, too, can help you segment your mailing list. Besides, you can track performance through default features or integrate MailChimp and Google Sheets to create performance dashboards and reports As a result, you can launch more tailored campaigns to increase conversions.
In summary, as an affiliate marketer, you should have 4 must-have advanced features of MailChimp. This includes Marketing Automation, Advanced Segmentation, Performance Tracking, and A/B Testing.
Google Analytics – a web analytics service.
You should consider your audience no matter what niche you are in, whether it is a website or a shop in a health-related niche. For affiliate marketers, Google Analytics is the most comprehensive analytics tool available. Most affiliate marketers use this tool to track the number of visitors to their affiliate site. Using this excellent tool, they can perform a wide range of dimensional operations. As an affiliate marketer, you can split tests, track links, track conversions, evaluate various habits, and gain real insights into how users engage with your affiliate site.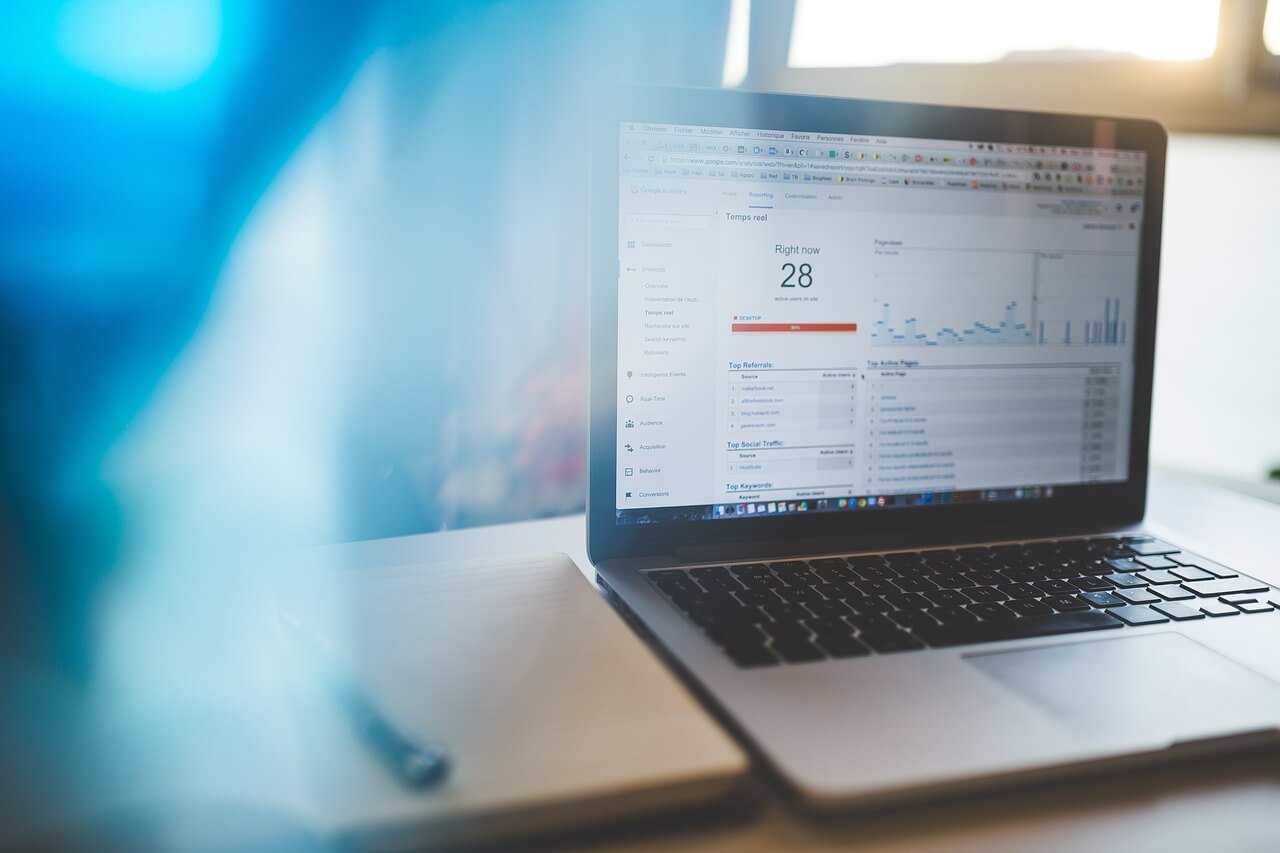 Google Analytics assists you in shaping the roadmap for your anticipated performance by measuring revenue and conversions and analyzing the in-depth specifics of your website. Almost all affiliate marketers nowadays use Google Analytics to evaluate the effectiveness of their website SEO activities and targets.
To be aware of the overall happenings on your website and to measure the target, you must understand the specifics of people's interactions, how long they normally remain on your site when they visit, and, most importantly, which pages they visit more or less on your site. This review result will help you understand your entire website and encourage you to take the necessary steps to enhance your affiliate website.
Pretty Links – URL shortening tool
Pretty Links is a comprehensive all-in-one WordPress link management plugin. It allows you to build clean, easy URLs on your WordPress site that can be redirected to any other URL. Using this plugin, you can build redirects for existing site content or external links such as affiliate links, group them, and easily distribute them across multiple platforms.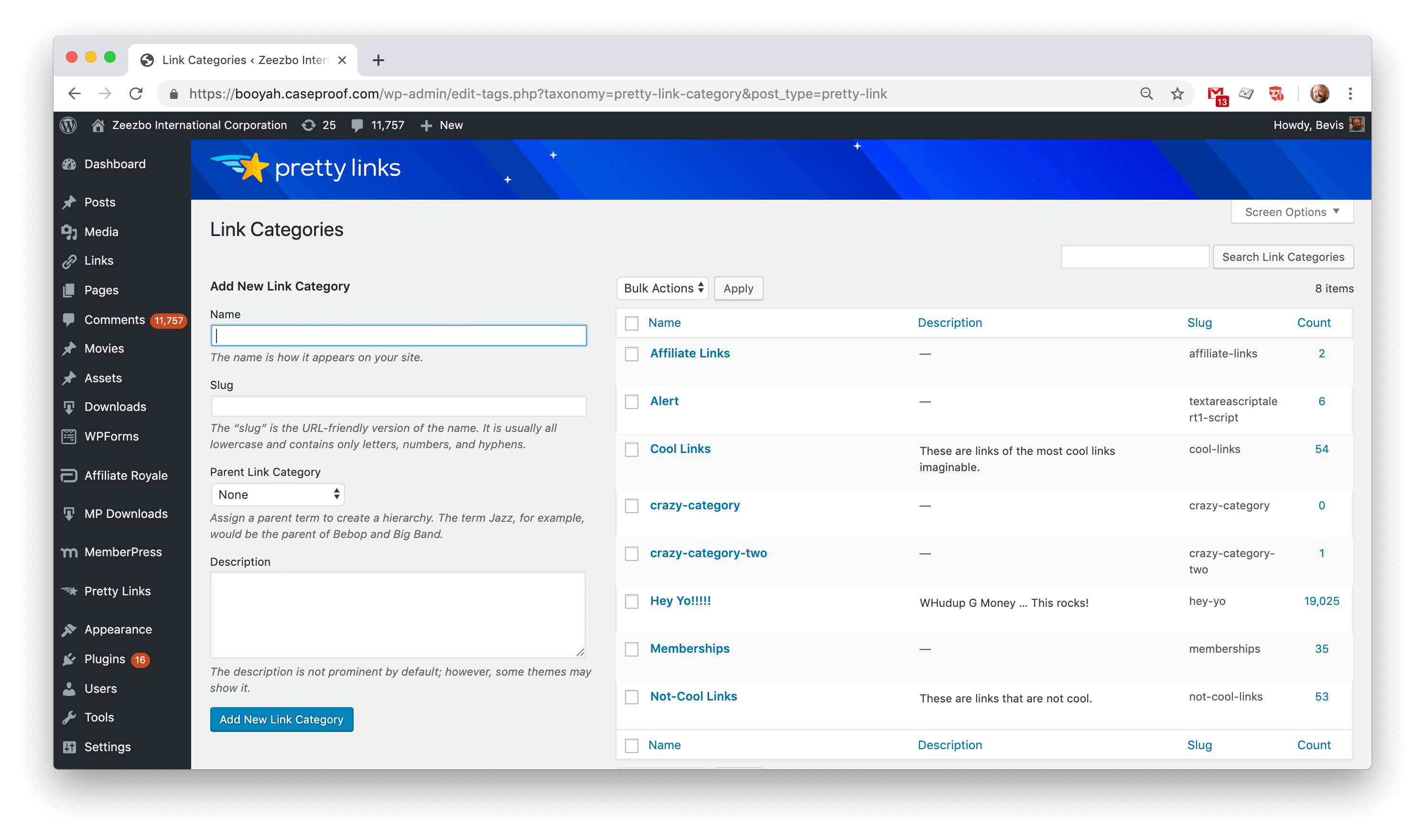 It enables you to turn your long, ugly affiliate links into pretty links. If you're a blogger or an affiliate marketer, this plugin will help you add and organize affiliate links in WordPress.
It also functions as a connection shortener, allowing you to shorten the URLs of your posts and accounts, which you can then share on social media sites and in email campaigns. Unlike other URL-shortening services such as TinyURL, BUDurl, and bit.ly, this plugin lets you generate short links from your own domain.
Pretty Links is more than just a link manager; it also includes a link tracking function. It keeps track of every time someone visits your URL and gives you a detailed report on the traffic source, browser, operating system, host, and so on.
Unbounce – Landing page builder
Unbounce is a common landing page builder for digital marketers because it requires no coding skills and has some of the best lead generation affiliate tools.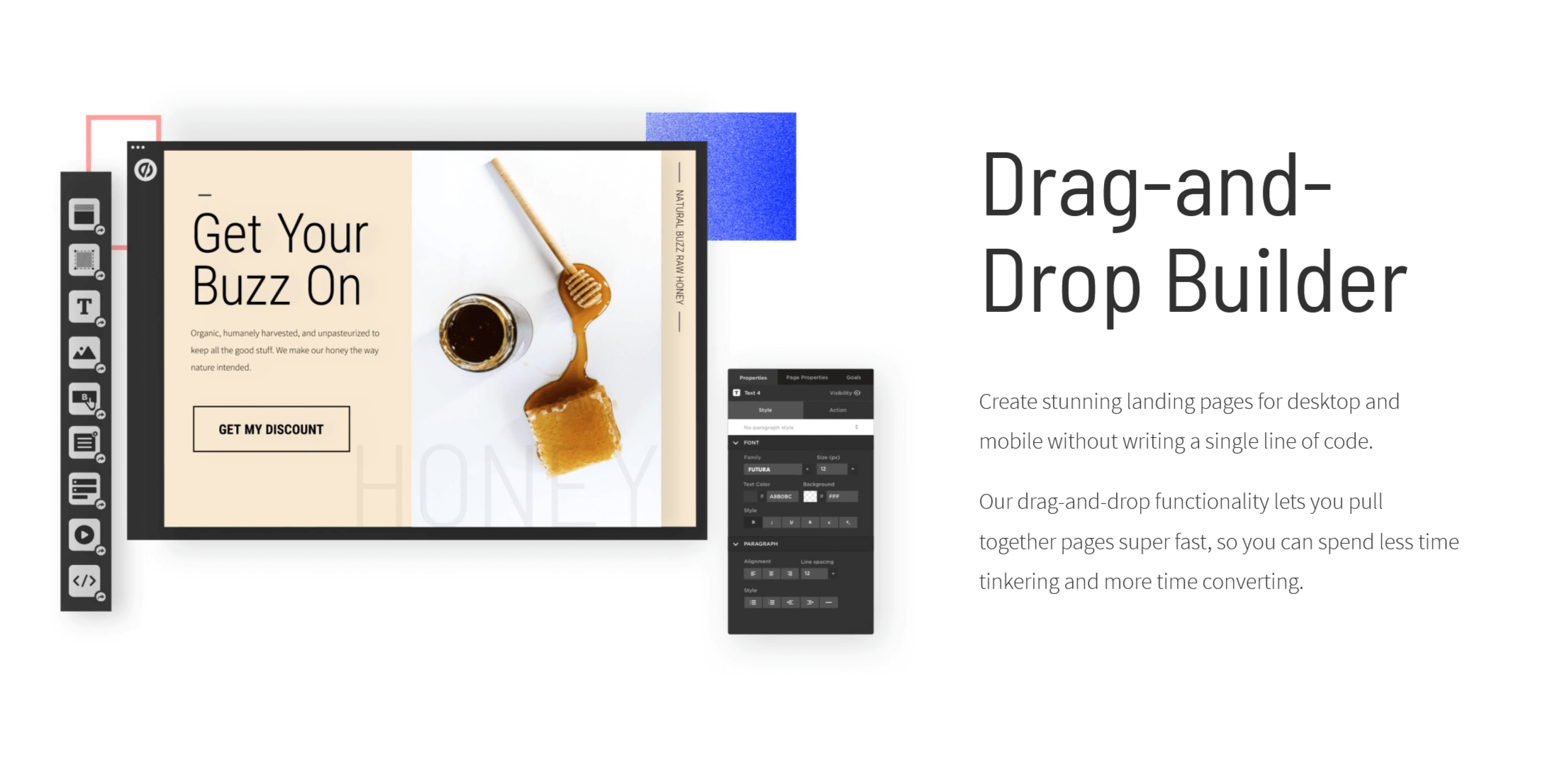 Unbounce's 'Conversion Intelligence' and 'Smart Traffic' features help to differentiate it from the competition.
When running highly targeted campaigns, such as account-based marketing campaigns, you must tailor the entire funnel to its audience. This is why having custom-made landing pages is so critical.
Consider this: if you click on an ad advertising chatbots for affiliate marketers and land on a webpage that isn't directly about affiliate marketing, the chances of converting the traffic decreases.
If, on the other hand, you were guided to a landing page that said, in large bold letters, "The Best Chatbot For Affiliate Marketers," you have found exactly what you were looking for.
When creating your marketing funnels, use a tool like Unbounce to generate several campaign-specific landing pages easily. As a result, conversion rates will undoubtedly rise, and search engines will reward you for it.
Unbounce allows you to replicate the most popular landing pages in order to save time and build high-converting pages in bulk. Furthermore, you can A/B test different landing page combinations to see which messaging and templates work best.
Ahrefs – SEO optimization tool
Another useful tool for SEO and keyword research is Ahrefs. Though this is used for a variety of purposes such as backlink analysis, keyword research, on-page audits, content analysis, and so on, it prioritizes backlinks over on-page SEO and other competitive functionalities.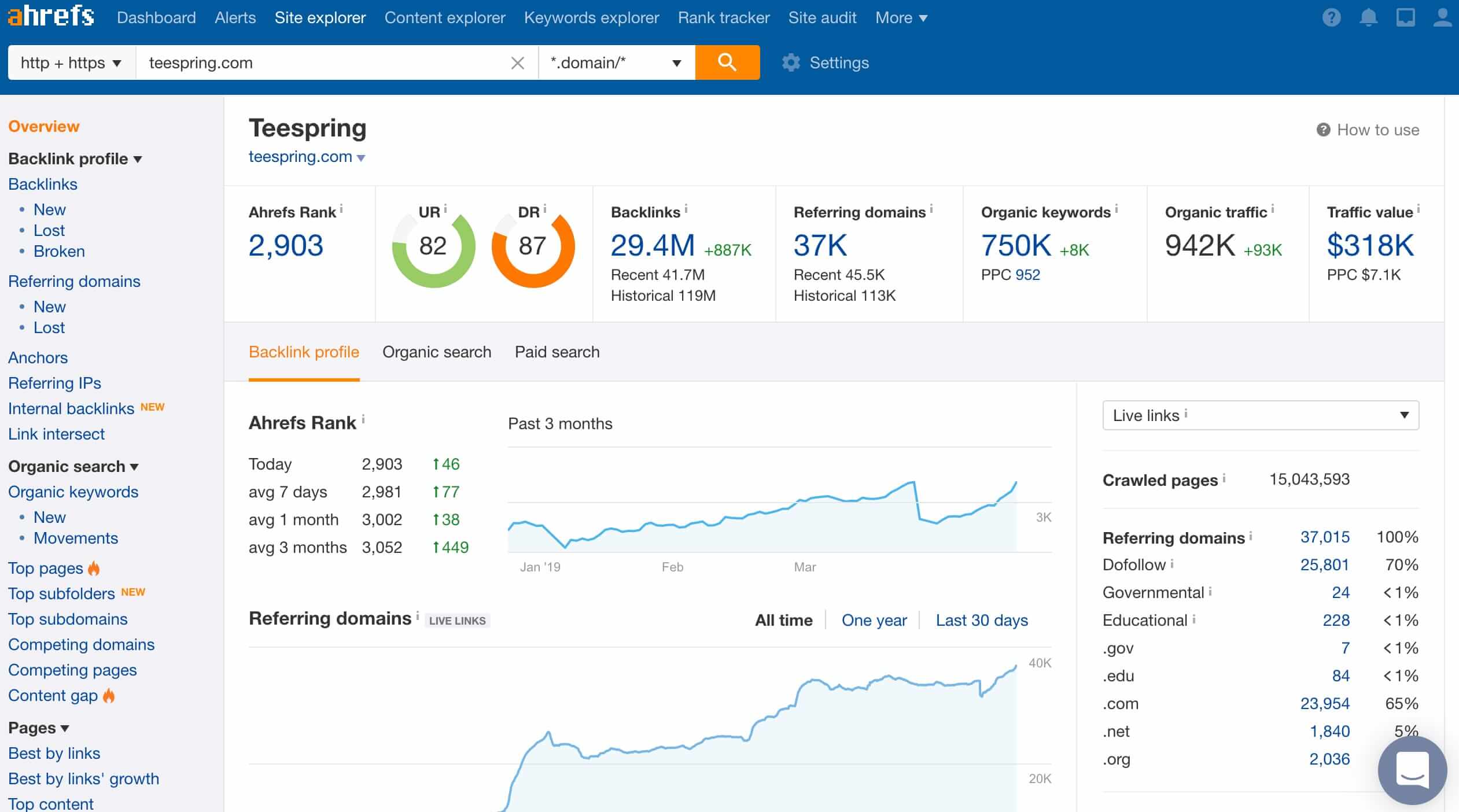 Affiliate marketers may use this tool to gain in-depth insight into their backlink profiles. This includes new backlinks, missing backlinks, and websites that connect to your broken pages (along with the domain rank of those sites). As an affiliate marketer, you can also analyze your competitors' backlink growth and compare it to your own. There is also a section where you can analyze your site's "content holes" against those of your rivals, allowing you to find what your site is missing.
It is one of the most important affiliate tools in the digital marketing industry. Otherwise, it would be almost impossible to rank the affiliate website, which would eventually result in shambles. Ahrefs makes it simple for affiliate marketers to easily and securely customize their site. This allows them to gain more commission by rating their websites first. Although Ahrefs is an SEO tool (and not a direct affiliate marketing tool, strictly speaking), we still decided to include it in our list of top tools for Affiliate Marketing because SEO and marketing go hand in hand and it's hard to imagine one without the other.
Flippa – domain and website buying tool
Flippa is basically an online marketplace where websites can be purchased or sold for a profit ("flipped"). This may be a useful forum for people who want to skip the process of creating a successful affiliate site from the ground up. With Flippa, you will find a ready-to-go website in your niche with a proven track record.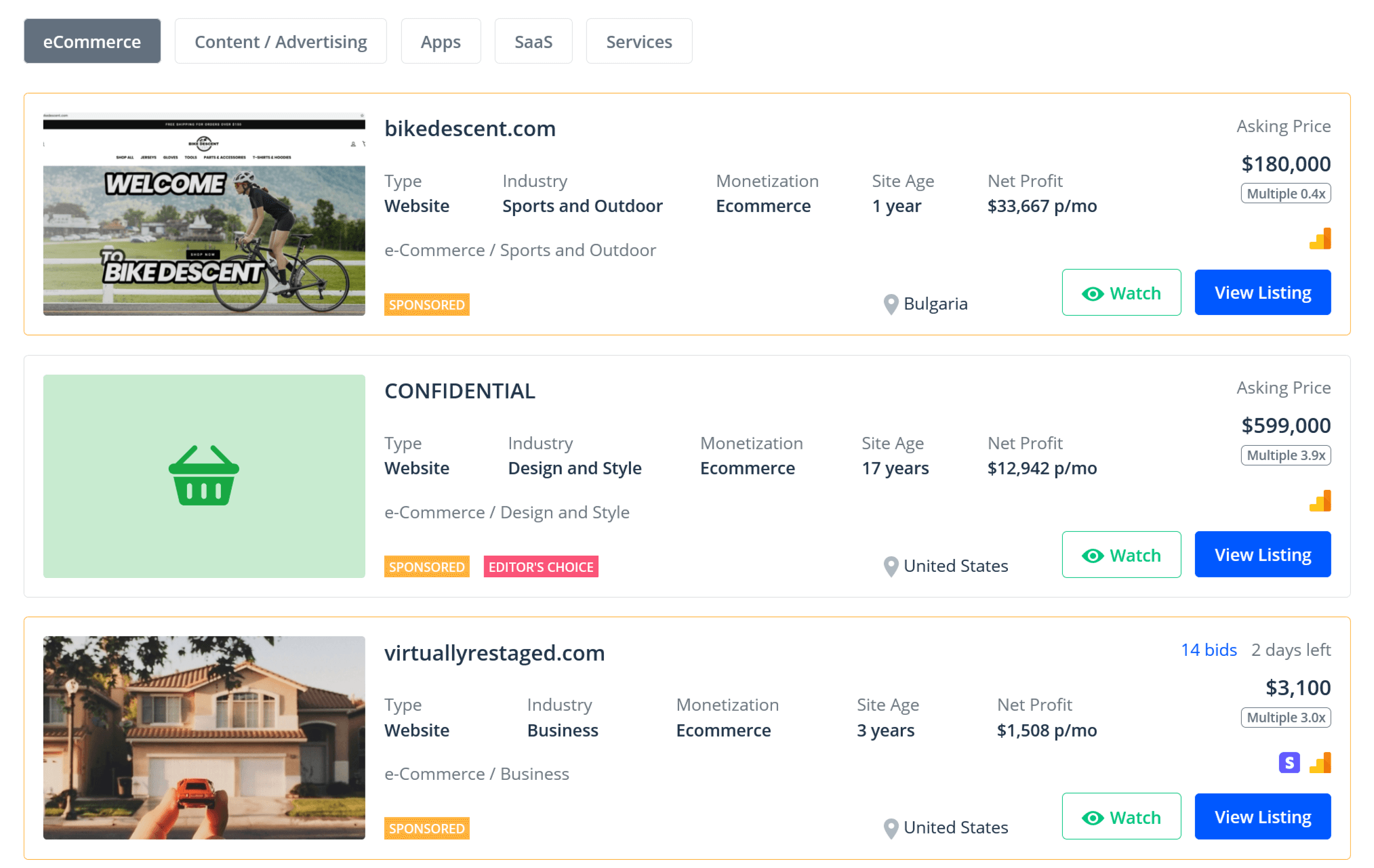 This is an excellent place to begin their solo affiliate marketing journey. Flippa, like eBay, allows affiliate marketers to bid on an affiliate website.
Furthermore, Flippa enables affiliate marketers to purchase affiliate-based websites with a strong backlink profile. Just make sure to conduct a thorough backlink audit before buying a domain. This ensures that black-hat SEO techniques are not inflating the domain. There is enough evidence for affiliate marketers who purchased a website with a good backlink profile only to be penalized by a Google algorithm update. This is mostly for inflating the previous site owner's black-hat connection building practices.
So be safe – do your research and buy from a well-known marketplace (like Flippa).
Grammarly – Writing Assistant
Grammarly is yet another fantastic tool for affiliate marketers who publish on a daily basis. It is a spelling and grammar checker that can be useful to any website owner or blogger.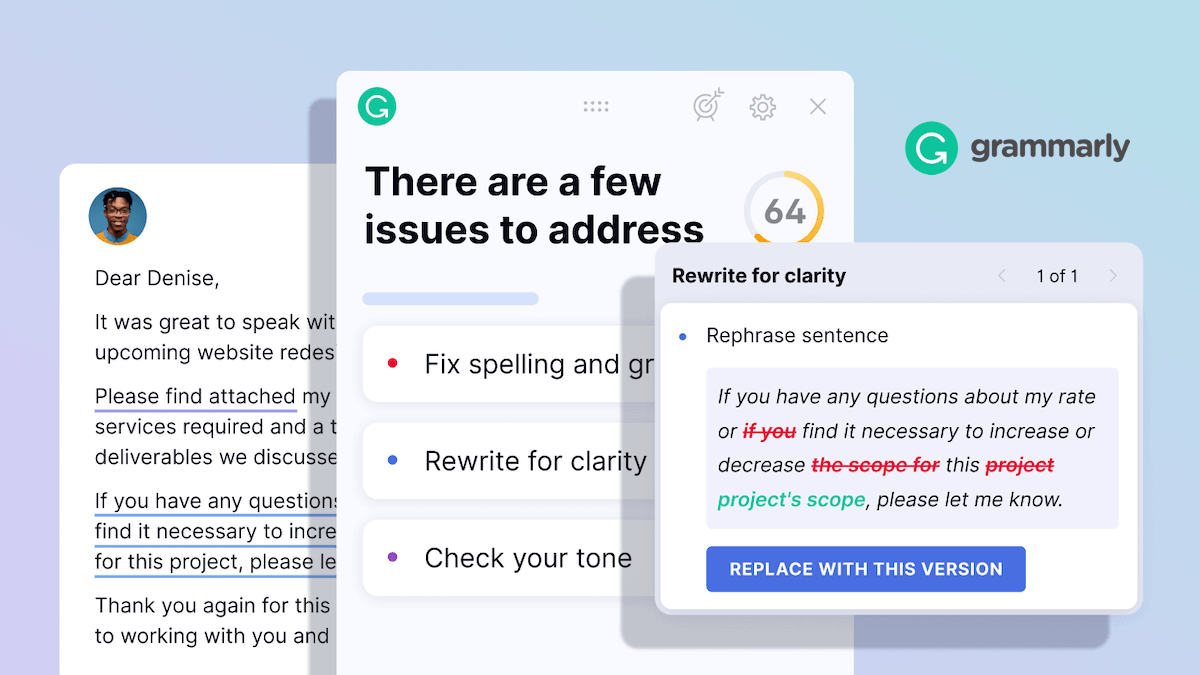 Grammarly is an excellent tool for quickly checking new posts and creating changes. For example, when a grammatical error or typo is detected, the Grammarly editor will alert you in real-time. Then, just make the change to make sure the material meets a standard that is always the same.
Grammarly's ability to grasp the vibe of your sentence by correlating the words is one of the most intriguing features. That is, even with the tool's assistance, you can keep your own writing voice. Of course, it is possible that you could misunderstand what you are really trying to say. However, it maintains a reasonably consistent pattern and a praiseworthy rate of accuracy.
Another great thing about Grammarly is that it has pre-set goal requirements that the user can fill out to reach certain goals. This means that as a consumer, you can specify things like the type of audience (such as general, knowledgeable, and expert) and whether the tone of the content is casual, neutral, or formal. After you enter these details, Grammarly will start making suggestions for your writing that make sense in the context.
Editorial Calendar – WordPress Plugin
Editorial Calendar is a plugin for post scheduling that is useful for strategic blogging. If you have a content plan for your business, you can find great affiliate marketing tools. It lets you organize and schedule all the content on your site, which, depending on your affiliate niche, can be very helpful. For example, tech blogs will want to schedule posts around the next major Apple event, while fashion blogs will want to plan articles or videos around fashion week. Then, when you're about to publish your content, you can simplify things by focusing your attention on a single screen. Ideally, this tool keeps all of your site's materials organized.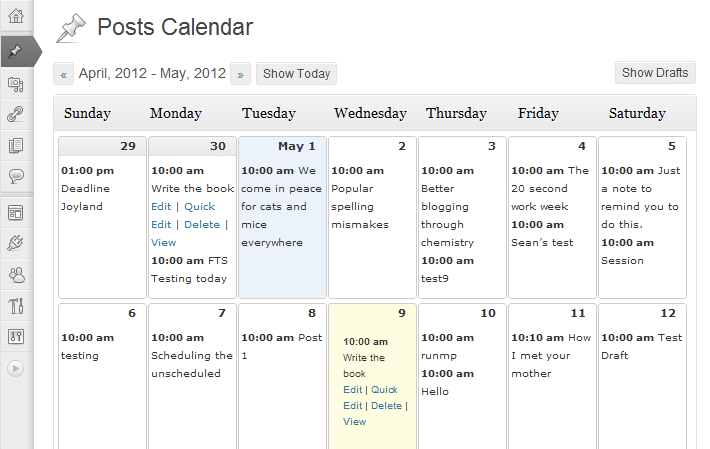 This plugin simplifies and comforts post-management. From post planning to content development and publishing, you can see the whole process at a glance. For example, you can schedule posts based on dates and times from a single panel.
When changing post dates, the drag-and-drop feature can be useful. There is a draft drawer where you can keep track of all the post drafts on your site. You can look at posts from more than one author at the same time, and you can use "fast edit" to change posts. Only the administrator and the editor have access to all of the plugin's functions. Authors have the ability to upload, rewrite, and reschedule their articles. Contributors can save their posts as drafts and transfer them, and subscribers can view the calendar.
For more information, see our guides on how to build an editorial calendar and the best plugins for managing your editorial workflow.
Buffer – Social Media Scheduler
Buffer is a social media management tool that allows you to prepare and schedule your content, analyze results, and increase engagement with your audience. Affiliate marketers and social media marketers find it easier to work together and share posts with Buffer. With a storytelling marketing plan, you can lay out your entire content ahead thanks to this awesome tool for affiliate marketing and social media outlets.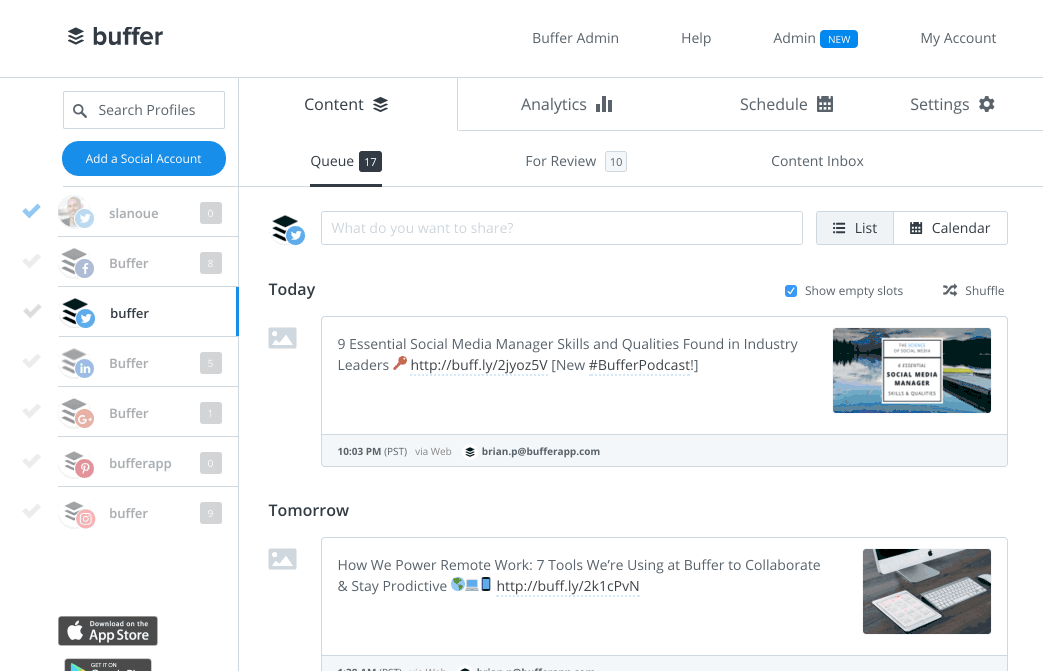 Buffer outperforms its competitors in terms of usability. Its interface has a pleasing coherence and simplicity, as it is devoid of superfluous functionality to hold the user's attention on the task at hand.
The setup process guides the user through the necessary steps and allows the user to connect to social media accounts almost instantly.
They offer a free account option, which is always appreciated, and it allows for the connection of three social media accounts. This means that a free account is a viable alternative for accessing various social networks from a single dashboard for individual users. It is also possible to schedule up to 10 posts inside the free account, which should be enough for most small businesses.
Buffer queues allow you to build batches of posts whenever you have time. If you need someone to approve posts before they are delivered, you may set up an approval system. If you let a queue run out of content, Buffer will send you an email informing you that new content is needed. It's also useful to be able to re-buffer your good material, essentially providing an evergreen supply.
I miss getting direct access to Twitter lists like in Hootsuite, but there is a workaround thanks to the Buffer browser add-on.
Conclusion
This ends our list of some of the top affiliate marketing tools to consider in 2023. Our comprehensive list is hand-picked based on feedback from industry experts and users like you. If you believe we have overlooked an affiliate marketing tool that deserves to be included here, please share your thoughts in the comments section below, and we will add it to the list.
Remember, if you want to be successful with your business, we advise you not to use too many tools, but rather a few, but very powerful ones. Instead of using one software for emailing your affiliates, another for monitoring inbound traffic, another for link tracking, and yet another for security, you are better off choosing software like Scaleo that handles everything from campaign monitoring to tracking, analytics, data visualization, and billing – all from a single dashboard.
Do you run an affiliate business? Try Scaleo, no credit card required.
What are the top affiliate marketing tools?
Scaleo – The best partner marketing and lead management tool.
MailChimp – a popular email marketing service for affiliates.
Google Analytics – a web analytics service.
Pretty Links – URL shortening tool for affiliate links
Unbounce – Landing page builder for affiliate offers
Ahrefs – SEO optimization tool
Flippa – Domain and website buying tool
Grammarly – Writing assistant for your copy pages
Editorial Calendar – WordPress plugin for scheduling content
Buffer – Social Media scheduler to build long-term promotional strategy