Affiliate management software can do a lot for your digital marketing efforts. If you own a business and want to start an affiliate program, or you already have referrals coming your way from multiple sources, and you want to streamline and unify that strategy, opting for top-notch affiliate management software can solve a lot of issues.
It will save you time and automate certain tasks, illuminating human labor and ultimately optimizing your revenue. A clear overview of what's working and what isn't can help you make informed decisions and not shoot into the dark.
Today, we are going to look at what affiliate management software is, what it can do for your business in 2023 and give you a few tips on how to choose the best one for your needs and budget.
So, without further ado, let's get into it!
What is Affiliate Management?
First, let's have a look what affiliate management is. Yes, as the name implies, it helps you handle partners.
Affiliate management refers to recruiting, managing, and compensating affiliates who promote a company's products or services. In an affiliate program, affiliates are given unique links or promotional codes to share with their audiences.
When a customer clicks on the link and makes a purchase, the affiliate earns a commission. Affiliate management oversees this process, from recruiting new affiliates to providing them with marketing materials to tracking their sales and paying commissions.
The goal of affiliate management is to create and maintain mutually beneficial relationships between the company and its affiliates and to maximize the affiliate program's success.
Top 10 Affiliate Management Software
Affiliate marketing is an effective way to reach new customers and increase sales, but it can also be complex and time-consuming to manage. That's where affiliate management software comes in – it can streamline and automate many of the tasks involved in running an affiliate program, from recruitment and tracking to payment and reporting.
But with so many options available, it's not always easy to know which software is right for your business.
To help you make an informed decision, we have compiled a list of the market's top 10 affiliate management software on the market. In this blog post, we'll take a closer look at each software and highlight its key features and benefits so you can choose the software that best meets your needs. Whether you are just getting started with affiliate marketing or looking to upgrade your existing system, this guide is an indispensable resource.
1 – Scaleo
Scaleo is one of the most popular affiliate management software vendors among advertisers who seek to unify their marketing efforts. Scaleo is a premium solution that provides clients with some of the most powerful tools to run their businesses. It is a SaaS vendor that allows you to create your own affiliate program or even a whole affiliate network.
As a complete affiliate management software, Scaleo offers a complete set of automation tools. You can simply send out affiliate commissions, create unlimited campaigns, or add an affiliate partner program to your existing business.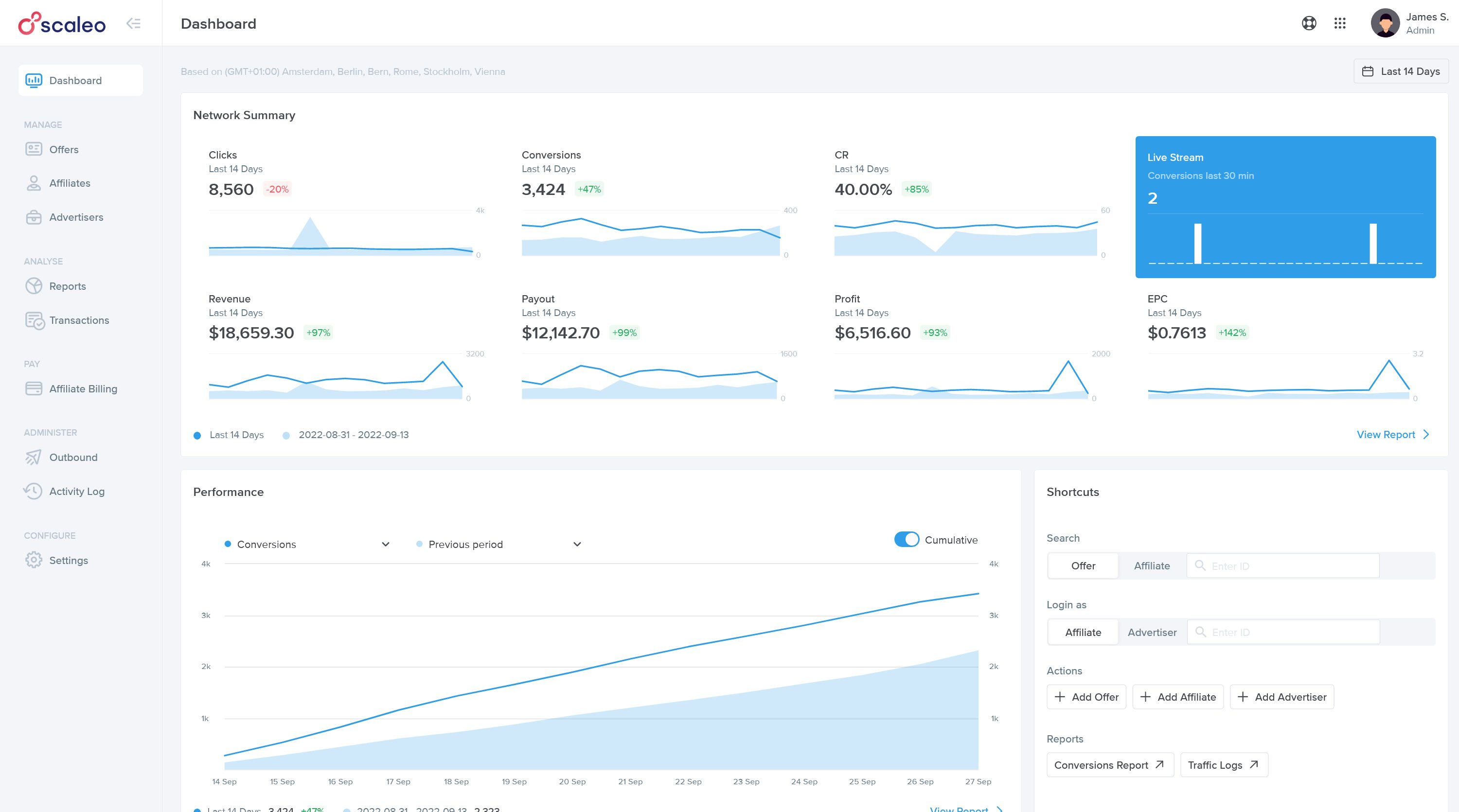 You can also unify your affiliate business by pouring all your affiliate campaigns into Scaleo, where you can manage and monitor them from just one dashboard. Scaleo is a software company based in Europe.
2 – UpPromote
For Shopify merchants looking to expand their affiliate campaigns, this is a very straightforward tool. The app includes a variety of tools to assist you in creating a professional campaign and easily approaching potential affiliates. The app's main selling point is that you can track your affiliates' referrals using multiple tracking methods and have complete control over the referral orders brought by your members.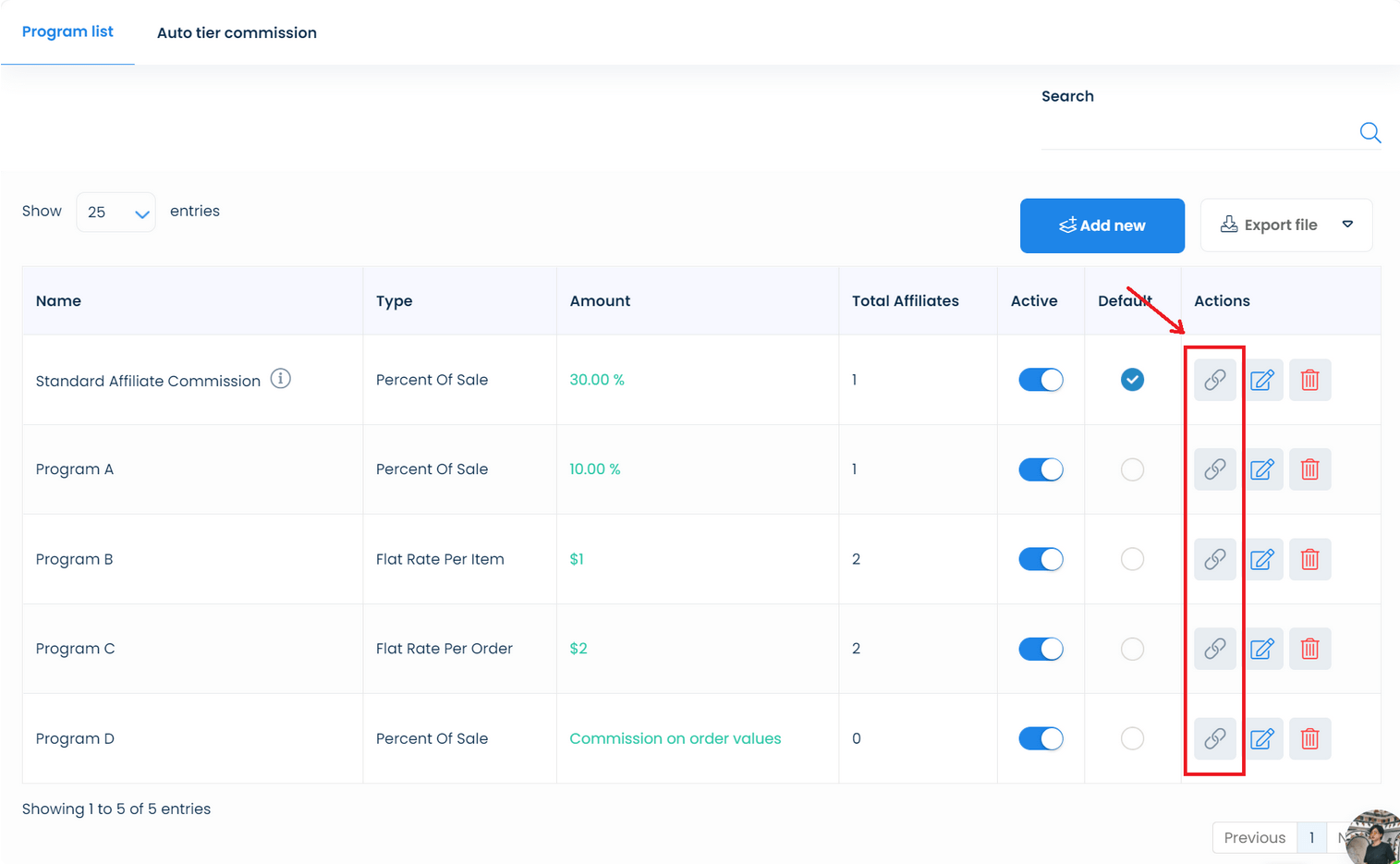 Furthermore, multi-language support is available in the affiliate account. UpPromote's affiliate marketing strategy divides the process into three steps: create your program, find affiliates, and track their performance. At least, that's how they describe it.
In between all of that, there are a slew of tools and features aimed at making everything easier—if not downright automatic—so, at first glance, you shouldn't be surprised to see more menu options than those three steps.
3 – AffiliateWP
This plugin allows you to select which products on your website should earn commissions for your affiliates. AffiliateWP allows you to disable commissions for products (for supported integrations), but doing this for each product can be very time-consuming, especially if you have hundreds of products. Install and activate this plugin and then enter some product IDs. Only these products will earn a commission when purchased through a referral URL.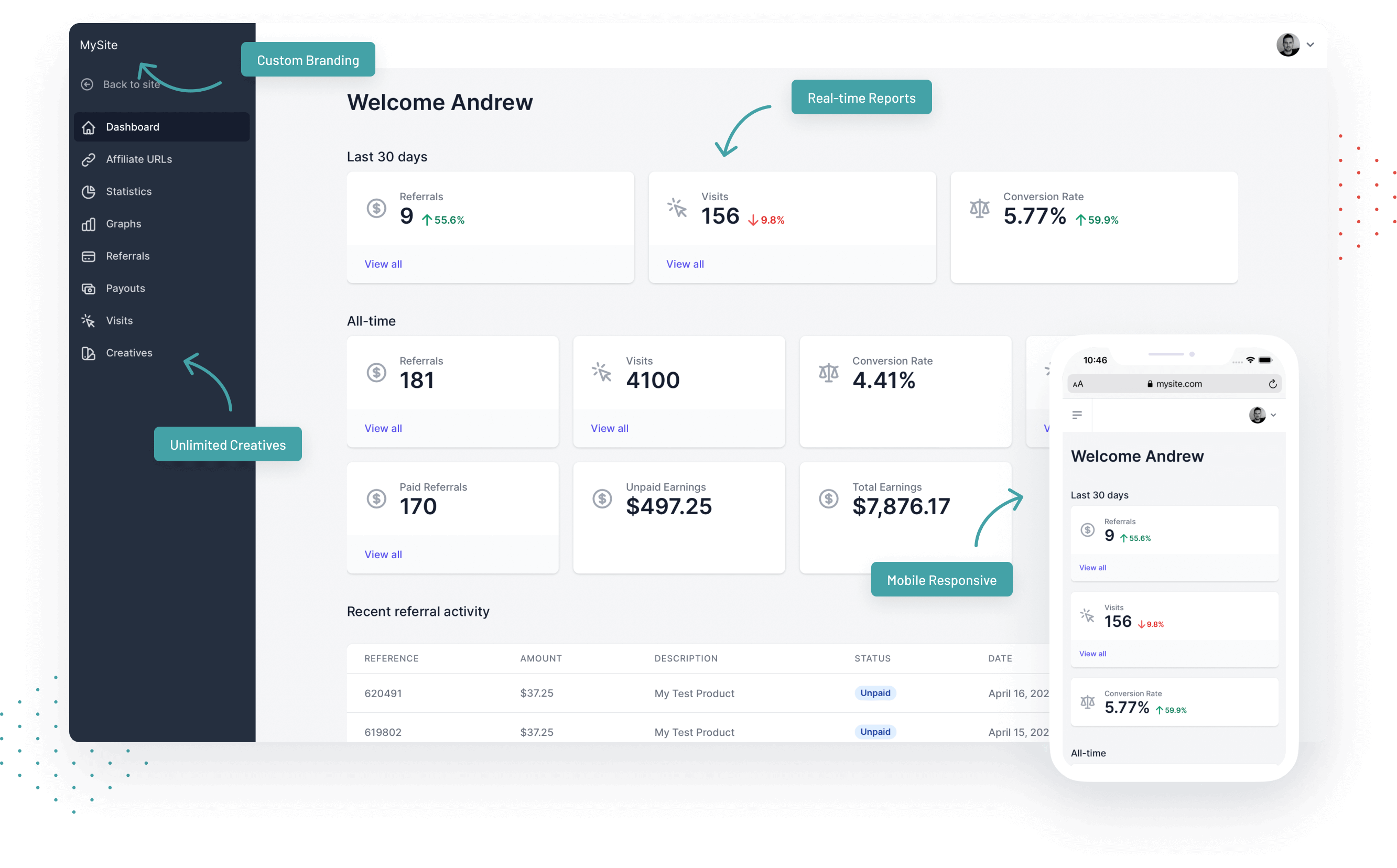 What exactly is AffiliateWP?
AffiliateWP is a full-featured affiliate management system for your WordPress website that integrates with all major WordPress e-commerce and membership platforms. It provides everything you need in a simple, clean, user-friendly system that you will love to use.
4 – Anytrack
AnyTrack is a powerful tool that tracks and syncs any conversion data source with your preferred analytics platforms in real-time (Google Analytics, Facebook Conversion API, Google Ads API and more). AnyTrack feeds your ad pixels and APIs with critical data by combining conversion data from your marketing ecosystem, allowing ad agencies to leverage the most powerful AI/ML available.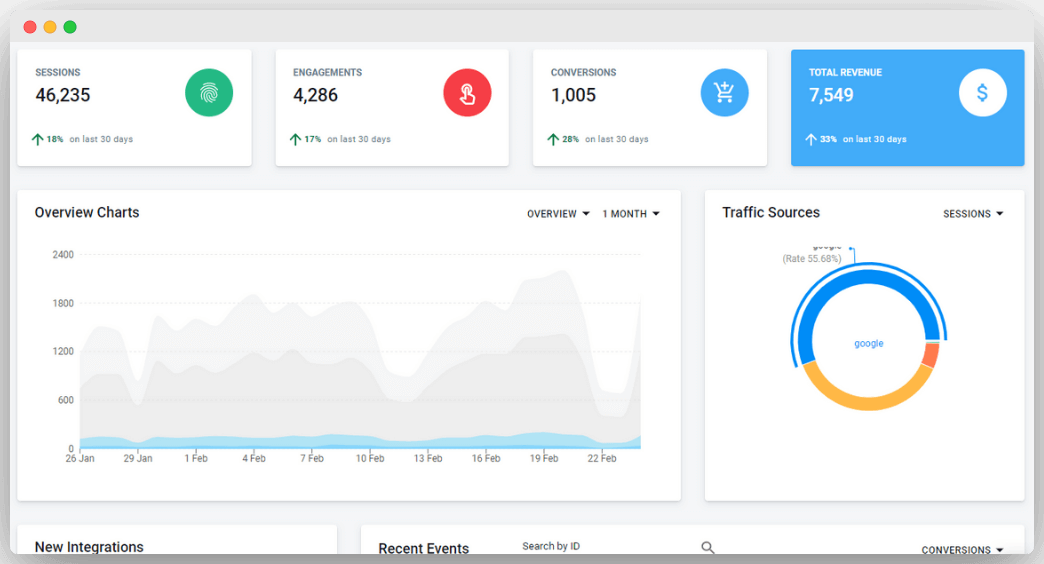 It's a good tracking and data-syncing tool that gives businesses real-time insights into their conversion data. With AnyTrack, businesses can track conversions from multiple sources and sync the data with their preferred analytics platforms, including Google Analytics, Facebook Conversion API, Google Ads API, and more. This allows businesses to have a complete and up-to-date understanding of their conversion data and make informed decisions based on accurate information.
One of the key benefits of AnyTrack is its ability to combine conversion data from across a business's marketing ecosystem. Businesses can see a complete picture of their conversion data, regardless of the source. AnyTrack also feeds critical data to ad pixels and APIs, which enables ad agencies to leverage powerful AI/ML algorithms to optimize their campaigns and achieve better results.
AnyTrack is easy to set up and use and integrates seamlessly with various platforms and tools. This makes it a versatile solution that can be customized to meet the specific needs of each business.
5 – Everflow
Everflow is a Partner Marketing Platform that allows you to track, manage, and analyze the performance of multiple marketing campaigns' performance from one dashboard. Everflow is a platform for smarter partner marketing and tracking.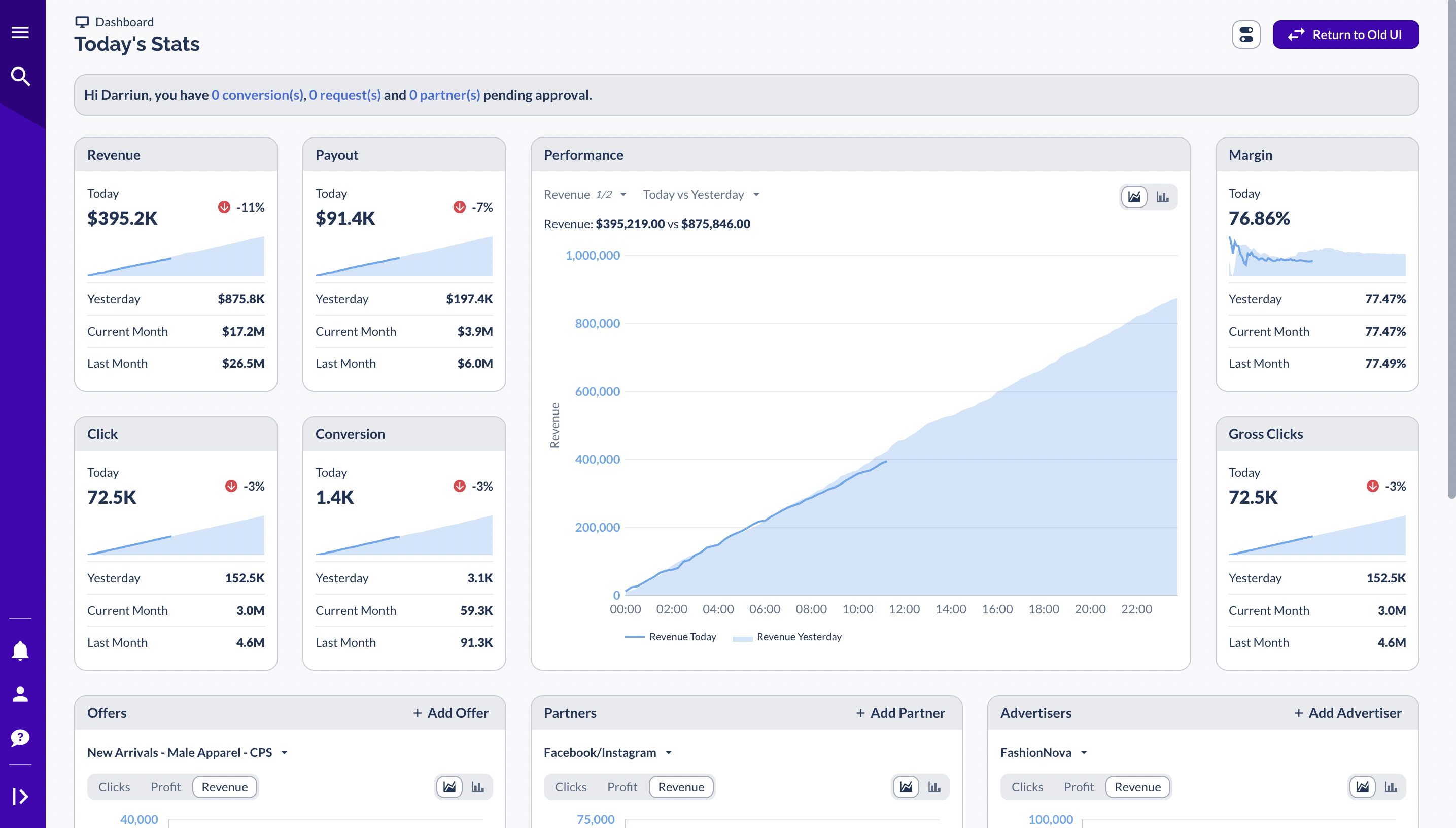 Everflow assists businesses in staying ahead of the curve in performance marketing. Everflow manages to scale via Google Cloud, drill-down analytics reporting, and automated optimization via Smart Switch.
6 – ClickMeter
ClickMeter is link-tracking software that allows businesses and professionals to create tracking links, use them in advertisements, and generate real-time reports. Among the key features are affiliate tracking, IP geo-targeting, URL shortener, branded link management, tracking pixel, and affiliate networks.
The goal of ClickMeter is to help marketers take control of their marketing links and maximize conversion rates. Users can monitor, compare, and optimize their links using a portfolio of tools from a single virtual platform.
7 – Tune
TUNE is a cloud-based platform for managing marketing partnerships across digital channels for small to large businesses. Fraud prevention, payment processing, customizable branding, campaign management, and reporting are all important features.
Tune is a platform that makes it simple to manage partner relationships and accurately track their performance. Tune's platform allows you to create custom reporting dashboards showing how your partners are helping your company. You can keep track of all your interactions with partners in one place and access data on their performance.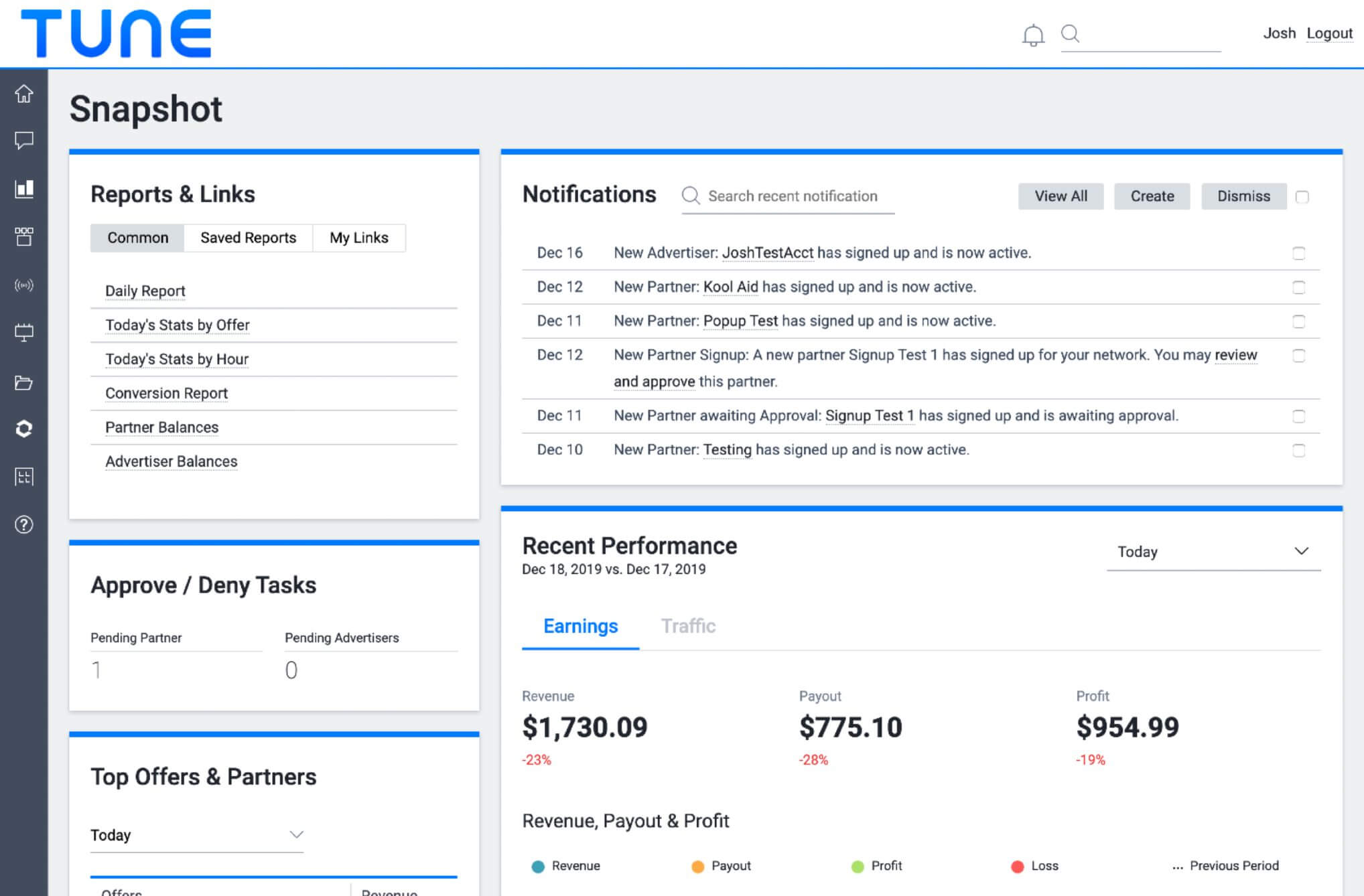 These dashboards simplify identifying which partners are most valuable to your company and which require additional guidance or incentives to perform better. Furthermore, Tune's platform allows you to automate payments based on the performance metrics you define for each partner, allowing it to be used by businesses of any size, from small startups to large multinational corporations.
8 – eLitius
eLitius is an open-source affiliate management software that provides a comprehensive solution for businesses looking to launch and manage their affiliate programs. With eLitius, businesses can easily recruit affiliates, provide them with marketing materials, and track visitors and transactions to ensure accurate commission payouts.
One of the key advantages of eLitius is that it is open-source, which means that it is free to use and can be customized to meet the specific needs of each business. This makes it an ideal solution for small and medium-sized businesses that may not have the budget for more expensive, proprietary software.
Another advantage of eLitius is its user-friendly interface, which makes it easy for businesses to set up and manage their affiliate program. With eLitius, businesses can quickly and easily track affiliate performance, monitor visitor activity, and generate detailed reports on the success of their affiliate program.
Additionally, eLitius provides affiliates with a range of tools to help them promote the business' products or services, including customizable links, banners, and other promotional materials. This helps ensure that affiliates can promote the business and earn commissions effectively.
It's a versatile and affordable solution for businesses looking to launch and manage their affiliate programs. With its open-source architecture, user-friendly interface, and range of features, eLitius is well-suited to the needs of businesses of all sizes.
9 – Tapfiliate
Tapfiliate is a comprehensive affiliate tracking software that offers more than just the tools to start and manage an affiliate program. It is a platform that provides businesses with the resources and support they need for successful affiliate, referral and influencer marketing.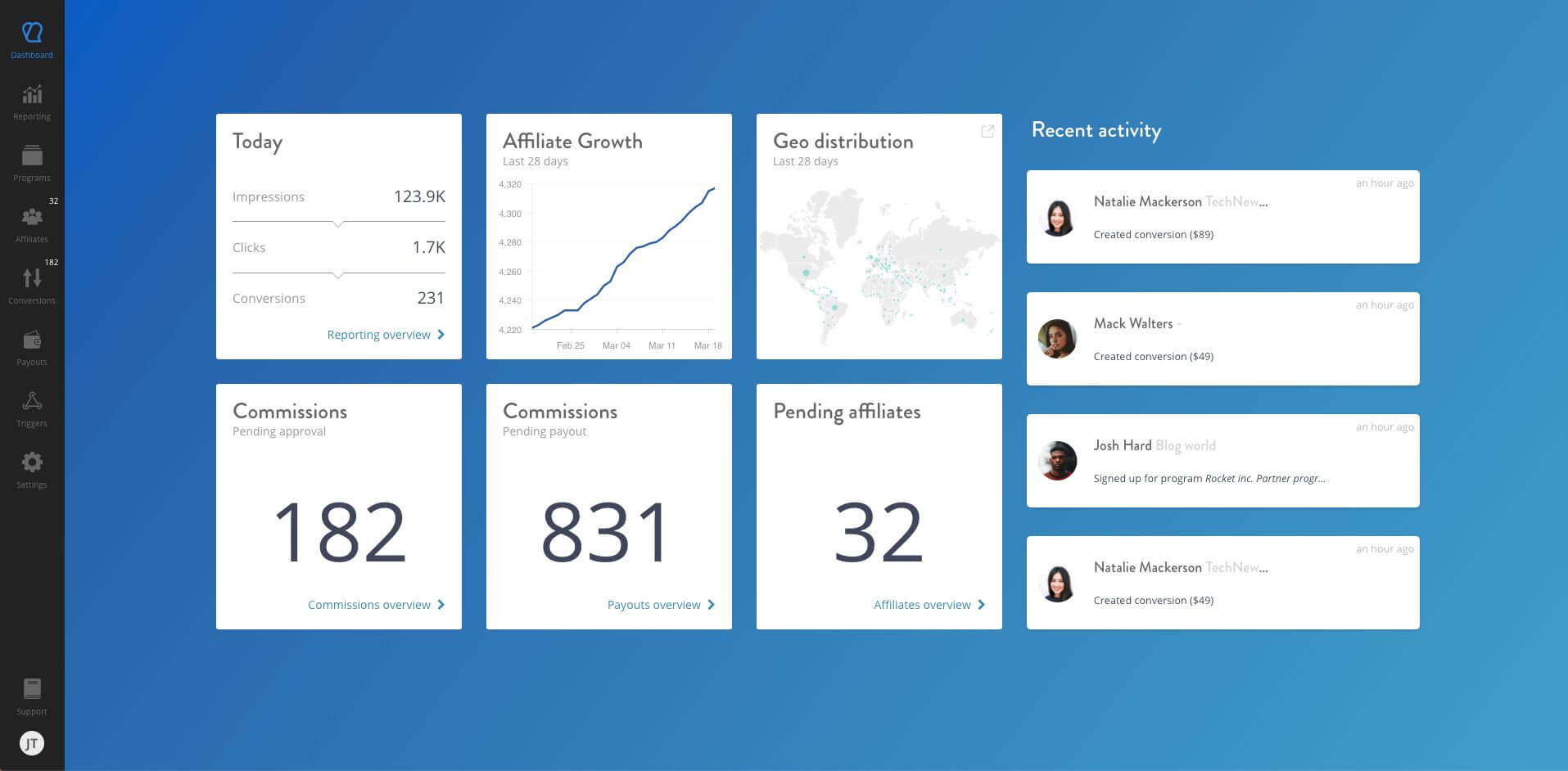 One of Tapfiliate's standout features is its quick start guide, which walks businesses through the launch process step-by-step. This guide makes it easy for businesses to get started with Tapfiliate, even if they are new to affiliate marketing. The platform also offers a number of educational resources to help businesses learn more about affiliate, referral, and influencer marketing, including tutorials, case studies, and articles.
In terms of software functionality, Tapfiliate provides businesses with everything they need to launch and manage a successful affiliate program. This includes tools for recruiting affiliates, tracking visitors and transactions, and paying out commissions. The platform also offers detailed reporting and analytics so companies can see how their affiliate program is performing and make changes if necessary.
One of the benefits of Tapfiliate is its flexibility and customization options. Businesses can create custom landing pages, set rules for paying out commissions, and choose from a number of payment options. This way, companies can customize their affiliate program to their specific needs.
10 – HOQU
HOQU is a decentralized marketing platform that is changing the way businesses approach affiliate marketing. As the first decentralized platform of its kind, HOQU allows merchants and affiliates to interact directly, without the need for intermediaries or brokers. This eliminates the middlemen and ensures that cost per action (CPA) deals are fair and transparent.
The business version of HOQU integrates advertisers, networks, and affiliates into a single ecosystem. Each member of the ecosystem is given access to all available marketing instruments and campaigns, thanks to the unified account feature. This makes it easy for businesses to manage their affiliate marketing program, recruit affiliates, and track visitors and transactions.
HOQU's use of smart contracts ensures that CPA deals are fair and transparent. Smart contracts automate the process of tracking conversions and calculating commissions, eliminating the risk of human error or fraud. This provides businesses with a secure and reliable way to manage their affiliate marketing program.
Why You Need a SaaS Software to Manage Affiliates?
Affiliate marketing can effectively drive sales and revenue for your business, but managing affiliates can be time-consuming and challenging. A SaaS software solution can simplify the process by automating key tasks and providing a centralized platform for managing your affiliate program. A SaaS solution can streamline tracking and reporting, manage commissions and payments, and easily communicate with affiliates.
The software can also integrate with your existing systems, such as e-commerce platforms and marketing tools, to provide a seamless and efficient process. Additionally, the software can provide valuable insights into the performance of your affiliate program, allowing you to make informed decisions to optimize your strategy. Furthermore, a SaaS solution provides a secure platform to manage sensitive information, such as financial details and is scalable to meet the growing needs of your business.
In short, a SaaS software solution can help you manage your affiliate program effectively, freeing up time and resources to focus on growing your business.
What can Affiliate Management Software do for you?
As a business owner, affiliate management software can offer several benefits. From tracking conversions and managing commissions to recruiting and training affiliates, we'll take a closer look at what affiliate management software can do for you, whether you are a small business just getting started with affiliate marketing or a larger company looking to scale your program.
Streamline Workflow
The software can automate many tasks associated with managing an affiliate program, such as tracking and reporting, commission management, and payment processing.
Affiliate management software can streamline operations by automating tasks such as:
Tracking and Reporting: affiliate management software can automatically track affiliate sales and commissions and provide real-time reports to help you monitor the performance of your affiliate program.
Commission Management: manage commission payments, calculate and distribute commissions to affiliates, and provide detailed reports on commission earnings.
Payment Processing: handle payment processing, including automatic payments to affiliates and tracking payments made and received.
Affiliate Recruitment: streamline recruiting and onboarding new affiliates, allowing you to quickly and easily manage your affiliate network.
Communication: provide an easy-to-use platform for communicating with affiliates and managing the affiliate program, reducing the time and effort required to manage your affiliate network.
Increase Efficiency: by automating tasks and providing a centralized platform for managing your affiliate program, the software can help you save time and increase efficiency.
By automating these tasks, affiliate management software can help you save time and increase efficiency, allowing you to focus on growing your business.
Enhance Security
Affiliate management software can provide a secure platform to manage sensitive information, such as financial details. This, in time, can enhance the security of your affiliate program in several ways:
Data Encryption: protect sensitive information, such as financial details, through data encryption and secure servers.
Prevent Affiliate Fraud: there are a lot of measures in place that can prevent affiliate partners from creating multiple accounts and abusing the system in many other ways.
User Authentication: implement secure user authentication protocols, such as two-factor authentication, to ensure that only authorized users have access to sensitive data.
Regular Updates: when using SaaS software, it's regularly updated to address security vulnerabilities and ensure the protection of your data. Software vendors monitor the cybersecurity risks and often take precautionary measures before time.
Why Choose Scaleo?
Scaleo is a comprehensive affiliate management software that is easy to use and has a very intuitive user interface. Scaleo's framework is the safest and most accessible solution for you as we do not charge for clicks, just for conversions. If you are new to online marketing and have never used affiliate marketing software before, our account manager can guide you, teach you what you need to know, and will follow you step by step through the implementation and building process of your affiliate program or network.
Conclusion
To choose the best affiliate management software as a service (SaaS), you should consider the following factors:
Features: Does the software offers all the features you need, such as detailed tracking and reporting, commission management, and payment processing?
Integration: Check if the software integrates easily with your existing systems, such as your e-commerce platform and marketing tools.
User-friendliness: Pick an intuitive and user-friendly interface to improve your and your affiliates' UX.
Pricing: Compare pricing models to fit your budget.
Support: Reliable customer support around the clock can always come in handy!
Security: The software of your choice must protect sensitive data, such as financial information, offer multiple layers of protection and authentication.
Scalability: You will expand as time goes by, check if the software can scale to meet the growing needs of your business.
These are just a few key factors to consider. Ultimately, the best affiliate management software for you will depend on your specific business needs and goals.