As a business owner in the affiliate industry, you probably know that fraud and scams are ever-growing issues that affect thousands of businesses on a daily basis.
In this post, we are going to go over Scaleo's new security features (2FA and Advertiser Security Token for Postback) that allow you to prevent fraudulent transactions and secure your business.
Two-factor authentication goes beyond the standard login through a secure password. Two-factor authentication allows you to verify your identity through email, which adds an additional layer of protection for your account. This safeguards you against password theft and unauthorized logins.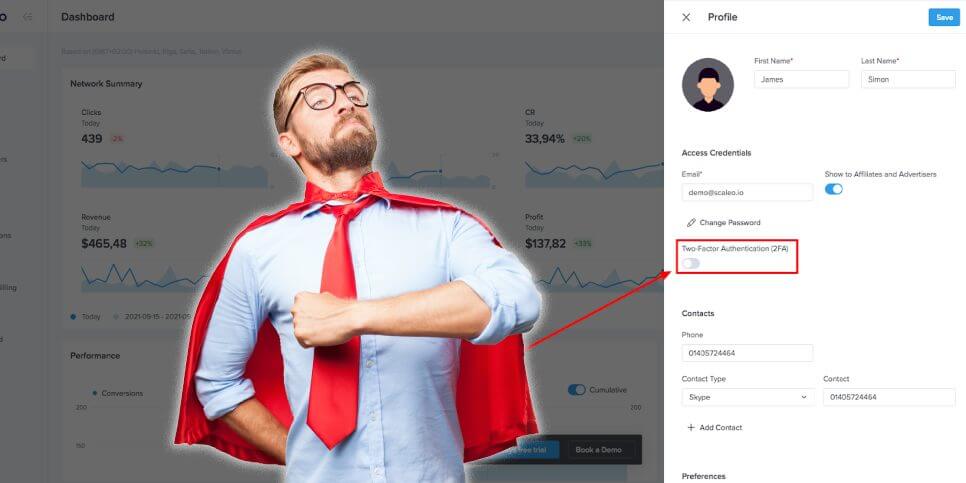 Since your password is a gateway to your entire business, you really wouldn't want to risk it. According to Google, your password can be easily leaked, especially if you are:
Using the same password across multiple websites/databases.
Downloading potentially vulnerable software/apps
Clicking on redirect links in emails
With a double layer of security, you can no longer fall victim to password leaks. Even if someone gets their hands on your passwords, they would still need your phone or access to your email to pass through.
That being said, never use the same password for the email address from which you will authenticate your login!
With this new and improved feature, you can sleep tight at night, knowing that your access to Scaleo's platform is 100% secured.
This feature protects you against postback fraud. Because postback URLs are processed on the server, potentially unscrupulous partners cannot use conversion pixels to increase their earnings falsely. Use the following features if you're employing server postback tracking to reduce the possibility of fraudulent behavior.
If you are running your affiliate network on Scaleo's platform, you should highly encourage your advertisers to start using the advertiser security token for postback.
It will add a second layer of authentication to conversions, similar to an API key in that sending the value in a postback request authenticates the conversion—failure to pass that value results in a denied conversion approval.
The Advertiser Security Token for Postback is configured at the advertiser level and applies to all postback offers created by the advertiser. Partners are unable to access or see this value.
Conclusion
A good foundation for any successful affiliate network is a robust, secure, and scalable platform, such as Scaleo.
Scaleo allows you to have full control over your affiliate business and will also alert you about any suspicious activity, such as bad traffic and unauthorized affiliate activity.