Multi-Level affiliate marketing (also known as multi-tier marketing, or simply MLM) – has been around for a very long time now. Since this marketing structure works so well, today many software solutions are designed to provide network owners and advertisers with multi-tiered commissions and payout structures.
In this post we will discuss what MLM is, how it differ from traditional affiliate marketing and what MLM software can do for your business. Do you need affiliate MLM affiliate software for your business?
Let's find out!
In case you have landed on this list looking for the best MLM software, here is a quick reference list:
Best Affiliate MLM Software
Multi Tier Affiliate Software
What does it offer?
Scaleo MLM software
Scaleo is a leading affiliate software that allows building a multi-tiered partner structure, in any industry, especially financial, gaming and COD, tackling the industry's particular needs. It is both an MLM tracking software and partner management.
MLM Builder
Coud-based (aka SaaS), and users have complete administrative authority. The user controls everything from corporate management to product and order management.
Hybrid MLM
Offers customized and modularized multi-level marketing (MLM) business solutions. It offers various MLM compensation plans and also supports multiple languages and currencies.
Infinite MLM
Basic Multi-level marketing builder interacts with Magento and Opencart, two of today's most prominent eCommerce platforms for online transactions.
Epixel MLM
Basic multi-level marketing functionality that offers MLM structure, direct sales, party plan, affiliate marketing, and social selling with large distributors and customer networks.
Freedom
Multi-level marketing (MLM) software helps direct sales companies of all sizes manage compensation plans, customers, inventory, leads, orders, commissions, and more. Sales representatives can communicate with a specific target audience via messages.
Income Access
Key features include affiliate management, banner management, fraud detection, affiliate tracking, commission management, social media promotion, lead generation, multi-level marketing (MLM) and email templates.
Firestorm
Cloud-based multi-level marketing solution that helps businesses manage sales and affiliate and promoter compensation. This customizable, scalable and modular tool is used by startups and experienced entrepreneurs to launch products and enter new markets.
DirectScale
Data-driven software for MLM and direct-selling companies.
It is cloud-based and helps established affiliate businesses manage data, eCommerce, orders, reports and other important operations. Shopify integration and business intelligence data, we are the number one choice to run, know and grow your business.
MarketPowerPRO
MLM software for simple to complex compensation plans. It offers replicated websites, back office, eCommerce, website, commissions and marketing.
However, like I said, this post will be not only about affiliate MLM software but also about everything around the affiliate MLM software business.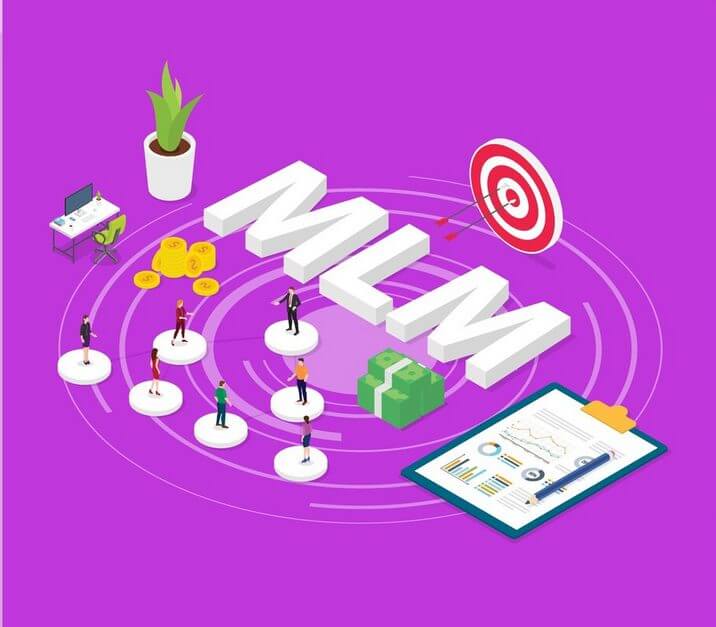 Affiliate Marketing vs. MLM – Are They The Same?
If you are trying to make some extra money, affiliate marketing is an efficient way to do it. However, many people confuse affiliate marketing with multi-level marketing (MLM). This misconception keeps some from getting started with an otherwise fun and lucrative side business.
Unlike MLM companies, affiliate marketing services are free to join and you will not be asked to employ someone else on a "network" basis. If you know the differences between affiliate marketing and MLM, you will see that the former can lead to a decent income.
In this article, we will clarify how the two methods work, explain the main differences between them, and then discuss some of the benefits of affiliate marketing. So, let's get started.
What is Multi-Level Marketing?
In multi-level marketing (MLM), you join a team to endorse a product or service. All members of the MLM network try to promote the exact same product or service. In most cases, you will be recruited by someone who is already part of the network. A typical MLM network would look something like this:
Multi Level Marketing vs Pyramid Scheme
After reading this far, you may be wondering – is affiliate marketing a pyramid scheme? If this resembles a Ponzi scheme, it's because multi-level marketing is as close to a pyramid scheme as you can get without keeping things legal.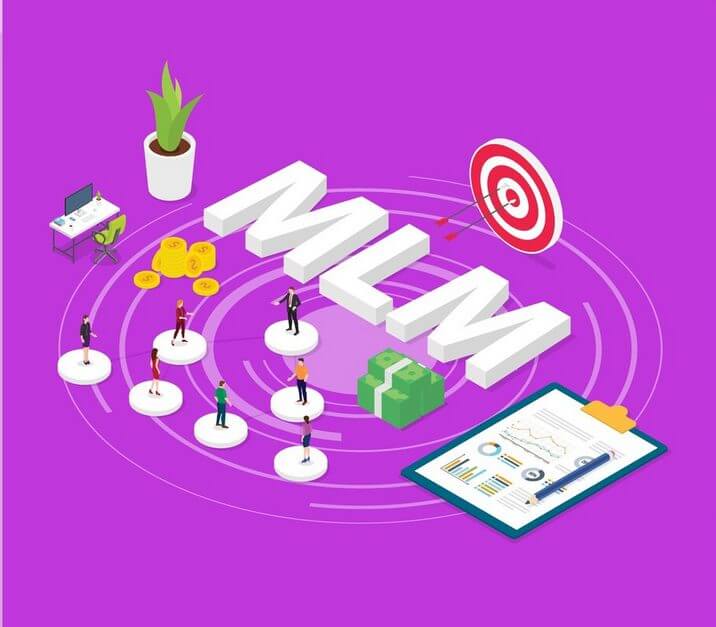 As long as a legitimate product or service is marketed through the network, it is a legal pyramid. So most MLM companies find a product or service they want to market and then build a network to promote it. What makes a pyramid scheme illegal is that no product or service is offered – you just pay to be part of the network while you add people to the network to earn commissions.
In my observation, 99% of all MLM systems out there are illegal borderline cases. If you promote a product or service in the network, you can hardly make any money. This is because you are at the bottom of the pyramid. Real money is made by hiring people to sell you a product or service.
The more people you hire and the more people you recruit (that was a mouthful, I know), the higher commissions you get on ALL.
So since you start at the bottom of the pyramid, you basically share most of your commissions with the higher members of the pyramid. Unless you employ a lot of other people, you will never be able to earn a living full-time.
Affiliate Marketing vs. MLM – understand the difference
Multi-level marketing is also called network marketing or pyramid selling. Because revenue is commission-based and comes from sales to end users, MLM is often confused with affiliate marketing.
In fact, there are some significant similarities between the two
Meanwhile, the purpose of MLM is to make the people at the top – rich, affiliate marketing, sales, and commissions – independent of the other members of the "network"
Affiliate marketing is, therefore, something quite different
In this approach, participants choose which merchandise to recommend and receive a commission for each sale they make. The retailer or company pays this money to the affiliate for driving, selling or recommending. There is no recruitment network involved.
Read our related post: where to find affiliates?
There are also no start-up fees for entering the affiliate marketing network. As long as you have a method to promote products, you can start doing this free of charge. Many people find this approach very profitable, and the partnership is mutually beneficial to both the organization and the individual affiliates.
3 Benefits of Affiliate Marketing vs MLM Systems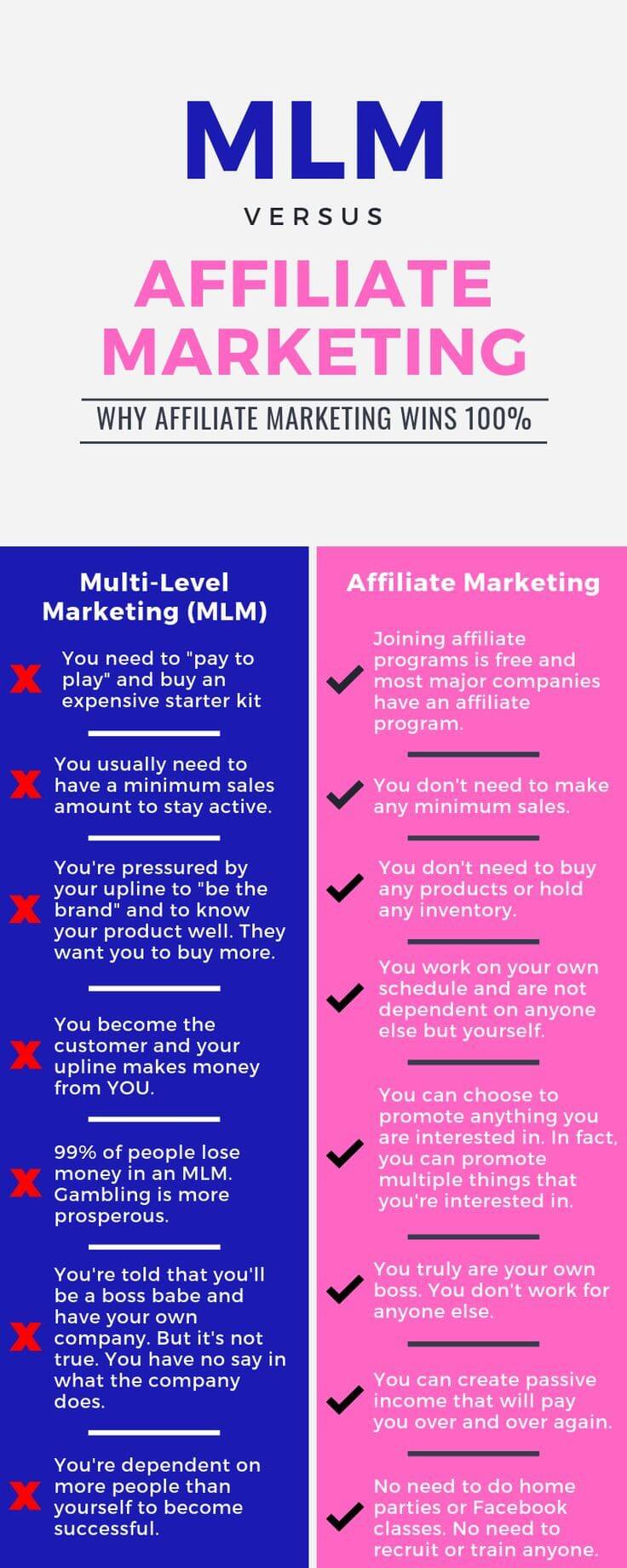 Affiliate marketing vs MLM is a common dilemma. Let us assume that you understand the basic differences between these two marketing and advertising methods. Now let us look at the three advantages of affiliate marketing over MLM systems.
1. You can pick goods to sell based on your interests.
One of the advantages of affiliate marketing is the degree of power you have. First of all, you can choose which brands you want to work with and which goods or services you want to recommend.
This allows you to focus on the things you are interested in and passionate about. When you choose products that you know and already use, you help your customers make better buying decisions.
With MLMs, you are limited to promoting unique products that your parent company has selected. You may not be interested in these products, and it can be challenging to sell something you do not believe in.
2. No joining fee + every sale earns money.
MLMs usually have sign-up fees and other start-up costs. Most participants have to invest in a package that includes the items they are to market. Although sponsors also receive discounts on these items, the amount usually only covers the cost of belonging to the network.
Marketers often have to reach certain points in several MLMs before they see real money. If any, much of the money you make comes from recruiting other people.
3. You have full control over how to advertise affiliate goods.
Affiliate marketing networks monitor their affiliates' purchases through special tracking links. Brands see how consumers arrive at their websites and offer credit to the promoter who caused the traffic.
So there are a variety of approaches you can use for affiliate marketing advertising. You can post your link anywhere as long as you do not bother other people with comments or emails. Some of the most common ones are websites or blogs, product reviews, social media, and videos.
Affiliate marketing can be done exclusively online, and you can sell it to complete strangers. Many MLM participants can make sales this way, but most of their revenue comes from direct communication.
MLM is designed to recruit other participants. Much more face-to-face interaction is required to build a network. This can include tactics that others find disruptive.
With affiliate marketing, you often only talk to people who are likely to be interested in your products. Through an affiliate website, for example, you can tailor your content to reach people who are looking for products in your niche.
Why MLM isn't a viable business model
First of all, realize that owners of MLM networks are typically quite successful marketers themselves, but a significant number of them are still very dishonest.
They will tell you anything you want to hear to get you to join. They already know the issues and will answer them in a way that guarantees them another sales rep (which you are to them). Also remember that these advertisers can influence others to hire more people. Rest assured that more than once they will tell you to hire your closest friends and family members so they can expand their network.
So first and foremost, let me tell you that multi-level marketing is neither fast nor easy
If you do not have a lot of friends willing to work for you, it will take you a long time to recruit enough people to get high enough on the pyramid ladder to earn decent commissions
It can be a full-time job to recruit someone to join the network, not to mention marketing the product or service you are selling and for which you are to receive commissions. What do you think the people you hire will do? Sell goods to get someone higher in the pyramid commissions or waste their time recruiting others.
Even if you manage to get to the top of the pyramid, you are not running your own business. It is up to you to sell to those below you in the pyramid. You gain nothing if they do not sell. Besides, you do not even get to choose which goods or services to recommend. You are at the mercy of the MLM company that determines this. In other words, you are nothing more than an employee and can be fired at any time.
Some of you may insist that there is money to be made in MLM. I agree that you can. But let us say you want a safer, more serious business that is long-term (one that you actually run) and takes just as much time to be profitable.
In this case, affiliate marketing is a far better choice.
But how do MLM network operators make millions (and do they make millions)?
In different ways.
First of all, with many of these networks, they get most of the fee when you sell the goods or services they want you to sell. Another way these companies make a lot of money is by offering additional "marketing plans" that help them make more sales. You get exclusive access to a marketing program, or you get upgraded merchandise to sell, discounted newspaper ads, or anything else that will draw you in. If your marketing package does not boost sales, they'll keep trying to convince you until you actually leave.
What is MLM Affiliate Software?
An MLM affiliate program is a marketing strategy where affiliates receive a commission when they make an online purchase through the specified affiliate link. When the affiliate recruits new sub-affiliates and sales are made through the new sub-affiliates, the affiliate receives a certain percentage commission on the product sales.
The commission depends on the number of sub-affiliates (and this is what you need to configure in your MLM commission software). Similarly, the chain process continues through sub-affiliates and you earn money for every sale that comes through the affiliate's referral link.
Affiliate MLM software offers affiliate marketers integration with multi-level marketing companies. It has up-to-date and customizable features that help affiliates choose the best affiliate marketing plan and manage their network with the goal of growing commission income.
The MLM program also keeps track of new sub-affiliates and newbie sales.
Top MLM Affiliate Software in 2023
A high-quality product, compelling content, and qualified partners are the prerequisites for a company's long-term success in affiliate marketing. A management platform designed to grow your network, on the other hand, can make a big difference.
With effective management, it is possible to keep an eye on every aspect of the affiliate program, including all the necessary tracking and monitoring of an affiliate's performance, as well as finding new affiliates.
Moreover, an effective software of this type allows its users to examine all weak and strong aspects, which can help them optimize their plans. Therefore, we have compiled a list of the best MLM affiliate software solutions for 2023. In this list, you will find multi level marketing software price, features, advantages and disadvantages.
Scaleo MLM affiliate software
Scaleo is a fully managed multi-level, multi-tiered affiliate marketing software that allows you to track, analyze and optimize your affiliate business and affiliate marketing campaigns in real-time using cutting-edge AI technology. This MLM software is suitable for networks, businesses, and media buyers.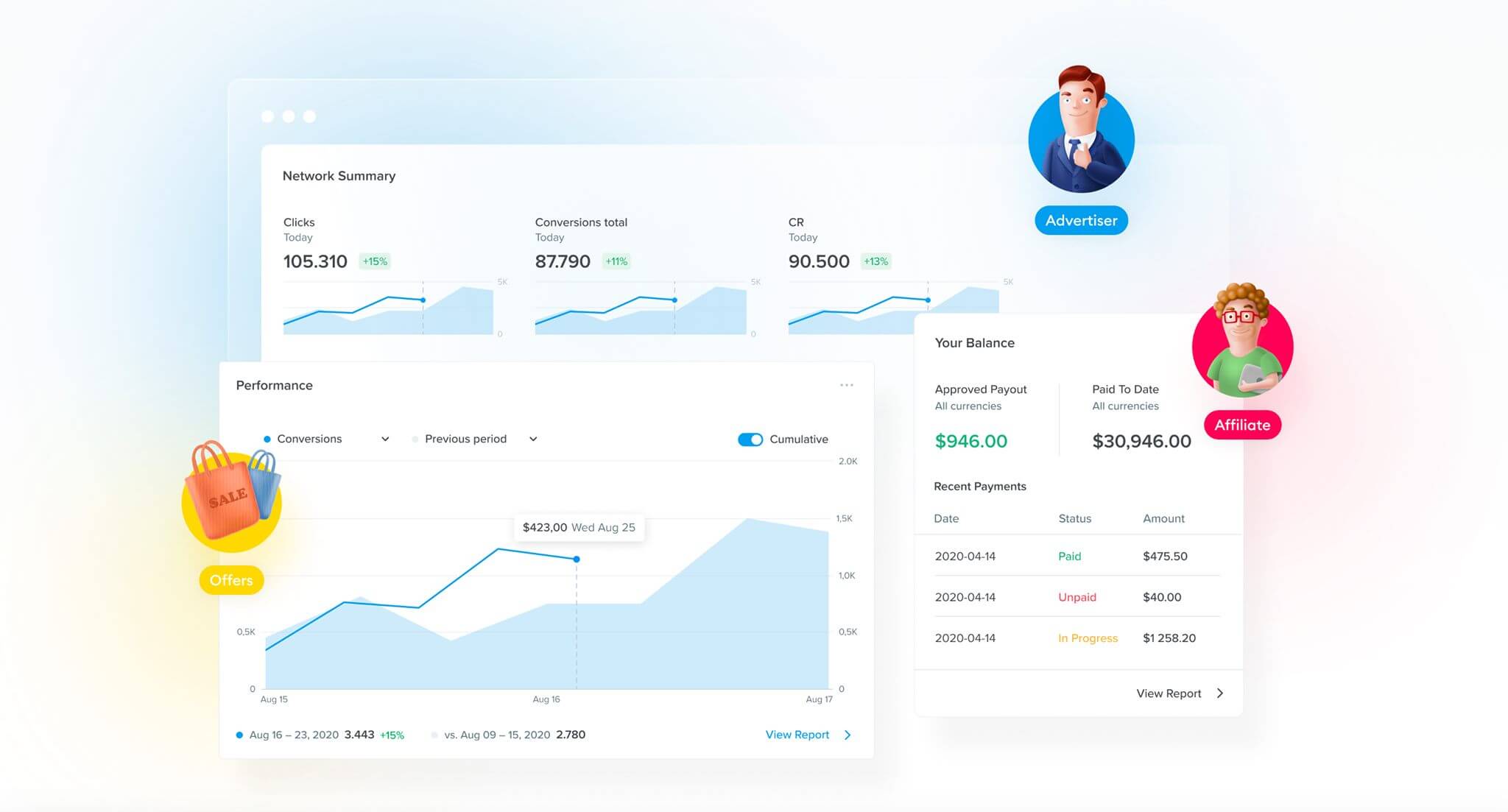 Scaleo MLM affiliate software helps you find the best time to convert your campaigns and optimize traffic sources by eliminating fraudulent traffic and focusing on high-quality conversions. Scaleo integrates with an infinite number of third-party technologies.
The following are the primary advantages of Scaleo affiliate software:
Managing and tracking the affiliate network's performance is effective.
The payout of commissions is straightforward, with automatic billing.
The app's scalability allows it to grow in tandem with your business.
Integration with the most common eCommerce platforms is simple.
SEO boosts your rankings by utilizing external affiliate links.
Excellent user interface. Scaleo features a visually appealing and robust user interface that is simple to grasp and adapt to.
The setup is simple. This software solution enables users to create their own MLM affiliate programs in minutes.
There are no transaction costs. Scaleo does not impose a transaction fee on its users. Instead, it offers several pricing plans based on the number of affiliates, clicks, impressions, conversions, and other essential factors.
MLM Builder
MLM Builder has done wonders for many eCommerce enterprises worldwide, and hundreds of organizations rely on their excellent MLM software solutions. Their app puts users in charge, allowing them to work in the market as they choose while remaining competitive.
According to the official website, the basic goal behind this app is to make it easier for customers to attract and retain more distributors. Automation is ranked high among the most important benefits, which the corporation constantly highlights.
The platform is entirely cloud-based, and users have complete administrative authority. The user has control over everything from corporate management to product and order management.
The following are the most noteworthy advantages of adopting this platform:
It's mobile-friendly.
Real-time genealogies are available on the platform.
Comes with a number of pre-installed payment gateways.
The platform includes an eWallet and interfaces with a variety of third-party commission payment services.
Can compute all of the company's commissions and bonuses in only a few clicks.
Hybrid MLM
Affiliate marketing MLM integration is provided by Hybrid MLM software to multi-level marketing firms. It has current and adaptable features that assist affiliates in selecting the best affiliate marketing plan and managing their network to grow commission earnings.
The program also keeps track of new sub-affiliates and sales made by newcomers.
The following are the primary advantages of this software solution:
Budget-friendly.
Easy to use.
There are numerous integrations.
Infinite MLM
Infinite MLM is one of the most well-known network marketing software development firms. It interacts with Magento and Opencart, two of today's most prominent eCommerce platforms for online transactions.

The company created an MLM network marketing systems software that includes all of the add-ons, features, and functionalities that your business may require. It focuses on software efficiency and a wide range of functionalities.
Furthermore, the platform is easy to configure and fairly robust and scalable, indicating that the development team behind this software is seasoned and highly skilled.
When considering Infinite MLM affiliate software, you should be aware of the following:
They have more than ten years of experience in MLM software development.
Their software tool is available all over the world.
Infinite MLM is stable and dependable.
The tool is entirely secure and safe.
Freedom
Freedom has been in business for quite some time, and the company has repeatedly demonstrated that its products are of excellent quality and dependable. Their Freedom software is multi-level marketing (MLM) administration solution that assists businesses in managing direct sales, commissions, payments, inventory, communication, promotions, and more.
The platform provides white-label features, allowing enterprises to develop a personalized representative gateway to strengthen brand identification. It's one of the older yet best MLM marketing system, though it's a little outdated by today's standards.
The Freedom Platform platform is entirely cloud-based, easy to use, convenient, and accurate, all of which are critical features when dealing with commission payouts.
Freedom Platform also has the following features:
The company is continually working to improve its user interface.
Their platform is quite customizable.
The Freedom Platform is really easy to set up.
Multi-Tier Affiliate Software
Affiliate marketing programs with two or more levels are known as multi-tier affiliate marketing programs (tiers). As is customary at the first level, you will receive your standard commissions.
A business relationship exists between you and the merchant (if you are a regular affiliate).
You can earn additional commissions on revenue earned by any sub-affiliates you refer to at the lowest levels of the affiliate program. The relationship between your sub-affiliates and the merchant will exist, but you will be reimbursed. There are only a limited number of levels in most affiliate schemes, often 2–5 levels deep, and your commissions decrease as you progress through the tiers.
The multi-tier affiliate program is a fantastic way to motivate your existing affiliates to acquire new affiliates while also rewarding them for their efforts in the process. With Scaleo, you can track affiliates at several levels and at multiple tiers, with an endless number of tiers. On the other hand, we do not advocate for a large number of them. The purpose of this is to make things easier for you and more clear for your affiliates. In order to create a multi-tier affiliate commission structure, you need to configure tiers in your multi-tier affiliate software.
Using a multi-tiered commission structure has the potential to result in affiliates leaving your network altogether. On the other hand, you will attract affiliates who are eager to labor for a dollar an hour. You will be able to reduce your costs by selecting those who would be better suited to a different specialty. As a result, those you hire will have a greater appreciation for their work.
Multi-level Marketing Software
When you hear the term "multi-level marketing software", it's basically the same thing as multi-level affiliate software, the only difference is that it can be used for a broader purpose. Multi-level marketing software, often known as network marketing software, is a marketing approach in which firms sell goods and services to their member network rather than through retail stores.
Members make personal contact with consumers and earn a commission on each sale.
MLM software is designed for organizations employing multilevel marketing methods to reach prospective clients. These tools aid in the automation of day-to-day business operations, the promotion of items, the tracking of purchases, and the management of member networks and their associated rewards.
MLM software promotes the growth of affiliate marketing businesses by assisting users in managing sales, streamlining revenue, and tracking inventory. These solutions can aid lead generation, product distribution, and customer engagement.
The Advantages of MLM Software
Distributor/member management and retention entail keeping track of distributor relationships, preparing sales statistics, and tracking other indicators. Keep current member information such as performance, sales, bonus eligibility, and goals organized and up-to-date.
Multiple compensation plans: MLM software allows for multiple compensation plans, such as binary, matrix, and uni-level plans, which may be configured based on business needs to determine how distributors earn commissions, bonuses, and other dividends.
Inventory management entails identifying and tracking available inventory as well as viewing detailed product and service information.
Track member performance: To enhance team success, keep track of the number of members as well as their individual growth. The multi-level marketing system allows members to maintain their profiles, check their position and performance, and create reports.
Conclusion
As we have described in this article, affiliate marketing has three advantages over MLM programs: You can choose the goods you sell based on your interests, participation is free, and you earn on every sale, regardless of others. You have full control over how you market your services and products, and you have full control over the business you have built with affiliate marketing.
While as a business owner, you can benefit directly from building an MLM scheme, you have to take into account all the risks associated with it, including the unwillingness of the affiliates to join and waste their time.
If you do run or consider running an MLM affiliate network, check out Scaleo – we offer a multi-tiered commission structure that is easy to set up and follow.
Frequently Asked Questions About MLM Software
MLM affiliate software – what is it?
MLM affiliate software stands for multi-level marketing affiliate software and is designed to provide affiliates and networks with multi-tier options for running their business. This is a legal and totally legit way to encourage multi-level affiliates to function as a whole, supporting the business. You can find free or paid MLM affiliate software anywhere on the web.
Affiliate marketing vs Network marketing?
Affiliate marketing is an umbrella term for all affiliate marketing methods, while network marketing refers to the earnings structure where commissions are tiered.

What's the difference between an affiliate and a partner?
Due to the obvious overlap between affiliate categories and channels, the terms affiliate and partner cannot be considered separately at all. Influencers, for example, can be paid non-performance, but they can also use affiliate links that pay them commissions for conversions. Just like any other affiliate.
Each compensation plan simply represents the affiliate's value to the brand. The merchant is responsible for determining how to monitor and reward an affiliate's performance. Whether we call them affiliates or partners ultimately makes no difference. Third-party referrals are such an effective marketing tool for increasing sales and brand awareness that the sector will thrive regardless of terminology.
Last Updated on August 25, 2023