Revenue Share (RevShare) is a popular model used in the iGaming business, which involves splitting the revenue generated by an online casino or sportsbook with its affiliates.
Affiliate programs in the gambling and betting industry offer partners to send traffic to their offers with different payment models – CPA, CPL, and RevShare, among other popular ones.
In this article, we will talk about RevShare and explain what it is, what affiliate programs should work with it, and what you should consider before offering a RevShare model to your affiliate partners.
Revshare, short for revenue sharing, is a business model in which two or more parties share in the revenue generated by a product or service. In this instance, the parties involved agree to share the profits from the product or service based on an agreed percentage.
This model is most often used in affiliate marketing, where a partner promotes a product or service and receives a percentage of the revenue from each sale. It is also used in partnerships between companies, where one party provides a product or service, and the other includes marketing or sales services.
Revshare is an appealing model for iGaming businesses because it allows them to share the risk and rewards of business collaboration with another party. It can also incentivize the partners to work harder to generate as much revenue as possible because the more clients they refer through the RevShare model – the more profit they can potentially receive.
However, it is important to establish clear terms, and a fair percentage split to avoid disputes or misunderstandings. If you use a partner software like Scaleo, which offers a deep dive into statistics and very transparent, easy-to-read reports, it will be a lot easier for you to offer and operate RevShare affiliate offers.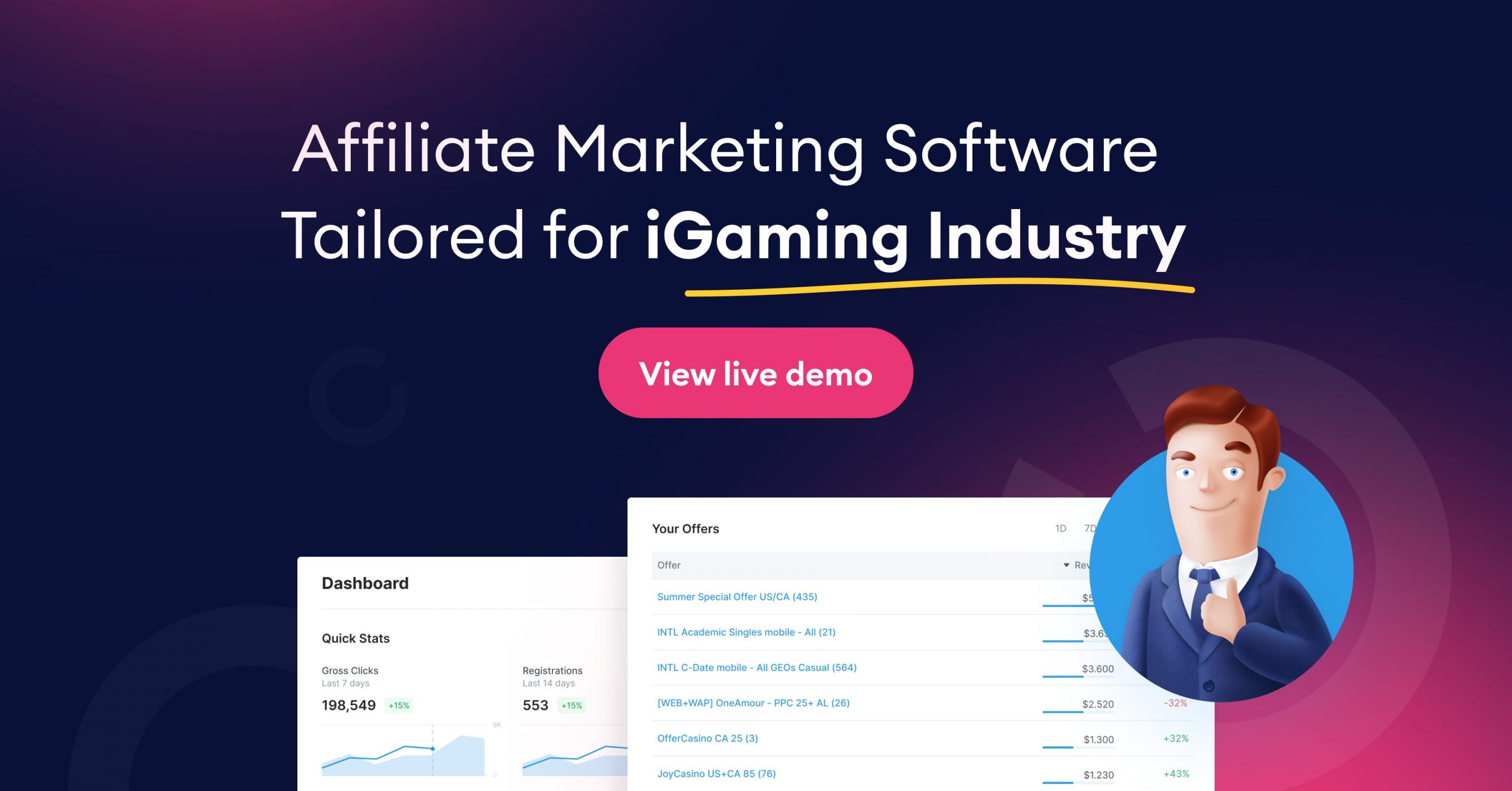 But before we dive into that, let's consider another aspect for you as an iGaming business owner:
If you are an online casino business owner considering running a RevShare model for your affiliates, there are several important things you should consider:
Profit Margins
First and foremost, you need to evaluate your profit margins and determine what percentage of revenue you can afford to share with your affiliates.
You don't want to offer too much of a percentage to the point that it becomes unprofitable for your business.
Profit margins in the context of offering a RevShare model to affiliates refer to the amount of revenue your online casino business generates from each player or customer an affiliate refers to.
To determine your profit margins, calculate the following:
The total revenue generated from each player over their lifetime with your casino minus the total cost of acquiring and retaining that player.
This includes the cost of the following:
marketing
software
customer support
and other expenses associated with running an online casino business.
Once you have determined your profit margins, you need to decide what percentage of revenue you can afford to share with your affiliates. This will depend on your:
iGaming KPIs (business goals)
expenses
competition in the online gambling industry.
Generally, RevShare percentages range from 20% to 50%, but they can vary depending on your affiliate program's specific terms and conditions.
Balancing offers with a competitive RevShare percentage is essential to attract high-quality affiliates and ensure your business remains profitable.
Tip: You may need to adjust your RevShare percentage over time as you monitor the performance of your affiliates and evaluate the impact on your profit margins.
Affiliate Payout Terms
Establish clear and fair terms for affiliate payouts, such as the frequency and minimum payout thresholds. This ensures that affiliates are compensated promptly, which can help build trust and encourage them to continue promoting your iGaming business.
In the context of RevShare, affiliate payout terms most often refer to the agreed-upon terms between an online casino business and its affiliates regarding how and when the affiliates will be paid their share of the revenue generated by the players they refer to the casino.
Here are some factors to consider when writing your affiliate payout terms:
Payment Frequency
You need to decide how often you will pay your affiliates. Common options include monthly, bi-weekly, or weekly payouts. Generally, higher sums are paid out faster to keep the effective affiliates going.
Minimum Payout Threshold
Decide on a minimum payout threshold, which is the minimum amount an affiliate must earn before being eligible for a payout. This will help you avoid making small, frequent payments, reduce transaction fees for both parties, and reduce the load on your affiliate managers who will be managing the payouts.
Payment Methods
Do you know how to pay affiliates? If not, read that blog post we have previously published. In essence, you have to decide how to roll out affiliate payouts: bank transfer, PayPal, or cryptocurrency.
You may need to consider the fees associated with each method.
Payment Processing Time
You need to provide your affiliates with an estimated time frame for processing their payments, which can help manage their expectations and avoid delays or misunderstandings. Suppose payouts are not rolled out automatically at the end of the month or in any other automated fashion. In that case, partners generally have to "request" a payout, and you should allow yourself some timeframe to process these requests, assuming there will be many of them.
Revenue Calculation
Provide your affiliates with a clear and transparent calculation of the revenue generated by the players they refer to the casino. This can help to build trust and foster a positive relationship with your affiliates. If you use Scaleo, we have the most transparent and detailed reports of all affiliate marketing software in the iGaming industry.
Quality of Traffic
The quality of traffic generated by affiliates can significantly affect the success of a RevShare model for an online casino business. Quality traffic refers to the visitors referred by affiliates who are most likely to become loyal players and generate revenue for the casino.
Here are some factors that can affect the quality of traffic generated by affiliates and how they can impact a RevShare model:
Fraudulent Traffic
Also known as bots or fake players, can significantly impact the profitability of an online casino business. Affiliates that generate fraudulent traffic can reduce the revenue generated by the casino and negatively impact the profitability of a RevShare model, not to mention artificially inflate revenue stats and create additional load on affiliate managers who need to root out fraud manually.
Luckily, if your affiliate program is powered by Scaleo, we have an automated Anti Fraud Logic model in all our plans, which helps automatically flag fraud in real-time.
Read more about How to Detect iGaming Affiliate Fraud?
Conversion Rate
The conversion rate of the traffic generated by an affiliate is also essential. The conversion rate is the percentage of visitors referred by the affiliate who register and play at the online casino. Affiliates with a high conversion rate will generate higher-quality traffic and generate more revenue for the casino.
If you decide to offer your affiliates a RevShare model, you may want to consider using affiliate marketing software such as Scaleo. Scaleo offers a RevShare earnings model, which can help you to calculate RevShare for your partners and track their performance more effectively. This can help streamline your affiliate program and make it easier for you and your affiliates to track and manage their earnings.
Player Retention
The quality of traffic can also impact player retention, which is the ability of an online casino to keep players engaged and playing over a long period of time. Affiliates that generate high-quality traffic can lead to more loyal players who continue to play at the casino, generating revenue over time.
Traffic Source
For instance, affiliates that generate traffic through organic search results or paid search ads may generate higher-quality traffic than affiliates that generate traffic through spam emails or low-quality websites via popups or pop down.
By carefully monitoring the quality of traffic affiliates generate, online casino businesses can make informed decisions regarding RevShare percentages and payouts. By partnering only with high-quality affiliates that generate profitable traffic, online casinos can establish a sustainable and profitable RevShare model that benefits both the casino and its affiliates.
The revenue-share model is all about win-win, so the most each party earns, the better.
Affiliate Program Management
You need to have an effective affiliate program management system in place to monitor and manage the performance of your affiliates, track conversions, and handle payouts. This ensures your program runs smoothly and your affiliates are motivated to continue promoting your casino.
Affiliate management involves overseeing and optimizing a company's affiliate marketing program. Affiliate marketing is a performance-based marketing strategy in which an affiliate (publisher) promotes a company's product or service on their website or social media platforms and receives a commission for each sale or conversion that results from their referral.
An affiliate manager is responsible for recruiting new affiliates, managing relationships with existing affiliates, monitoring affiliate performance, and optimizing the program for maximum return on investment. The following are some of the key tasks involved in affiliate management:
Recruiting new affiliates
Providing promotional material
Monitoring performance and fraud
Managing billing and payouts
Optimizing the program
Ensuring compliance
Why do you need a well-oiled affiliate management system, affiliate managers, and maybe a whole department dedicated to affiliate marketing management? Here are a few reasons:
Monitoring and Optimization
For example, a typical affiliate manager is tasked with the following:
Monitoring the performance of your affiliates.
Analyzing the data.
Optimizing the program to maximize revenue
Identifying high-performing affiliates
Improving conversion rates
Implementing strategies to boost player retention.
Relationship Building
Effective affiliate management involves building and maintaining strong relationships with your affiliates. This includes providing them with timely and accurate reporting, addressing any concerns or issues they may have, and providing support and resources to help them promote your online casino.
Financial Management
This includes:
calculating and distributing affiliate payouts
tracking and adjusting RevShare percentages
managing payment processing and transaction fees.
Brand Protection
Affiliate management also protects your brand reputation by monitoring affiliate activity and assuring affiliates adhere to your brand standards and guidelines.
This includes, among other things, monitoring for negative or misleading marketing tactics that could harm your brand reputation.
As you can see, effective affiliate management is critical to the success of a RevShare model for an online gambling affiliate program.
You must comply with all relevant regulations and laws governing online gambling and affiliate marketing in your jurisdiction. This can help you avoid legal issues and ensure your business operates ethically and responsibly.
Compliance and regulations are critical considerations for any iGaming business owner offering a RevShare model. Here are some key compliance and regulatory requirements to consider:
Licensing
Ensure that the iGaming platform you promote has a valid license from a reputable regulatory authority. This will ensure that the platform operates legally and is subject to regulatory oversight.
Anti-money laundering (AML)
iGaming businesses must have policies and procedures in place to prevent money laundering and the financing of terrorism. Ensure that the iGaming platform you are promoting has adequate AML measures, such as identity verification and monitoring of transactions.
Responsible gambling
Ensure that the iGaming platform you promote has responsible gambling measures in place, such as age verification, self-exclusion options, and tools to promote responsible gambling behavior.
Advertising regulations
iGaming businesses must comply with advertising regulations, which vary by jurisdiction. Ensure that your promotional activities comply with local regulations, such as restricting advertising to minors or promoting gambling as a means of financial gain.
Data protection
iGaming businesses must comply with data protection laws, such as the General Data Protection Regulation (GDPR) in the European Union. Ensure that the iGaming platform you promote complies with relevant data protection laws and has appropriate measures to protect personal data.
Taxation
iGaming businesses may be subject to taxation in the jurisdictions in which they operate. Ensure you understand the tax obligations of offering a RevShare model in the iGaming industry.
By considering these factors, you can establish a successful RevShare model for your online casino business that benefits your business and your affiliates.
Whether a fixed CPA payout or RevShare model is more profitable for the business owner depends on several factors, including:
In general, the RevShare model has the potential to be more profitable for business owners in the iGaming industry. This is because it allows the business to share the risk and reward with the affiliate, and the affiliate is incentivized to refer high-value, long-term players to the platform.
The main reason to offer the RevShare model (for you, as a business owner) is that it can help to incentivize affiliates to promote the iGaming platform more effectively.
Since affiliates earn a percentage of the net revenue generated by the players they refer, they are incentivized to refer high-value players who are likely to generate recurring revenue for the platform. This can result in a more sustainable and profitable partnership between the iGaming platform and its affiliates.
Also, the RevShare model can help build a long-term relationship with affiliates, as they have a vested interest in the platform's success. This can result in increased loyalty and more effective platform promotion by affiliates over time.
If you're an affiliate program owner in the iGaming industry and considering offering a RevShare model to your affiliates, it's important to understand the potential benefits and challenges of this commission model. RevShare can incentivize affiliates to refer high-value players who generate recurring revenue for the iGaming platform, leading to a more profitable partnership. However, there are also compliance and regulatory requirements to consider and potential risks such as revenue fluctuations.
Have you decided to offer the RevShare model to your affiliates?
Try Scaleo free for 14 days, and unlock the potential of the Revenue Share model for your iGaming business!