Building effective partnerships is an important part of any B2B partner marketing strategy because partner marketing is an effective tool for driving growth and revenue in a cost-effective manner.
In this blog post, we'll look at the key components of a successful B2B partner marketing strategy, such as identifying target partners, developing appealing value propositions, offering training and support, and monitoring campaign performance.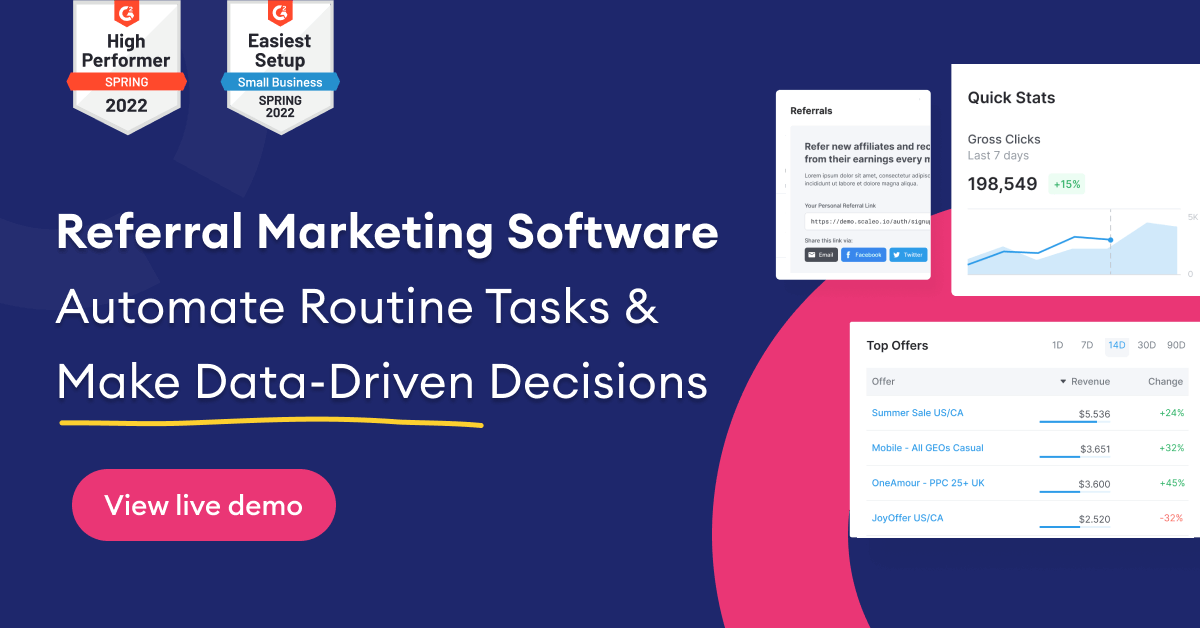 This guide will provide the tools and techniques to create successful partnerships and drive long-term growth, whether you're just starting with partner marketing or looking to optimize your current efforts.
The modern business landscape is characterized by competition and a need to differentiate yourself. A strong, mutually beneficial partnership can be a powerful way to increase and maintain market share, acquire new customers, and maximize customer value.
By the end of this article, you should better understand how relationships play an essential role in business-to-business marketing success. Read on to learn more about building strong partnerships for your business!
What Is B2B Partner Marketing?
B2B partner marketing is a strategy that helps companies in business-to-business (B2B) markets build strong relationships with their partners to increase sales, marketing, and overall efficiency.
It's a common practice among larger businesses. It often involves connecting with resellers, distribution partners, and other entities that have the resources to help your business's market reach, expand products or services into different countries, gain access to new customer groups, and more.
By taking advantage of the already established relationships that these partners have with customers in key verticals, B2B companies can leverage partner marketing to drive sales growth, increase customer satisfaction and loyalty, reduce costs associated with acquiring new customers for a particular service or product, and improve visibility across multiple channels.
Essentially, B2B Partner Marketing helps businesses establish symbiotic partnerships that mutually benefit every involved party—from cost-savings on products or services offered to improved market reach.
By building alliances and fostering collaboration within the industry through their partners' networks, businesses benefit from increased brand awareness opportunities and better positioning in the marketplace.
The Benefits of Partner Marketing
Strong partnerships are essential for successful B2B marketing, particularly in today's competitive environment.
Here are some key benefits of partnering with other brands:
Improved customer service: When you partner with other businesses, you can offer your customers more comprehensive services and solutions. This can help to improve customer satisfaction and loyalty.
Shared resources: When companies work together, they have access to a wider range of expertise and resources that can be used to drive innovation in their products or services.
Increased reach: By partnering with other businesses, your brand has access to a larger customer base. This can help you increase your market share and generate more sales for both partners.
Cost savings: By working together on campaigns or projects, businesses can save on costs associated with research and development, marketing, labor, and distribution.
By leveraging the strengths of both partners, businesses are able to create powerful campaigns that can drive growth for both parties involved. Partner marketing is an important strategy that should not be overlooked for successful B2B marketing.
Choosing the Right B2B Partnerships
It's no secret that having the right B2B partners can be the key to success in B2B marketing. But what makes an ideal partner? The best partnerships are built on trust, respect, and a shared vision for success.
Here are a few tips for finding the right B2B partners:
Research Potential Partners
Take the time to research potential partners thoroughly. Make sure they have a good track record and know their target audience well. Also, make sure the partner's values match yours – this will contribute to a successful partnership in the long run.
Meet Face-to-Face
In today's world of digital communication, it's easy to get lost in the crowd and the idea to meet in person can be your best B2B marketing strategy. Meeting face-to-face can do a lot to build strong relationships between partners. It can also help build mutual trust and understanding between partners, essential for a successful partnership.
Have Clear Goals & Expectations
Having clear goals and expectations is an essential part of any partnership. When both parties know what they need from each other, they can work more efficiently and effectively to achieve those goals. Discuss these goals with your potential partners before entering into an agreement.
By following these steps, you'll be well on your way to finding the perfect B2B partner for your business – one that will help you reach new heights of success!
Strategies for Effective Partner Marketing
Strong partnerships are the key to successful B2B marketing. Understanding the strategies for effective partner marketing is a good way to build such partnerships. You don't need to reinvent the wheel, just look for B2B digital marketing examples online and use tried and tested partner marketing plan template, which already takes into consideration partner marketing best practices.
Developing A Partner Network
When engaging in partner marketing, having a strong network of partners is essential for success. Take the time to identify potential partners and build relationships with them, as each partner will bring advantages and insights to your business. Selectively choosing partners can help ensure that you have good relationships based on mutual trust and respect.
Developing Strategic Objectives
Once you have established a network of partners, it's important to have an overall strategy that outlines what you are trying to achieve and how you plan to do it. This includes creating clear objectives such as growing market share, increasing reach, generating leads, or creating more customer value. Once you have established these objectives, you can decide how best to employ your partner network to realize them.
Utilizing The Right Channels
Choosing the right channels for partner marketing is also key to success. Some of the most effective channels include email campaigns, social media posts, face-to-face meetings, and conferences. Pick channels based on your target audience and product offerings to ensure maximum impact from your campaigns.
Automating Your B2B Partner Marketing Activities
Any B2B partnership's success depends on how effectively and efficiently the marketing activities are handled. Automation is a great way to streamline your operations and keep your partners on top of the latest trends, products, and customer needs.
Automate Your Marketing
Automating your B2B partner marketing activities begins with automating the messages you send to partners. This allows you to personalize the message and target specific partners with relevant information rather than sending generic emails to everyone in your database. This ensures that your partners are always kept in the loop on what's happening in your business and helps build stronger relationships with them over time.
Increase Your Visibility
Another benefit of automating your B2B partner marketing activities is that it gives you more visibility into who engages with you and what type of content they are interested in. By tracking who is taking what action, you can better tailor content for different audiences and determine where there may be an opportunity for growth or improvement.
Using automation tools also makes it easier to quickly identify customer behavior trends so that you can make changes or adjustments as needed. This helps ensure that your partner relationships remain strong over time and that you're always engaging them meaningfully.
Measuring the Results of Your B2B Partner Programs
Effective B2B marketing relies on strong partnerships to reach its desired goals. While it is impossible to measure the success of a B2B partnership through a single metric, measuring results over time can help identify areas for improvement and ensure that the partnership remains productive.
Here are some key metrics to consider when assessing the performance of your B2B partner programs:
Leads Generated: Keeping track of the number of leads generated by your partner program will allow you to easily determine its effectiveness in boosting your marketing efforts and driving new customers.
Sales Efficiency: Knowing how many sales each partner is able to close will give you an idea of how effective they are at getting customers. It can also help you identify areas where you can improve your joint sales training programs and any other tips or techniques that may be useful for increasing sales efficiency.
Return on Investment: Calculating the return on investment (ROI) helps assess the overall success of your partnership in terms of financial performance and whether or not it is worth continuing to invest in the partnership to see further results.
By regularly monitoring these metrics, you can gain valuable insights into your B2B partnerships' success and make informed decisions about optimizing them for maximum benefit.
The Role of Partner Software in Building Strong Partnerships
With the right partner software, it's possible to streamline B2B partnerships and build strong, long-term relationships. Scaleo partner software is such a solution, offering features and benefits to help nurture the growth of B2B relationships.
Features & Benefits
Scaleo has many features designed to help you take control of your partner relationships.
These features include:
Automated tracking and reporting – Scaleo provides in-depth insights into how partners engage with your content and campaigns, allowing you to make informed decisions about your strategies. Looking for an affiliate tracking software? Check out our list!
Customizable dashboards and analytics – With customizable dashboards, you can quickly and easily track performance metrics over time and generate comprehensive reports quickly and easily.
Integration with other tools and platforms – Scaleo integrates seamlessly with other products in the market to ensure maximum compatibility across all channels.
Not only does Scaleo provide all these powerful features, but it also offers a variety of options for customizing your own platform, since it's a white label, highly flexible platform. Whether you're looking for a simple solution or something more complex, there's an option that's perfect for you.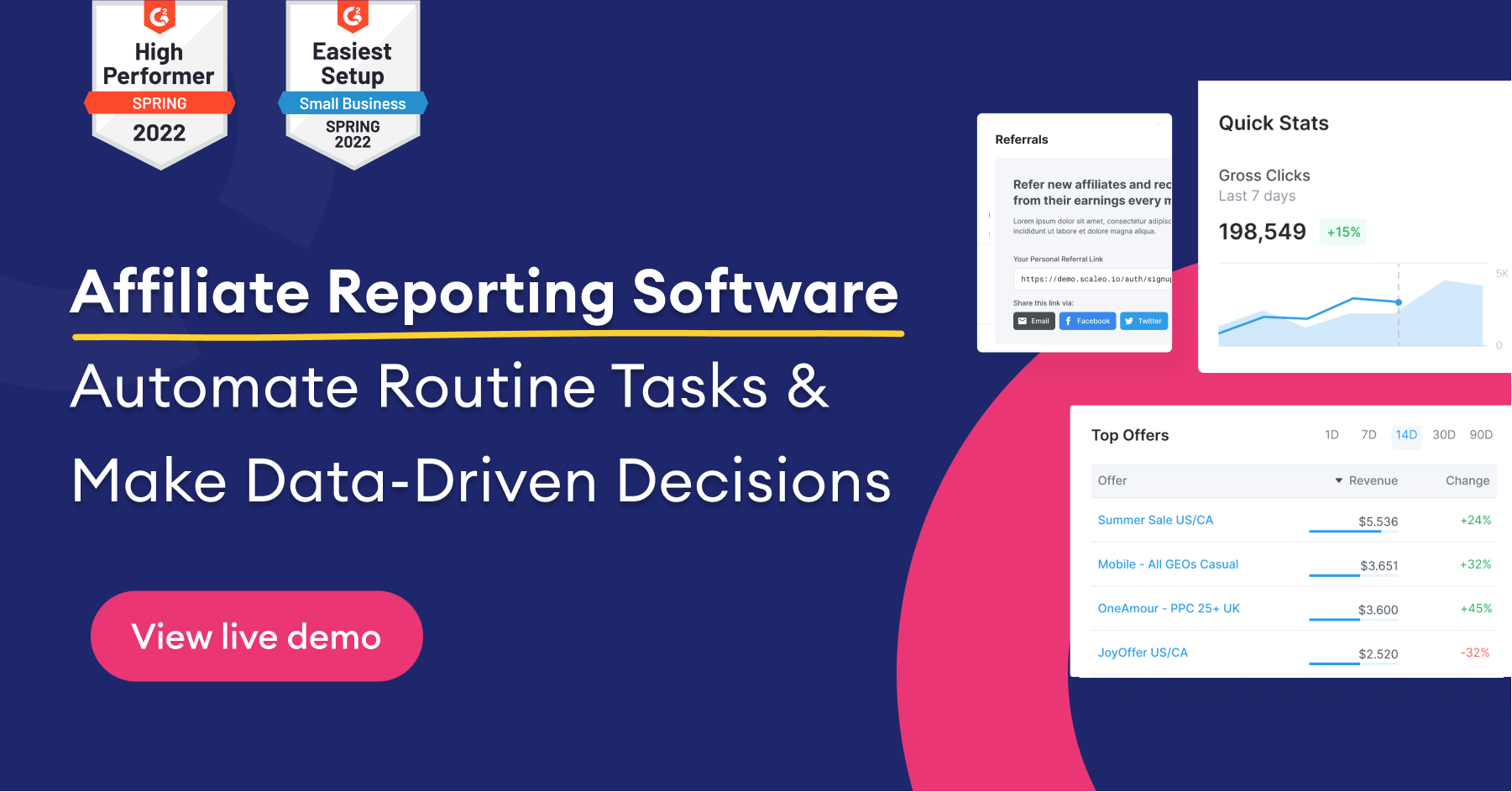 By leveraging partner software such as Scaleo, businesses can build strong partnerships that drive success in their B2B marketing efforts.
Conclusion
Partner marketing is a powerful tool in any B2B marketer's toolbox. Not only does it make it easier to reach new customers, but it also creates a strong foundation for long-term success.
To succeed, however, building strong partnerships with the right partners is important. By carefully evaluating each potential partner, assessing the potential ROI of the partnership, and ensuring that both parties share the same goals, you, as a marketer, can ensure that you build lasting and beneficial relationships.
When done effectively, the benefits of partner marketing can be significant, such as increased customer loyalty, better brand awareness, and more cost-effective customer acquisition. Ultimately, B2B marketing is only successful when strong partnerships are formed.
FAQ about B2B Partner Marketing
How does automated tracking and reporting work?
Software like Scaleo can be a powerful catalyst in forming these partnerships. 
Through automated tracking and reporting, companies are able to quickly and easily identify potential opportunities and figure out how best to move forward. Automated tracking also gives companies access to detailed analytics that can be used to make decisions and refine strategies over time. 
In addition, Scaleo's customizable dashboards and analytics allow companies to monitor key performance metrics and track progress in real-time. The platform's integration with other tools and platforms ensures maximum compatibility, so organizations can easily access the data they need to make informed decisions.
Features and benefits of using partner marketing software?
The features and benefits of the partner software make it clear that it is an important addition for any B2B marketer. With its help, companies can easily build lasting relationships that lead to success for both parties. 
Automated tracking and reporting, customizable dashboards and analytics, and integration with other platforms all play an important role in helping companies build strong, mutually beneficial partnerships. 
Last Updated on October 29, 2023