Conversational marketing technologies have been discussed for at least 2 years now, but it is taking a huge leap forward in 2020 and we expect to see the trend continuing in 2021.
Having conversations with your target audience is becoming increasingly important for any successful business. That is nothing new, of course, but how you can have those conversations is changing rapidly.
And all those conversations now also got a trendy name: conversational marketing.
This article explains why the term conversational marketing is so popular now, which companies are successful with it and how they use it through tools, social media, or good old personal contact.
We have already come across the term 'conversational' in various combinations. Think conversational commerce, conversational sales, conversational human voice, conversational customer service, presenting, interfaces, AI.
Ultimately it's all about one thing: talking to your target groups to find out what they need and then respond to that.
Conversational marketing: a lesson in history
To put the conversational trend into perspective, we first need to take a look at history.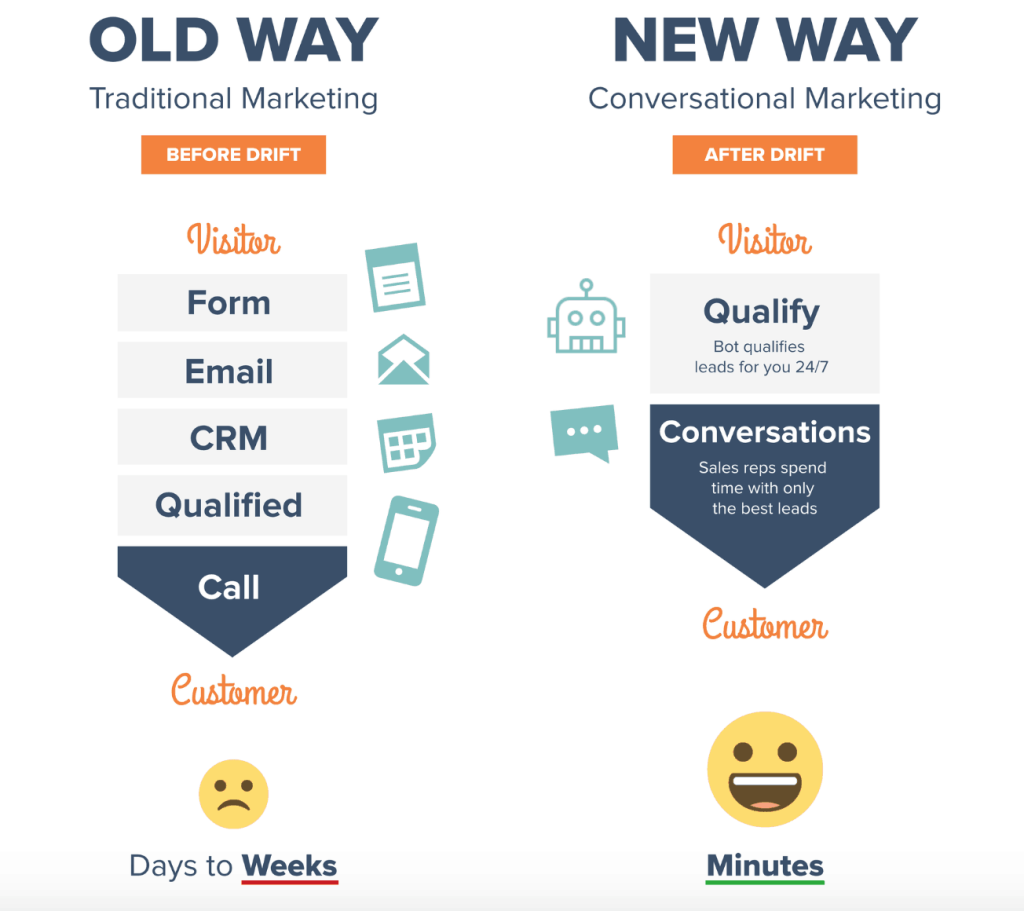 From the 1950s, the popularity of mass marketing grew, focusing not on the customer, but on the product.
Marketers focused on making great products and making great generalizations about their customers. Companies developed the best possible products and set up emotional mass media campaigns to persuade and influence customers to buy their products.
In the late 1990s and early 2000s, the switch was made to "relationship marketing."
Mobile phones entered our lives, and conversations with customers became relevant again.
Marketers were able to get close to the customer and were less product-oriented. At the time, they were not yet so aware of the enormous technological change that awaits them.
From digital marketing to online conversations
It's hard to give a conversation marketing definition. With the rise of the internet, smartphones and social media, we entered the era of digital and inbound marketing, combined with a range of tools and technology. The possibilities of technology shifted the focus from real conversations with real people to online interactions.
Customer behavior suddenly became more visible than ever: what people did on your website and what they said about you on social media.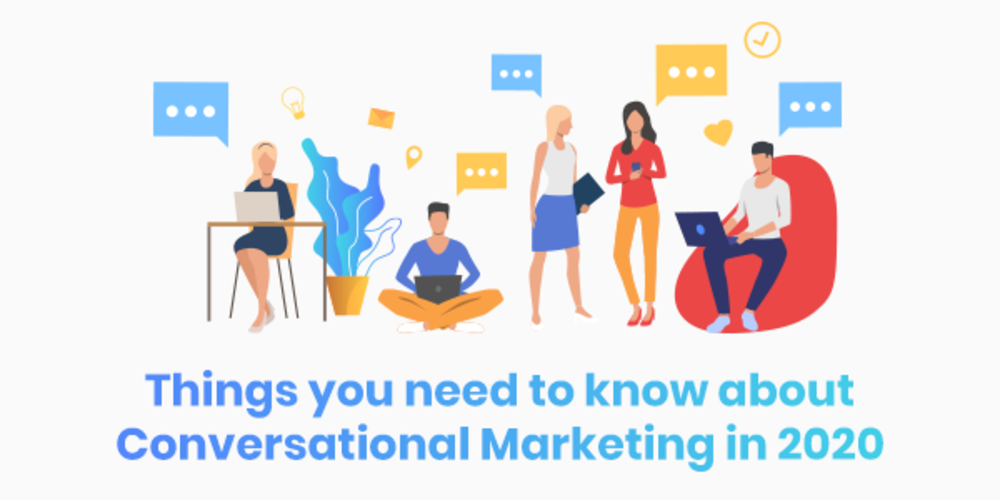 The interesting thing is, that companies became voyeurs instead of participants in the conversation. They learned a lot about their customers but often remained silent themselves.
And even worse, social media, which promised two-way communication (and has certainly been used by customer service teams), became a sort of broadcast channel for marketing.
It makes sense that this happened with the rise of inbound marketing when employees suddenly became editors of their own publications. They were overloaded with social channels, while there was no budget to invest in people who could have full-time online conversations with customers.
There are always exceptions, but social media tracking was a symbolic endeavor for the masses.
Companies are still very good at 'broadcasting' on social media. Just take a look at this example of an English retail company, which has a relatively large budget but usually does not enter into conversation with followers on social media.
Intelligent marketing
Today, we have entered the era of intelligent marketing.
Chat apps, artificial intelligence, machine learning, and other technologies allow companies to get even closer to their customers and better understand and predict behavioral patterns.
The goal is to be 100% customer-oriented on a large scale.
Let's explore a few examples. Chat apps such as WhatsApp Business and Facebook Messenger are increasingly used as tools for customer service. Even air transport companies know how to make good use of this and help customers get to the airport as smoothly as possible, change flights, or change seats.
This way of conversational customer service helps brands solve customer problems and quickly increases customer satisfaction.
Drift is a good example of how marketing and sales are becoming increasingly automated. They have developed a 'Conversational Marketing Platform' that allows visitors to have a real-time conversation with support, sales, or marketing teams. The idea is that a 'bot' uses AI technology to investigate, which website visitors are serious leads. Then, it forwards only the best leads to the sales teams.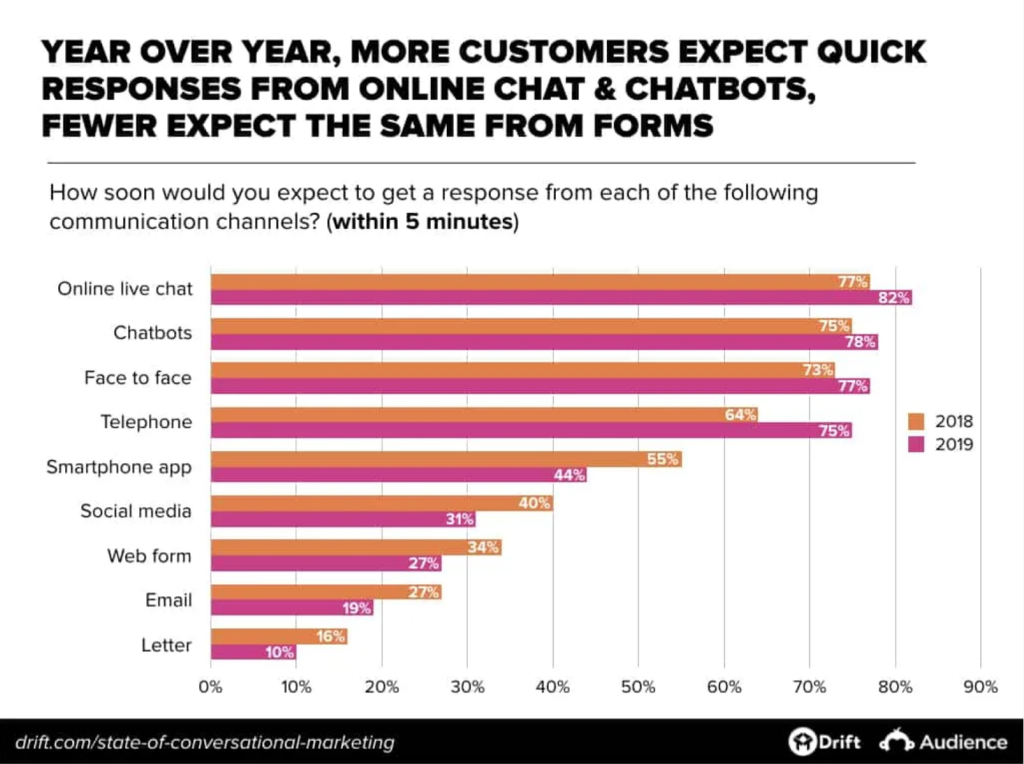 This increases customer satisfaction and decreases conversion time.
This may sound too good to be true, so here we must add an important note. Companies have to be careful that they automate too much and forget to really talk to customers. It remains extremely important to communicate with your target group appropriately, and that is not always easy.
Offline conversations
Fortunately, we see that companies not only use technology but also want to continue having personal conversations. They even put them in their own seat when it comes to communication.
BMW does this with their BMW Geniuses program. In this example, they have removed all the salespeople from the showrooms and replaced them with BMW Geniuses – product experts who can have a substantive conversation with potential customers.
Why did BMW choose to do this?
Because they saw that people only come to the showroom once, instead of eight times. This happens because potential customers can look up all information online and come to the showroom because they are not sure about something or want to check it out in person.
It no longer makes sense to let someone with a sales pitch sell the car. Instead, BMW needs people who are skilled in removing any uncertainties or resistance.
Someone who listens carefully to the customer and really understands them. A "BMW Genius" realizes much more quickly what information a potential customer is still missing, which prevents them from making a purchase.
Another example is Chip Bergh, the CEO of Levi's, also believes that a personal conversation with your customers leads to success. For example, in Harvard Business Review, he talks about home visits, going through customers' wardrobes, and asking them questions about their jeans.
During one of those home visits, a customer said, "You wear other jeans, but you live in Levi's." This became their successful tagline in advertising campaigns. It just indicates how valuable personal contact with your target group is, and still remains.
Give your audience more control.
For a number of years, we have also seen that (sales) presentations are increasingly turning into conversations. A 30-minutes sales monologue, where people drop out (unless you are a brilliant speaker), is outdated.
Only presenting what is relevant to the conversation at that time ensures that you fill in the gaps in the knowledge of your audience or potential customers. We also call this conversational presenting. Your listeners are in control, determine the topics for discussion, and the presentation comes next.
Many people find it scary to let go of "being in charge" during their presentation. However, it generally works well because your presentation turns into a conversation with your audience.
Letting go of "controlling" and letting your customer speak also works well on social media.
Just look at the Wylder Goods brand, which uses 'conversational storytelling' on Instagram with a small budget (39.9K followers). They focus on connecting customers and let fans tell their personal stories in their own way.
In other words, Wylder does not influence the content, but believes in the value of interactions with customers and between customers.
And this makes the brand very credible.
Conversational marketing software has advanced tremendously over the past years and developed enormously, compared to recent years. We can expect this trend to continue in 2021 and beyond.
Bots, tools, or human contact?

So, what is conversational marketing?
All examples in this article reflect how we want to be approached and how we buy things. We want fast, clear, and hyper-relevant information, presented to us on our terms.
With conversational marketing, you can meet your target groups.
Tools and bots are indispensable, but a chatbot cannot provide strong communication skills, such as empathy, self-reflection, active listening, and collaboration.
With the right technology, you can automate certain parts of your marketing so that you have more time for real conversations with your customers.
In my opinion, that is the ideal form of conversational marketing. While a conversational marketing chatbot can be annoying when you are trying to get an answer, it is still a great tool to keep potential leads and customers engaged. With digital marketing increasingly conversational marketing techniques, conversational technology in marketing continues to advance.
What is conversational marketing?
Conversational marketing is the fastest route to move buyers through your marketing funnels through the power of real-time conversations. It builds relationships and forms authentic experiences with clients and buyers.
In today's online shopping environment, talking can be essential for creating compelling content that moves people over from a website or app into buying (and then they're engaged), even if it feels like some part has simply changed! But how does conversation build social engagement without actually selling any products directly?