One of the most cost-effective marketing tactics is referral marketing, which is all about getting existing customers to promote your business to new customers.
We have compiled an amazing list of the best refer-a-friend program ideas available on the market. We also will give you tips on what type of refer-a-friend software you should use, what incentives you should offer and which existing customers you should target for your refer-a-friend program.
Ready to dive in?
What is a refer-a-friend program?
A referral program, sometimes known as a "refer-a-friend" program, is a marketing tactic many top e-commerce firms employ to incentivize existing customers to promote the brand and its products to their families and friends.
A refer-a-friend program is a purposeful, systematic approach to encourage customers to refer your company. Referral programs, also known as word-of-mouth marketing, reward existing customers for sharing and incentivize new customers to try your brand.
Customers are rewarded with referral bonuses such as free cash, significant discounts, or a free month of service. While there is an initial cost to the firm, referral programs dramatically enhance long-term revenue by creating loyal customers from your existing customer base.
If you're not sure why you should have a refer-a-friend program or how to manage one, consider how the biggest e-commerce brands run their refer-a-friend programs and the outcomes they've obtained.
Before we begin, let's go over the fundamentals of referral programs.
How to Create a Refer-a-friend Program in 9 Steps?
A successful refer-a-friend campaign involves some pre-existing components—specifically, an excellent product or service and a large number of satisfied customers.
You can begin organizing your refer-a-friend campaign if you have these in place.
Follow these recommended practices to launch and sustain a successful refer-a-friend campaign:
| Building Block | Description |
| --- | --- |
| Goal | Define the objective of the referral program |
| Incentive | Offer a reward or incentive to both referrer and referee |
| Target audience | Determine who the program is aimed at |
| Referral tracking | Decide on how referrals will be tracked and monitored |
| Program rules | Establish clear program rules and guidelines |
| Promotion plan | Develop a promotion plan to attract new participants |
| Communication | Create effective messaging for communicating the program |
| Referral channels | Identify the channels where the referral program will run |
| Follow-up plan | Establish a follow-up plan for participants |
1 – Set your goals.
Consider what you intend to gain from this refer-a-friend program. Are your objectives more focused on revenue and growth? Do you want to include retention in the mix? Do you work in a field that necessitates a high level of trust?
Once you've decided on your goals and specifically defined them, the next stages should be obvious.
2 – Identify your incentives.
There are two types of referral programs: incentive programs and non-incentive programs. During this phase, you should categorize your contacts and decide which ones can receive specific offers.
Don't forget about the referral; make sure they get something out of the arrangement as well. Consider Airbnb: when a client suggests a friend, they receive a $20 credit — and when a consumer first signs up, they receive a credit toward their first trip of a particular amount.
3 – Set up a tracking system
Tracking is necessary regardless of your firm's size (though it is more important if your organization has a huge consumer base). This ensures that no detail is overlooked – especially for referred accounts. You should keep track of the following:
Who referred them.
Where they were referred from.
Whether they converted or not.
How do you intend to nurture and follow up with them?
If you haven't already invested in a CRM (customer relationship management) system, now is a fantastic time to start! Keeping track of client relationships is a critical component of customer success – the ability to personalize each account or relationship makes each customer feel like a distinct member of your customer base.
Looking for a reliable tracking system for your refer-a-friend program? Try Scaleo for 14-days and see what it can do for your business, allowing you to launch a referral program in minutes!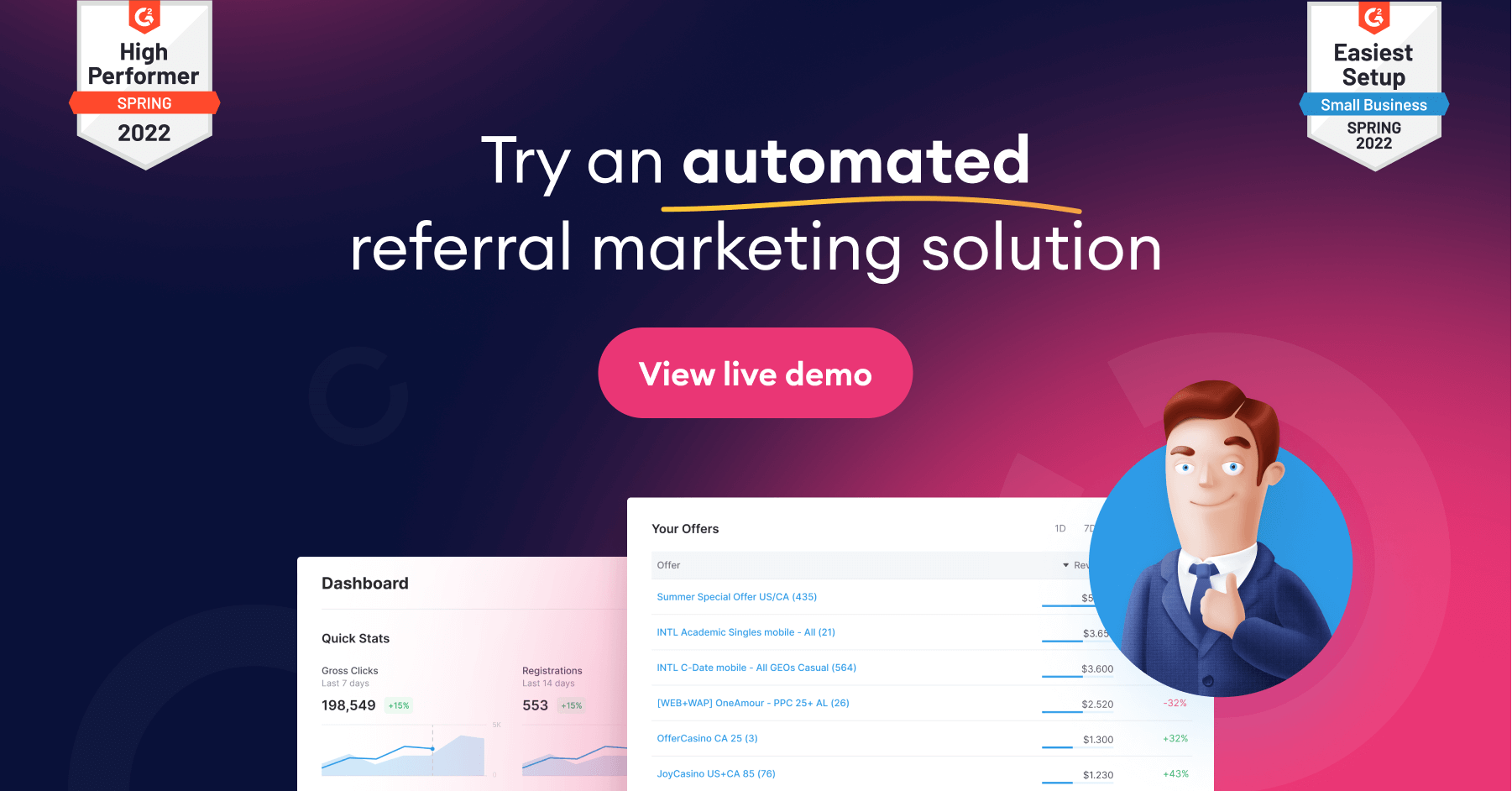 4 – List your existing customer sources
Your satisfied customers, friends, and family are your referral sources. They are your most ardent supporters and the lifeblood of any referral marketing program. Make a list of all these associations and how to contact them.
5 – Research how referrals are coming to your business.
An excellent place to start is to find out where and how referrals are arriving at your firm – or if they are arriving at all.
At this point, you should involve marketing, sales management, and support – anyone responsible for building client relationships – and evaluate how they have typically handled referrals. This will show you where you currently stand.
You should also know how much a current customer is worth. How many referrals do you need to break even compared to the time spent monitoring and managing onboarding programs? Referred customers have a 16% higher lifetime value than non-referred customers. So it's worth doing the math to figure out how much you could earn from referrals and adjust your marketing budget accordingly.
Top 5 refer-a-friend promotion ideas that work
The reward is an important aspect of referral marketing success. What kind of incentive should you give customers who join your refer-a-friend program? The finest referral rewards are those that are both appealing and beneficial to your customers.
We've compiled a list of ten of the best refer-a-friend marketing ideas, often known as referral bonuses and refer-a-friend program examples that apply them. Read on to learn how to implement some of these ideas in your own referral program.
1 – Referral contests
Contests are another technique to entice customers to participate in your refer-a-friend campaign. Like any other contest, this works perfectly when the prize is a high-value, in-demand product or service. For instance, the most recent smartphone, tickets to an upcoming event or concert, or even the rights to a new business.
It's a good idea to include secondary awards in contests. Some customers may be unable to reach the major prize, so offering a consolation prize (i.e., gift cards, discounts, swag, prepaid credit cards) to the next 20-50 customers might be a wonderful way to encourage referrals.
Consider creating different reward categories for refer-a-friend programs with a large number of participants. Customers or influencers with the most social media shares, customers with the most referrals for a given product, and so on can all be rewarded.
(You might also organize a raffle drawing in which each successful referral earns customers an entry to win the grand prize.) However, we have discovered that refer-a-friend contests are more effective at motivating customers to make referrals.)
2 – Exclusive memberships
Improve your refer-a-friend program by providing exclusive benefits to customers who bring in the most referrals. Invite these select customers to an exclusive club with exclusive privileges such as early access to store deals, complimentary merchandise, or VIP event invitations.
If you sell digital products, you can enhance exclusivity by providing premium add-ons or priority customer assistance for a limited time.
The Morning Brew's newsletter is an example of a refer-a-friend promotion with an exclusive prize. When subscribers receive a particular number of referrals, they will be automatically added to the company's premium Sunday newsletter list – for free.
3- Tiered referral rewards
Tiered refer-a-friend programs provide more prizes for each successful referral. This indicates that customers who participate the most in the refer-a-friend program are more likely to benefit the most.
This tiered incentive strategy can also be applied to discounts. For example, your refer-a-friend program could provide 20% off the first five referrals a client sends, followed by 40% off each subsequent referral.
4 – Store credits or subscription credits
Credit-based refer-a-friend programs are especially beneficial for companies that sell digital products such as software, courses, or ebooks. Depending on your product, it may not even cost you anything.
Customers who want to save money will be drawn to store or subscription credits, which will encourage them to continue purchasing from your company.
This form of reward is also inexpensive because the credit is applied to a portion of the entire purchase.
The cost is already built into many digital enterprises' operations or products. However, store credits remain extremely valuable to customers.
5 – Seasonal Campaigns
Seasonal marketing is always an effective method to attract new customers. You can advertise seasonal promotions, annual sales, and long-term deals that can be used year after year. And, if you regularly execute these efforts, your customers will look forward to them all year.
Many big holidays see an increase in spending, making them ideal for capturing client attention with a spectacular deal or discount. If you do it well, your customers will look forward to your seasonal advertising all year – and they'll tell their friends about it.
Seasonal campaigns may work for any product or service brand as long as your message is clear and you publicize the approaching event well in advance of the season or holiday.
Does refer-a-friend work?
Successful client refer-a-friend programs like those offered by Dropbox, Uber, Airbnb, and Tesla demonstrate that the answer is unequivocal yes as long as you adhere to best practices.
A properly executed refer-a-friend campaign (bring-a-friend campaign) can increase word-of-mouth, speed up customer acquisition, and encourage customer loyalty – thanks to social proof.
These figures demonstrate how effective a referral marketing technique is:
90% of people believe brand recommendations from friends, family, and peers, yet only one-third trust advertisements (according to Nielsen)
According to McKinsey, 20-50% of buyers are predominantly influenced by word of mouth when making a purchase.
According to an Ogilvy and Google study, word of mouth has a 74% influence on overall consumers.
Conclusion
A refer-a-friend campaign is one of the most effective marketing tactics. It is a great way to show existing customers how much you appreciate them while creating a reliable source of new referrals for your business.
As you can see, most of these referral programs are scalable and can easily grow with your business. The more referrals you get, the more ideas you'll have to take your business to the next level.
If you need more promotional ideas, check out our post on best practices for a successful refer-a-friend program.
Ready to get started with your own refer-a-friend program?