The affiliate funnel has dramatically changed the marketing industry. It has forever changed our approach to promoting online services: we no longer rely on SEO to generate quality organic leads and sales.
Even under the best circumstances, Google is not always trustworthy, as algorithm updates change the needle and pressure grows to maintain top positions.
Building a second revenue stream has become almost mandatory.
Why rely only on Google traffic when there are multiple ways to generate sales and leads?
Affiliate marketing sales funnels are among the easiest marketing schemes to build. So let's dive right in, but first, define an affiliate marketing sales funnel.
Why Do You Need an Affiliate Marketing Sales Funnel?
Various businesses frequently employ bloggers to promote their products in exchange for a commission. It's an excellent technique for the company to get new customers. It also enables affiliates to earn money without creating a new product, testing it, or sending it to the buyer.
Affiliate marketing is such a popular business concept that around 81% of businesses sell their products through affiliate marketers.
However, affiliate marketing is more than just publishing a snapshot of the item, writing a few nice words, or uploading an unboxing video to the affiliate's YouTube channel. Effective affiliate marketing necessitates careful preparation and the application of several strategies, such as the sales funnel.
The path that a buyer travels while purchasing a product is mapped out by an affiliate marketing sales funnel.
This tool assists businesses in increasing sales or attracting more leads. Businesses use the sales funnel to develop more effective strategies and increase the ROI of commercials and other promotional efforts.
Looking for a lead management tool for your affiliate marketing business? Try Scaleo – 14 days free, no credit card required.
Why Use affiliate funnels?
When you have your own product, you have much more power immediately. There is some degree of control. You may achieve success online, and that sense of achievement is the product of your hard effort. 
However, what you don't receive is a done-for-you service that has shown to be successful with millions of entrepreneurs nationwide. However, as an affiliate marketer, you will be pushing a product or service with a loyal audience, marketing materials, and many case studies.
That is potent!
When customers connect with your sales pages, you can encourage them to buy using your affiliate link. You don't want to go to the trouble of locating an affiliate program only to develop a funnel that doesn't convert, so we'd like to provide 7 suggestions for generating a high conversion rate with affiliate marketing sales funnels.
A sales funnel can help a company that manufactures its own product or service strategize, but it can also help affiliate marketers increase their sales. Here are some compelling reasons to use a sales funnel for affiliate marketing:
Building a Customer Base – Without a sales funnel, affiliate marketers typically include several affiliate links in their material and hope someone will click on them to purchase the goods. A sales funnel strategy frequently encourages readers to sign up for a mailing list. This enables an affiliate to build a customer base from which to sell other affiliate products.
Tracking Your Success and Efforts – The sales funnel enables the affiliate to track the number of clicks a link or page receives. Because every page is included in the funnel, affiliates learn which processes are effective and which need to be improved.
Preparing You for The Future – Affiliates will soon learn how to design their own sales funnels after they begin creating and exploring them. They may even use it in the future for their own products. If they continue to be an affiliate for a business, they can use their abilities to establish an effective sales funnel to increase their revenue.
Tips For Building a Successful Affiliate Marketing Sales Funnel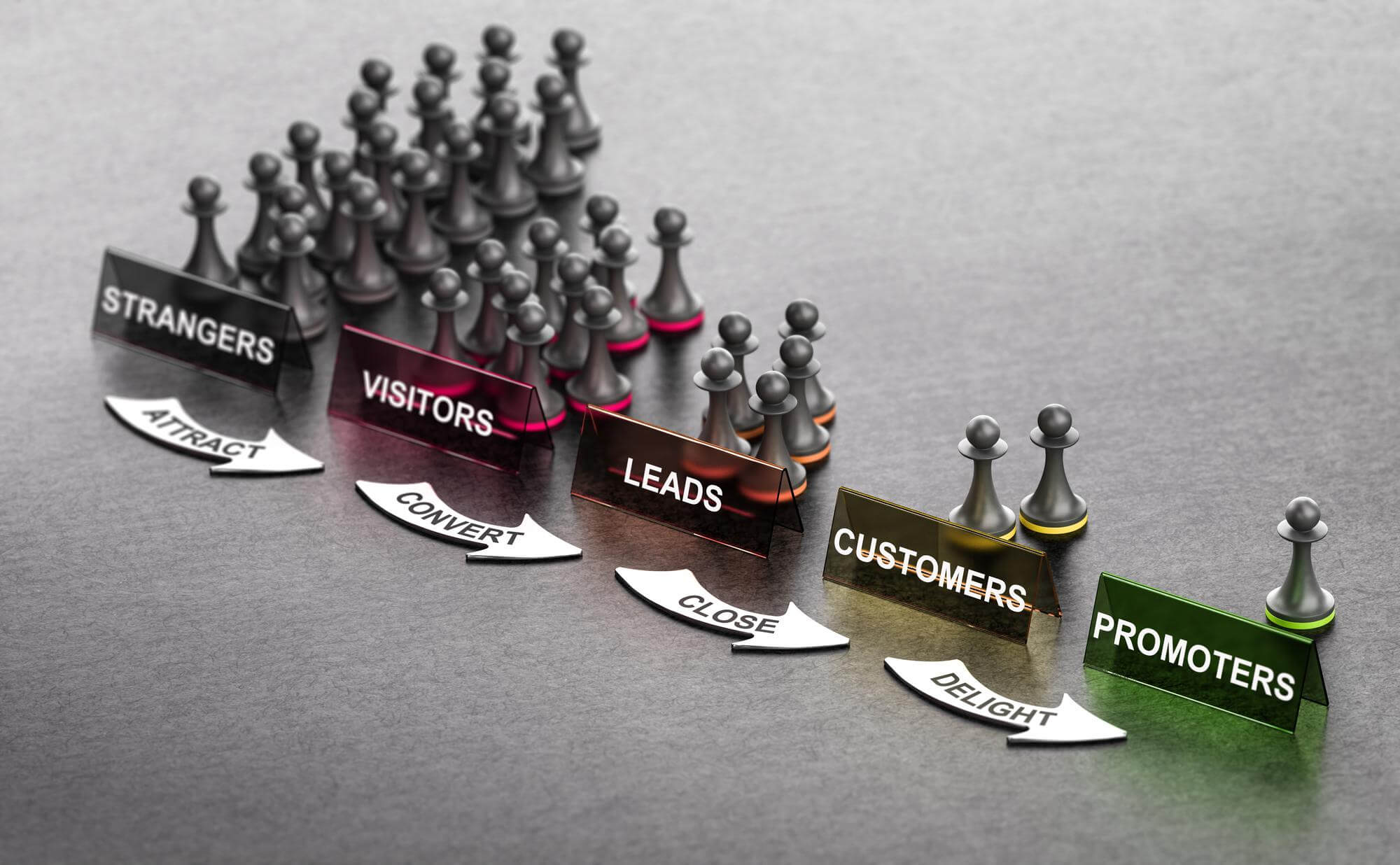 Sending relevant traffic to your funnel
Assuming you've done your research and created an offer tailored to your target demographic, it's time to drive visitors to your affiliate funnel.
If you don't have the funds for sponsored advertising, a blog is an excellent place to begin. If you adopt this technique, you will combine funnels and SEO to increase organic Google traffic. 
Make sure your blog posts are information-rich and optimized for conversions. Consider using colorful buttons, clear call-to-actions, and proper keyword optimization.
People must first come across your material. A visually appealing website is only as good as the sales it produces. We're scared that no traffic equals no sales. The only way to begin is with keyword research. Finding a meaningful keyword with a high search volume and a low difficulty score is a sweet spot. Basically, a term that many people search for, but no one is attempting to rank for is an SEO's dream!
People will locate your offer by conducting a quick Google search. The second method is to contact people through social media. In today's social-media-crazed world, having a social marketing funnel is critical.
Consider the same question: where does your target audience spend the most time?
LinkedIn is the greatest place to start if they are a business owner. It's a professional social network – thus, it's ideal for B2B companies. Choose Instagram or Facebook for your eCommerce store aimed at a younger demographic. These networks provide excellent resources for locating potential customers via hashtags and group conversations.
Alternatively, we recommend employing Facebook ads for an established firm with an advertising budget. It provides many possibilities for fine-tuning your targeting based on age, gender, interests, search history, and more. It also gives you significantly more clicks for your money. Engagement will be substantially higher, and the cost per click will be much lower for video content users.
Something to think about!
Design your landing pages
So you've investigated your market, found the best offer, determined your targeting, and analyzed the competition to ensure you come out on top.
Now comes the exciting part: make your sales pages.
This is the most important stage if you want your affiliate marketing sales funnel to work. You don't want to run an ad that directs customers to your most expensive product. You must first pique their interest. Begin with a freebie to entice consumers and gain their faith in your company.
You will have a high opt-in rate because, well, why not?
It's completely free.
You want to give consumers a cause to interact with your brand on this page. Keep your sales message brief and to the point to avoid confusing your readers. The most successful first page will have a data collection form that requests people's email addresses in exchange for a free resource. Do you see where I'm heading with this? Once you have their contact information, you can really increase your game. You can then approach them with any offers and upsells.
The difficulty is to make your pages blend in with the colors, typefaces, and tone of voice of your chosen affiliate merchant's website. As a result, the flow is effortless.
That may not be achievable if you use your own website or blog because your branding will be the most prominent. However, if you're creating new pages with tools like Clickfunnels, you can design them to seem like your selected affiliates' sites.
Opt-in Page
After reading the blog content or watching the video on the YouTube channel, the viewer has two options: follow the affiliate link or ignore the information and never return. If they end up purchasing the product, it's a win-win situation for the company and the affiliate. However, if they disregard the affiliate link, there is still a way to maintain them as a reader and sell to them later. This is accomplished by inviting them to join the mailing list.
Opt-in forms are a necessary component of any business website. The consent provided by site visitors demonstrates their interest in the product, brand, or service. It allows the brand or affiliate permission to contact them with additional information or to notify them of new affiliate products similar to what they were looking for. Opt-in sites could incorporate a lead magnet connected to the information they read.
Thank You Page
This page is where visitors download the lead magnets, but it's also where the affiliate may persuade them to buy the goods right away. Make the product appealing by outlining its merits or providing a special discount on the product.
It is also critical to instill trust in the readers. The majority of affiliates include a photo or video of themselves using the product. This helps readers to associate the product with a reputable affiliate, even if it isn't their product.
Prospects who have already subscribed to a mailing list should not feel as if the products are being rammed in their faces. Even if the website urges people to buy the product immediately, they should be able to back out of the deal. Include a button on the page that instantly redirects users to the website's homepage or blogs.
Set up an affiliate program yourself
Our final piece of advice is to set up an affiliate network if you already have a well-established service. You can promote from sunrise to sunset, but this is the most effective way to get the word out about your company and increase sales.
Apply what you've learned from marketing to others to your own business. The more individuals that yell about how fantastic your services are, the more traffic, inquiries, and sales you will get. It's just basic arithmetic.
Getting into your customer's heads
The manner of sales is where so many businesses go awry. They are so focused on the final result (huge bucks!) that they overlook the process. In other words, they must focus on the buyer's journey. Building a foundation of interested prospects is critical for a new firm with minimal brand awareness and a small following.
Now that you've created your offer, you need to understand your clients' likes, frustrations, and objections. Once you've figured out who your target market is, you can tailor your sales message to match their demands.
It's also a good idea to conduct competitor research before starting your purchase. If there are competitors, it means that others are meeting your target audience's needs. Your task is to use their content as inspiration and outperform them!
You can even phone their company and listen to their sales script — sly, but effective! Many businesses do a bad job of getting you to buy online, yet they convert like crazy over the phone. Go above and above to guarantee that your affiliate funnel sells and your sales script.
Once you have their phone number, try to figure out where their customers hang out online, such as blogs and forums. What are they writing about? What are the questions they ask on the call? A whole different strategy can be discovered with a little investigation.
Do your research
You must begin with a thorough understanding of your target market and the goods being offered. You wouldn't buy from a corporation that didn't get their facts about a product right, would you? The same is true for affiliate marketing.
Do you want to be the marketer that stumbles through a sales pitch, sweating palms as you try to answer their questions? Or do you want to be the one who knows the pain points/emotional triggers that will push folks to buy? We've decided which side we'd rather be on.
Use Affiliate Marketing Sales Funnel Builders
When working online, it is preferable to use automation to spend less time on routine chores and more time on important ones. Here are three of the top programs for assisting affiliates in creating their own funnels:
Unbounce is one of the oldest funnel-building tools still accessible on the market. It includes a robust website builder that enables affiliates to drag and drop things into the webpage. While the interface may appear sophisticated, the application is simple.
There are numerous customization possibilities available in the application. The main disadvantage of using Unbounce is that an affiliate cannot generate blog entries. They are often confined to landing pages spliced together to form a funnel. While the funnel itself may be stunning, affiliates must integrate other platforms in order to build blog posts or email campaigns.
Initially popular in France, this program has since moved to the United States. It's a robust tool that offers all the options required for online marketing. Systeme.io can be used by businesses to perform nearly any type of business operation.
Investing in additional tools using systeme.io is unnecessary, thereby lowering expenditures. This application makes it simple for affiliates to create funnels that will help them generate more traffic for their affiliate offers or products. Each funnel phase only takes a few minutes for the affiliate to complete.
Clickfunnels is the highest-rated sales funnel creation software; some of the most successful entrepreneurs utilize it. This tool walks users through the process, allowing them to discover leads, host webinars, sell products, and even send emails.
It provides effective funnel building for affiliate marketers looking to increase their sales. Clickfunnels affiliate tracking can also be used to track the funnel of your affiliate campaigns.
The software includes many templates that affiliates can utilize to create their funnels. Affiliates who want to increase their sales should concentrate on building a funnel that attracts many leads.
Clickfunnels also allows affiliates to save the customer's details so that they can follow up via email.
This is another method of encouraging readers and attempting to convert them into customers. However, the funnel-building feature of Clickfunnels may be significantly more difficult for beginners than systeme.io.
Conclusion
Affiliate marketing is a great and proven way to increase awareness of your business/brand and increase sales simultaneously. It's also an ideal way to build a sales funnel, as it can bring your brand to a whole new platform, refresh your current website, and broaden its appeal.
Building brand partnerships can be extremely beneficial when facilitating customer acquisition and is an important part of your affiliate marketing sales funnel. Partnership marketing platforms, like Scaleo, can help increase your brand awareness. They constantly connect you with other businesses, agencies, and advertisers, increasing customer acquisition.
But do not give up on your affiliate sales funnel. Relationships between customers and businesses are constantly evolving. You need to target new channels and try different approaches to engage customers. Track and analyze your processes regularly to develop an adaptive, long-term strategy for optimal business performance.