PPC Affiliate Programs are extremely popular in 2023 and will continue to be in 2023. Like every other online sector, the pay-per-click industry is rife with affiliate programs, some of which can be extremely lucrative.
With so many pay-per-click options available, companies constantly search for assistance from seasoned marketers and influencers to promote their offerings.
You're in luck if you're an established, seasoned affiliate or a brand new affiliate trying to break into the pay per click industry. We've selected the top pay per click affiliate programs to make money with to assist you in your search to make money from PPC services and apps.
These PPC affiliate programs pay well and are ideal for promoting on blogs and websites. Some also provide lifetime recurring commissions.
What is Pay-Per-Click Affiliate Marketing?
Pay-per-click (PPC) affiliate marketing is a highly competitive search area. Marketers earn money from website visitors' acts, such as clicks, impressions, and leads. As a result, choosing an affiliate marketing niche where you can create an active audience that is likely to take action on your platform, such as clicking on your ads, is the key to success in affiliate marketing.
Profitable PPC affiliates work on massive scales with extremely high efficiencies.
Affiliate Marketing in other forms include:
Pay per impression affiliate – Advertisers earn money based on how many times tourists view advertisements served on their website. These are mostly seen on niche blogs with a specific audience.
Pay per lead affiliate – Advertisers are paid for attracting website users who fill out enough details in a web form to be marketed to other businesses. Financial services often provide these.
Pay per action affiliate – Advertisers receive money based on the number of specified actions taken by network advertising that appears on their affiliate websites.
To defeat these obstacles, you must identify lucrative keyword niches quickly before the competition does. Assuming you already know what and where you are going to promote, now let's have a look at what PPC affiliate programs are the most popular on the internet in 2023.
10 Best Pay Per Click Affiliate Programs
| PPC Network | Description |
| --- | --- |
| Scaleo | Scaleo is a performance marketing platform that helps businesses manage and optimize their affiliate marketing campaigns. |
| Bidvertiser | Bidvertiser is an advertising network that allows advertisers to bid for ad placements on publisher websites. It offers various ad formats and targeting options. |
| RevenueHits | RevenueHits is an ad network that focuses on maximizing revenue for publishers through various ad formats, including display, pop-ups, and interstitials. |
| Taboola | Taboola is a content discovery platform that displays sponsored content recommendations on websites and mobile apps. It helps publishers monetize their content and advertisers reach a wider audience. |
| MintClicks | MintClicks is a pay-per-click advertising network that connects advertisers with publishers, allowing them to display targeted ads and earn revenue based on clicks. |
| Skimlinks | Skimlinks is an affiliate marketing network that automatically monetizes product links on publisher websites. It converts regular product links into affiliate links, helping publishers earn commissions from sales. |
| Infolinks | Infolinks is an advertising network that offers various ad formats, including in-text ads, in-fold ads, and overlay ads. It helps publishers monetize their content by displaying relevant ads. |
| Adblade | Adblade is an advertising network that specializes in native advertising. It provides targeted native ads across a network of premium publishers, allowing advertisers to reach engaged audiences. |
| Media.net | Media.net is an advertising network that offers contextual advertising solutions. It enables publishers to display relevant ads based on the content of their websites, helping them monetize their traffic. |
| Adsterra | Adsterra is an ad network that offers various ad formats, including display, pop-under, and push notifications. It provides advertisers with global reach and publishers with monetization opportunities. |
Scaleo
Although Scaleo isn't directly a PPC program or network since the referral program is NOT paying per click, but only per conversions (i.e., it's a PPA program and not PPC), I still decided to add it to the list simply because you can generate lifetime commissions from successful sales.
Daily optimizations and documentation are a tedious part of a PPC manager's job that consumes a significant amount of their time. Thankfully, Scaleo has heeded those cries of anguish and built an excellent platform that does all of this automatically with the click of a button on thousands of campaigns. Basically, Scaleo is an affiliate marketing software.
Scaleo currently offers up to 30% recurring commission on all plans, which start at $299 per month and can easily reach thousands of dollars. So if you're looking for a medium-size affiliate program, this is a great fit.
Scaleo, unlike the other affiliate programs on this list, only allows current customers to promote their software. This means that their affiliates are speaking from experience when they promote their service to others. With that in mind, this affiliate program is best suited to experienced affiliates who have a lot of experience promoting SaaS applications.
Bidvertiser
Bidvertiser is a direct advertising network that allows you to monetize your website by displaying various ad formats, including PPC ads.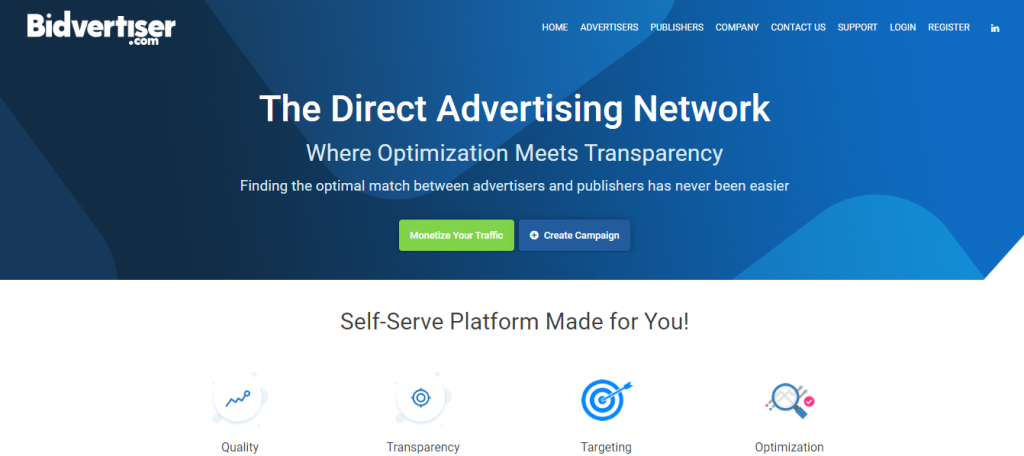 How do I make money as an affiliate with Bidvertiser?
Anything from websites and toolbars to plugins, mobile applications, search, and domains can be monetized. In addition, Bidvertiser, unlike the other PPC affiliate programs on this list, has a very low minimum payout cap. That is, if your site earns even $10, you can withdraw your funds via PayPal, Payza, wire transfer, or check.
It also offers a plethora of ad types, such as show banners, pop-unders, sliders, smartlinks, XML, and programmatic, among others, to promote their referral program and raise more money as an affiliate.
Benefits of Using Bidvertiser's Pay Per Click affiliate program:
Here are some of the reasons why you should use the Bidvertiser PPC affiliate program.
A $10 minimum threshold limit (so you get paid even though you receive more than $10)
Payment options include PayPal, Payza, wire transfer, and verify.
There are several ad formats to choose from, including banners, pop-unders, sliders, direct links, and XML. JSONP, programmatic, and other words
Setup is completely free and instant.
Allows you to monetize every amount of website traffic with absolutely safe advertising.
RevenueHits
RevenueHits is a CPA (Cost per Action) program, which means you will only be paid if someone clicks on an ad and then takes action. So it's similar to referring a visitor to an advertiser through traditional affiliate links in that you only get paid when the advertiser does.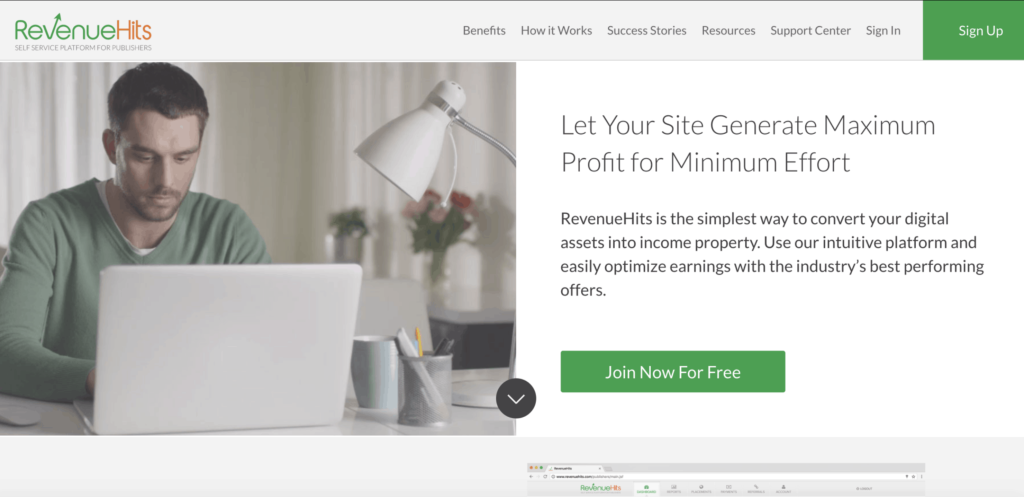 This contrasts with AdSense and other similar programs, where you are paying every time anyone clicks on an ad unit. Within reason – obviously, they look for click farms, etc.
However, there is no point in driving low-quality affiliate traffic to RevenueHits offers. It's simply not going to convert.
Is it worth your time and effort to join this affiliate program?
The short response is "Yes," as long as your site receives a high amount of warm traffic. That's how you get to those $10 RPM figures for affiliate programs like this one.
They also have various ad formats such as show, floating, footer, pop-under, and the usual suspects.
This site seems to be much more accepting of "edgy" content, so it's certainly worth a look if others have rejected you.
In addition, they have a referral program in which you can receive 10% of what a referral receives within their first 12 months of working with RevenueHits.
Taboola
Taboola is without a doubt one of the most well-known ad publishing networks, providing over 450 billion recommendations to over 1.4 billion unique visitors worldwide per month.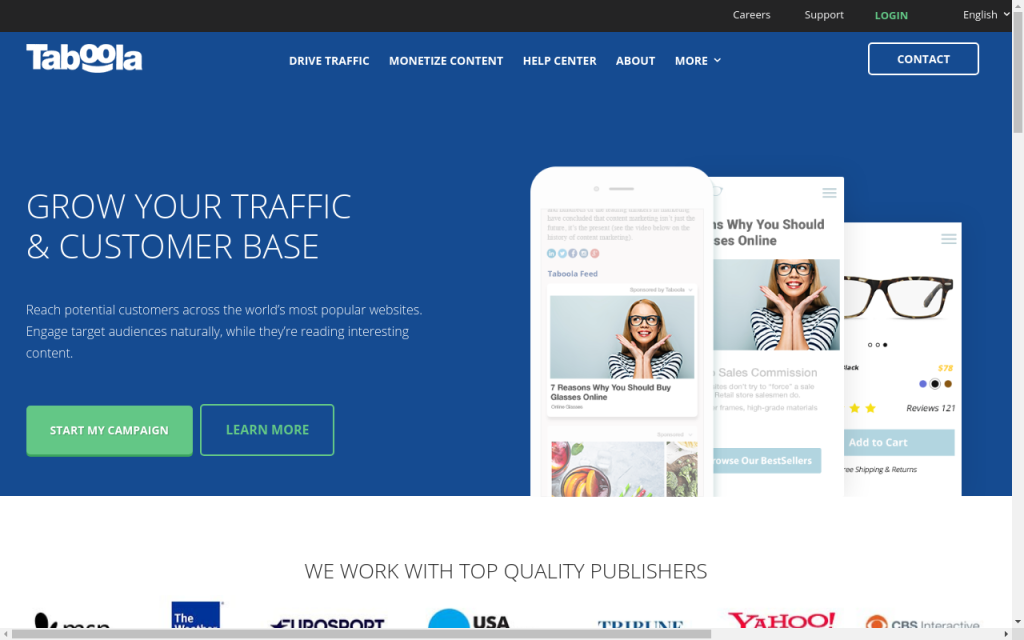 Taboola publisher network enables you to promote money as an affiliate by assisting you in promoting it through all online channels such as applications and newsletters, blogs, and so on.
You will earn money through the Taboola publisher network in the following ways:
Sponsored content
Sponsored videos
You can receive timely payouts in which you will receive monthly revenue installments 45 days after the end of the service month, which ensures that revenue from January will be charged on March 15th.
The following are the primary reasons to accept the Taboola Pay Per Click affiliate program:
It gives you access to extremely informative actionable data insights, A/B research, and warnings to assist you in rapidly increasing your earnings.
It allows you to share an audience where you can easily drive quality traffic to your website by sharing traffic with a partner and third-party sites.
You can also monetize your video content by conveniently embedding your own video player with PPC advertising and analytics from the Taboola platform.
MintClicks
MintClicks employs automated keyword detection and matching ad distribution to deliver highly lucrative and highly appropriate PPC advertising to your website, allowing you to quickly increase your website earnings.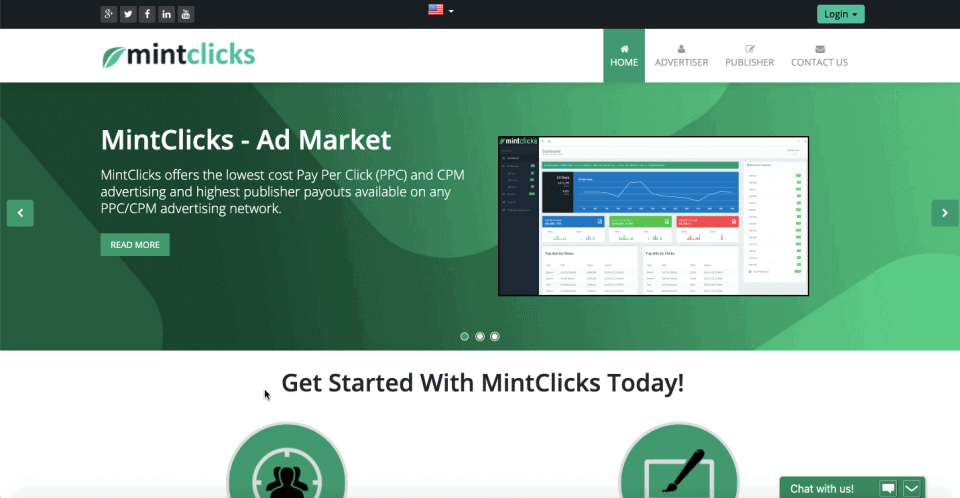 How do I make money as an affiliate with MintClicks?
MintClicks, unlike the majority of the other PPC affiliate networks on this list, allows you to earn money for each click you make.
Yes, the majority of the sites listed here either pay you for each active sign-up or a percentage of their earnings, but with a MintClicks publisher account, you can make money from website traffic for any click they get through your website.
When you sign up for their affiliate program, you will be given a unique referral ID that you can use to view banner ads or text ads to monetize your website traffic, and you will be compensated for each click that you create. That's what there is to it.
MintClicks Pay Per Click affiliate program benefits:
The setup of a publisher account is immediate. All you have to do is fill out their online sign-up form, and you're good to go.
Supports different types of PPC advertising such as POP, Interstitial, Text Ads, and Banner Ads (which can be customized to fit your website's style).
It employs automated keyword detection and matching ad distribution to provide you with highly appropriate PPC advertising that will assist you in increasing total clicks on your website and earnings.
You will be paid in one of three ways: Paypal, check, or bank transfer, so you can choose the form that suits you best.
Skimlinks
Skimlinks is one of the more established pay-per-click affiliate programs, having outlasted the majority of its rivals.
For the time being, they provide affiliate marketers with a way to monetize their content without relying solely on affiliate programs.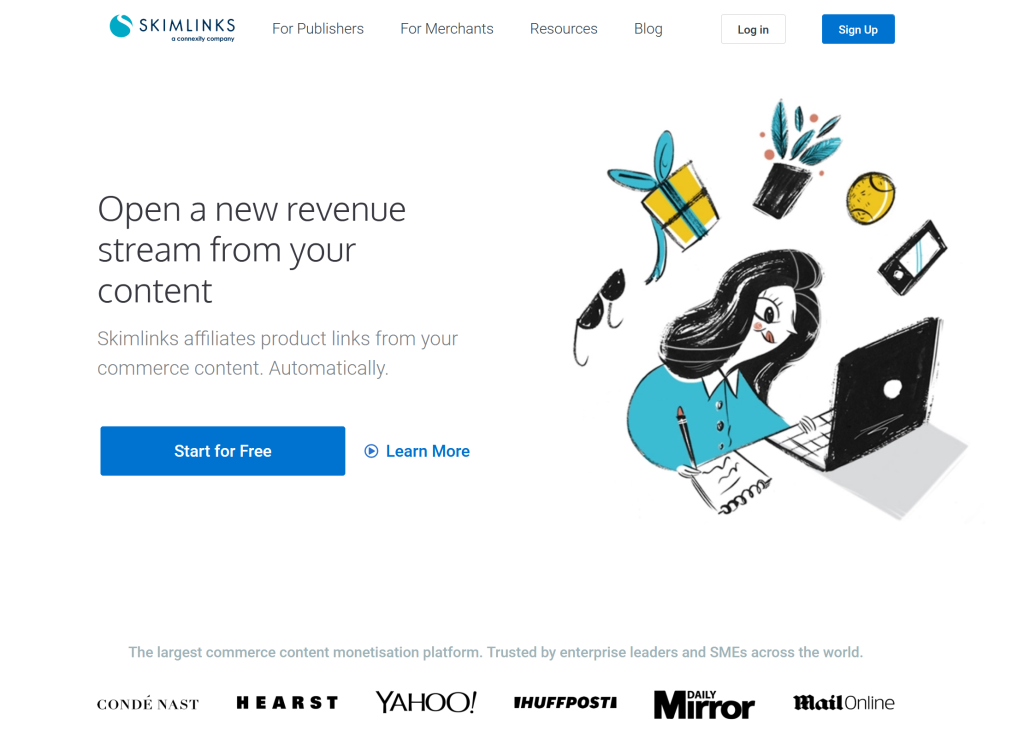 Install their script on your web, and it will recommend products to you that you can link to from within your material.
They pay a 75/25 split on all money received from commissions. You also don't have to worry about monitoring or other nerdy things because they do it for you.
The distinction between Skimlinks and pay-per-click affiliate programs is hazy since they represent affiliate programs rather than just advertisers. But they're essentially the same thing.
They also have a referral program that pays you 35% of your referrals' commissions for the first 12 months they use this PPC affiliate site.
Just keep in mind that they pay a net 90, which means you'll have to wait at least three months for your money.
The following are the advantages of using Skimlinks as a Pay Per Click affiliate program:
The following are the main reasons why you should use the Skimlinks PPC affiliate program.
As an affiliate, you receive 75% of the revenue split from the Skimlinks website.
In addition, if you use WordPress, you will also have access to their plugin, which will allow you to easily incorporate Skimlinks into your website.
The ability to turn user-product references into affiliate links automatically.
Skimlinks offers publishers with US or UK bank accounts through Direct Deposit or PayPal. However, if you live outside of the United States or the United Kingdom, you can only pay through PayPal. The minimum payout is $10, and they pay in 90 days.
Infolinks
Infolinks claims to be the third-largest PPC firm on the internet. Its PPC affiliate programs use a relatively novel method of distributing advertising that does not rely on most conventional banners. Instead, its advertising solutions include proprietary options like InTag, InText, and InFrame.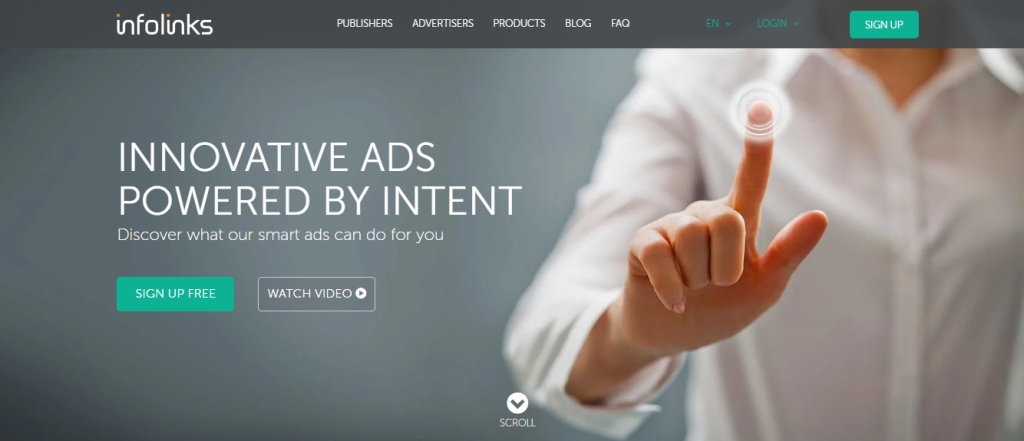 Two of these choices (inTag and inText) can be connected to words in the text and only appear when they skim over them. If a visitor is using a wide-screen display, the final one appears on the page's edges.
Since these advertisements do not compete with others, you can use other affiliate programs that pay per click.
How to Earn Money With Infolinks' Affiliate Program?
Infolinks offers you double the amount of ad space on your affiliate blogs and landing pages. But, of course, that's money on top of whatever the affiliate program for that platform is taking in.
Adsense and Infolinks ads will coexist on the same platform without competing with each other (along with an affiliate link or two), and many other ad networks do as well.
The most effective way to make money with Infolinks is to merge it with another program, preferably another PPC affiliate program. When you pay for affiliate program sales, you can earn money in three ways.
Adblade
Adblade is a content-style ad network that pays you for every click on PPC advertising put on your blog.
How do you make money as an affiliate of Adblade?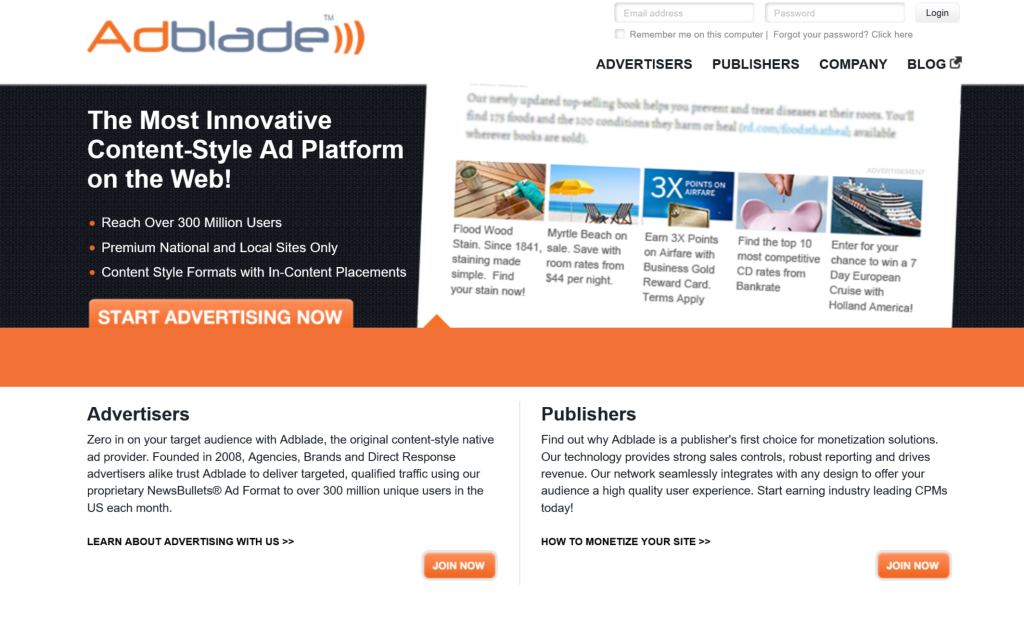 Suppose you want to promote a PPC affiliate network with excellent monitoring and reporting, including everything from real-time reporting to providing details on the number of impressions shown, click-through rate, cost-per-action, cost-per-click, and so on. In that case, you can choose Adblade, which will help you increase revenue by attracting top advertisers from all the places on Earth.
Adblade will not pay your bill if the sum owed to you is less than $100, and payments will only be made through PayPal.
Adblade Pay Per Click affiliate program benefits:
Widely operated (over 300,000 sites are using Adblade to monetize their traffic)
A large number of advertisers
Offers excellent show ad specifications, such as regular IAB units and Adblade's patented News Bullets (a premium unit that delivers 3x better performance)
Allows you to access real-time news (so you can easily find out the number of impressions, click-through rate, cost-per-action, cost-per-click, and so on).
Media.net
Media.net is typically the first port of call for affiliate marketing publishers looking to increase their earnings as a PPC affiliate.
When trying to monetize their website, most newbies use AdSense as their default setting.
It then takes them months to realize that they might theoretically double their profits by joining other pay-per-click programs.
As an example, consider Media.net.
Media.net is a significant player in the broader Yahoo!/Bing Network advertising network. Advertisers from all over the world pay to do their pay per click advertisements here, and you might be one of the many affiliates hosting ads and earning a cut.
Don't dismiss this site because it doesn't support Google advertising. On the contrary, it is one of the most comprehensive programs associated with Bing. It serves more than $6 billion in PPC and other advertising on some of the internet's most popular pages every year.
However, you do not need a large number of visitors to make this network work for you. As an affiliate, you can make hundreds of dollars each month with about 1000 views per day thanks to generous impression rates and the number of ads you can post on each page.
How to Earn Money Through Media.net's Program?
Making money on Media.net is all about getting as many views as possible. Therefore, the network allows you to place up to three advertisements on each page, which means you can get three impressions for any person who visits that page and sees the PPC advertising.
This will help you quickly accumulate the 1000 impressions needed for payouts, so take advantage of it. In addition, you are free to place an affiliate link on each page that receives traffic in order to maximize the value.
It's important to remember that you must keep things simple if you want to stick with this PPC program. Many people have complained in reviews that this network bans people very easily due to low-quality traffic and allegations of click fraud.
Adsterra
Adsterra is a marketing network that claims to receive over 25 billion impressions every month. Many of the publishers are affiliates looking for ways to supplement their revenue from affiliate links.
Some website owners consider it the best pay per click affiliate program because of the wide range of options it offers.
Affiliates and other marketers who sign up would have access to a variety of advertising models, including PPC, CPM, CPA, CPC, CPL, CPO, and CPI.
Its prestige is based on the work it has done to screen out low-quality advertisers from its network. It is also well-known for paying publishers and affiliate marketing partners on time and consistently.
How to Benefit From Adsterra's Affiliate Program?
Adsterra is a select network, and some would argue that it is the best pay per click network on this list.
Many affiliate marketers like to advertise here because the choices can be easily tailored to different items. If you are approved, it is most likely because you can already deliver a consistent amount of high-quality traffic.
If that's the case, the best bet for making a lot of money is to take advantage of all the experimentation available through the PPC affiliate program. Find out how your target audience reacts to the various banner styles and sizes.
PPC Affiliate Programs – Conclusion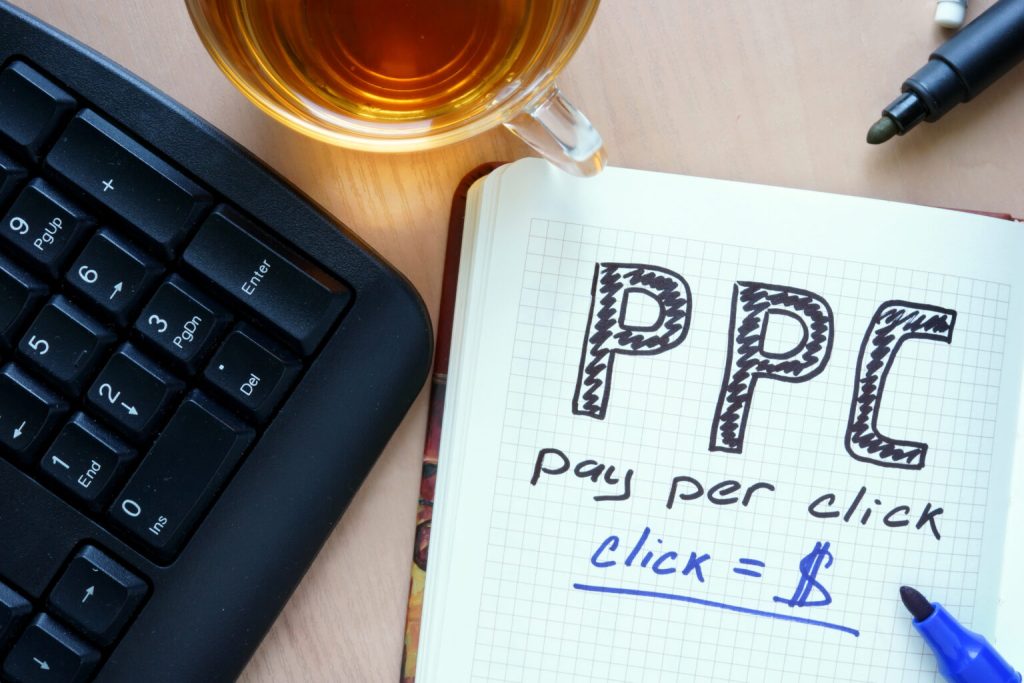 PPC advertising can be a profitable complement to your other affiliate programs if you have a good affiliate website. Pay per click affiliate programs would enable you to add a second revenue source to your best-performing pages, allowing them to gain more regardless of how well they are currently performing.
While numerous platforms include PPC affiliate programs, only a few of them provide excellent monitoring, a high value per CPC, an enormous pool of advertising options, and so on. On the other hand, all of the websites listed above offer highly useful pay per click affiliate programs that you can use to quickly monetize your website's traffic. So, what are you waiting for? Go through them all and start using the right ones to make more money.
Last Updated on November 28, 2023