It may not be easy to market your products or services to businesses. As a consumer, you are used to being marketed to. Therefore, you have a preconceived notion of how you should market your products to other businesses. However, the methods for selling to businesses (B2B) and selling to consumers (B2C) are significantly different.
Today, we will review the best marketing strategies suitable for the B2B environment and how you can thrive in this ultra-competitive business.
What Is Business-to-Business Marketing?
Business-to-business, or B2B marketing, is the process of marketing its products or services to another business. Business-to-business marketing is required when one company's production is necessary for another company to sustain or improve its operations.
Examples of B2B marketing include:
Manufacturers of industrial pumps are attempting to market and sell their products to oil and gas firms.
A commercial construction company wants (to get) a contract to build office space for a law firm.
A construction company is trying to sell industrial equipment to a heavy equipment business.
What Exactly Is a B2B Marketing Agency?
A business-to-business marketing agency is a third-party marketing firm that specializes in adapting your company's marketing message to other businesses. B2B marketing professionals understand the nuances of targeting decision-makers for high-priced products and services.
Why is B2B marketing important?
Since most businesses rely on the products or services of other businesses to function, business-to-business marketing is critical. It is scarce for a company to be able to do all of its production and distribution.
For example, your favorite clothing brand will likely source raw ingredients from farms and fabric dyes from chemical businesses. Your favorite cell phone maker probably buys the parts for their devices from third-party companies and pays shipping companies to get the finished products to customers.
How do these vendor partnerships come about?
The process begins with discovering B2B marketing opportunities and then personalizing your brand's message to a firm that needs your products or services.
Another crucial incentive for B2B marketing is the length of B2B connections and the opportunity for increasing revenue. Typically, selling to consumers entails a single purchase of a low-cost item. When a company sells products or services to another business, the cost of the good or service may be high and required regularly.
For example, a landscaping company providing services to a significant office campus may include a multi-month contract for 5-figure sums. This is not the same as a customer paying for a one-time landscaping project in their backyard.
3 Business-to-Business Marketing Types
You can use three basic B2B marketing tactics for your business. Think about how each of these can be used for your business, then examine your competition to see if these B2B marketing plans will be effective in your industry.
Digital B2B Marketing
Digital marketing is a relatively cost-effective method of getting your products or services in front of relevant people. A digital marketing campaign makes it simple to track ROI, and you can reach decision-makers with granular targeting.
LinkedIn advertisements, for example, can target users with specific job roles, allowing you to target a purchasing manager or executive specifically. If your customers are looking for your products or services online, you can hire an SEO company to ensure your website is near the top of the search results.
Traditional B2B Marketing
Traditional marketing methods for the business-to-business market cast a wide net and are typically costly, but they aid in developing brand equity. You can use radio, television, or print advertise
ments to capture the attention of your potential customers and keep them in mind. You'll be in the running if those organizations seek a new vendor.
Personal Selling in Business-to-Business
Personal selling is one of the traditional and effective B2B marketing strategies. Personal selling relies on face-to-face networking and relationships to close deals. This is the least scalable way to try and market your company to other businesses, but it gets the best results.
Personal selling is commonly used in conjunction with digital marketing. A salesman follows up on leads generated by digital campaigns in person.
Case Studies in B2B Marketing
Business-to-business marketing services have nine primary techniques for increasing B2B lead generation and sales. The B2B marketing programs listed below are tried-and-true solutions to help your business develop.
Launch a Customer Affiliate System
Creating an affiliate system is today's most underutilized B2B marketing method. Affiliates have been essential for businesses to get new customers for a long time, but the last ten years have been mostly about digital marketing.
Try incorporating customer affiliate referrals into your B2B marketing approach from the beginning. To obtain affiliate referrals, you can use either paid or natural approaches.
Set default periods for evaluating customer satisfaction and soliciting referrals from satisfied customers. Consider sending an email every half a year to a customer who has already been with you to ask for feedback on your services if you are a commercial lawn care company. If a customer gives you positive feedback, tell them you would be happy for them to share it with their network.
The paid strategy would be similar unless you'd offer an incentive. For example, you could provide 10% of the following month's fee for each new customer recommended. This would cost you very little and produce a tremendous amount of revenue.
Need an affiliate program for your business but don't know where to start? Try Scaleo – 14 days free.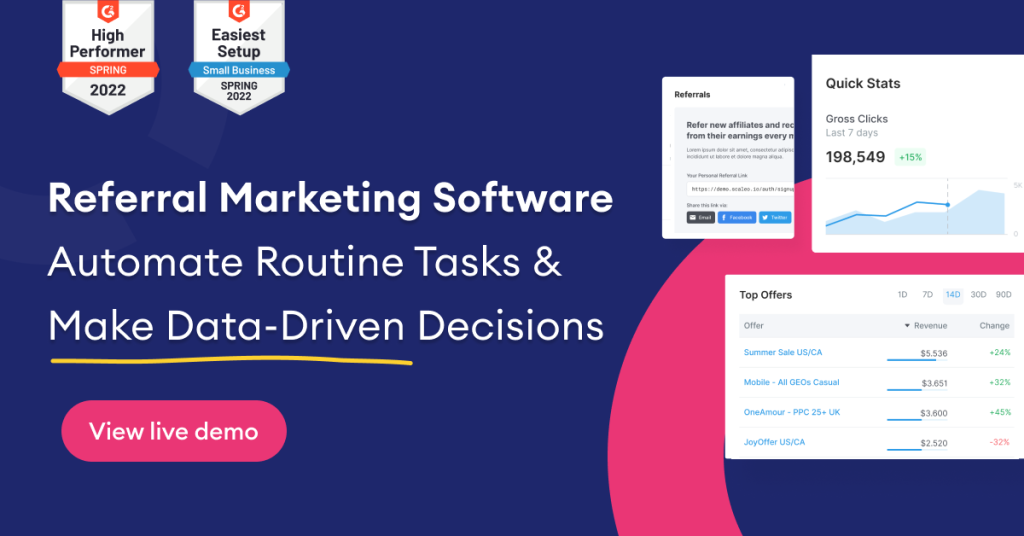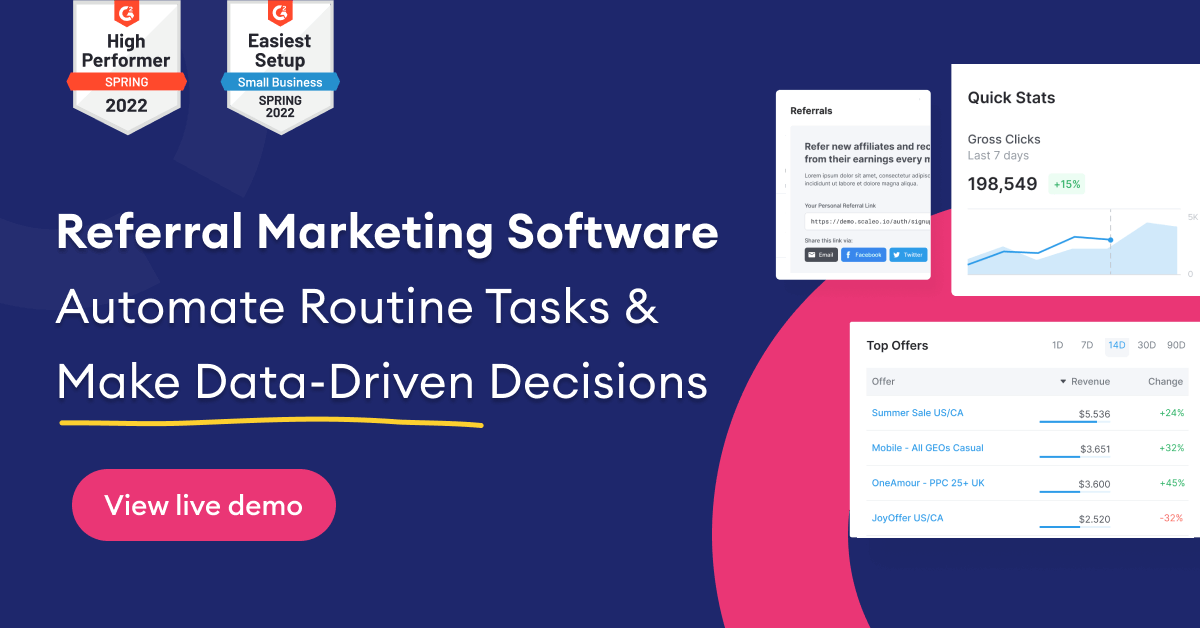 Analyze Customers' "Pain Points"
The first step in successful B2B marketing is determining what your customers require. Customers will not rush you just because you offer a product or service. Discover what drives demand for your product or service and how to differentiate yourself.
Setting up customer user groups is one way to better understand your customers' needs. 
Customer user groups, like focus groups for new products, tap into people already using your offers. For example, after questioning your customer user group, you may discover that marketing for IT organizations is more efficient when you focus on the pain point of cloud security. Identifying these pain points can help you personalize your marketing message.
You can convene personal user groups or create surveys to identify buyers' particular pain points before choosing your solution.
Other types of studies include using up-to-date data about your industry or researching keywords to determine the demand for organic searches.
Make use of influencer marketing.
Collaboration with powerful and targeted influencers can be a very effective marketing technique for B2B businesses. This makes the most sense if your target industry has well-known public figures.
Returning to our commercial construction example, if your construction firm is looking for contracts for restaurant build-outs, you may team up with a prominent figure well-known among restaurant owners. A blog post about your restaurant designs on Gordon Ramsay's or Guy Fieri's site could be a great way to get people interested in your offer.
You have probably heard of local influencers in your target industry. These local influencers are an effective and low-cost way to improve your business-to-business marketing if you own a local business.
Reviews, testimonials, and case studies.
Using interviews, testimonials, and case studies from existing customers is one of the most effective B2B marketing methods. This increases the confidence of potential customers who need to know that their products or services will meet their expectations.
Reviews and testimonials are also crucial components of any B2B digital marketing approach.
Online reviews can help your company outrank competitors and enhance organic and Google Ads click-through rates.
Case studies are helpful as you move closer to making a purchase choice. Customers, for example, will want to check what they've done in the past if they have a list of potential product or service providers. A case study of a similar customer may be all the proof your prospects require before making a significant purchase decision.
Business-to-Business Advertising
Your B2B marketing strategy should combine paid search and social media advertising. These paid B2B marketing services can provide significant ROI if done appropriately.
Learning how to advertise successfully on social media might help you meet your prospects where they already spend their time. The decision-makers and purchasing managers you're targeting represent businesses, but at the end of the day, they're just individuals. They spend time on social media, and you may contact them using the powerful targeting options of today's most popular social media platforms.
Paid search is also an excellent technique to target specific prospects. Sponsored search differs from organic search in that you can skip the line and go straight to the top of the search results without putting any time into SEO.
The paid search focuses on your prospects' specific interests at the moment they are interested. Traditional marketing frequently targets users based on demographics. This is why many business-to-business marketing strategies emphasize digital over traditional.
Make use of B2B SEO.
Search engine optimization is a valuable tool for B2B web marketing. Prospects must make educated selections so they can perform preliminary web research. You may not even be considered a potential vendor if you are not the top search result for your selling product or service.
Content marketing for your business website is one technique to increase your SEO. Content marketing places your brand as an authority in search engines and users' eyes.
Indeed, content strategy has been shown to play an essential part in B2B manufacturing, marketing, and manufacturing web design. Both function in tandem to boost manufacturer SEO and drive organic search traffic. By consistently putting out informative content, you show that you know much about the subject and help people make better decisions.
Employ marketing automation.
Please read our full post on marketing automation here.
Marketing automation is becoming more and more popular as a B2B marketing strategy. Automation can engage and nurture business leads and combine all your marketing platforms.
For instance, if someone fills out a form on your website to download a case study, marketing automation can be used to follow up with relevant, targeted emails. This is a great way to get the most out of every contact your B2B marketing methods bring in.
Avoid overburdening your business relationships with marketing automation. If your emails get too frequent or your material becomes too personalized, a contact may opt out of your marketing list.
Make Use of Social Media in Business.
Social media has progressed from a determining factor to a qualifying component. Simply displaying some social media presence will no longer distinguish your business from your competitors. You need to be present and active on the most important social networks. If you aren't, you might lose potential clients.
Business managers use social media reviews and cultural indicators to determine if your corporation is a good fit. This is especially true for businesses searching for top marketing firms or professional services in the creative industries. There are many reasons why your business needs social media marketing, but it may no longer be enough to be active on your networks.
Due to user saturation, organic social media reach has fallen in recent years. A sponsored social media campaign is required for maximum exposure to potential clients.
Monitor Your Campaigns and Make Use of Reports
How will you determine whether your B2B marketing initiatives are working? Create a system to track the effectiveness of any approach before implementing it.
What would you use to track rankings, organic traffic, and conversions if you did B2B SEO? Is it necessary to use the correct pixels while advertising on social media to trace ROI back to its source?
Conclusion
If you use traditional marketing for B2B, it may be more challenging to track. However, just because something is challenging to track does not imply it should be avoided. If you want to increase your marketing effectiveness over time, you must track and analyze data on the marketing KPIs that are most important to your business.
Last Updated on September 7, 2023