Are you planning to launch a B2B affiliate program in 2023? B2B affiliate marketing is growing, and as we have seen in recent years, affiliate marketing is no longer limited to B2C eCommerce companies. If you set up an affiliate program correctly, your B2B company will have a reliable way to generate leads and sales. Finally, affiliates are usually considered reliable content generators in your niche (like influential industry bloggers and social media personalities).
Potential customers pay attention when they advertise your products or services on their websites. They are more likely to notice what you have to offer. According to Business Insider, affiliate marketing accounted for 15% of digital marketing revenue in 2021.
Paying your affiliates a commission on every sale incentivizes them to help your business expand even more.
B2B Affiliate Marketing Stats in 2023
Here are a few figures that demonstrate why you should not overlook B2B affiliate marketing: affiliate marketing in the United States grows by 10% yearly. Moreover, affiliate marketing spending is expected to exceed $8 billion by 2023.
Even though the concept appears straightforward, creating and running a successful affiliate program necessitates several strategic decisions.
You must locate and train affiliates and establish a competitive and sustainable commission structure. You must also track the ROI of your affiliates and ensure that they follow all of the rules when promoting your product.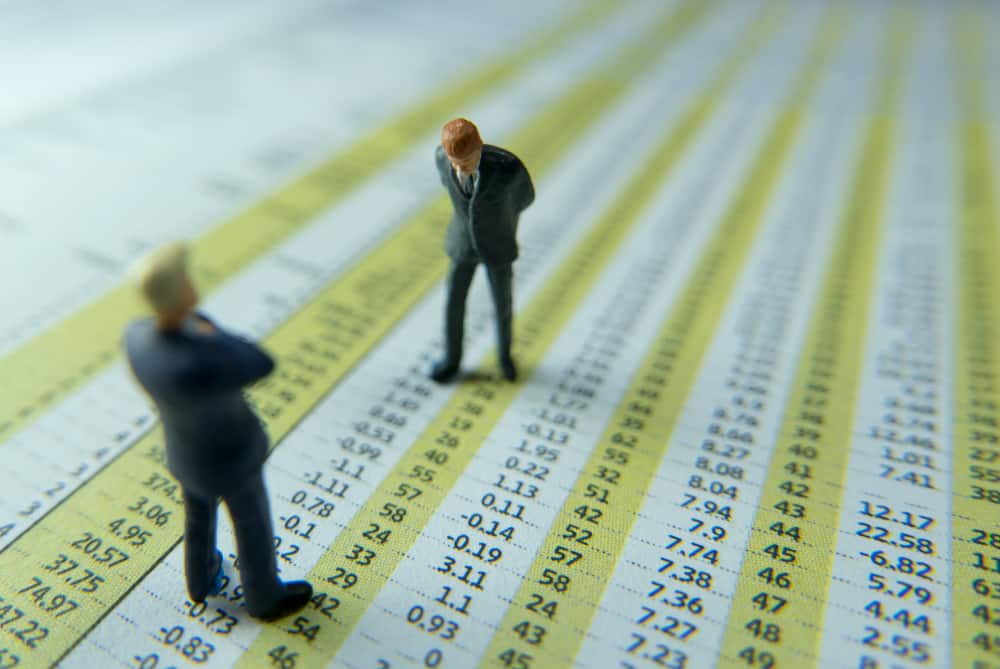 How do you tell if a B2B affiliate program is good for your business? What are the best strategies for launching a B2B affiliate program, recruiting affiliates, and determining commissions?
Let's find out. We'll begin by discussing the primary advantages of a B2B affiliate program.
Here are a few reasons why affiliate programs can help B2B marketers:
High-quality leads through your sales funnel: Affiliates can assist you in moving high-quality leads through your sales funnel. Choose affiliates who have already grabbed your target audience and are well-known in your industry, and B2B decision-makers will be compelled to listen.
Leverage trusted voices: Affiliate marketing is a word-of-mouth powerhouse because consumers trust industry authorities and peers more than brand communications. Furthermore, these customers are more inclined to spread the word to their family and friends.
Low-cost and low-risk: Because affiliates are only paid when they successfully generate a qualified lead or a sale, affiliate marketing generates results with less risk for your business.
Quantitative word of mouth: All business-to-business marketing initiatives should be measurable and data-driven. However, word of mouth can be difficult to track. However, when you set up an affiliate program, you can attribute a sale to the specific affiliate responsible, know how many sales occurred from a given affiliate link, and keep track of how much you've paid in affiliate commissions. This makes calculating the ROI of your B2B affiliate program a breeze.
More leads and sales: Because affiliate marketing is so adaptable, you can ask affiliates to direct potential buyers to any page on your website. You can immediately generate high-quality B2B leads by linking affiliates to a tailored landing page optimized for your program. You can also customize the landing page layout based on the audience of each affiliate partner.
Affiliate Marketing Tips for a B2B Environment
Once you've decided that an affiliate program is right for you, use these guidelines to get it off to a good start. We also have step-by-step instructions on how to launch an affiliate program, whether you're a B2B or B2C business. Read our full post: how to start an affiliate marketing program.
The following are the best tips for B2B affiliate programs:
1. Choose the best affiliate marketing software.
When establishing an affiliate network, affiliate marketing software is a must. It allows you to automate your program and track critical metrics in real-time.
By utilizing affiliate marketing software such as Scaleo, you will always know which affiliates are accountable for which sales, you will be able to automate your payouts, and you will be able to improve your best affiliate offers.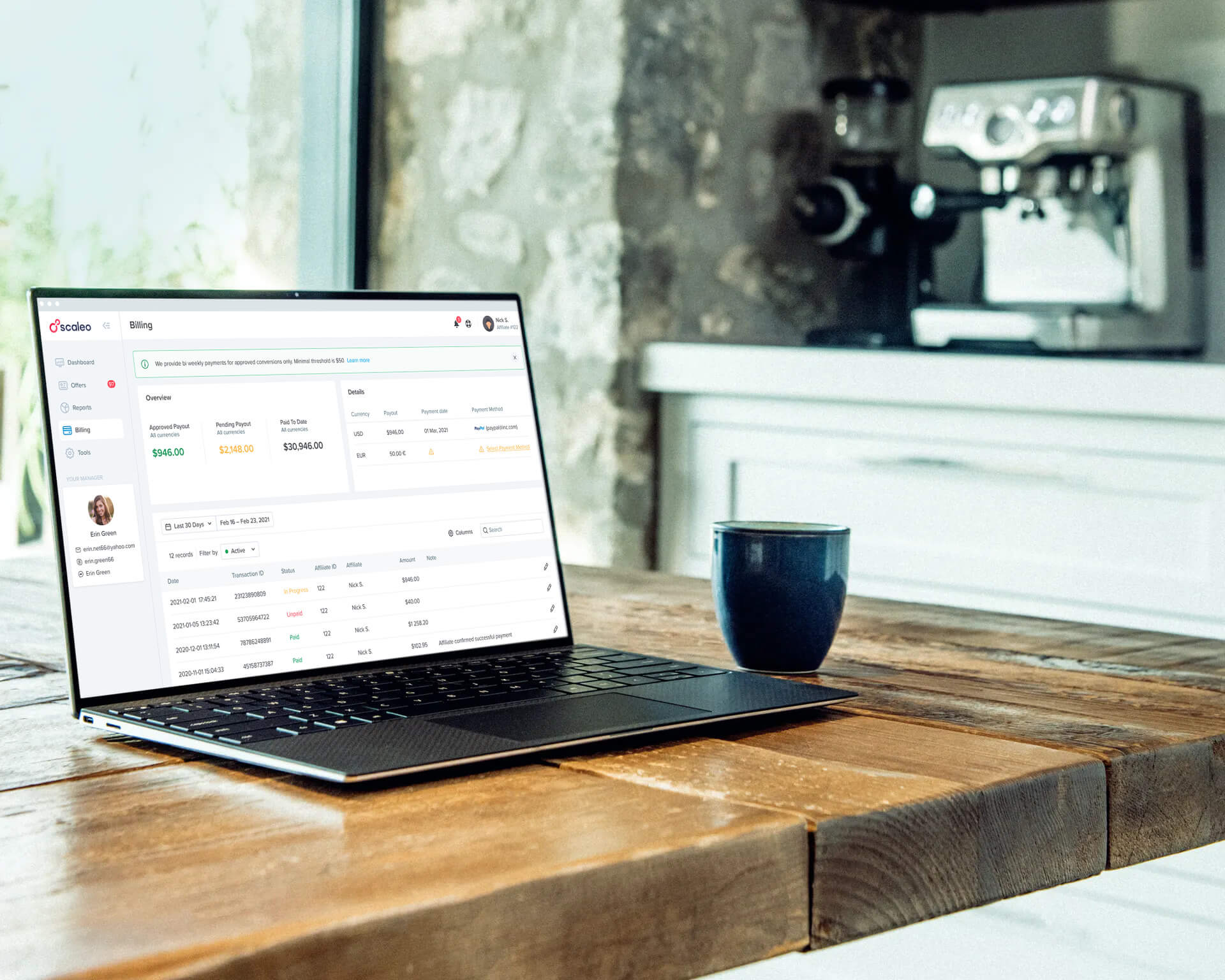 Affiliate software provides you with complete control over all parts of your program. It often includes a dashboard or portal where affiliates may track their success. It also helps to keep affiliates motivated by streamlining all contacts and assistance.
Furthermore, affiliate software is typically significantly less expensive per year than the fees paid to an existing affiliate network.
Check out our complete affiliate marketing software guide, which will teach you everything you need to know.
2. Create your own B2B affiliate network.
It may appear that using an existing affiliate network will save you time and effort. And that might be a good idea if you're just starting off.
However, cutting out middlemen and creating your own B2B affiliate network is far more effective for long-term affiliate marketing. You may save money and have greater control over your affiliate program by recruiting your own affiliates.
Yes, an affiliate network will help you find and manage affiliates. However, they collect their own fees (often as much as 30%) on top of the commission you give affiliates directly.
You will not have to pay those additional fees if you create your own network. You'll have immediate access to all your affiliate data, making data tracking easier and faster. You may make quick, data-driven changes to improve the performance of your program.
You'll also be able to cultivate more genuine relationships with your affiliates and optimize your affiliate network to appeal to all of your audience segments.
3. Determine how affiliates will fit into the buyer's journey.
The primary distinction between B2C and B2B affiliate programs is that the B2B sales cycle is longer and more intensive.
Compared to B2C buyers, B2B decision-makers undertake far more research on products or services before purchasing. They frequently consult with multiple other stakeholders during the purchasing process. It is unusual for a B2B to agree to an immediate transaction. B2B buyers prefer long-term contracts that last at least a few years.
Furthermore, B2B buyers frequently demand a highly tailored experience. They want to know exactly how your product or service will satisfy their needs and get hands-on help at every stage of the sales process.
What role do B2B affiliates play in this process?
Affiliates help to develop trust among prospective purchasers because they are trusted authorities in your niche. They are most effective at generating qualified leads and sales.
Depending on your affiliate marketing objectives, you can create landing pages for affiliates to link to, such as pages with a direct sales offer or a call to action promoting email sign-ups. Personalize these pages based on your target audience's needs, and urge your affiliates to meet these needs when you include your link.
4. Don't forget about your existing clients.
The most common B2B affiliate program blunder is failing to invite existing clients to become affiliates.
Affiliates are not required to use your product or service regularly. They should, however, be reputable content developers who other B2B customers respect.
Why not think about your current customers? Existing customers can sometimes be a powerful voice in the B2B arena, with a large audience that could tremendously benefit from your product.
The nicest advantage of having an existing customer join your affiliate program is that they can truly and directly communicate how your product benefits them and may benefit other businesses. In fact, customer affiliates are likely to be your most loyal fans.
5. Increase your lead generation by utilizing affiliate marketing.
Every business wants high-quality leads. There are numerous ways to generate more prospective leads, from paid advertising to email newsletters and social media initiatives.
The advantage of affiliate marketing is that it allows you to generate more leads for your business by utilizing third-party partners. These affiliates are likewise driven to deliver you potential leads because they only get paid when the required action occurs.
You get exactly what you pay for when you only pay for conversions. Of course, investing your resources in recruiting the wrong type of affiliates can also be detrimental to your business. That is, assuming the opportunity costs are taken into account. Consequently, you must not waste time reaching out to unpromising affiliates.
When it comes to lead creation, your affiliates' goal may be more than just sales. You must consider your sales funnel and determine what is valuable to you. Perhaps you want your affiliates to help you build your email list by having individuals fill out a sign-up form.
It is critical that you make it simple for these leads to convert. If you pay your affiliates for leads, it is your responsibility to ensure that they readily convert into consumers. This necessitates a user-friendly affiliate page with easy access to the sign-up form.
6. Provide sufficient incentives to your affiliates
Offer what incentives you can provide to your affiliates while developing your program. Why should these folks advocate for your products over your competitors' products? An affiliate can only participate in a certain number of affiliate programs.
Fewer than 10% of affiliates account for 90% of all conversions and sales in most affiliate programs. This means that the best affiliates are always in high demand and difficult to reach. Your offer should stand out from the competition in some way.
It is not an exaggeration to state that most top affiliates receive more than 100 outreach emails every day, many of which are partnership requests. This is why your message must grab their attention right away.
7. Amass sufficient resources to ensure success.
As previously said, running a successful affiliate program is a full-time job. You must either go all in or don't bother at all. Creating a distinct landing page for your affiliate program is an excellent place to start, but there's much more to it than that.
If your business is small, you must examine your resources. Opportunity costs must be considered even if limited resources are not an issue. Consider whether affiliate marketing has enough potential for you to put your resources into it.
A well-established affiliate program necessitates active affiliate recruiting and ongoing engagement with them. In addition, there is reporting and tracking, as well as basic program administration. All of this adds up to a large amount of time. You may require additional resources to get things up and running.
8. Recruit only the best affiliates for your business
In B2B affiliate marketing, this is, without a doubt, the most time-consuming aspect of running an affiliate program. You can't expect the proper affiliates to discover your program on their own. Because you are only interested in specific partners who are well-established professionals in their field, you should be actively seeking them.
The primary distinction between B2B and B2C affiliate programs is the size of your target audience. In B2B, there are fewer potential clients, but their lifetime worth is greater.
True, most affiliate marketers, such as those dealing with coupons, have a B2C focus. And these aren't usually compatible with B2B marketing. This is something to consider, and it's an excellent incentive to devote enough effort to attracting the ideal affiliates. This necessitates additional investigation and customization.
Learn about the most effective ways to recruit B2B affiliates here.
9. Make sure your affiliates are aware of your sales cycle.
This is one of the most significant distinctions between B2B and B2C affiliate programs. It is commonly known that sales cycles in B2B are substantially longer than in B2C.
Suppose you're recruiting affiliates who are only used to pushing B2C deals. In that case, it's a good idea to educate them on the complexities of B2B sales cycles right away. They will be more patient and will not lose interest in the program too soon if they do so. For you, this means being prepared to communicate frequently with your affiliates.
Because B2B sales ties last longer, conversions also offer bigger earning potential for your affiliates. As a result, being patient typically pays off.
Affiliate marketing, in general, is a successful promotional channel for generating leads and increasing sales. Almost 90% of advertisers regard affiliate marketing as a significant part of their marketing strategy. These approaches should assist you in developing a profitable B2B affiliate program. You must continuously look for fresh methods and techniques to keep ahead of your rivals.
How to identify if a B2B affiliate marketing business is right for You?
While affiliate marketing can be a powerful digital marketing approach for your B2B, it must meet several criteria in order to be successful and sustainable. Before launching an affiliate program, make sure that:
You've identified your primary target audience and clearly know which niche content creators they trust most. It may also benefit you if you already have a relationship with some of these content creators, making it easy to build an affiliate agreement.
You have strong customer retention rates: Because you'll be paying affiliates a percentage of every sale they bring in, it's more sustainable if these sales result in long-term client connections and ongoing earnings for your business.
Each time an affiliate assists you in making a sale, you are willing to offer competitive affiliate commissions in cash.
You have a reasonable profit margin: Affiliate programs are most effective for enterprises with strong profit margins, such as software corporations and subscription-based businesses.
You can locate additional relevant affiliates to advertise your business through their own channels and direct traffic to your website.
By promoting your product/service within their content, these affiliate marketers can reach consumers they don't know directly in an indirect way.
Know where and how your affiliate program will fit into your B2B sales cycle, including how long an affiliate can earn a commission once someone clicks on their affiliate link.
If an affiliate program isn't suited for your business, think about a referral program. The referral program encourages existing consumers to promote your product to individuals they know. Learn how to create a fantastic referral program for your B2B business.
3 Secrets to B2B Affiliate Program Success
It isn't easy to locate relevant content for developing B2B Affiliate Programs, so it's a real treat to learn from Adam Glazer and Steven Kaufman of Partner Commerce. They own and operate a renowned B2B affiliate marketing firm with vast experience delivering large online sales and leads for companies like Microsoft and Paypal.
After researching the performance of their programs, we discovered three essential lessons you should implement:
Alignment
The importance of alignment cannot be overstated. Strong alignment between the affiliate team and the other marketing/partnership teams is required for B2B and SaaS companies. When a team manages
affiliate marketing and another manages paid marketing. There is a high possibility of a disconnect over attribution and who deserves credit. Everyone must understand what is at stake, agree on how performance will be measured, and be incentivized toward overall success while limiting risk.
Furthermore, aligning your brand and your partnerships creates new opportunities. With the correct platform in place, you can design your partner incentivization structure to mirror that value once you've established and understood the worth of your customer. When you can organize your program to pay your partners each time you generate money, the earnings of your best partners will keep them motivated to achieve even greater success. Partnerships do not succeed until everyone benefits.
Complexity with simplicity
Complement complexity with simplicity. Legacy platforms are primarily designed for retail consumer programs, and their capabilities are often binary. By comparison, B2B sales funnels are extensive and complex and do not lend themselves to a framework of one-time affiliate payments per customer.
However, the opposite is true with advanced technology platforms capable of assessing and rewarding based on the client's journey. To simplify managing B2B partners, you must be able to track every event in their journey, reward partners for driving those events, and provide a deep funnel analysis of their activity.
Break down the silos
A solid platform for measuring the whole funnel and triggering rewards based on your KPIs is not a luxury but a requirement. Deconstruct silos. The ability to track all marketing initiatives in one location keeps everyone on the same page. If everyone wants to take credit for every consumer, you'll continually be at odds with the marketing staff.
When all of your data is collected in one place, and accessible reporting is available, you can assist the entire team in understanding where each piece contributes value. This necessitates a careful balance between agreed-upon restrictions and available technologies within the company.
Perhaps your report indicates that an influencer isn't producing many purchases, but SEO sales are brisk. Isn't it natural for you to want to avoid the influencer? Dig a little deeper and test a little more. You might discover that your SEO-delivered consumers who were also exposed to the influencer had a greater LTV than those who were not. Insights from deep attribution data help you ultimately realize the true worth of your partnerships.
As Adam so eloquently stated, the Heisenberg Uncertainty Principle asserts that the more precisely a particle's momentum is measured, the less specifically its position can be determined. The act of measuring generates a change in the particle's momentum due to the relationship or contact between the measurer and the particle.
Simply put, once you become a part of the system being measured, the true nature of what you're measuring changes. This approach can also be applied to your B2B marketing plan.
The incrementality in marketing is an increase in your target outcome as a result of your marketing efforts. Keeping Heisenberg in mind, we need an ever-evolving attribution model to obtain anything close to a thorough picture of overall performance.
You'll need to examine performance from every angle imaginable, therefore, be open to shifting your perspective to understand where value is created. B2B Affiliate Marketing is all about segmenting the customer journey and then aligning and compensating your partners for the value they provide.
B2B affiliate marketing – Conclusion
Now that you've learned the best B2B affiliate program tips, try and look for ways to put them into action and help your affiliate program succeed.
Please take a look at our guide on launching your affiliate program for a refresher on affiliate program principles.
And, if you're looking for the best affiliate marketing software to handle your B2B affiliate program, give Scaleo a go with a 14-days trial, which you can start right away, no credit card required.