As an affiliate program manager, one of your key responsibilities is handling payments to your affiliates. A crucial part of that process is generating accurate billing for the commissions and bonuses your affiliates have earned. If done manually, billing can be an extremely time-consuming task that often results in errors and delays.
However, leveraging automation allows you to streamline your invoicing process and ensure your affiliates are paid promptly and correctly.
In this article, you will learn the best way to generate bills for your affiliates at scale while saving valuable time and resources. By implementing these best practices, you can provide your affiliates with a superior payment experience that keeps them motivated and engaged with your program.
Why Billing is Important for Affiliate Marketing Program
GBilling for your affiliates is important in managing an affiliate marketing program. There are several reasons why invoices and bills matter:
Affiliates expect to be paid for the sales and leads they drive to your business. Invoices and bills provide a formal record of the commissions owed to each affiliate based on their performance.
Invoices establish a clear payment schedule, so affiliates know when they will receive the money they have earned. This helps build trust in the program and motivates affiliates to promote your products and services.
Issuing invoices in a timely manner is a sign of a professionally-run affiliate program. Affiliates will appreciate your organization and efficiency. They will know exactly what they are being paid for due to detailed billing outlining clicks, impressions, sales, commissions, etc.
Invoices provide an audit trail for your accounting records. They document all affiliate payments so you have clear records in case of any disputes or questions. Invoices should include the affiliate's name and address, payment amount, payment terms, date issued, and invoice number.
Paying affiliates based on invoices helps avoid missed or incorrect payments. With a formal invoicing system, you have a process to double-check that all affiliates are paid properly and on schedule according to your program terms.
In summary, a streamlined invoicing system is a hallmark of a reputable affiliate program. Affiliates will appreciate your professionalism, and you will have accurate financial records and a transparent payment process. Using a simple invoicing solution can save you time while providing all these benefits.
How to Create Professional Invoices for Your Affiliates
To generate professional invoices for your affiliates, follow these steps:
You will need to gather the necessary information from each affiliate to include on their invoice. This includes their full legal business name, business address, contact information and any account numbers.
Ensure all details are correct to avoid delays in payment. Double check names and addresses.
Next, you must determine the payment period the invoice covers and the total amount owed based on the affiliate's commission structure or previous agreements.
Double check that commission rates and any bonuses or deductions are calculated properly based on the terms established with the affiliate.
Create a simple yet polished template that includes your company's logo and contact information, as well as the affiliate's details and payment details.
A clean layout with clear sections for each invoice part will appear most professional. Use a basic but readable font with double spacing.
You may want to consult an accounting professional to ensure you include all necessary elements based on standard business practices and any industry-specific requirements.
Review and proofread the invoice carefully before sending to the affiliate. Mail or email the invoice promptly to allow adequate time for payment processing within the agreed upon terms.
Follow up as needed if payment is delayed. Remain professional and courteous at all times.
With a systematic process and attention to detail, you can generate clear and comprehensive invoices for your affiliates to maintain a good working relationship. Let me know if you have any other questions!
The Best Billing Templates for Affiliate Programs
A template designed explicitly for affiliate programs is critical to generate professional invoices for your affiliates.
Here are some of the best options:
Simple Affiliate Billing Template
This basic template includes fields for the invoice number, date, affiliate information, payment terms, itemized fees, and total amount due. It has a simple yet polished design and is easy to customize with your logo and color scheme. The itemized fee section lets you specify details for multiple affiliate transactions on a single invoice.
Affiliate Commission Invoice Template
Geared toward affiliate marketers, this template provides dedicated fields for listing the affiliate's name and ID, commission percentage, payment method, and pending and paid commissions. It automatically calculates the total commission amount due based on the percentage you enter for each product. You can also add notes or special instructions for the affiliate. The clean layout and intuitive interface make this a great option if you have many affiliates and need to generate invoices efficiently.
Affiliate Program Invoice Template
For larger affiliate programs, this comprehensive template includes an area for program terms and conditions and fields for multiple affiliates, products, and payouts. It does require some setup to customize your program's terms and conditions and product details.
However, this template allows you to efficiently generate detailed invoices for all your affiliates in a single batch once configured. The summary section at the end automatically totals the amount due for each affiliate and the total for the entire batch.
A specialized affiliate invoice template will make the invoicing process quicker and more accurate. Customize the template with your program and company details before sending it to your affiliates. With an efficient system in place, you can continue building great relationships with your affiliates.
Scaleo Affiliate Software
If you use use Scaleo to power your affiliate marketing program, our invoicing module is already integrated into all tariff plans.
Scaleo's platform makes automating affiliate billing efficient and hassle-free. It reduces the time you spend manually inputting affiliate data and calculating commissions, allowing you to focus on other important tasks within your program. Automated affiliate invoicing also minimizes errors and omissions that can damage relationships with your affiliates.
How Affiliate Billing Works in Scaleo?
Scaleo calculates payouts and generates detailed invoices for affiliates. Please note, tat the platform itself does not send out money. The billing functionality can be found in Settings > Billing section.
Some of the features Scaleo offers:
Invoice Generation: There are two types of invoice generation: "By Schedule" and "By Affiliate Request".
"By Schedule" suits those who pay affiliates on a particular day of the month or week. It offers several frequency options like weekly, bi-monthly, monthly, and quarterly. Invoices can be generated manually or automatically.
"By Affiliate Request" is used when affiliates request payment themselves. The system generates an invoice upon such requests. Affiliates can specify the amount and add attachments.
Affiliates Billing: The Affiliates Billing section displays information about affiliates' balances and invoices.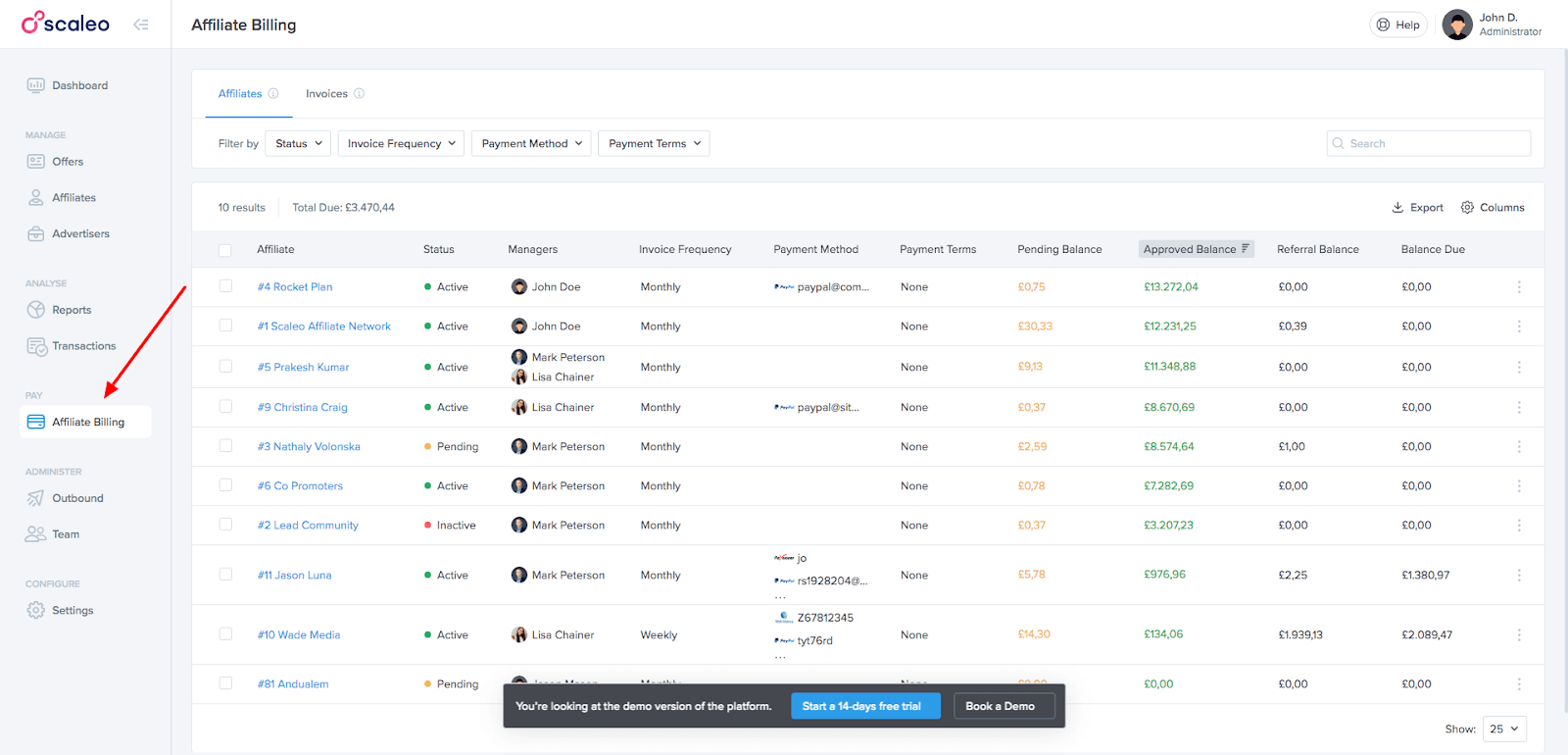 Affiliates Tab: This tab contains a list of all affiliates, their payment methods, balances, and other relevant information. Affiliates can be filtered by status, invoice frequency, payment method, and payment terms.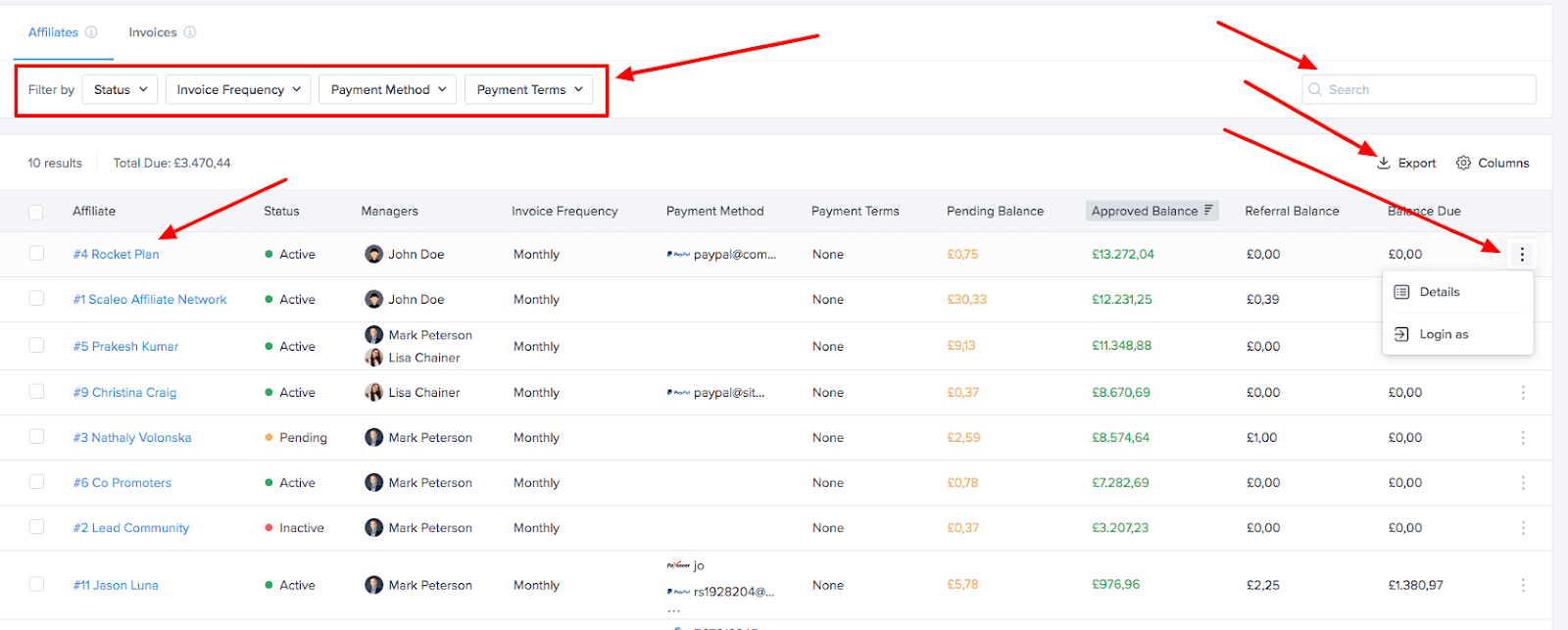 Affiliate's Details: These include basic information about the affiliate and billing information. Parameters like invoice frequency, invoice generation method, and payment terms can be edited for each affiliate separately.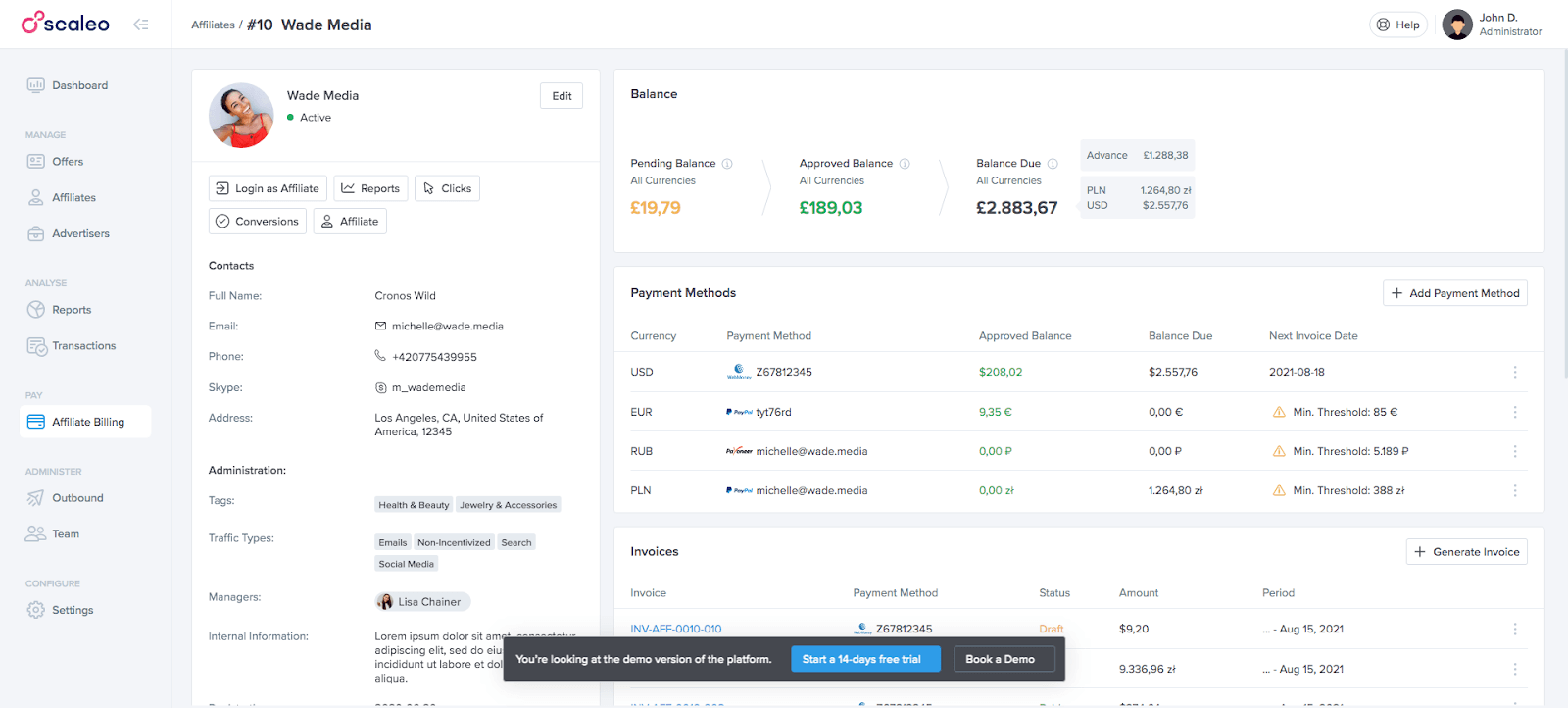 Invoices Tab: This tab contains a list of all invoices created on the platform for the selected period. The list displays information about the invoice like status, date generated, payment method, amount, etc.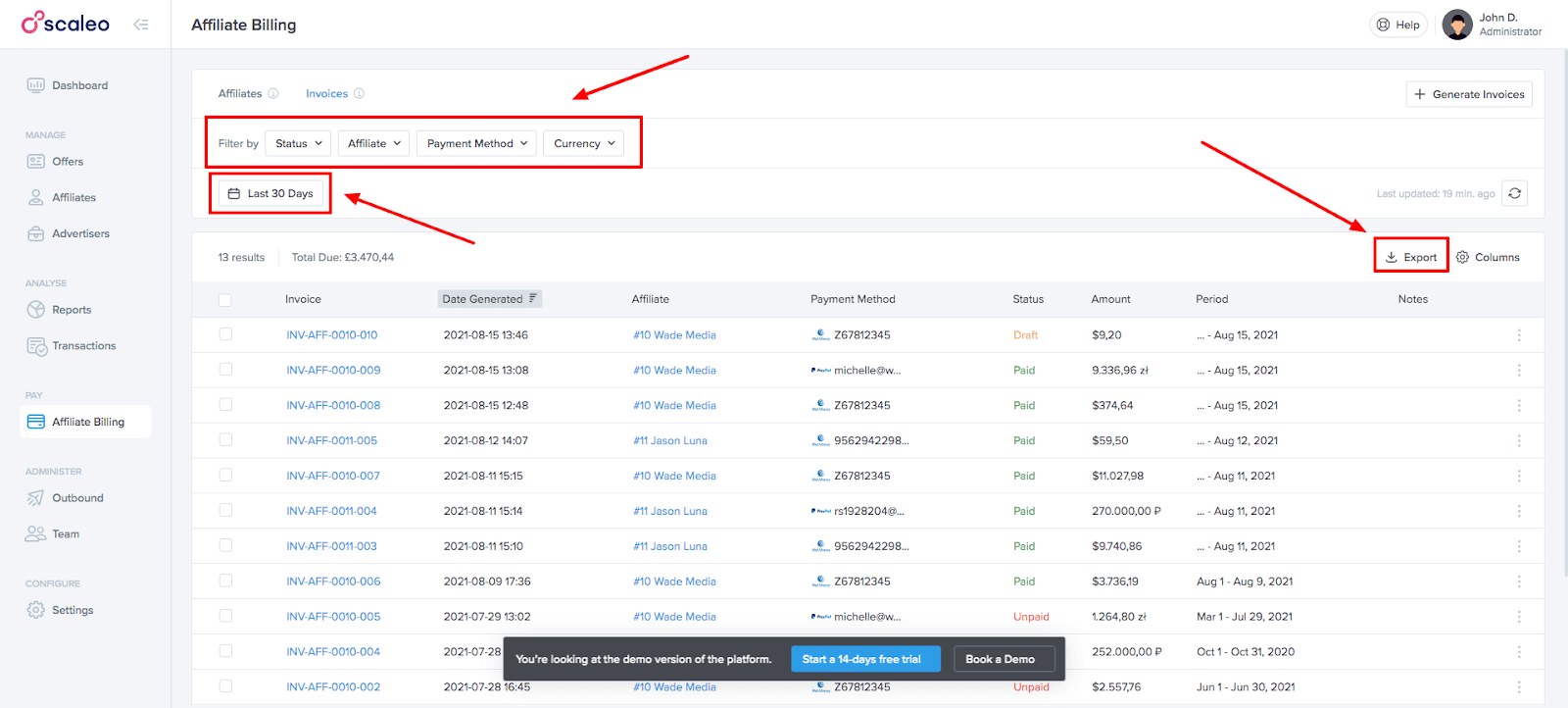 Generating Invoices: Invoices can be generated on the affiliate's details page and from the list of invoices. Generation can be done for all affiliates at once or for one affiliate. The generated invoice includes conversions for the specified period.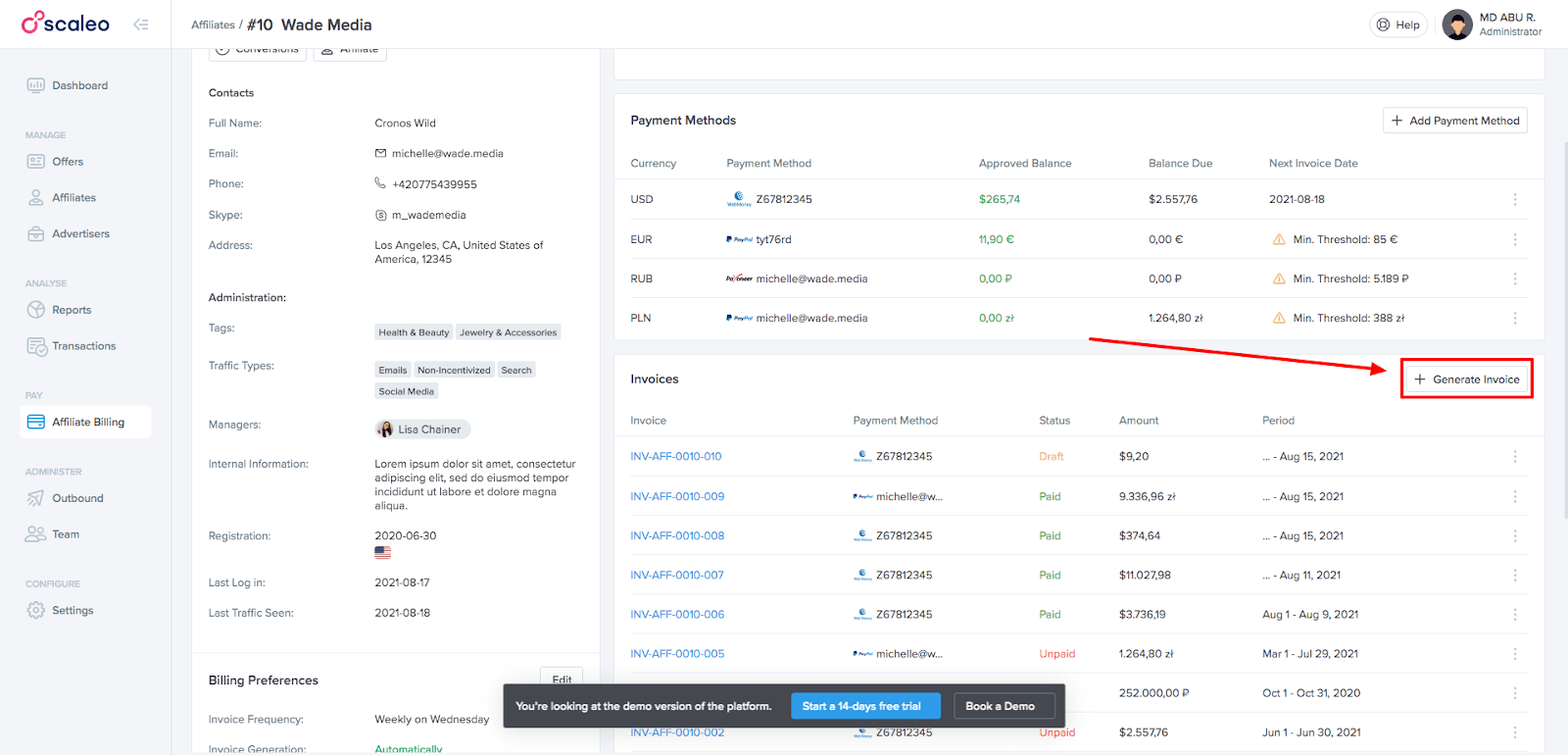 Invoice Detail: Once an invoice is generated, it can be viewed in detail from the invoice list. The detail includes the transactions included in the invoice. Invoices can be edited or deleted, with some restrictions depending on their status.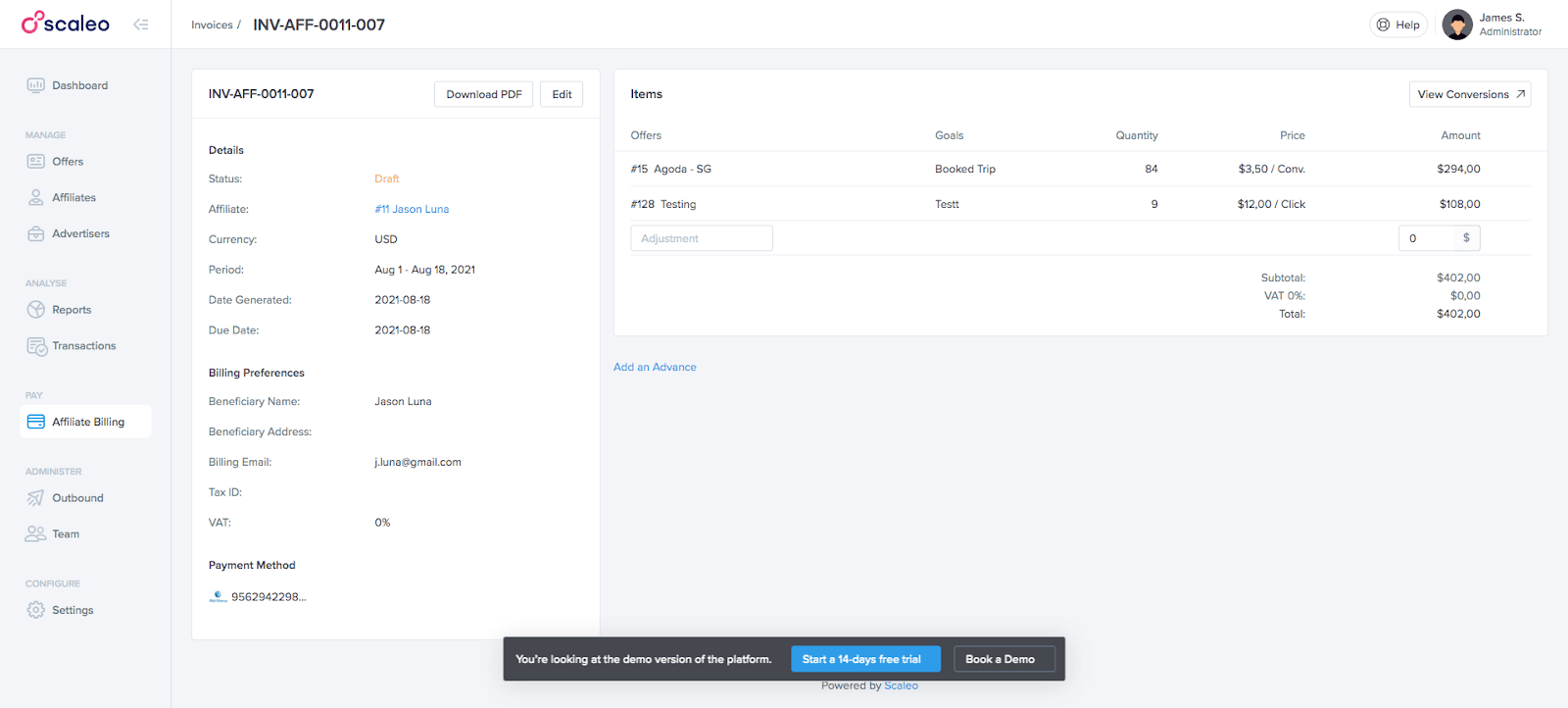 Download PDF: Created invoices can be downloaded in PDF format from the list of invoices or the invoice details.
Reports and Transactions: The system offers filters and breakdowns related to billing in reports and transactions.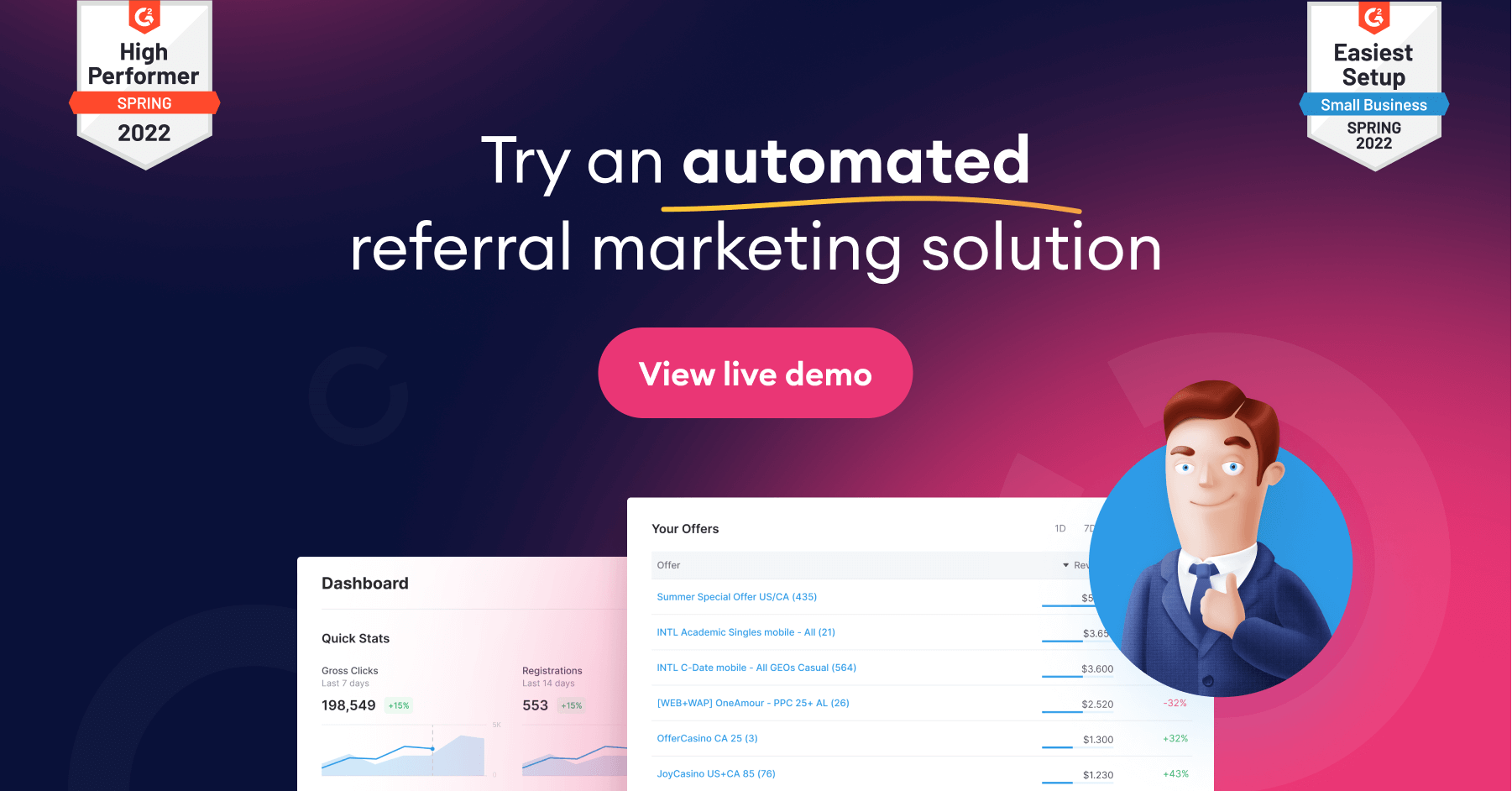 Automating your affiliate invoicing through a platform like Scaleo ensures timely, accurate, and detailed invoices that improve transparency and trust between you and your affiliates. Over time, automated invoicing can save significant time and resources within your program operations compared to manual invoicing processes.
Conclusion
As you have seen, several effective ways to generate invoices for your affiliates exist. You can save valuable time and ensure accurate, professional invoices by choosing an automated solution, whether through an affiliate network, third-party software, or your own accounting system. The key is finding an approach that integrates well with your existing systems and processes. An efficient invoicing system gives you more time to focus on growing your affiliate program and business. Your affiliates will appreciate the professionalism, and you'll build stronger relationships and loyalty from your partners. In the end, automation and integration are the secrets to success.
The billing module in Scaleo makes issuing affiliate invoices efficient and reliable. With automated invoices, you have more time to focus on other aspects of your program that drive growth. Give it a try free for 14 days, no credit card required!
Last Updated on September 12, 2023