A SaaS partner program is a program that is designed to help businesses that offer "software as a service" products to affiliate partner with other companies and individuals who can help them promote and sell their products.
SaaS partner programs typically provide partners with various resources and tools, including training materials, marketing collateral, and other resources that can help them promote and sell the business's SaaS products.

SaaS partner programs can be beneficial for both the business and its partners. For the business, a SaaS partner program can help them expand their reach and tap into new markets by leveraging the networks of their partners. This can lead to increased sales and revenue for the business.

For partners, a SaaS partner program can provide them with the tools and resources they need to succeed in promoting and selling the business's SaaS products. This can help them generate additional revenue through commissions or other forms of compensation.
How have SaaS partner programs changed in the past few years?
Is your SaaS business not getting the results you expect from traditional advertising? Right now, a SaaS partner program is a much more cost-effective and efficient way to scale your strategy.
As of 2021, there were 25,000 SaaS companies in the world, with the United States accounting for 15,000 of them.
In 2022, global SaaS end-user spending is expected to reach $176.6 billion.
Looking into the future, according to predictions, by 2025, cloud technologies are predicted to account for more than half of commercial IT investment. In such a situation, establishing a SaaS partner program has become critical for facilitating growth and revenue generation.
As a SaaS company, you must do more than just serve your clients. This is why SaaS marketing is critical for success.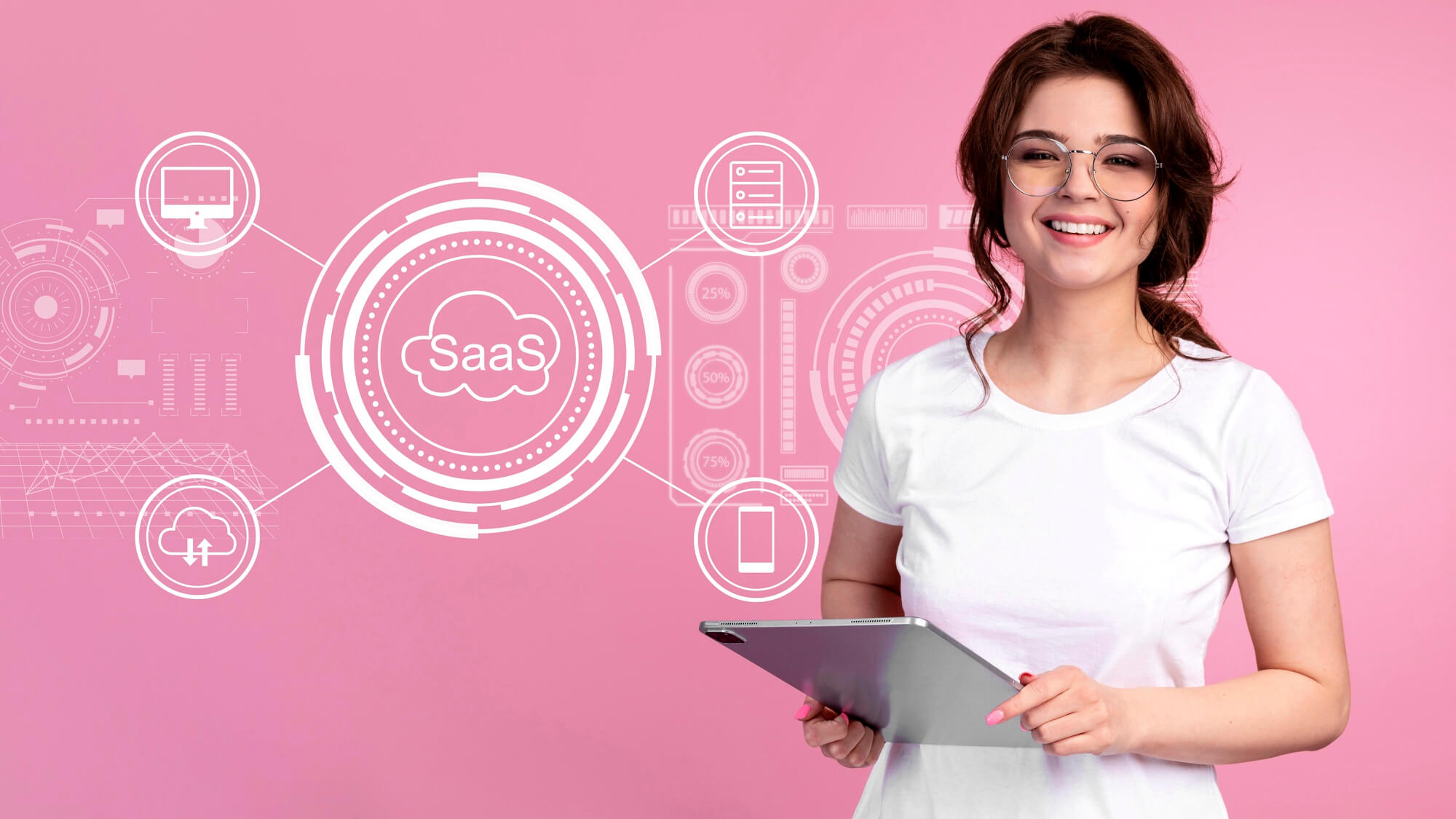 A solid SaaS marketing strategy is required to expand brand reach. To increase your chances of success, you might want to consider creating a SaaS partner program, since partnerships underpin the majority of successful SaaS businesses. These partnerships can increase your business's revenue in both the short and long term.
A partner program might vary depending on the goals of the business. Working professionals create a partner ecosystem by forming partnerships with one another. This involves aligning sales, product, strategy, marketing, and other departments in order to form enormous partnerships. These partnerships represent the future of SaaS. A partner program assists the company in delivering value and business opportunities.
This article delves into B2B SaaS partnership programs, including what they are, why they are important, the many types of SaaS partner programs, and how to create a strategic plan around them.
What is a SaaS partner program?
As we have already said in the first section, a SaaS partner program (also known as a channel partnership) is a partnership with third-party companies or individuals that agree to assist the market and/or distribute your software to new audiences.
You reward your partners with cash, tangible bonuses, or sales commissions as an incentive to assist you in increasing your sales.
Whatever the incentive, one constant remain: the more software sold, the greater the partner's reward.
Understanding that a SaaS sales partner does not become your employee is critical. Even though your partners will sign a formal agreement to market or sell your software, they will continue to be autonomous organizations.
Types of SaaS B2B Partner Programs
In the B2B sector, there are numerous types of SaaS partner programs. The main pillars upon which these connections are built are as follows:
Size of the company
Goals
Time frame
Budget
Resources
Here are the five most common types of SaaS partner programs from which to choose:
1. Reseller partnerships
You license partners to sell your software through their own channels in a reseller partnership. Most reseller partners sell your SaaS alongside other applications in their software marketplaces.
However, resellers go beyond simply providing another distribution route. They also provide value to the purchase, thus the name "value-added resellers." Resellers are educated to assist consumers with all aspects of software use, from installation and customization to customer support.
2. Referral partnerships
In a referral partnership, you choose existing customers to refer your software to friends, family, and others with whom they already have a relationship.
Referral partners are well-equipped to communicate what makes you unique because they already have customers who have used your software. These recommendations are highly successful because of the high level of trust between linked peers.
Because of the limited scope, referral partnerships typically generate fewer sales than other types. However, all of those leads are warm. Referrals will likely buy from you and continue with your software in the long run. (This is ideal if your SaaS is a subscription-based application.)
While being equivalent to consumer referral programs, referral partnerships are more formal arrangements with hand-picked partners.
3. Affiliate partnerships
Affiliate programs are among the most popular SaaS partner programs. In this model, your company collaborates with content creators, website owners, and marketing agencies to market your product.
On the other hand, affiliates drive leads to your platform and encourage them to buy directly from you, as opposed to resellers, who sell your software on their platforms.
Affiliate partners use a unique affiliate link to direct their audience to your sales page on their website or other digital channels.
They also create marketing content, such as reviews and testimonials, in order to persuade as many people as possible to purchase.
When a user clicks on the link and purchases your software, you reward a cash commission to the responsible affiliate.
4. Integration partnerships
A non-competitive software company whose products integrate with yours is called an integration partner. Your product is listed in the partner's marketplace as one that integrates with its own.
Integration partners, like affiliates, add links to your website on their own pages and receive commissions when visitors make a purchase. However, their goal is significantly more specific than affiliates because they simultaneously promote your SaaS products.
While some integration partnerships include monetary rewards, the true value of this partnership is the brand exposure and sales your SaaS companies offer each other.
5. Agent or broker partnerships
Agents and brokers market to potential clients who will likely buy your software. They build meaningful relationships with leads and direct them to your website, and for each successful sale, you reward the responsible agent.
Agents may not have used your items previously, but they are prepared to help market your firm in exchange for compensation.
Agents, like affiliates and referral partners, do not sell your products. They only direct interested buyers to your platform, where they can complete their purchase.
How to Create a B2B SaaS Partnership Model?
Did you know that some companies report that SaaS partnership program accounts for 40% of their revenue?
Here are the essential components of a SaaS B2B model for partnerships:
Strategy
The most important part is to write down the company's goals. Finish your partner journey by determining the perfect partner profile, and the goals you want to attain, keeping track of your goals, and finalizing your benefit grids.
Sign a contract, keep the deed clear, and track metrics like signups and clicks. You must document integrations, supplementary needs, and program guidelines for partners, among other things.
Alignment
It will be beneficial to align the sales and marketing processes for partners. Listening and updating information for partner teams is part of this. You must plan your efforts by incorporating informational resources and sales materials into your messaging.
Putting your customers first is the key to a successful SaaS partnership!
Sales Enablement
This is where your efforts will bear fruit. At this point, your product will be referred to, and onboarding will begin. You must check references and create an environment that your partners will enjoy. Using metric-based KPIs will allow you to track your progress, and sending weekly reports will also be beneficial.
Another thing you can do is create a custom newsletter that informs you of any changes or incentives that may occur. You must develop a system that integrates all communications to provide greater support.
Conclusion
SaaS partnership programs can become complex. You must remain watchful and automate everything. Because channels are typically large, they might not be easy to manage. In that instance, collaborating with the correct companies can eliminate the risks of going wrong. You will see increased revenue, a stronger brand presence, enhanced networking, information exchange, and technological advancement.
Do you want to start a SaaS partner program?
Read also: Top 10 Affiliate Management Software – How To Choose The Best SaaS?
Scaleo provides a cloud-based platform that can manage and track all forms of SaaS partner partnerships. Our powerful platform automates every step of the process, making it simple for your business to grow.
Try Scaleo free for 14 days, or contact our managers for a free trial call.
Last Updated on August 25, 2023