Migrating to another affiliate platform software can seem like a daunting task. Knowing where to start and how to do it without causing downtime or data loss can be difficult, but we are here to help!
The good news is that there are ways to make the transition as smooth as possible. In this article, we'll discuss how to migrate your affiliate software without downtime or data loss. We'll look at the steps you should take before switching, how to ensure the transition is successful, and tips for keeping your data safe.
By following these steps, you can ensure your switch is seamless and successful. We'll go through the process step-by-step, so you won't have any surprises along the way and will be up and running with your new software as soon as possible.
Why Business Owners Migrate to Another Platform?
There is a number of reason why would a business owner choose to switch to a different, it all boils down either to being dissatisfied with the current affiliate software that powers your program or looking to obtain features that your current partner vendor does not provide.
Cost-Related Issues
One of the most common reasons business owners switch to a different affiliate platform is a cost related issue. Either their current platform is too expensive, or they do not like the fees structure, for example – some affiliate software charge for clicks rather than conversions, which makes the platform a lot more expensive because there is always a risk of fraudulent traffic. The cost of using an affiliate platform can be a significant factor in the decision to move away, if a business owner finds that the current affiliate platform is too expensive or does not provide the best value for money.
Another reason is when someone starts on a "beginner" plan and their platform grew so they are facing the need to upgrade to a higher plan and their current software does not offer a flexible structure to allow them to scale vertically.
More Flexible Commission Rates
Another reason why business owners may migrate to another affiliate platform is to access better commission rates structure. For example, your current vendor does not offer the possibility to set up MLM commission structures, nor has the ability to offer 2nd tier commissions, but you feel that this commission structure will suit your needs best. Not being able to be flexible with the commission structure to suit your needs can be a deciding factor, if you feel that your current affiliate program is limiting you and your partners.
Outgrowing
More often than not, business owners do not have much faith in affiliate marketing and start by using a free plugin that their ecommerce platform provides. This can either be a generic Shopify plugin, a WordPress plugin such as WooCommerce affiliate or any other. This may fill the needs of having an affiliate program attached to your business, but as times passes and partner marketing proves to be effective for your business, driving more cost effective sales and leads – business owners realize that they need to take their partner marketing more seriously and make the platform more flexible.
They may also realize that they outgrew their current affiliate program capacity, as many free or generic affiliate plugins are limited in functionality and volume.
Poor User Experience
The user experience of the affiliate platform is essential for the success of the business. If the current affiliate platform is difficult to navigate or not user-friendly, it may lead to frustration and loss of potential customers.
If your affiliates find the affiliate portal too difficult, not intuitive or it doesn't work properly and lacks transparency – they may leave the program and promote your competitor instead, which leads to revenue loss in the long run. Making sure your affiliates and everyone involved, really loves using the affiliate portal is crucial.
Better Features and Functionality
One of the primary reasons why business owners migrate to another affiliate platform is to access better features and functionality. If the current affiliate platform is not providing the necessary tools, features, or functionality, you – as a business owner – will be looking for these tools and features elsewhere. And, if your current platform does not allow custom features development, it could be yet another reason to move away.
Scaleo, for example, offers custom features development on demand – we always listen and communicate with our clients, and we believe this is a the key to building successful partnerships.
Security Concerns
Last, but most definitely not least, is the cybersecurity concern. Security is a critical concern for any business. If the current affiliate platform has experienced security breaches in the past or has a poor security track record, this should be a red flag and a clear sign of needing to move your affiliate program elsewhere.
So… We have covered the main reasons business owners move away from their current affiliate program providers. Let's assume you fall under any of these categories and decide that it's time for your affiliate program to move away from its' current place. The next step is to know what to consider.
What to Consider Before Making the Switch?
Switching to a different affiliate software is a big decision that can affect your business down the line. Before migrating, it's important to consider a few key factors.
Think about why you want to make the switch. Any of the reasons we mentioned above or anything else that either causes dissatisfaction with the current program?
Evaluate how easy it will be to migrate data and all the information from your old software to the new one. Look for software that has built-in migration, import/export features or offers to move the program for you, so you don't face any data loss.
Consider how much downtime is expected during the transition period so there's no lag in conversions or loss of traffic. Strive for as little downtime as possible.
Redirecting old links. Assuming your partner program has already been successful for a while, your partners have links and banners on websites and on social media. Will there be a way to redirect the traffic from old urls to the new ones, or will migrating mean that you are starting off from a clean slate?
Migrating your affiliate program, especially if you have large volume of traffic, is a big step so you have to be patient and consider everything. Out step by step guide will show you what you need to do in every stage of your migration process, so you don't get overwhelmed.
Exporting Existing Data
Migrating data to a new affiliate software is an overwhelming task, even for experienced users, but it doesn't have to be.
If you do your due diligence and follow some key steps, the process can be smooth and efficient.
If you choose a big and reputable software vendor like Scaleo, our developers can migrate all your data for you, to avoid errors and downtime.
If you are moving to Scaleo, you can skip this step, otherwise read on.
The most important part of the transition is making sure that all your existing data is transferred from the old system to the new one without any downtime or data loss. In order to do this, you must first export your existing data in an easy-to-understand format.
This can typically be done within the settings in both your new and old systems, often as an exporting tool or feature. Make sure to back up your old data just in case something goes wrong during the transition process.
Once you've backed up all your existing data, you're ready to begin setting up your new software with all of its features and unique functionalities. It's very important that you fully understand how certain features work in your new platform before importing your data into it—you don't want any potential problems clouding the transition process.
The first step is to make sure your old data is secure. You should create a backup of all your current data before migrating over to the new software in order to avoid any unexpected issues with importing into the new system.
Importing Into a New System Without Data Loss
Below are some tips you can follow to avoid any data loss during the switch:
Research New Functionalities
Once you have your old data backed up, the next step is to research the new functionalities of the new software. You want to make sure that it has all the same capabilities as the old system so there's no disruption in workflow. Once you've confirmed that the new platform includes all the features you need, you're ready to move onto the next step.
Integrate the New System
This plan should include testing the new system with dummy data to make sure that everything works properly and that there are no problems with the transition process. You already have a database of partners, clients, emails, campaigns and most importantly – integrations.
Moving existing integrations is key to minimizing disruption. There are two ways to do this:
Automatically: Many affiliate software vendors offer automated integrations, so you can quickly and easily establish these connections anew.
Manually: If you need to manually enter any data into a new system, make sure there is an easy-to-use migration tool that will make the process simple and straightforward, ensuring no data is lost in the transfer.
Synchronize Data
The last step is synchronizing the data between the old and new affiliate software. It's important to ensure all data is correctly transferred and accurately recorded in the new system. This way you can avoid any issues with lost or corrupted data during the transition.
Utilize Migration Tools or Services
If available, see if your new software provider offers any migration tools or services for transferring your existing data. Such tools can minimize downtime by automatically transferring all the necessary information from your old system with no manual effort required on your end. Automating the process is a good idea and can go down quickly and safely, but there is always a chance that something may go wrong, so having a manual backup is crucial.
Connect your Store to The New Platform
After completing the import process, the next crucial step is to connect your store (ecommerce platform, or iGaming platform) to your new affiliate platform.
Scaleo makes this step effortless by providing a user-friendly interface that guides you through the process in just a few easy steps.
Apart from accurate tracking, connecting your store to your affiliate platform also allows you to automate the commission payout process. This automation ensures that affiliates receive their earnings promptly, which helps build trust and a positive relationship between you and your affiliates.
How to Ensure a Smooth Transition?
Switching to a different affiliate software should not mean downtime or lost data. Here are some steps to ensure a smooth transition:
1 – Test to Avoid Downtime
Testing the new system is critical for a seamless transition and should include both positive and negative scenarios. Make sure you have dedicated resources available for this process to ensure nothing gets overlooked.
By carefully planning, migrating, and testing the switchover, you can ensure smooth sailing when transitioning from one affiliate software to another—without downtime or loss of data!
Test out your initial migration before launching it on a larger scale. This will help you identify and fix any possible issues before they become a major problem, so you can ensure a smooth transition without any hiccups or surprises down the line.
Ensuring that switching affiliate software is successful doesn't just stop at data migration. You must also thoroughly test to make sure that the new software is working as expected.
Here are a few key steps to make sure your switch goes smoothly.
Test Early and Often
Start testing the new system once you've migrated your data. Test various features and use scenarios, such as tracking existing campaigns, creating new ones, and verifying payment distributions. Test different user roles with unique permissions to ensure all areas of your affiliate program are functioning properly.
2 – Monitor Performance in Real Time
Once you've fully tested the new system, start monitoring metrics such as clicks, conversions and revenue on a regular basis. Monitor trends over time: did something change significantly or go in an unexpected direction? Knowing when something isn't functioning properly is crucial for avoiding downtime or data loss.
Specifically, you should review key metrics such as:
Conversion rate: This will tell you if customers are able to complete their purchases.
Average order value: Check if the average order value has changed and if customers are adding more items to their carts.
Sign-ups and activations: Track how many affiliates are signing up and activating accounts to use the software.
You will also want to understand how easy it is for your customers to use the new software. Monitor how long it's taking them to complete their transactions and if they have any questions about the process. If there are any problems or issues, you should address them as soon as possible.
Use feedback from your existing partners to improve and update your new software. Continue to engage with existing affiliates and provide additional resources and support during the switch.
It is also important to review any errors or issues that may arise while using the new affiliate software.
Keeping your affiliates informed of developments, changes, and best practices during the switch will ensure a successful transition. Set up regular check-ins for affiliates and review key metrics to ensure that your affiliate program is performing optimally.
It is important to recognize that the process does take time, and you may encounter a few bumps along the way. With the right strategies and plans in place, you can migrate to a new system without any downtime or data loss.
3 – Use Multiple Devices
Now it's time to test from multiple devices in order to make sure users will have a smooth experience regardless of their device type. This is especially important for mobile-only users accessing the service from a smartphone or tablet. Test multiple browsers too – Safari, Chrome, Firefox – since each browser may process code differently and affect functionality.
Lastly, make sure any custom coding functions correctly on different platforms; if not, adjust it accordingly before making the switch official. With careful testing and monitoring by your side during the transition period, you can successfully switch affiliate software without encountering any hiccups along the way!
4 – Notify Existing Affiliates That You are Migrating
You must notify your existing affiliates that you are migrating. While this may seem daunting, there are a few steps you can take to make it easier:
Create an announcement email: Use this email to communicate to existing affiliates about the upcoming migration . Explain why you are switching, when it will happen, and how it might affect their ability to earn commissions on sales.
Offer assistance: Show your existing affiliates that you are there for them by providing guidance during the transfer process. Explain new tools or dashboard updates they'll need to familiarize themselves with and offer access to tutorials that may help them get up and running quickly on the new platform.
Make it easy to make the change: Make sure each of your affiliates has clear instructions on transferring their data over themselves, or provide resources that allow you to assist in the process if needed. Ensure that their login details stay the same and they they won't need to start allover.
By setting up a plan ahead of time and notifying existing affiliates in advance, you can make switching affiliate software smoother and avoid a bunch of support tickets.
Why Choose and Migrate to Scaleo?
The Scaleo platform stands out due to its robustness and incorporating the latest technology ahead of other industry players. The team behind Scaleo uses their extensive experience in the field to predict and meet marketers' needs through their platform's features. These features aim to simplify campaign management, automate repetitive tasks, automate billing, and leverage AI to optimize campaign settings, ensuring higher ROI.
Scaleo also offers more advantageous pricing model than other established companies, which often charge for clicks. This approach is not cost-effective as fraudulent traffic is always risky. Instead, Scaleo allows you to pay based on your performance, protecting against inflated or simple clicks that don't lead to conversions.
Clients who migrate to Scaleo experience increase in revenue already within the first few months.
In addition, Scaleo offers transparent reporting and extensive analytics, this allows users to build a partner program where partners have full control and access to campaign performance data.
Scaleo has 30+ data points allow you to view your data from different angles and customize reports to focus on the most important indicators.
Finally, migrating to Scaleo is easy, because our developers can do the job for you. You have nothing to fear when switching platforms to Scaleo's performance tracking software.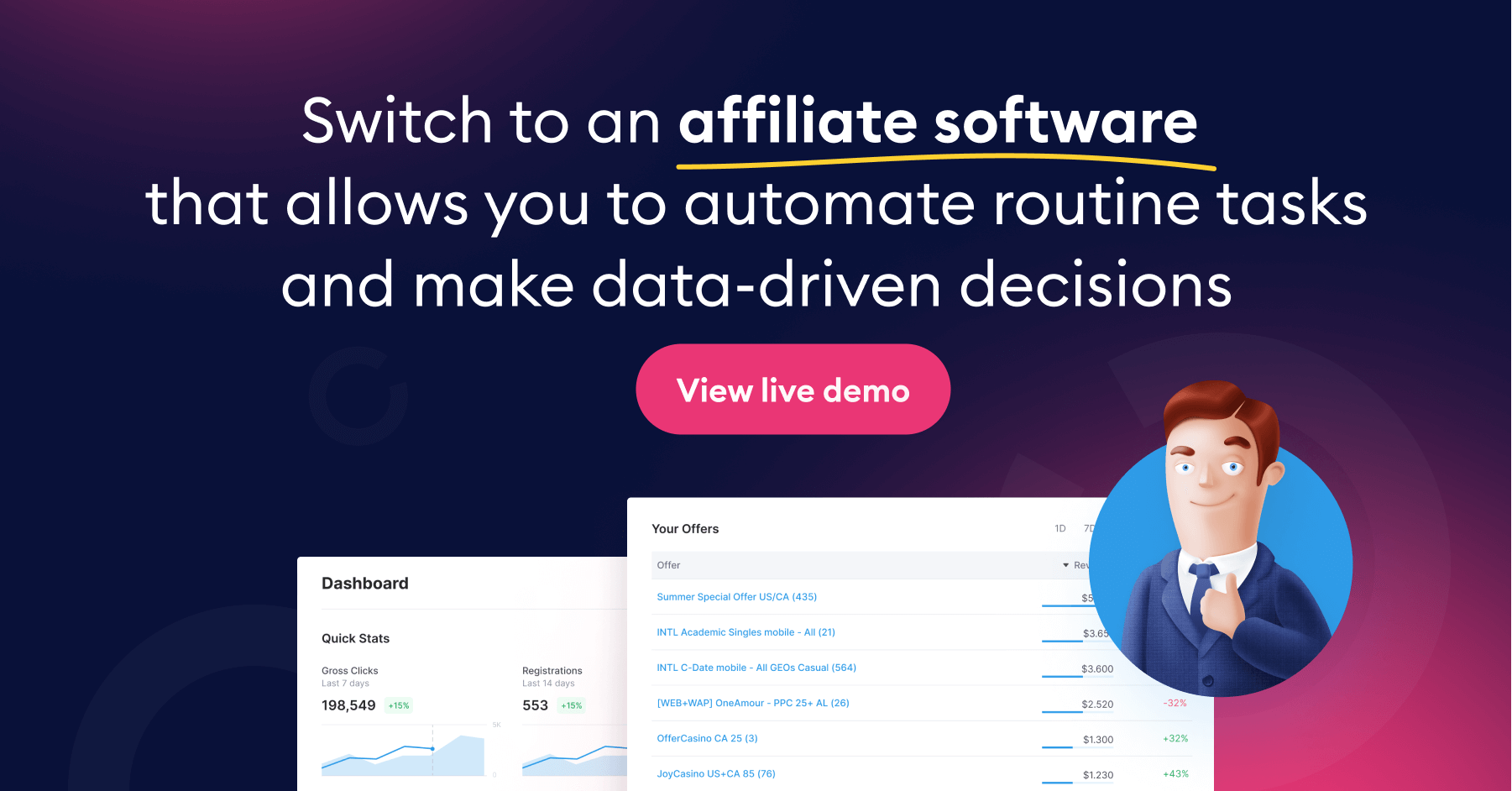 Conclusion
Switching to a new affiliate software can be a daunting task; however, it doesn't have to be. With the right strategies and proper planning, you can avoid downtime and data loss while migrating to a new platform.
Most importantly, if you select a software vendor that is reliable and knowledgeable, such as Scaleo, the process can be relatively painless and frustration-free. The bottom line is that the benefits of switching to a new affiliate software are well worth the effort, and with the right approach, you can ensure a smooth transition with no loss of data.
Migrating to a new affiliate software is not a decision to be taken lightly. It requires a great deal of time and effort to ensure that the transition is successful, but the benefits of doing so can be significant. When switching your software, make sure to notify existing affiliates, provide support during the transfer process, and review the performance of the new software closely. With the right strategy and approach
FAQs About Switching Affiliate Software
Switching to a new affiliate software is a big decision. But with the right approach and some planning, you can make the change with little to no downtime and without losing any data. To help you get started, here are the answers to some of the most common questions about switching to a different affiliate software:
What Are The Benefits of Switching Affiliate Software?
One of the greatest benefits you'll gain when switching affiliate software is access to more modern features and tools that your new software has to offer. This could include better reporting capabilities, API integrations, automation options, or specialized features tailored towards your industry. Additionally, switching may lower fees associated with your current setup or provide access to exclusive deals and discounts.
What Is The Cost Of Switching Affiliate Software?
The cost of switching is going to depend on the type of package that you select and any additional features or services that you may need in order for the switching process to go smoothly. Generally speaking, packages start from $250/month for basic software and up from there with add-on features as needed.
Is There A Risk of Losing Any Data During The Process?
No. When switching between affiliate softwares, all existing data will be transferred to the new platform automatically so that there is no need for manual data transfer or re-entry work. This ensures a smooth transition with minimal downtime or loss of data during the process.
What Are The Risks of Switching Affiliate Software?
When considering the risks of switching over from one affiliate software to another, one of the main things to consider is downtime and data loss. An improperly implemented switch can lead to a website being down for an extended period of time and all of the data associated with it. The other risk to consider is compatibility issues with the new software. If the new software does not integrate smoothly with your existing system and processes, it might cause more disruption in the long run.
How Long Does It Take To Integrate A New Affiliate Software?
When it comes to integrating a new affiliate software, there are a few key factors that will determine the timeline. These include the size of the company, the complexity of the software and any personalized customization that may need to be done. Typically, the integration can take anywhere from a few days to a few weeks.
What Can I Do To Make The Switch Easier?
The easiest way to ensure a smooth transition when switching over to a new affiliate software is to use the migration service already in-build or offered by the software you are switching to.
Last Updated on October 10, 2023