A modern website builder is a must for an affiliate marketing business. It allows you to go online quickly and start promoting your pages without having to deal with the whole website-building process. We all know that affiliate marketing is one of the most profitable online sectors. People with the right tools and expertise may make ridiculous amounts of money per month simply by sharing affiliate links.
It's an excellent approach to generating a steady income from home. But to do so, you'll need a website, which is where a website builder for affiliate marketing might come in handy.
Do you need a quick fix?
All of the builders on this list can complete the task, so it's up to your personal preferences, which one would you like to use to design and host your landing pages.
Choose The Best Website Builder for Affiliate Marketing
| Website Builder | How can it be used for affiliate marketing? |
| --- | --- |
| Squarespace | Squarespace is known for its templates—the website builder has literally won awards for design. All templates were created by professional designers. |
| Shopify | Shopify is primarily an e-commerce website builder which is ideal for building landing pages for dropshipping and affiliate offers. Templates are pricey. |
| Wix | Includes a FREE plan to create an affiliate website, (on a subdomain and with display ads). The lowest-priced plan is limiting, but you can access many free apps to extend the site's functionality. Best for beginners with little to no budget. |
| Google Sites | Very basic page builder with a limited selection of templates and functionality, but it can cover the needs of any basic affiliate website landing page needs. |
| WordPress.com | In 2018, Square purchased Weebly, combining the power of Weebly's drag-and-drop editor for affiliate website builder and Square's e-commerce power. |
| Zyro | Very cheap affiliate website builder where you'll get than 100 free templates to get you started. If you are migrating, it allows you to import an existing website to its platform. |
| Weebly | In 2018, Square purchased Weebly, which allowed to combine the power of Weebly's drag-and-drop editor for affiliate website builder and Square's e-commerce power. |
| GoDaddy | Designing an affiliate website with GoDaddy's website builder requires zero technical skills: choose a template you like and start adding your content using the drag-and-drop editor. |
| IONOS by 1&1 | Offered directly by a hosting company, just like Godaddy, it does not offer a free trial, but it allows you to create an affiliate website with zero technical skills and supports multilingual sites |
| Strikingly | It comes with a free trial, ideal for 1-page affiliate offers, with very little functionality, which might not rank well in Google due to thin content. |
How Can a Website Builder Help You as an Affiliate Marketer?
Site builders enable affiliate marketers to generate interesting material that showcases their products rapidly and simply.
Although many of the greatest website builders on the market are advertised for broad usage, several, such as Wix, SquareSpace, and Google sites, include specialist features specifically created for constructing affiliate marketing websites.
In brief, a website builder will assist you as an affiliate marketer by shortening your learning curve and providing the tools you need to swiftly generate unique, tailored content and advertise your website to your target audience.
What Features to Look For in a Website Builder for Affiliate Marketing
Not every website builder is the same. Some may be better possibilities than others for you, based on your needs, money, experience, and so on.
The following are the variables to consider when selecting the finest affiliate website builders for affiliate marketing.
Affiliate Website Builder Ease of Use
You don't want to spend many hours figuring out how to construct and manage your affiliate marketing website, so select an easy-to-use platform with a simple user interface. The more user-friendly the editor, the better.
eCommerce Functionality
Affiliate marketing is the only way to monetize a website. You can also create an online store to sell virtual and physical services and products, but only if the affiliate website builder has built-in eCommerce functionality. Alternatively, easily integrating with third-party eCommerce sites and social networks such as Amazon, eBay, Facebook, Instagram, or Etsy will do the job.
Web Design Options
You'll need easily configurable, user-friendly themes and templates that look beautiful and are simple to use on desktop and mobile devices. Furthermore, you want to leverage a wide range of customization tools to improve the aesthetic of your website and the user experience.
Marketing and SEO Tools
Your site builder should have marketing and SEO capabilities to help you get found in search engines, improve website traffic, and develop your audience. At the very least, SEO, email marketing, automation, and analytics solutions should be available.
Price
This is an important element to consider because if you are just starting out, you may need to sustain your website for a time before you start earning money from your work. So, choose a website builder that is within your budget.
Scalability of Your Affiliate Marketing Website
If you wish to expand your website in the future, you must seriously consider scalability. For example, if you decide to host your website yourself at some time, your website builder should make this process as simple as feasible for you. Alternatively, you must write your own code if you want to add custom features to your affiliate marketing website.
Domain Name
Whatever website builder you choose, be sure to import your domain name without including the builder's name. This gives your site a sense of ownership and makes you appear more trustworthy to visitors. This feature is not available for many free website builders.
Hosting Services
Some website builders also provide web hosting services or are easily integrated with popular third-party providers. When choosing a website builder, look into your hosting options and how much storage the provider will provide you with.
Support
Choose a website builder that provides multiple means to contact their support service, such as email, phone, live chat, etc. To get the most out of the platform, there should be extensive documentation, a FAQ page, blog entries, YouTube video tutorials, etc.
Free Affiliate Website Builder: Is It Worth The Risk?
Assuming you want to get an Amazon affiliate store builder. You may wonder if there are any free website builders with affiliate programs. Indeed, the majority of the greatest website builders offer a free plan that you may use to help your online business take off.
However, even the greatest free website builder for affiliate marketing usually has certain limits that might be detrimental to site visitors. SEO tools are typically only available through paid subscriptions. A free plan is not ideal if you want to use your website builder to join an affiliate network.
Best Affiliate Website Builder
But first, you'll need a website. Many excellent website builders are available, but not all are designed for affiliate website marketing.
I've compiled a list of top website builders for affiliate marketing to get you started. Look at the list below and start developing your affiliate marketing website immediately to start earning more passive money.
I'll review the advantages and cons of each affiliate website builder and show you which one could be best for you to create your affiliate marketing website.
Let's get started.
Squarespace
Squarespace is the first website builder I'd like to show you today.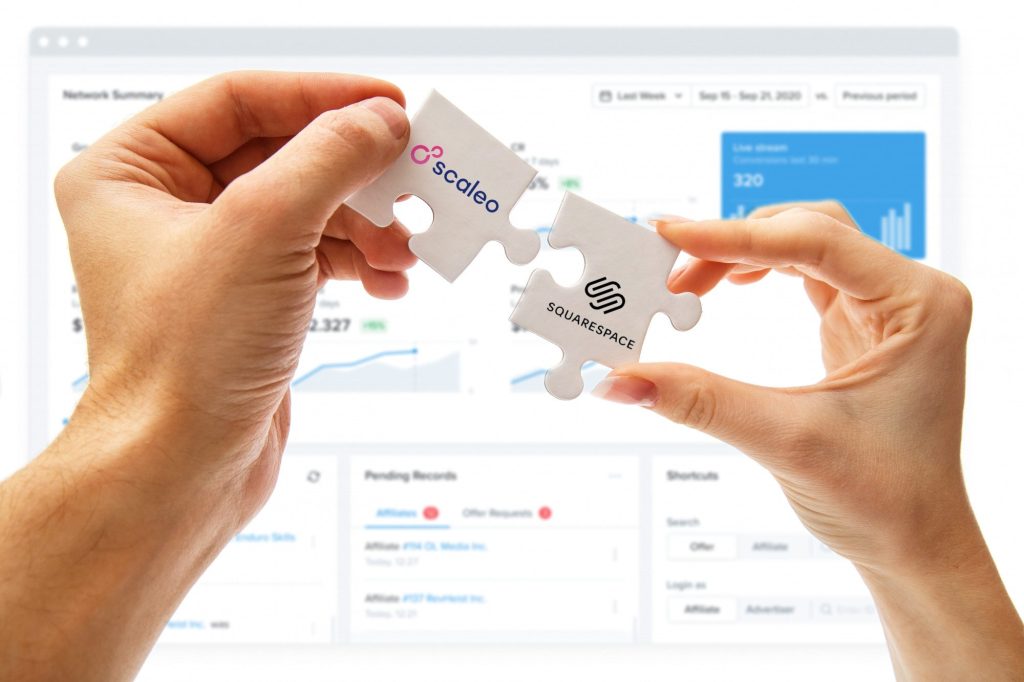 Squarespace is an excellent choice for any service-based business website, but it is not the ideal solution for affiliate marketing.
One advantage of Squarespace is the availability of professional and stylish website templates from which to personalize and construct.
And the fact that it is really difficult to mess up your website and make it appear sloppy because the construction experience is very structured and ideal for total beginners.
With Squarespace website builder, you can also simply choose features and pieces to add to your website in one click like:
Maps
Newsletter
Video
Booking Form
Squarespace Cons
The limitations of Squarespace include that each page can only be customized in a limited number of ways because everything is organized in blocks.
You also have less access to apps than other affiliate website builders, offering you fewer integration choices.
Squarespace would be ideal for basic affiliate sites that do not require all the features, apps, and integrations.
So, Squarespace might be the way to go if you want to build a simple, economic, and effective website.
Squarespace Pricing
Squarespace has 4 plans, from "Personal" – $16/month, to "Advanced Commerce" – $54/month.
Integrate affiliate marketing software with SquareSpace – full guide.
Shopify
Shopify is one of the most popular e-commerce platforms, but did you know you can also use it for affiliate marketing?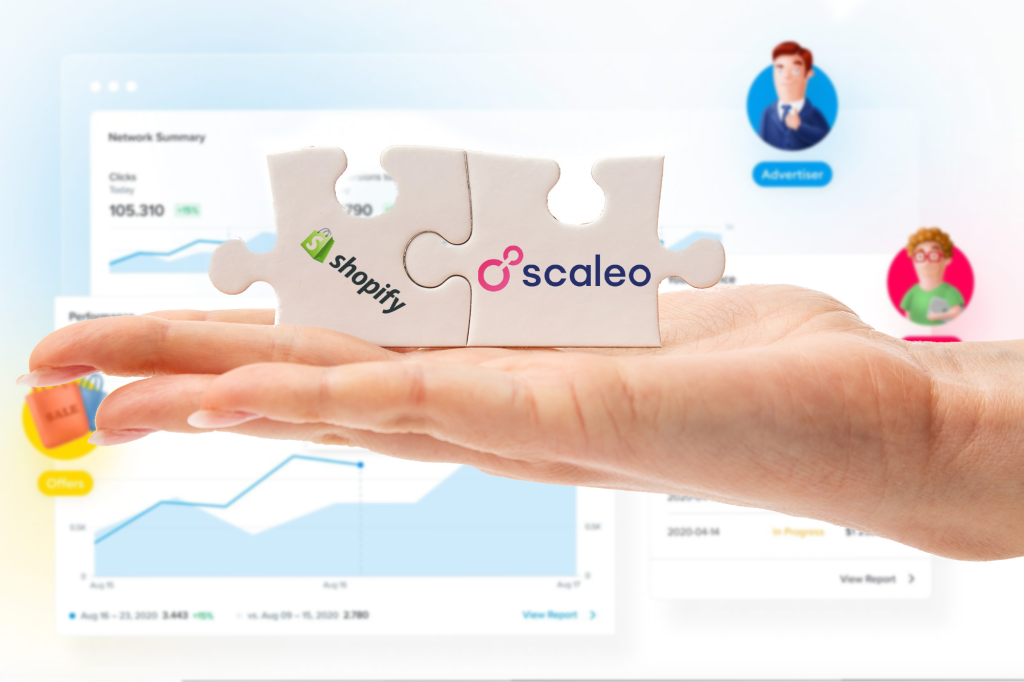 Many affiliate partners use Shopify for dropshipping, but you can also use it for advertising affiliate products, allowing clients to purchase products from your store while you earn a commission from the affiliate network that you use.
Shopify is easy to set up. It features a vast selection of website designs and simple themes to personalize.
In the Shopify App Store, you can also find hundreds of free and paid apps similar to WordPress plugins.
This allows you to access all of these features that you can easily download and activate, adding more functionality to your affiliate website.
Furthermore, hosting is included in the Shopify pricing levels, so all you have to do is choose a domain for your affiliate website, and they will host it for you at no additional cost, which is fantastic.
Shopify Cons
The problem with Shopify is that it has customization constraints. Unless you are a coding specialist, you can update and edit code, but many of us do not.
In addition, practically all Shopify websites have a pretty similar appearance. You can quickly determine if a website was developed with Shopify, which may harm your business.
Furthermore, your monthly costs tend to skyrocket when you add more apps and services to your website.
Shopify Pricing
Shopify plans start from $29/month and go up to $299 per month. However, a 14-day free trial is available across all their plans.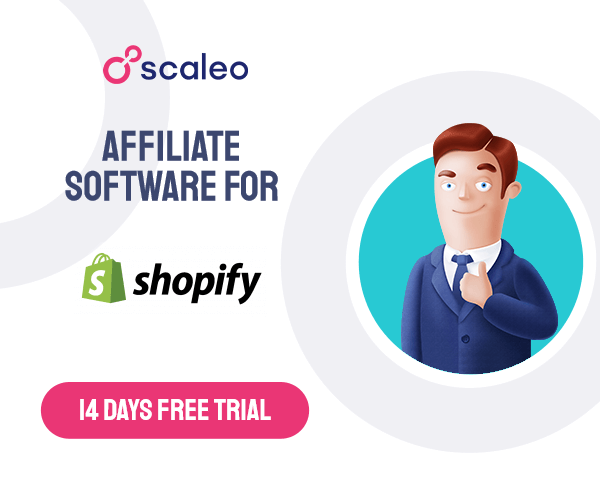 Wix
I'd like to highlight the second affiliate marketing website builder in this post, Wix.
Wix is perhaps the most user-friendly website builder for easily constructing a free website and establishing an online presence.
The number one reason Wix is so popular with beginners is that no expertise is required. It offers full website templates you can choose from and easily update and make changes you like.
Wix is a user-friendly drag-and-drop website builder that makes creating a website a breeze.
The drag-and-drop visual builder is simple to use and suitable for people without prior knowledge.
Wix will also walk you through the website creation process.
Wix Cons
The disadvantages of utilizing Wix for affiliates include an unprofessional URL and adverts on the free plan and limited flexibility with the pricing.
Wix allows you to use the free plan for as long as you like, and the paid pricing levels are as follows:
Wix on your domain – $4.50/month
Combo – $8.50/month
Unlimited – $12.50/month
VIP – $24.50/month
Google Sites
Google Sites is the next free website builder.
Google Sites is a good free solution for affiliates who want to establish a simple information-packed website.
All you need is your free Google/Gmail account to start with Google Sites.
This is one of the simplest website builders to use because all you have to do is:
Choose a template
Add your pages
Insert the layouts for each page.
Add "call to action" buttons, text boxes, videos, and affiliate connections to your website pages.
The website is simple yet user-friendly, which benefits both you when building the website and your guests when they visit it.
You can invite individuals to help you construct your website by clicking share and entering their email addresses.
These are the people you want to have access to your website, and they will be able to read and change it alongside you before it goes live.
Google Sites Cons
One disadvantage of utilizing Google Sites for affiliate marketing is that the site URL must begin with "https://sites.google.com/your-site."
But, Google Sites allows you to connect the website to a proper domain; you only need assistance from someone with more experience.
You also have fewer features than many free website features available at Google productivity tools.
However, when it comes to creating using Google Sites.
Google Sites Pricing
All features and functions of Google Sites are free on a personal account.
WordPress.com
WordPress.com is one of the most comprehensive free builders in terms of available plugins and functionality.
WordPress is a very powerful website builder that requires some learning but is well worth it if your site is important to your affiliate marketing business.
WordPress.com has approximately 250 different themes, referred to as templates by other website builders.
You may have noticed in the subtitle that I referenced WordPress.com. Do not confuse it with WordPress, which can be found at wordpress.org and was first introduced as a separate content management system that you can host on your server for free with full functionality.
WordPress.com is a premium service that allows you to create a WordPress site without setting it up, maintaining servers, or performing any other technical work.
While WordPress.com is sometimes referred to as a website builder since it may be used in that capacity, it is very different in many respects. It is still a standard CMS.
WordPress is regarded as a top website builder due to the numerous themes and plugins that can be installed on your WordPress website to make a plethora of changes to your site.
There is also a little WordPress branding and no adverts on your website, with the exception of a small piece of branding at the bottom.
WordPress.com offers SEO and customization capabilities that Wix and other more traditional website builders will never match.
WordPress.com is definitely one of the greatest website builders when it comes to SEO capabilities.
WordPress.com Cons
The disadvantage of utilizing WordPress.com for affiliates is that developing and improving your website is more difficult.
This website builder is not as simple as the other website builders. The construction process is simply not as visually appealing.
WordPress is more complicated in terms of the plugins and themes available.
Because having restricted options is sometimes best suited for novices who are just starting started with website design.
Limited alterations can keep it more streamlined, which is especially important for novices.
WordPress.com Pricing
The great thing about wordpress.com is that you can simply upgrade at any time at a low price of $4 to $25 per month.
WordPress has two websites. To begin, ensure that you are using WordPress.org. It's genuine WordPress. It's open-source and gives you complete control over your website while providing a diverse and extensive choice of plugins you won't find on the impostor site.
Building an Affiliate Marketing Website Shouldn't Be Complicated.
Each website builder on this list has its own distinct capabilities that can be applied to your affiliate marketing website, depending on your company's specific requirements.
Try Wix if you want a tailored SEO approach and the ability to change your template entirely. If you know how to code, you'll like the extra freedom Wix Velo can provide.
Squarespace is a good option if you want many built-in SEO tools and the ability to make site-wide layout adjustments. These sophisticated, mobile-responsive templates will highlight your products to their full potential.
You'll want to choose the correct builder, whether you want to develop an affiliate marketing site that will help you quit your day job or just make some additional money on the side. This table provides a brief synopsis of the platforms I examined so that you can select the best one for your needs.
What To Fill In Your Affiliate Website?
After deciding on a website platform and a suitable template, it's time to build your website pages and populate them with content and plugins to complete all the tasks listed.
1. The following pages are usually seen on a website:
Home page: This is the visitors' initial page when they visit your website. You must describe your program in this section. Add explanatory videos, photographs, and text if you have them, and ensure all the material is easy to understand. You can also include a chat button here so that users can ask inquiries right away.
The "About" page should include all relevant information about your program's terms and conditions. Make it well-structured and simple to understand, and include all relevant materials. You may also tell us more about your team and its members here.
In most situations, your company's Contacts page includes your email, phone numbers, links to all social media accounts, messengers, and an address. This section should be easily accessible so potential partners do not abandon your website too quickly.
Ensure your partners can quickly access all of the links, banners, videos, photographs, and other promotional material on your website and get all the information they need at any time.
Conclusion
Look no further than the options on this list if you're looking for an all-in-one software platform to develop and create your complete affiliate website and blogs for affiliate marketing.
It is obvious and has been shown numerous times that in order to develop your affiliate marketing income to a significant level – you need a regular flow of traffic and a good online presence.
One of the most well-known methods is through a website.
Websites and pages aren't created by waving a magic wand. You require an affiliate website builder that meets your requirements; however, not all website builders serve the same function.
Last Updated on August 24, 2023