Affiliate Referral Software – how to choose the right one for your business and put your referrals on autopilot? Can a simple "refer a friend" feature bring you enough new clients so you won't need to spend your time and budget on other marketing channels?
You can see examples of referral marketing success everywhere. Referral programs are an excellent way to increase traffic and sales, for example, Dropbox (which we all know of) has grown in popularity thanks to the excellent referral program they set up.
Referral programs are popular because they rely on word-of-mouth marketing to help your company expand. It's been proven that people are more likely to believe suggestions from friends, relatives, and influential people they follow, as opposed to standard generic ads.
By increasing brand awareness through "recommendations", you can save money on advertising and increase customer loyalty.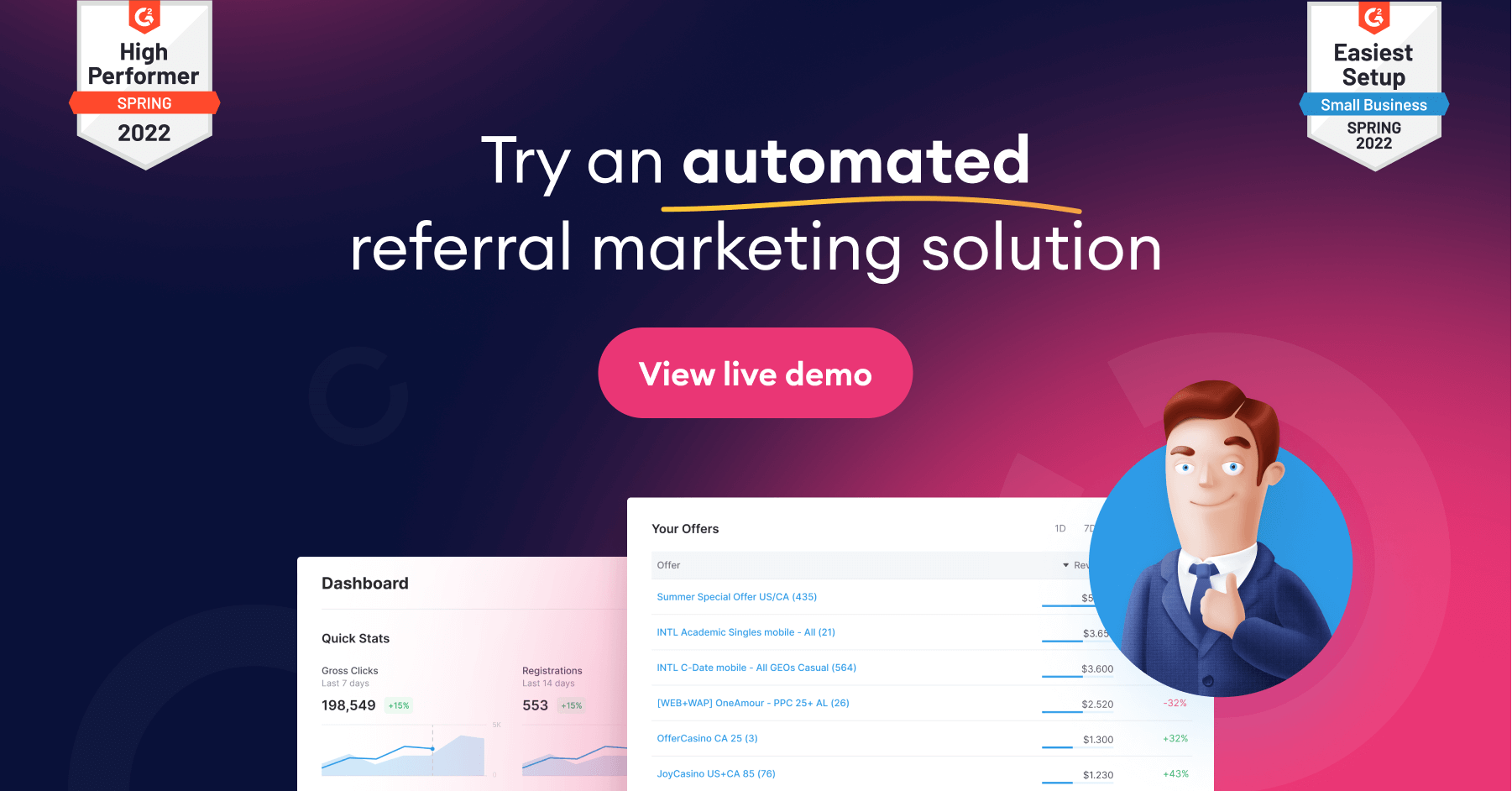 On the other hand, the referral program can be complicated and time-consuming. Referral program software simplifies creating and managing referral marketing campaigns for your company or online store.
There are numerous moving pieces in referral programs, but employing the correct software can streamline the entire process.
Referral Program vs. Affiliate Program?
Many people are comparing affiliate vs referral. Are they the same? While some people use the term affiliate referral program, others call it strictly "referral program" or "affiliate program", but both terms basically mean the same thing.
Typically speaking, a referral program rewards existing customers with gift cards, discounts, and commissions when they suggest a friend or family member make a purchase.
An affiliate program enables your customers or affiliate marketers to sign up for your program to collect an agreed-upon commission when someone makes a transaction using their unique tracking link.
But, referral program can target new customers as well.
The easiest way to tell the difference between a referral program and an affiliate program is to ask yourself, "What is the incentive?" If the reward is cash, the program is most certainly an affiliate program.
However, it should be noted that an affiliate program is not always the same as a referral scheme (e.g., when cash is the reward, your customers also become your affiliates).
This is frequently an overly simplistic technique of distinguishing between an affiliate program and a referral program. There are several more obvious distinctions:
Who is making the recommendations?
With affiliate programs, the person referring people to your company may never have been a customer of yours. They are merely seeking ways to monetize their efforts. This is frequently the case with bloggers. For example, a food blog may not have utilized expensive cooking items but is able to incorporate links to them and potentially receive a portion of the commission if a purchase is made.
A referral network will often target customers who already have a direct relationship with the company. They may have been customers in the past and are likely to be active customers at the time of participation. They will be given a one-of-a-kind code or link to utilize.
Relationship between new and referred customers
Because of the nature of their platform, affiliates frequently promote your product or service to people with whom they have no direct connection. These people, such as blog readers or those looking for new things to buy, are part of the organic traffic that goes through to their websites.
On the other hand, referral program participants will share their link or referral code with their recognized network, such as friends and family, rather than market it on a specialized platform. This is how referral marketing is frequently associated with word-of-mouth marketing.
How is it distributed?
The common consensus is that referral systems require a little more work to spread. The participant is responsible for actively disseminating their code to their friends and family network. On the other hand, an affiliate will have to put in a lot of work in the beginning to create their platform, but once they have enough traffic, they will be able to rely on relatively passive commissions.
It is worth noting that the success rates of referral programs are significantly higher than those of affiliate programs. This is due to a far larger level of social proof and emotional marketing occurring spontaneously. People place far more trust in recommendations from friends and family than they do in information found online.
Participants' incentives
Referral schemes frequently keep the benefits "internal" and provide free subscription extensions, discounts, or credits. Affiliates' incentives are frequently one-sided, offering a commission-like cash reward to the recommending party.
That said, let's take a look at the best referral marketing software for your small business website.
Choosing the Best Affiliate Referral Software for You
There's no reason you shouldn't have a functioning affiliate and referral network. You just need to know where to look to find the tools.
This list has a number of solutions that you can utilize depending on your budget and needs.
Use free trials to see which of them is the best fit for your brand.
Scaleo – SaaS Affiliate Referral Software
Scaleo is a revolutionary affiliate marketing software that can be used as an affiliate program or as a stand-alone platform for developing your own affiliate network.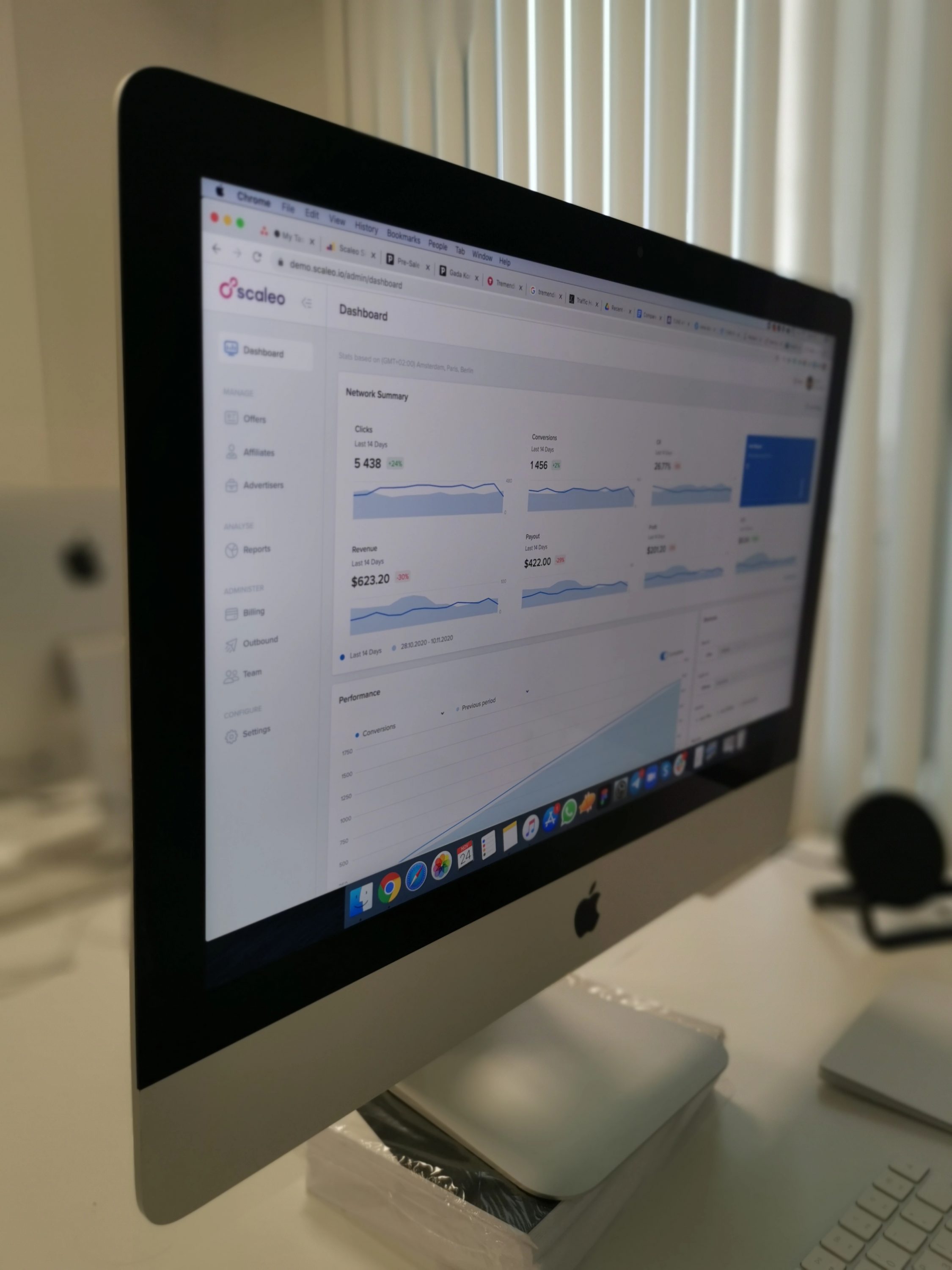 It's a widgetized white-label affiliate marketing solution that allows full UI customization to meet your business needs—from logo to color scheme. Eye-candy design with unparalleled functionality, a sophisticated backend with dozens of innovative features, including ultra-fast redirects, 10+ targeting options, bespoke notifications, and smart traffic redirection — you'll love Scaleo. Easy connection with:
Cookies-based Tracking with Google Tag Manager (GTM)
Woocommerce
Tilda
Wix
Big Commerce
Magento
CS-Cart
OpenCart
Squarespace
and many others.
Scaleo includes built-in Anti-Fraud Logic technology that aids in eliminating and preventing fraudulent clicks and transactions in real-time.
Impact – Network Affiliate Referral Software
Impact is superb partnership management and affiliate software. The platform is more aimed at established firms. It's utilized by brands like HostGator, Constant Contact, McAfee, Canva, and more.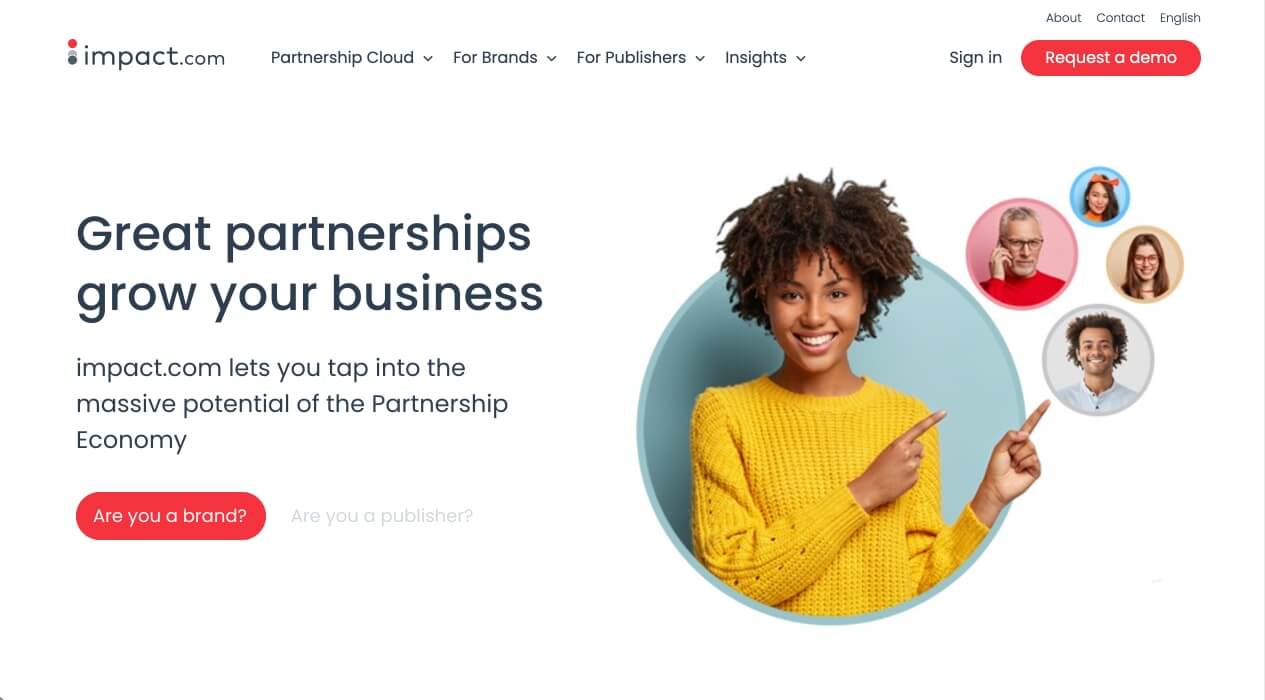 This application promises to help you identify new partners to build your business and speed up the client acquisition process.
Instead of only depending on existing customers and website visits, you can seek out new collaborations with other businesses, media partners, and influencers-all from within the platform.
The dashboard will let you recruit, manage, and pay your new referrers. Plus, it provides precise stats so you can see which affiliates and partnerships are bringing in the most revenue.
ShareASale is the world's oldest affiliate network. In addition to providing access to thousands of affiliate items to advertise, they also provide a highly beneficial referral marketing automation option for business owners.
Major publishers such as Business Insider, Forbes, Buzzfeed, and others use ShareASale.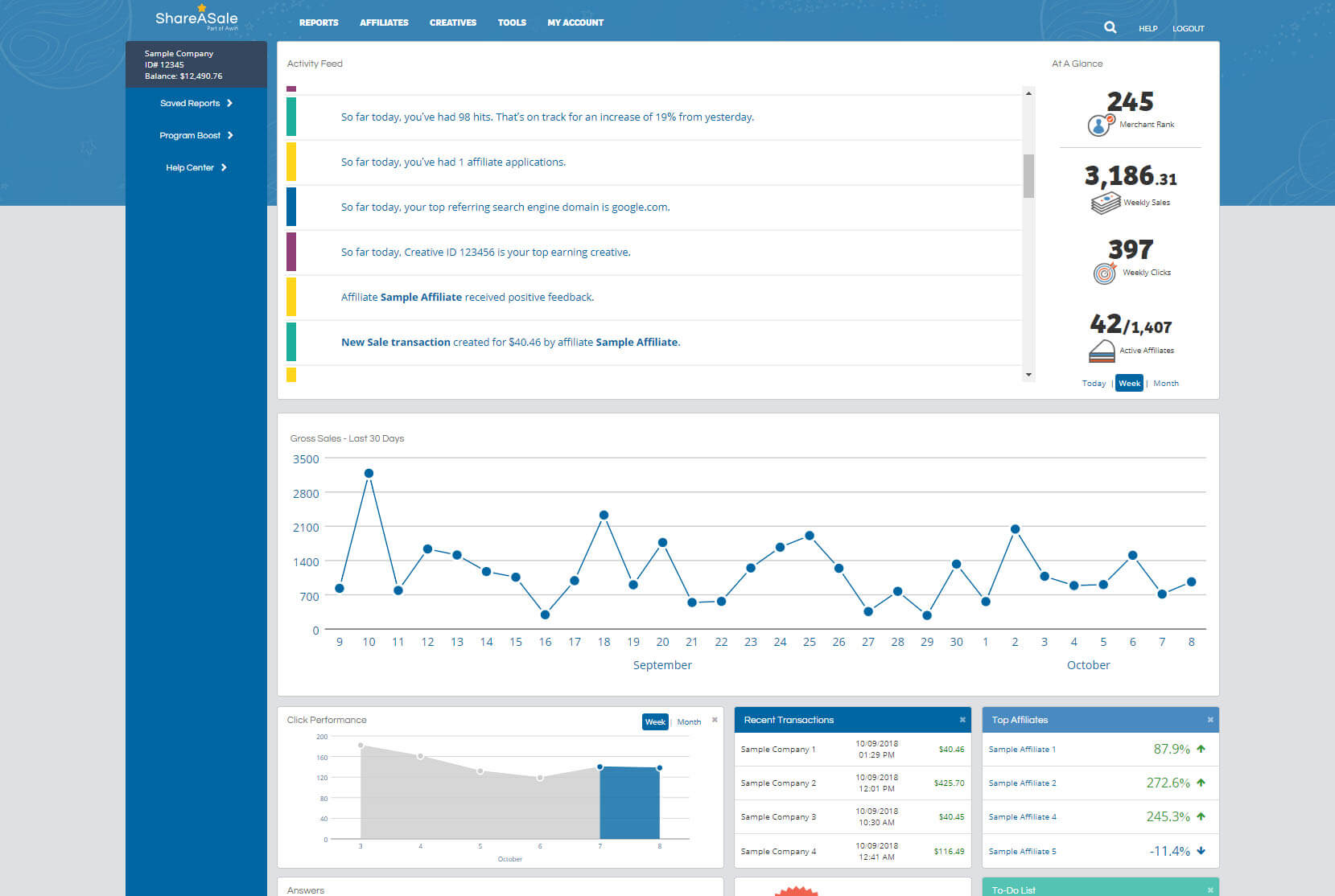 Please remember that we also use the ShareASale referral program for our software solutions like WPForms, OptinMonster, MonsterInsights, and SeedProd.
You can quickly set up a referral program for your own items and immediately gain access to a network of over 225,000 affiliates eager to promote them.
There's an extensive affiliate dashboard and tracking tools to monitor performance, as well as built-in email marketing automation to remain in touch with your affiliates and keep them updated on sales and promotions.
You'll find a number of customization options to assist you in creating your own referral and recruitment program.
ShareASale charges a $500 one-time setup fee as well as a transaction fee equal to 20% of the commission amount you pay affiliates.
Conclusion
Choosing the right affiliate referral software for your business isn't easy. There is often a balance to be reached between referral programs and affiliate programs, and many businesses will discover that a combination of both will work well for them. If a direct decision needs to be made, it is typically based on the actual purchases made. It depends on how often the purchase is made and the cost of the item.
Referral marketing is a form of word-of-mouth advertising that encourages customers to refer their friends, family, or colleagues to a business. In exchange for their referral, the customer is usually offered a reward, such as a discount or a free product. Affiliate referral software is a tool that helps businesses automate the process of referral marketing.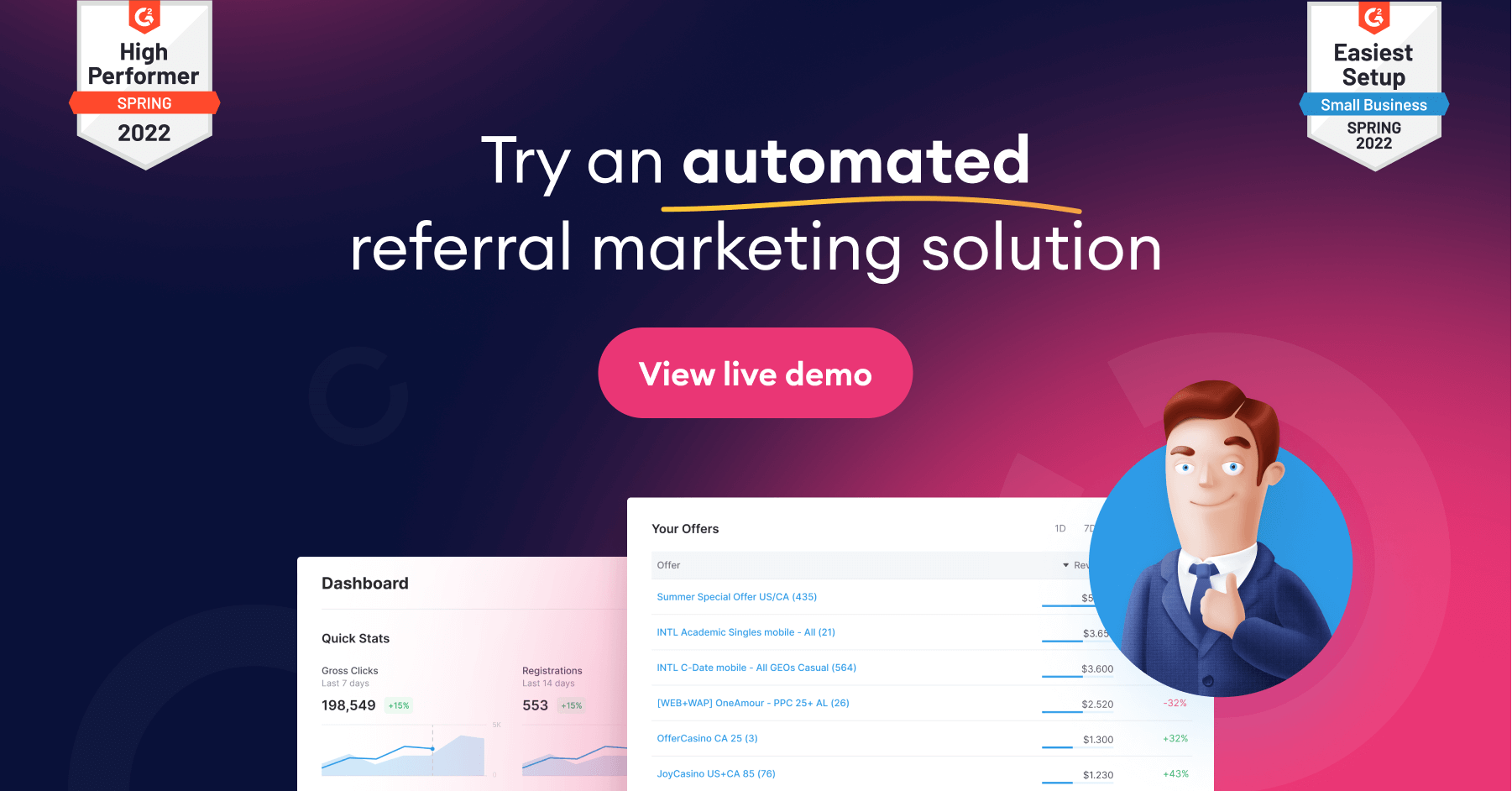 Referral systems are successful when targeting purchases that are made both regularly and infrequently. A program such as Uber might be utilized regularly by the participants, and referral benefits can mount quickly. A referral program from an annual subscription will often work as well, especially with a suitable incentive supplied.