Looking for affiliate commission tracking software and not sure where to start? We have gathered a list of top affiliate commission tracking software and scripts that will help you better understand how your affiliate campaign is performing and visualize data in an easily digestible manner.
So, here is the list of ideal tracking solutions for your business.
| Affiliate Commission Tracking Software | What is it? |
| --- | --- |
| Scaleo | For business owners that power their store using WooCommerce, this simple plugin allows them to add an affiliate link feature to track links and hide the affiliate ID. |
| Pretty Links | This free WordPress plugin allows blog owners to run their affiliate campaigns directly from their blog. While there is a paid version available, most essential features are free. |
| WooCommerce Cloak Affiliate Links | For business owners that power their store using WooCommerce, this simple plugin allows them to add an affiliate link feature to track links and hide the affiliate ID. |
| AffiliateWP | For business owners that power their store using WooCommerce – this simple plugin allows them to add an affiliate link feature that will track links and hide the affiliate ID. |
| ClickerVolt | This is a tool used by affiliates who want to know everything about their visitors and the efficacy of their affiliate marketing initiatives. |
| Easy Affiliate Links | This simple WordPress plugin lets you quickly hide affiliate links in your WordPress dashboard. |
Scaleo is a powerful affiliate commission tracking software that goes beyond simple tracking, it's also a complete commission payment software with affiliate and lead management built-in. Scaleo specializes in building affiliate partner marketing platforms for networks and vendors of all sizes.
Its robust set of features, such as a white label dashboard and instantly loaded reports, will help you build, manage, and improve your affiliate campaigns.
Its native postback abilities and automated affiliate marketing software solutions are valuable assets that can assist your business in streamlining all aspects of your affiliate marketing efforts.
Pretty Links is a WordPress plugin and cannot be used as a standalone affiliate commission tracking script. Pretty Links allows you to shorten links using your own domain name (rather than tinyurl.com, bit.ly, or any other link-shortening provider)! Pretty Links not only creates clean links but also tracks each click on your URL and delivers a full, thorough report of where the hit came from, the browser, operating system, and host.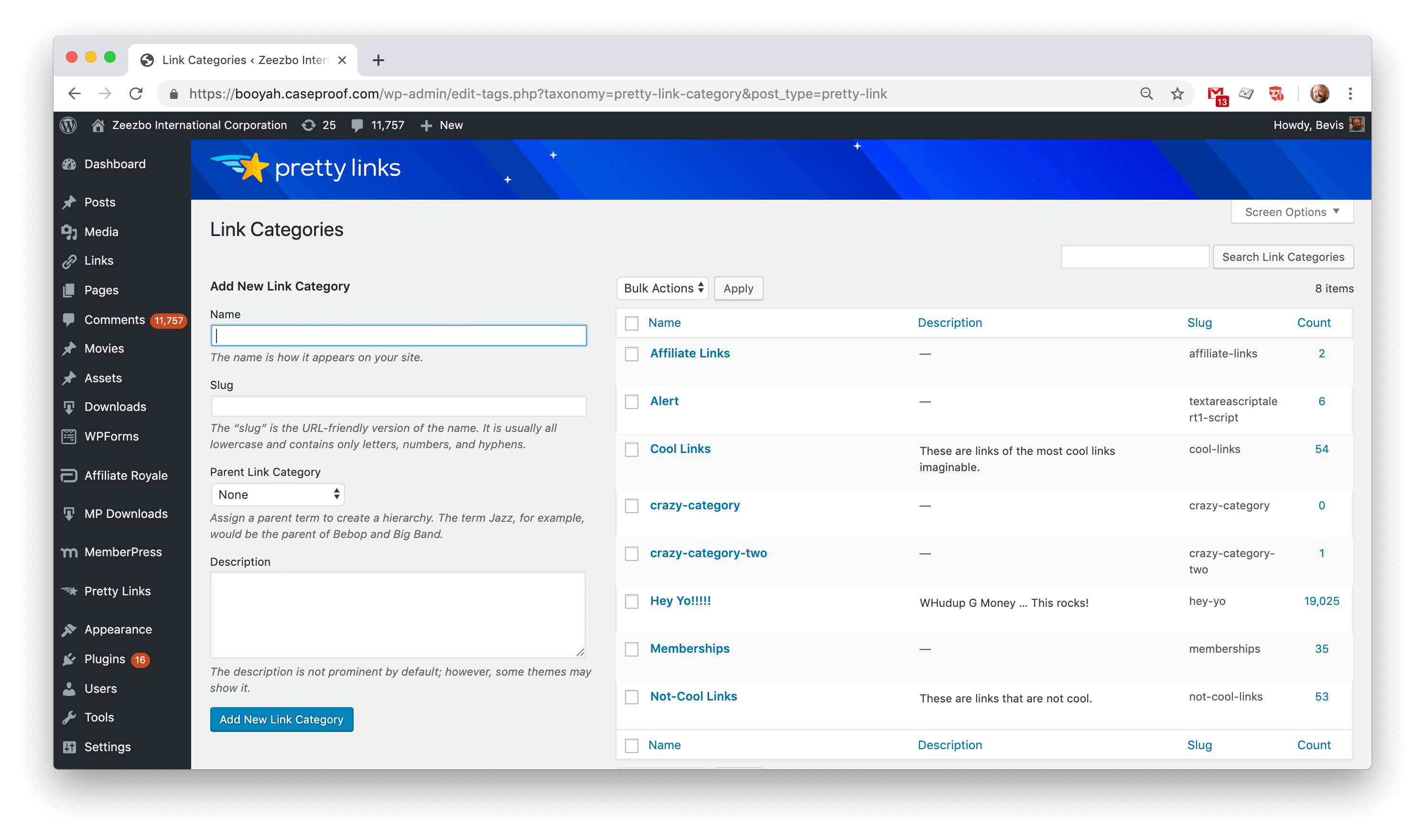 Pretty Link is a fantastic plugin for anyone who wants to tidy up their affiliate connections, measure clicks from emails, redirect their Twitter links to their own domain, or just enhance the reach of their website by spreading these links on forums or comments on other blogs.
If you are looking for a Pretty Links alternative – check out our complete list of free affiliate tracking software.
WooCommerce Cloak Affiliate Links is a straightforward plugin that does exactly what it says: it hides external affiliate links in your WooCommerce store yet allows you to track them.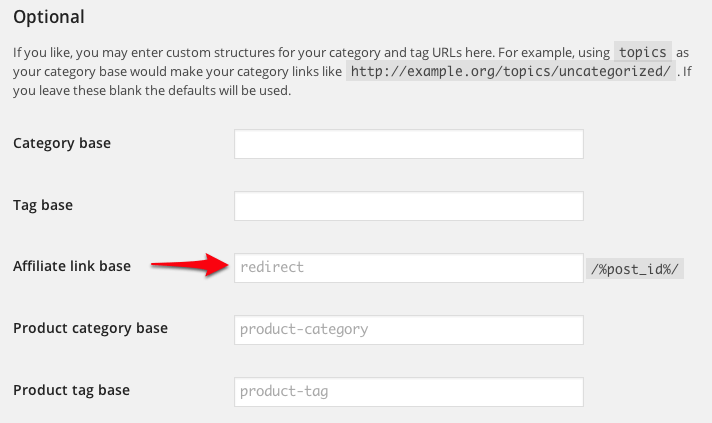 It also adds a "disallow" directive to your robots.txt file, preventing bots from following certain URLs. As you make more money from your WooCommerce store, this makes your affiliate URLs even safer.
This plugin is ideal for solopreneurs, bloggers, or new startups looking for a simple (and free) plugin with a few bells and whistles.
Features:
Hide your links
Configuration of the redirect status (301, 302, or 307)
Add a "disallow" directive to the robots.txt file – which is a really cool feature!
This is a free plugin, but as you may guess, it lacks advanced capabilities that you may require as your business grows.
Nonetheless, it might be a good alternative for WooCommerce store owners who are just getting started with affiliate marketing. Bear in mind, though, that this is not an official
AffiliateWP allows you to create a worldwide referral fee that all affiliates share at the most basic level. Affiliates can receive various commissions depending on which products are purchased when using integrations that offer per-product referral rates. You can also set per-affiliate referral fees with AffiliateWP. These fees will override any per-product referral rates.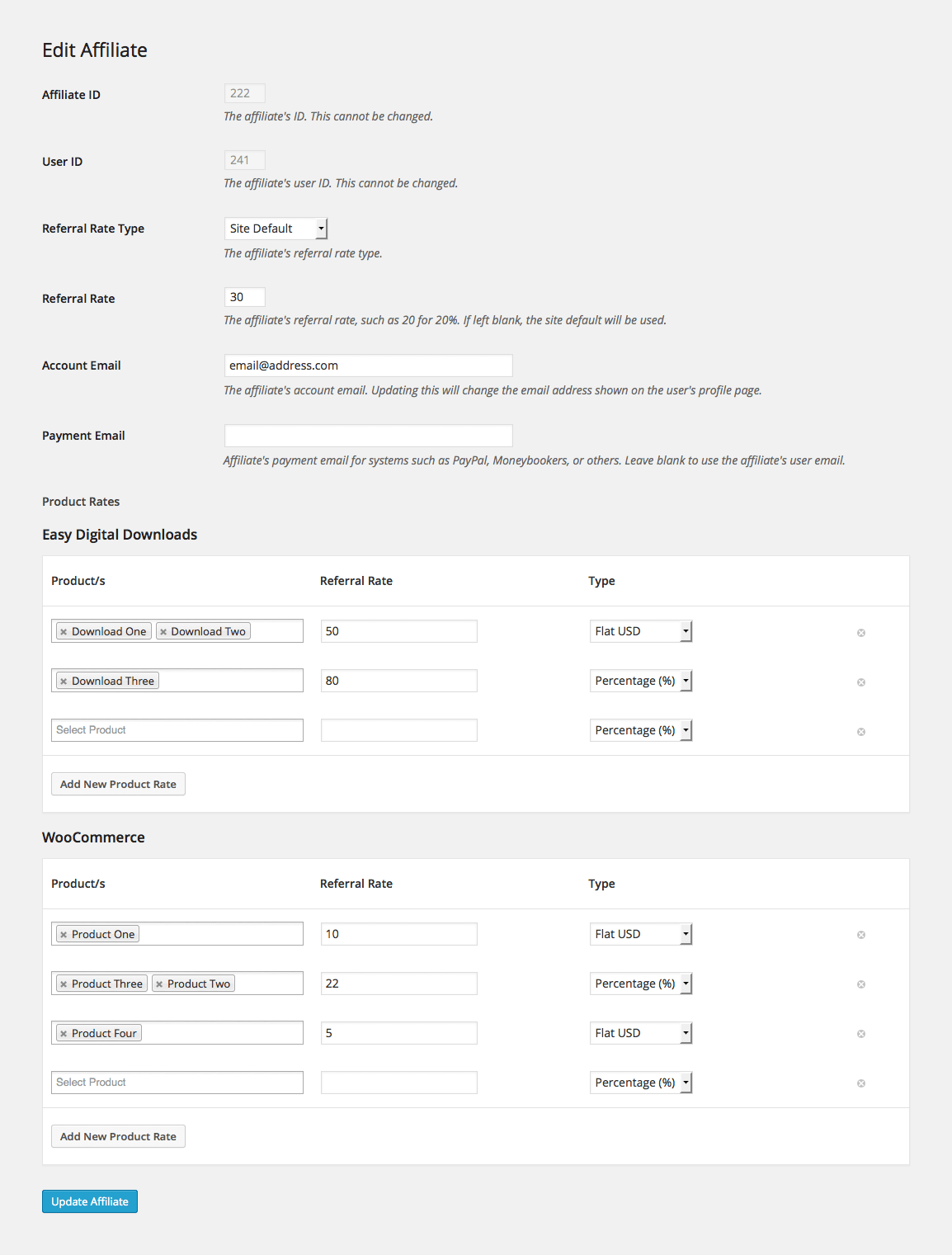 Affiliate Product Prices take this a step further by permitting various per-product referral rates on a per-affiliate basis.
AffiliateWP is a full-featured affiliate management solution for your WordPress website that connects with all major WordPress e-commerce and membership platforms. It tries to give you everything you require in a simple, clean, and user-friendly system that you will enjoy using.
ClickerVolt is a tool used by affiliates who want to know everything about their visitors and the efficacy of their affiliate marketing initiatives. It is the ideal link tracking plugin for anyone conducting paid traffic campaigns, whether they are solo advertising, pay-per-click, native, push, pop, or anything else! It is also a fantastic tool for tracking who clicks on your affiliate links, whether they are in your blog articles, Facebook groups, Twitter feeds, Instagram, emails, or any other medium.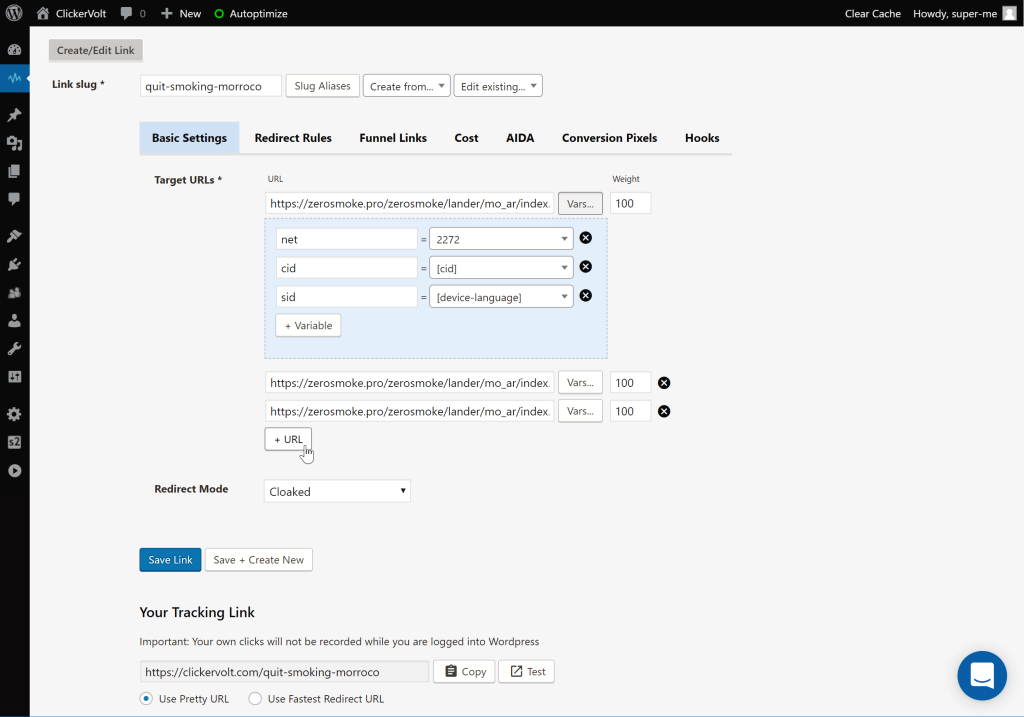 When a visitor hits one of your links, you can immediately learn:
Current location (country tier, country, region, city, zip code, timezone)
ISP's language
Internet Protocol (IP) address is
The following information is provided about his device:
device type,
device brand,
device name,
browser
operating system.
which website he is visiting,
any custom variables you may have included in your link.
It also allows you to track your conversions and revenue by including a conversion pixel on your thank you pages or by providing your affiliate networks with a special s2s (server-to-server) postback URL.
You may also track your costs and ROI if you use paid traffic.
Not only that, but you can also redirect visitors to other sites based on the rules you set up. You could, for example, direct all Spanish-speaking visitors to one page, all Chinese-speaking visitors to another, and the rest to a fallback page.
This simple WordPress plugin lets you quickly hide affiliate links in your WordPress dashboard.
You can also use this tool with the Classic or Gutenberg editors with ordinary links or affiliate HTML code.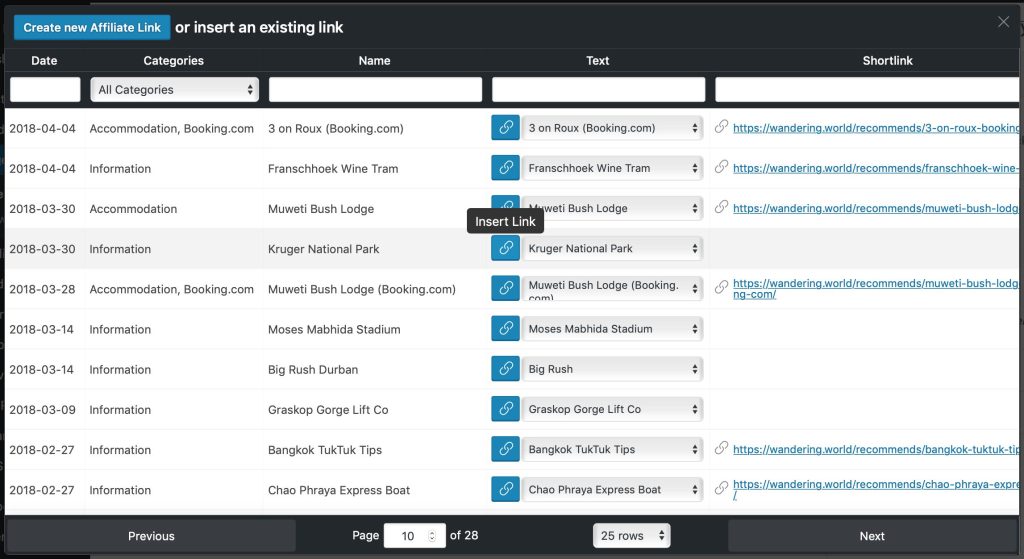 This program also allows you to categorize your links, offer readers an automated text disclaimer for affiliate connections, and leave certain links untouched for Amazon, among other things.
Finally, if you're searching for a basic and free affiliate link plugin, this could be a wonderful option to test out.
What is affiliate tracking?
Affiliate network owners use affiliate tracking to manage their affiliates and acquire information on the success of each affiliate and the network as a whole.
This enables the network owner and each affiliate to measure and get insight into which parts receive the most visitors, conversions, traffic, or clicks and determine whether a marketing campaign is effective.
Depending on the business model, various forms of affiliate tracking software are employed, most of which display graphs of various parameters. Amazon and eBay are two popular affiliate networks that payout fees on every purchase made from or through their affiliates.
How to choose the right affiliate commission tracking software?
Choosing the "right" affiliate commission tracking software depends significantly on your individual demands and goals.  If you are an experienced affiliate marketer and have your own affiliate program, you probably already have any kind of affiliate tracking software in-built. However, if you just use different affiliate programs and need to monitor all your link and campaign performance in one place, then sales commission tracking software is a good choice.
Using the ideal options for your brand, marketing strategies, and the individuals that you will be teaming up with can make or break your campaign and the success of your business.
So, what are you looking for while choosing your affiliate software?
The following are the most important points to bear in mind when choosing an affiliate commission tracking solution for your business:
Copy from competitors
Look for a platform that services comparable companies to yours—do a little digging into who your competitors use and who the company you "aspire to be" uses. If someone has been successfully in business for a while and offers a product or service similar to yours using a platform, it is likely to be a suitable fit for your business.
Easy integrations and APIs
Select a platform that provides integrations and collaborations with other platforms. Make sure that the commission tracking software is suitable for the payment alternatives you require and the business partners you wish to deal with. Every business in the partner marketing industry needs an affiliate tracking system in place to endure a valid allocation of commissions to their respective partners. However, having an easy way to integrate various API's will make your life a lot easier as you will be able to pull a lot of data and have a better overview of your business performance.
Platform Age & Reputation
Select a platform that has been around for a while and may provide your brand with some legitimacy as well as the trust and familiarity that comes with being associated with a well-known and recognized platform. This means that affiliates will be more likely to work with a program that uses an affiliate marketing platform they know and trust, so they will be more likely to join. Take Google Analytics website tracking, for example. Everyone is using Google analytics because it has been around for ages, it has a solid reputation for reliable tracking.
Easy To Use
Look for a basic solution that you can set up without any professional guidance. Look for software-specific information and tutorials that are readily available. Most software vendors go far beyond offering just a sales commission tracker. If it's a full spectrum affiliate software, you may want to make sure it's not overly complicated for your needs. After all, you may end up paying for features that you are never even going to use.
Your Business Core Values
Select commission tracking software that is compatible with your existing marketing and advertising strategies. Some systems are better than others when it comes to integrating and aligning with general marketing activities.
Free trial
If you want to pick the best affiliate software for your needs, look for one that offers a free trial so that you can try it out and see whether it is a good fit for your business needs before becoming a paying customer and migrating your business. If you are looking for free commission tracking software, obviously you shouldn't look for vendors who offer a free trial. While there probably won't be any decent free commission tracker software that will fully fulfill your needs, you can try almost every software for anywhere between 1 to 4 weeks, depending on the vendor.
Have a look at our best resource page for a free commission tracker for your business.
Conclusion
There is a lot of fantastic affiliate commission tracking software to pick from, and selecting the best affiliate management software solution might be difficult, which is why we compiled this list!
The solutions presented here are reliable, well-established, and include all of the important elements required to set up and maintain a successful affiliate marketing program.
We've also included helpful information on how to select the finest affiliate marketing software for your individual needs, as well as important best practices for maintaining your affiliate marketing program after it's up and running.
Last Updated on November 28, 2023